A decision on whether injured defender Dani Alves will be fit for the World Cup in Russia is likely to be made by the weekend, Brazil national team doctor Rodrigo Lasmar said on Thursday.
Alves injured his right knee while playing for Paris Saint-Germain in their 2-0 French Cup final victory over Les Herbiers on Tuesday.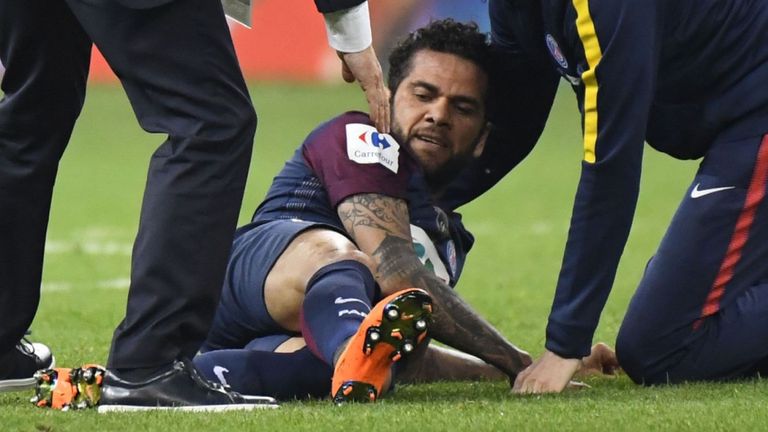 PSG said the 35-year-old would need at least three weeks to recover after suffering a "high detachment of the anterior cruciate ligament with a posterior external sprain".
However Lasmar, who travelled to Paris with Brazil's team coordinator Edu Gaspar on Thursday, said the left-back could require surgery, all but ruling him out of the World Cup, which starts on June 14.
"I think we need a more careful evaluation tomorrow [Friday]," Lasmar was quoted as saying by Brazil's TV Globo. "If we need more exams, we'll take them. We don't have much more to add at this stage.
"We have to wait a little longer but a decision should be made by the end of the week and will depend on our analysis of clinical exams and images."
Brazil coach Tite is expected to name a provisional World Cup squad on June 14. Alves, who has been capped 107 times for Brazil, had been considered a certainty for selection.
The Selecao's other right-back options include Bayern Munich's Rafinha and Manchester City's Danilo.
The five-time winners of the football's biggest tournament will begin their campaign in Russia against Switzerland on June 17.