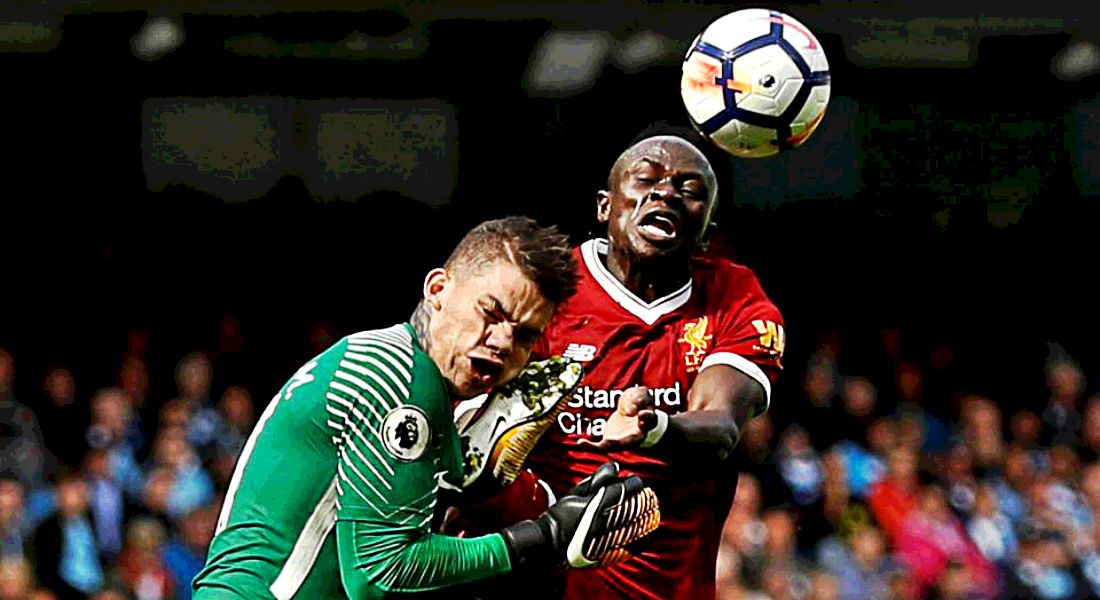 Liverpool Star Sadio Mane: I Will Never Change Approach Despite Reckless Ederson Challenge
Liverpool star Sadio Mane insisted that he will not change his approach following his high-footed challenge on Manchester City goalkeeper Ederson.
Ederson was snapped in the dressing room after the match with eight stitches and four serious wounds on the left side of his blot clotted face.
The Etihad keeper was caught in the face by Liverpool winger Sadio Mane's boot during Saturday's 5-0 win over Jurgen Klopp's side and the Senegal forward was sent off for the reckless challenge on the City keeper.
Ederson needed eight minutes of treatment as he lay on the turf and was given oxygen while being taken off on a stretcher.
Mane said that he had apologised to Ederson after the game but the Reds forward made it clear that he will not change his approach if the same situation arises again.
He said: "Honestly, I think the next time I will get the ball before him, I will do my best."
"My intention was not to hurt the goalkeeper. It was a challenge for the ball."
"I made contact and it was not what I wanted to do so I apologised to him. It is part of football so I cannot change anything."
"I don't have his number so I just post messages for him. I think he sees them."
"Honestly, I was going for the ball. I don't have intention to hurt him because I am not that kind of player so I wish him a quick recovery."
Mane's dismissal had sparked a debate in the football world with pundits clearly divided over the decision taken by the referee. Some of them said that the Senegal forward had every authority to go in on the Brazilian as both of them were competing for the ball.
Liverpool appealed to cut short the forward's three-match suspension, but they lost. Mane played in the Reds' 2-2 draw with Sevilla but he will start his ban against Burnley on Saturday.
Mane accentuated that he was surprised to see referee Jon Moss showing him the red card in the first half at the Etihad.
The three-game ban comes a huge blow to both Mane and Liverpool, as Jurgen Klopp is keen to make amends after suffering a humiliating defeat against City and missing the opportunity to grab all the three points against Sevilla in the Champions League.
He said: "Honestly, I was focusing more on the goalkeeper than the card. So when I saw the red card I was surprised because I was expecting maybe a yellow card. I will accept it and try to forget."
"It is not easy. I would love to be on the pitch all the time and help my team but I will also accept and try and be ready for my comeback."
"It is not easy for me because I always love to play football and help my team to win games."
Amid all troubles, Coutinho's return during the the 2-2 against Sevilla at Anfield will provide a huge boost to Klopp's side.
Coutinho came off the bench as he played his first game for the Reds since he failed to force through a move to Barcelona last month.
Mane said: "It is always nice because he is one of the best players so we welcome him back. He is an important player for us to get better and better."
"He will not only help my game but he is a very important player for Liverpool and we always need him."