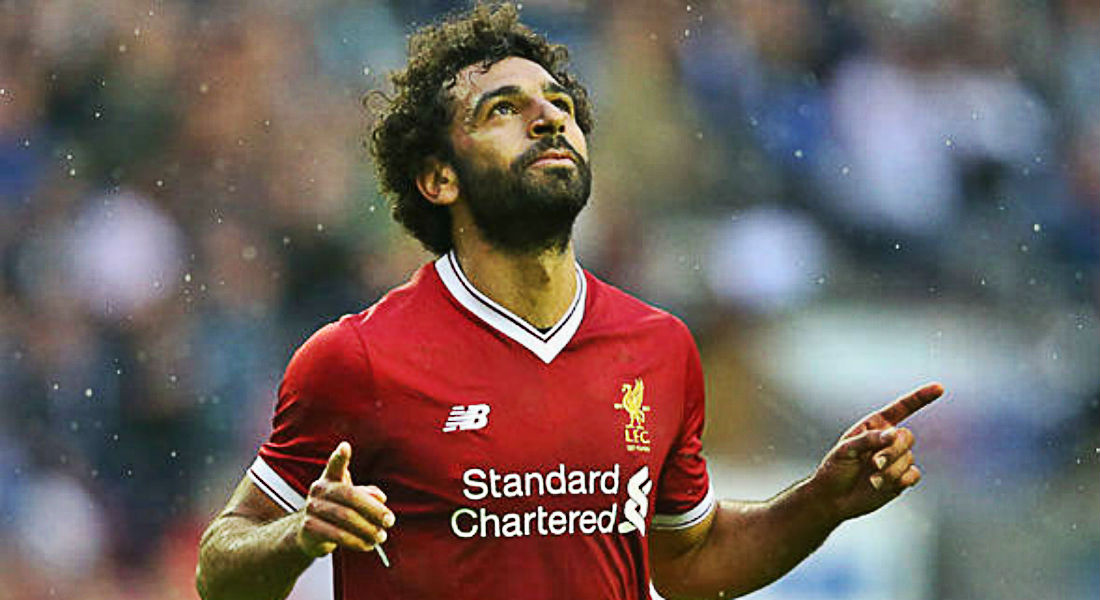 Liverpool Superstar Mohamed Salah Eyes Premier League Glory With Reds
Reds superstar Mohamed Salah wants to win the Premier League title with Liverpool but the Egyptian forward is also eyeing to learn Scouse during his stay at the English club.
Salah is in red-hot form this season and scored his 20th Goal for Liverpool on Sunday as Jurgen Klopp's side thrashed Bournemouth 4-0 to move up to the fourth spot in the Premier League table.
Salah's incredible for this season has attracted the attention of Europe's elite clubs including Real Madrid – with Los Blancos boss Zinedine Zidane hinting at making a move for the Egyptian next summer.
The Egyptian forward has become the first Liverpool player to score 20 goals before Christmas since Ian Rush last did it in 1986. He is also the first Premier League player to reach the 20 goal mark this season.
Salah has displayed incredible form since his club-record £36million move to Liverpool from Roma in the summer. His previous stint in the Premier League at Chelsea was an unsuccessful one and he revealed that he always wanted to come back to England to show what he is actually capable of doing with the ball on his feet.
Winning the Premier League title for Liverpool this season – for the first time since 1991 – looks impossible as Pep Guardiola's Man City have marched miles ahead banking on their sensational form this season.
The Reds are 18-points behind current league leaders Man City but Salah insisted: "As a team, I know we haven't won the Premier League for a long time, so I would love to win it with Liverpool.
"We have a great team, a great manager, so everything is good. I am sure we can win trophies here together."
The Egyptian said that his flop one-year spell at Chelsea – when he scored just two goals in 19 games, before being loaned out to Fiorentina and then moving on a permanent deal to Roma – was a turning point in his career.
"When I go somewhere, I am always telling myself 'I have to learn' – and I know, 100 per cent, I learned a lot from Chelsea," said Salah, speaking to the Liverpool FC website.
"I learned how to be more professional and to become a better person and player. It was a big step in my career and I had a good relationship with the players there – and you could see that when we played them at Anfield recently.
"But I think I changed the perception of me during my time with Fiorentina and Roma.
"I'd said to myself, 'I want to come back to England'. It was always in my mind, coming back here. I wanted to show everyone my football. When I realised I was very close to coming here, I was very happy – and after speaking to the boss for the first time after the deal was agreed, I was even happier.
"Why were Liverpool the right club for me? Because of many things. I even used to play as Liverpool on the PlayStation when I was 18 or 19, as Steven Gerrard, Sami Hyypia, Jamie Carragher, Michael Owen and Xabi Alonso."
But he admitted: "I understand Scouse but it's very difficult! The accent is so hard to understand.
"I took a few weeks to adapt here. But ultimately it has worked out well and we are working together well but we need to win many games to be in a better position.
"The players are very close to me. We talk to each other. All of them are humble and that's what makes me better and better. It's not about anything else, it's about the atmosphere in the club and being close to the players and the coach.
"I always felt I would settle quickly. And I can get better, 100 per cent. I can improve on many things, so I have to keep working hard."
Liverpool shot stopper Simon Mignolet said: "I wasn't expecting Mo to score that many goals, especially as a winger. But he's doing well, working hard and let's hope he can keep doing what he's doing.
"He knows what the Premier League is all about from his time here before, and he's obviously learned and progressed in his time in Italy. And he's so strong, he's got quick feet but he's strong, you can't run him over."