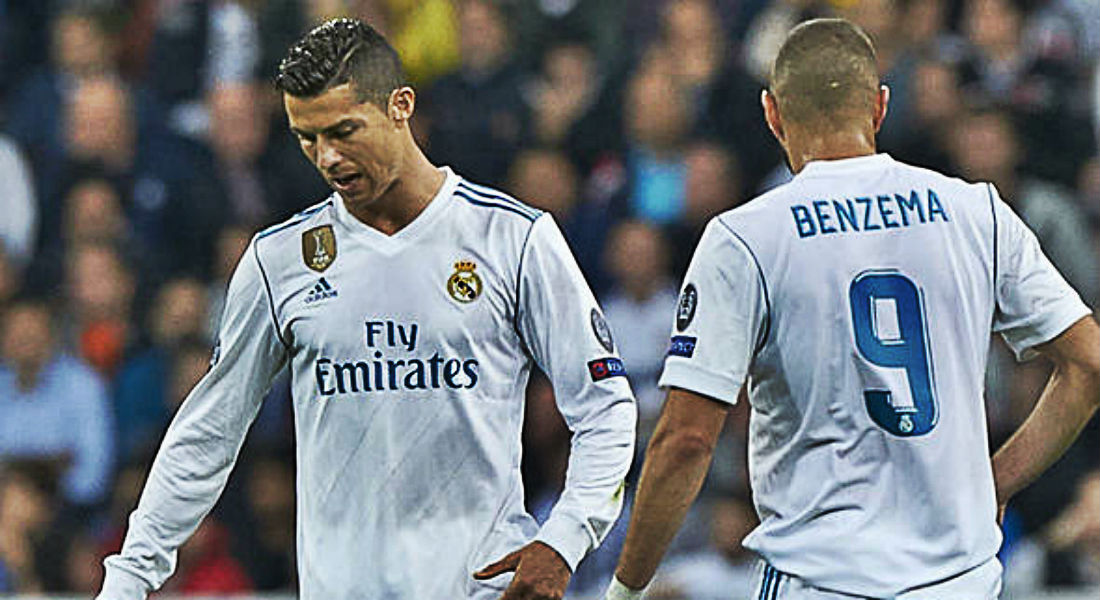 Cristiano Ronaldo And Karim Benzema: Worst Strike Rate In Europe And In Real Madrid's History
Cristiano Ronaldo and Karim Benzema have the worst striking partnership in Europe this season.
Real Madrid won the La Liga and Champions League double last year but Zinedine Zidane's side have made a poor start this season.
The Los Blancos are already ten points behind current league leaders Barcelona after 12 La Liga games and had also succumbed to an embarrassing 3-1 defeat against Tottenham in the Champions League.
Ronaldo has drawn a lot of criticism after suffering his worst start of his Real Madrid career.
The Portugal skipper has managed to score just one goal in his last eight La Liga games despite launching 55 shots and on the other hand his striking partner Benzema has also scored just once in the league this season.
The Los Blancos are reportedly regretting their decision to offload Morata, who has now found the net eight times for Chelsea in the Premier League so far – which is twice the amount of goals scored by Ronaldo, Benzema and Gareth Bale together this season.
Of the 98 clubs in LaLiga, the Premier League, Ligue 1, the Bundesliga and Serie A, only the two strikers of Benevento, who lie bottom of the Italian league, have a worse record.
In the 1942-43 and 1984-85 seasons, the pairs of Alonso and Botella, and Santillana and Butragueno, both had three goals at this stage.
Sky Sports pundit Guillem Balague said: "Cristiano Ronaldo and Karim Benzema are currently the worst striking partnership in Europe.
"Alvaro Morata, for instance, has scored double the amount of goals that the 'BBC' – including Gareth Bale – have managed so far this season – four goals between the three of them, while Morata has eight.
"Cristiano has scored one goal in this last eight games, the worst goalscoring draught of his Real Madrid career, from 55 shots.
"I was at the Wanda Metropolitano and what I saw was a Ronaldo that was off the pace compared to two or three years ago.
"And that confirms what I have been saying for a few years now that physically he has peaked and he should reduce his area of influence on the pitch.
"In fact, most of the time he does – he waits in the area for crosses and the ball to get to him and Real did not do that enough.
"So a striker can suffer from a lack of confidence and he certainly seems to be lacking a lot of that at the moment, which creates him an anxiety that makes him rush his decisions.
"But goalscorers also depend on the service, and that was just not good enough, especially down the wings, which is where a lot of Real's attacks took place last season."
Real Madrid are now set to face Apoel in the Champions League this week.