Germany's recent performances at international tournaments have been underwhelming and shaky, to say the least. The national team is undergoing a rebuild with Hansi Flick taking over and new players coming in with the likes of Jamaal Musiala and Karim Adeyemi being included in the squad for the recent World Cup Qualifiers.
The undoubted leader of the next generation for Germany though is Florian Wirtz, the young Bayer Leverkusen attacker who led the U21 national team to Euro success in the summer. Wirtz has established himself as an integral part of the Leverkusen setup already at the age of 18 and is fast becoming a household name.
⚫️🔴 Florian Wirtz has 5 goal contributions in 3 games so far this season (2G, 3A) 👏

Just 18-years-old… #UEL pic.twitter.com/SD2i74B5S1

— UEFA Europa League (@EuropaLeague) September 13, 2021
He has started the 2021-22 Bundesliga season in scintillating form, scoring twice and assisting three times in just three appearances already. Partly due to his playing style, and partly due to being a young breakthrough German star at Bayer, Wirtz is being likened to a certain Kai Havertz and on the evidence so far, he can very well emulate if not exceed the performances of the Chelsea star.
PLAYING CAREER SO FAR
The attacking midfielder has long been recognised as a future potential star in the German setup. Wirtz spent his formative years at FC Koln after joining them in 2010. He represented them in the U17 Bundesliga-West division, impressing at every step-up in level.
Koln knew that it would only be a time before the big clubs came knocking and after nearly a decade at the club, Wirtz decided to move to Leverkusen in January 2020. After a few months with the youth teams, it was apparent that he was ready for the step up to the senior level, making his debut in May 2020. He became the youngest player to appear for Leverkusen in the process, breaking the aforementioned Havertz's record.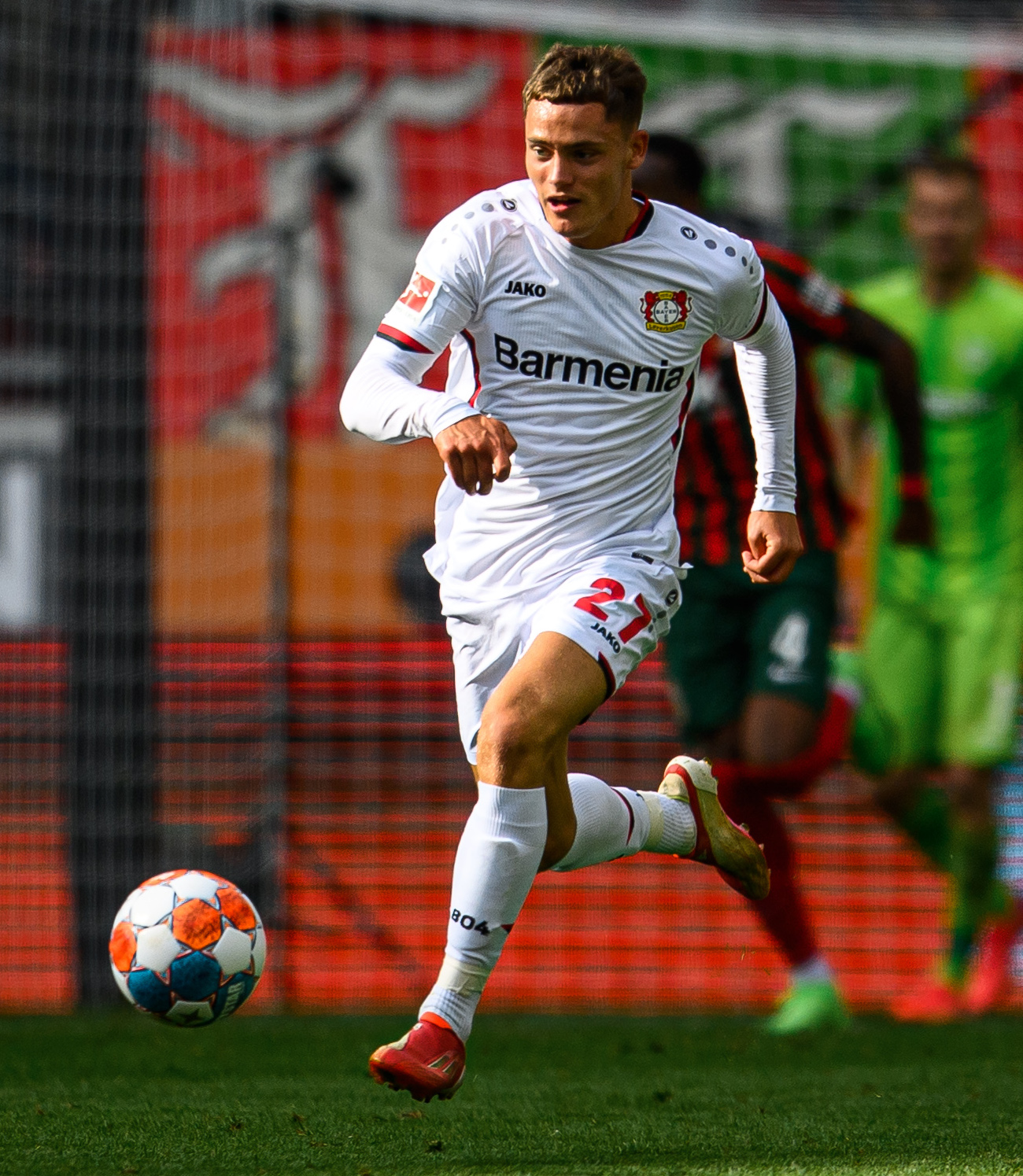 He continued to impress throughout the 2020-21 season, scoring five goals and assisting a further six in the Bundesliga in 29 appearances. Florian Wirtz scored and assisted twice in the Europa League as well last season.
Wirtz has also represented Germany at every youth level from the U15s, building up to his senior debut against Lichtenstein in the last international break at the beginning of September 2021.
STATS
For someone who has recently turned 18, Wirtz's direct goal output of 11 goals and 11 assists in 51 appearances is very healthy, especially given the fact that a lot of these appearances have been off the bench. His per 90 minutes goal plus assists return at Leverkusen is 0.58, which is comparable to the likes of Luis Alberto at Lazio and Bernardo Silva at Manchester City.
Wirtz's underlying stats reveal just how much of a creative force he is. His 3.48 shot creating actions and 0.4 goal creating actions per 90 both lie in the 90th percentile or above in the 2020-21 Bundesliga for all midfielders.
🇩🇪 How highly do you rate 18-year-old Florian Wirtz?

👕3⃣5⃣ league and Europa League games
⚽️7⃣ goals scored
🅰️7⃣ assists provided pic.twitter.com/klAtmfOTUi

— UEFA Nations League (@EURO2024) May 17, 2021
Further, he has two important aspects of being a modern-day attacking midfielder – pressuring opponents and progressive carries. The former is important for tactical soundness and Wirtz's numbers (6.88 per 90 in the final third and 10.64 in the middle third) are good. The latter is a reflection of linking play between lines and Wirtz ranked above the 85th percentile for Bundesliga midfielders last season for all three variants – total progressive carries, carries into the final third and carries into the penalty area.
His numbers show a well-rounded talent and Wirtz will only grow in stature with time.
WHAT THE STATS DON'T TELL YOU
One of the few things that are yet to be encapsulated by numbers is space created for himself and his teammates, which happens to be one of Wirtz's foremost strengths. Germany have made a habit of producing players that have greater spatial awareness with the likes of Thomas Muller and Havertz being the prime examples of this and Wirtz is the next one in line.
Florian #Wirtz is only getting better and better! 🤩 #Bundesliga pic.twitter.com/3IQqqPC5iu

— Bundesliga English (@Bundesliga_EN) September 8, 2021
Muller who has been Bayern and Germany's talisman for over a decade now however is not as technically sound as Wirtz (or Havertz for that matter). The 18-year old attacker's technicality allows him to make better use of the space he creates. A low centre of gravity helps him dribble past opponents while his passing range and quality is only getting better as he matures.
WHAT MAKES HIM SPECIAL
Wirtz's combination of technicality and tactical nous is unmatched in his peer group. He is every manager's dream in terms of adaptability and he can play anywhere across the front line, although his best role is undoubtedly in the hole behind the striker.
That link-up 🤩

Wirtz 🤝 Adeyemi #WCQ pic.twitter.com/96txtLsMEs

— UEFA Nations League (@EURO2024) September 8, 2021
His eye for goal is extremely valuable from attacking midfield and if he can add well-timed runs into the box to his armoury then he can very well fulfill the role of being the primary goal threat, as Bruno Fernandes has been for Manchester United.
POTENTIAL
As discussed, Wirtz has all the tools he needs to be amongst the world's best in a few years. For the next couple of seasons, you can expect him to continue in a Leverkusen shirt as he looks to build upon his breakthrough. However, it is hard to imagine that he will stay at the club for the rest of his career, especially if their performances fluctuate as they have done in recent years.
Florian Wirtz [2003], one for the future. Incredible talent and many clubs from Premier League plus Bayern are looking at him – but he has currently no releause clause in his contract, expiring in June 2026. 🚫🇩🇪 #Wirtz

Bayer Leverkusen have NO plan to sell him next summer. pic.twitter.com/WjSHdn7xUd

— Fabrizio Romano (@FabrizioRomano) September 13, 2021
Bayern Munich, as ever, would be interested in the young German especially given that Muller is entering the twilight of his career. Stylistically, it is hard to imagine a player better suited to replace him than Wirtz. Alongside Jamaal Musiala, Leroy Sane and Serge Gnabry, he could form the (German) core of Bayern's next great side.
Liverpool would also be an interesting option for Wirtz even though he most likely would not play in his favoured attacking midfield role. However, he could be the long-overdue replacement for Roberto Firmino in the withdrawn striker role. Whether Klopp is there at Anfield in a couple of years and if he is playing the same system would likely decide the outcome of this move.
Wirtz got his first taste of major success with the U21 Euros this summer but it will most certainly not be his last trophy. All things going well, he should be the fulcrum of Germany's side for years to come.