MLS has become a breeding ground for young American players to showcase their skill and potential that might tempt a big European side to come in for them. One such player that clubs in Europe should start looking at is FC Dallas' young attacker Jesus Ferreira.
Especially after the recent success of players like Christian Pulisic, Gio Reyna and Weston Mckennie whose performances have made people realize the amount of talent that is dormant in the USA.
Jesús David Ferreira Castro was born in Santa Marta, Colombia on the 24th of December 2000. He is the son of former MLS MVP and Colombia international David Ferreira. Jesus Ferreira only recently declared that he'll play for the U.S. men's national team.
🙌 Jesus Ferreira, the son of former Colombia wizard David Ferreira, hits the only goal – and celebrates it in style – as USA kick off their Men's #OlympicFootball Tournament qualifying campaign with victory 🇺🇸@Jesusfcd27 | @USYNT | #Tokyo2020 pic.twitter.com/nsyNMyiiTL

— FIFA.com (@FIFAcom) March 18, 2021
He already has been capped by the senior side and has 7 international goals for the national side. He recently scored four goals in a game for USMNT against Grenada to reach in a record-breaking performance.
In the previous three years of his young career, Jesus Ferreira has witnessed some ups and downs but still remains as one of the most highly touted young strikers in the MLS and for the US. Jesus became the youngest player to sign with FC Dallas.
This young American squad with Ferreira as the tip and focus of the attack will surely Flourish.
PLAYING CAREER SO FAR
Jesus Ferreira much like his namesake is seen as a saviour by many FC Dallas and USMNT fans.
The prodigious striker who is extremely comfortable playing as a number 10 too, has shown his potential and world-class quality from the start. He first joined the FC Dallas academy at eight, in 2009, when his father joined the MLS side's senior squad.
Ferreira was part of the Under-16 FC Dallas Academy team that won the 2015-16 U.S. Soccer Development Academy Championship after going 23-2-0 during the regular season. From the time he joined the Academy in 2013, Ferreira found the back of the net 48 times in 50 starts, which is honestly exceptional.
Our New No. 9️⃣

After putting on a show for the @USMNT, nobody should be surprised that he's keeping the number. pic.twitter.com/e0QY5KlL6r

— FC Dallas (@FCDallas) February 24, 2021
He also played an important role in FC Dallas' triumph in the Generation Adidas cup held in Kansas City. Ferreira again showcased his quality as he scored a ridiculous 10 goals in 3 games.
Ferreira led the Academy to its first victory in an international tournament too. Jesus scored three goals as the team took down Leicester City and Aspire Academy to win the Tri-Series Tournament in Qatar.
The fleet-footed attacker has displayed excellent anticipation and decision-making since a very young age, which has really amplified his overall attacking output in his younger days.
In 2017 he broke into the first team and made his MLS debut on June 3 vs Real Salt Lake at 16 years and 161 days old. He even scored his first goal in the 89th minute. That day he became the youngest player to take the field for FC Dallas and the youngest to score a goal for them in the MLS.
He was sent out on loan for the 2018 season to Tulsa Roughnecks, where he scored 6 and assisted a goal in 14 appearances in the U.S. League Championship(USLC). Jesus Ferreira's performances forced FC Dallas to give him a consistent run in the first team in 2019.
Arguably Jesus Ferreira's breakthrough season was the 2019 campaign when he took the MLS by storm. He started 29 games out of his 33 appearances in the 2019 season. Ferreira scored 8 and assisted a further 5 goals in just under 2500 minutes. This is when he caught the eye of USMNT coach Gregg Berhalter.
Berhalter called up Jesus Ferreira to the national camp in December 2019 and made his debut for the senior side in a match against Costa Rica on 1st February 2020, where he was given 62 minutes to show his class.
Although he could not score on his debut,  Jesus Ferreira has become an integral part of Berhalter's plan as since then he has already been called up 11 times and in his most recent appearance scored four goals in a 5-0 demolition of Grenada.
Jesus Ferreira stats
At FC Dallas Jesus Ferreira has played for head coach Luchi Gonzalez, who handed the young American attacker his debut. No under Nico Estevez, he has unlocked another layer to his game.
Last season was Jesus Ferreira's breakthrough campaign, Gonzalez used him as a number 9 who pressed from the front. Ferreira was deputised to provide the creativity, making late runs into the box and leading the press with his excellent work rate.
In 2019, Jesus Ferreira had a total of 13 goal involvements in 2,439 minutes. He completed 27 matches out of his 29 starts, in which he 2.2 shots a game. He was completing about 28 passes with 82% accuracy, which is pretty high for a creative number 10. Last season Ferreira was also laying on about 2.8 chances per 90, which is exceptional for a 20-year-old. What really stands out with Jesus Ferreira is his work rate which is evident by his 25 pressures a game which is a rare number for creative players, especially attacking midfielders. Due to his work ethic, Ferreira was putting in an astounding 2.2 tackles and interceptions per game.
It only takes 20 seconds to wash those hands… 👀@Jesusfcd27 x #DTID pic.twitter.com/0m2CNxKZkL

— FC Dallas (@FCDallas) March 17, 2020
He had an expected goal of 9 and an expected assist of 2.5 in the 2019 season. What was refreshing to see was that for such a young player he did not overperform or underperform his expected goals, but slightly overperformed according to expected assists. This shows that his performances were not flukes but consistent patterns of play.
Gonzalez recognized the versatility of Jesus Ferreira. The young attacker plays as a striker for the national sides and was playing as a number 10 for FC Dallas and his work rate made him a tough customer to mark and get past.
Due to this Nico Estevez changed Ferreira's role in the team in 2020. Jesus Ferreira's stat is a perfect way to signify his change in role. In 2020 Ferreira became more of a number 8/10 hybrid as his skill set allows him to play a deeper, more defensively aggressive role for the team. His shots per game have dropped to1.8 per 90 which is still respectable for a young attacker. His completed passes remained about the same but because of his new role his accuracy fell to 76% which is average for a young attacking midfielder. Jesus Ferreira's shot creation actions also fell slightly to 1.7 per game.
Tactical > Physical
The evolution of @FCDallas under head coach Luchi Gonzalez: https://t.co/7pFOFjDmbK pic.twitter.com/OI3IXUUolH

— Major League Soccer (@MLS) April 27, 2019
Defensively, Jesus Ferreira took a real step up in the 2020 season, although his pressures fell to 18.3 as he was not charged with leading the press anymore but his tackles and interceptions shot up significantly to 3.2 per 90 which is exceptional for a number 10. In the 2020 season, he scored and assisted a combined two goals not underperforming or overperforming in either regard, which further signifies his role change and his ability as a press leading number 10 that offers an exceptional defensive work rate that compliments his attacking mindset.
WHAT THE STATS DON'T TELL
Arthur Ashe said: "One important key to success is self-confidence. An important key to self-confidence is preparation."
Something Jesus Ferreira has in abundance. In an interview with MLS in June 2020, the young attacker stated: "This season I want to accomplish a lot of what I did last year – get more goals, more assists. Keep the coach having me in the starting XI and just working hard," he said. "Now that we had that break, the mentality has to switch. Now I have to tell myself it's time to focus again. Once that first game starts, we grind. We have to show everyone we can work, no matter what happens."
🗣️ YOU HEARD THE MAN 🗣️@Jesusfcd27 | #ComeBackStronger pic.twitter.com/rQ3nlWEawq

— FC Dallas (@FCDallas) July 26, 2020
He further added, "I'm happy players around the league can see me as a top young player". The young American also showcases a quality rarely seen in youngsters his age, an ability to focus on the future and things he can control.
Focused more than ever 🐆🐆 pic.twitter.com/jkZUaHGnya

— Jesus Ferreira (@Jesusfcd27) April 19, 2020
Jesus Ferreira's mentality that drives him to achieve anymore showcases maturity beyond his years and the resilience of a seasoned veteran who has seen ups and downs in their career. Ferreira went on to say: "We're going to have no fans, we're away from our families, so we're going to work hard because that's what FC Dallas does."
WHAT MAKES HIM SPECIAL
Jesus Ferreira is part of the new breed of number 10s that can do a lot more than just create. He can fit seamlessly into any high-pressing side, which makes him an extremely valuable asset in the modern game.
Don't mind us, we're just going to be watching this goal from @Jesusfcd27 on repeat all day. 😍pic.twitter.com/x11hhrIiuU

— Major League Soccer (@MLS) February 7, 2020
His late runs into the box, ability to ghost past players and his work rate reminds us of a young Frank Lampard or Steven Gerrard, both of who were probably the two best box-to-box midfielders of their generation.
In fact, his versatility and work rate is reminiscent of the English legends. Although Jesus Ferreira is not blessed with exceptional pace or strength, his mentality to keep going and his grit makes him truly special.
POTENTIAL
Jesus Ferreira's performances have made him a fan favourite at FC Dallas and his ability to carry a teams press makes him an irresistible target for pressing coaches like Klopp and Guardiola who can truly maximize his ability in transitions.
We at FootTheBall see Jesus Ferreira taking a step up in the next couple of years to Europe, where he will surely flourish and go on to become a unique player that offers a lot while running from box-to-box or as a striker, something he has done very comfortably for USMNT.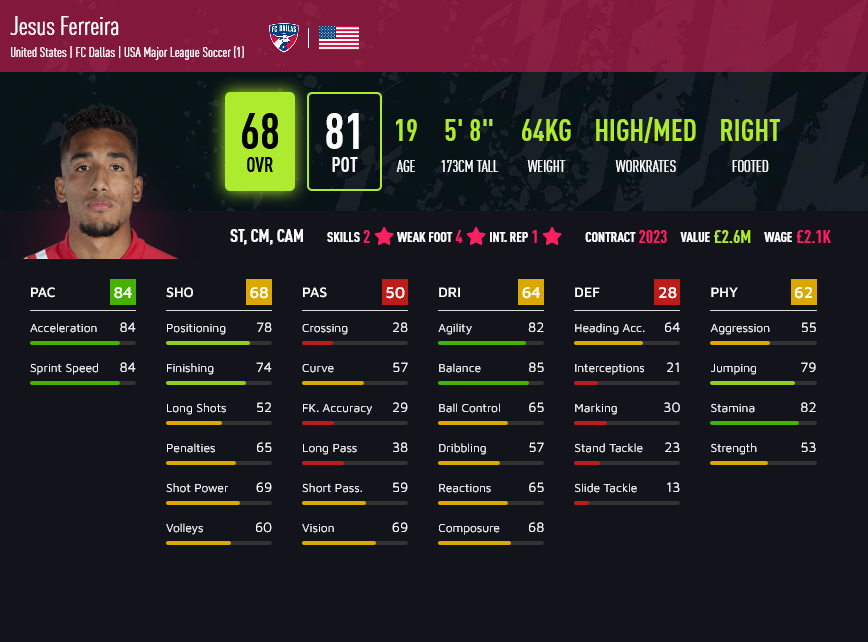 After some stellar performances alongside Ricardo Pepi in the 2020/21 season Jesus Ferreira, was given the base rating of 72 with a potential 83. Seems like the versatile attacking is improving each year.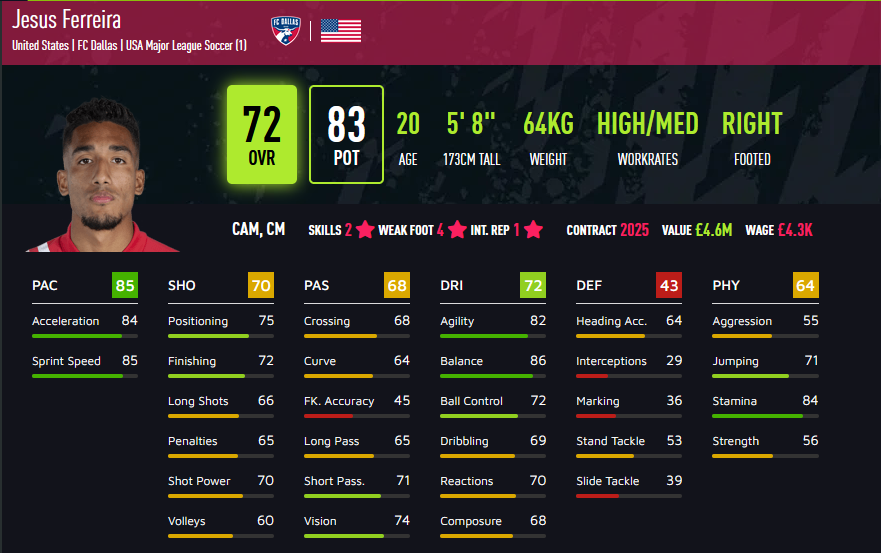 Surely some elite European club is going to come in soon for the now 21-year-old.