In recent years Ligue 1 has acted as a platform for young players. This has in fact made the French league an excellent market for top tier young talent. Ligue 1 has also become the perfect entry level top 5 league in Europe. One such player reaping the benefits of this very nature of Ligue 1 is 19 year old defensive midfielder Lucien Jefferson Agoume at Stade Brestois. He is on loan from Inter Milan this season at the Ligue 1 club. He was born on the 9th February in Yaounde, Cameroon but represents France at the international level for now.
He is part of an elite group of French players that were born in 2002. The list comprises the likes of Eduardo Camavinga, Adil Aouchiche, Nathanael Mbuku, Georgino Rutter and many more highly rated youngsters.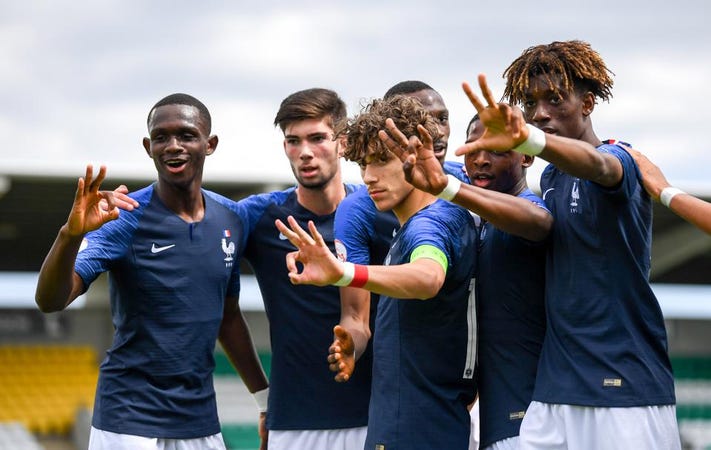 YES! The depth of talent France has is absolutely ridiculous. Agoume has already been compared to Paul Pogba, we just hope he actually fulfills his potential unlike the highly controversial United star.
Very little is public knowledge about his personal life. Seems like he does not appreciate too much unwanted attention. He is completely focused on his craft, aiming to be the best in his position so that he gets his chance back at Inter Milan.
PLAYING CAREER SO FAR
Lucien Agoume's career started SC Clémenceau Besançon in 2013, he went on to sign for Racing Besançon for the 2013/14 season. He was soon picked up by the historic academy of FC Sochaux in 2014.
Agoume, was further developed by the highly rated Sochaux academy that has produced the likes of Marcus Thuram, Maxcene Lacroix and Ibrahima Konate in recent years. Lucien Agoume's pedigree alone makes him a star for the future.
Notable FC Sochaux-Montbéliard academy players:

🇩🇿 Ryad Boudebouz
🇨🇩 Cédric Bakambu
🇫🇷 Lucien Agoumé
🇫🇷 Ibrahima Konaté
🇫🇷 Maxence Lacroix
🇫🇷 Marvin Martin
🇫🇷 Jérémy Mathieu
🇫🇷 Jérémy Ménez
🇫🇷 Jérôme Roussillon
🇫🇷 Marcus Thuram
🇸🇳 El-Hadji Diouf

A set-up that keeps producing. pic.twitter.com/Av1n0pmPpZ

— Scouted Football (@scoutedftbl) April 29, 2021
The Sochaux academy produces technically adept physically strong players who more than usually fit well at teams which play high intensity football.
Lucien Agoume broke through into the Sochaux first team at the tender age of 16. He made his debut on the 19th of October 2018 against Troyes, a game his side won 2-1. He became the youngest player to debut for Sochaux. He made 15 appearances for Sochaux's first team in Ligue 2 in his debut campaign.
He was used as a defensive midfielder mainly but was also deployed as a central midfielder and attacking midfielder during that season as Omar Daf, the then Sochaux coach, was trying to pinpoint his strengths and weaknesses.
Daf was the first coach who recognized Agoume's talent and potential as in an interview soon after his debut Daf was quoted saying that he is a player that improves every game. In his debut campaign he looked like a player with excellent awareness and innovative vision. Standing at a cool 6 foot at that time he was also a capable defensive presence in midfield making him considerably tackle resistant.
During his debut campaign Agoume had started garnering attention from the likes of Barcelona, Lyon and Inter Milan. In the summer of 2019 Inter Milan secured the services of the then 17 year old.
Sochaux young talent Lucien Agoume is reportedly Inter Milan bound in a deal worth £6 million, despite the chance to move to the Premier League under Unai Emery or Pep Guardiola.

[ @Gazzetta_it ]#MCFC pic.twitter.com/GBQnnq5dUZ

— City Xtra (@City_Xtra) June 25, 2019
Inter signed him amidst competition from Manchester City and Barcelona. He cost the Nerazzurri 4.5 million euros plus add ons.
After his move from France to Italy the young midfielder started playing for Inter's Primavera team for the 2019/20 season.
Official: #Inter sign midfielder Lucien Agoume from #Sochaux https://t.co/YMxEN9csp8 #FCIM #FCSM #Ligue2 pic.twitter.com/7WhEoYkB0k

— footballitalia (@footballitalia) July 5, 2019
He was signed under the instructions of Conte who saw the similarities between Agoume and Pogba.
During Agoume's rise in club football his talent had become evident to the French national team setup from early on. He made his youth international debut for France in the U16 category back in 2018 while he was still at Sochaux. Within 5 months of being in the national setup he was promoted to the U17 side after he had scored 4 goals for the U16 side.
Inter Loanee Lucien Agoume: "I Like Manchester United's Paul Pogba But We're Different Players" https://t.co/bYodzDPFcq #FCIM #InterFans #ForzaInter pic.twitter.com/RVq1O5kBwO

— SempreInter.com (@SempreIntercom) January 14, 2021
He repeated the feat with the U17 French national team in 23 matches. He was named as captain for the squad that was taking part in the U17 World Cup in 2019. He led his side to a solid 3rd place finish in the tournament and even made it into FIFA's team of the tournament and the top 10 players to watch out for. After the U17 World Cup Agoume headed back to Inter's youth side.
Agoume made 5 appearances in Primavera in which he scored one and assisted one for Inter's youth team. He also played for the Nerazurri's youth side in the UEFA youth league in which he made 2 appearances in which he got two assists.
☑️ | DEBUT

Lucien #Agoume represented the Nerazzurri for the first time at the age of 17 today 🇫🇷#FiorentinaInter #ForzaInter ⚫️🔵 pic.twitter.com/kudfkcVspE

— Inter 🏆🇮🇹 (@Inter_en) December 15, 2019
This form for the youth team compelled Conte to hand him Serie A debut on 15th December 2019, although he was only afforded six minutes in the 1-1 draw against Fiorentina.
For the 2020/21 season he was loaned out to newly promoted Spezia where he played a minor role in the club's survival. Minutes were hard to come by for Agoume at Spezia due to the excellent form of Tommasso Pobega in midfield.
Inter Owned Lucien Agoume Could Leave Spezia Who Want To Keep Him, Italian Media Claims https://t.co/zQnRZT7KgV #FCIM #InterFans #ForzaInter pic.twitter.com/SBQtGpoKsk

— SempreInter.com (@SempreIntercom) December 23, 2020
After a somewhat unsuccessful season long loan spell at the Italian minnows Agoume was desperate for playing time in which he could show his quality.
He got his wish in the 2021/22 season. Inter Milan loaned out Lucien Agoume to Stade Brestois or Brest in Ligue 1 on a season long loan, and he has not looked back since.
🔵⚫🎙️
Oscar #Damiani :
"J'ai parlé à son agent aujourd'hui.#Agoume est un talent majeur qui peut éventuellement devenir un titulaire à l'Inter." pic.twitter.com/v8OvNEPRKv

— La Beneamata – La Beauté Nerazzurra (@Inter_Beneamata) January 29, 2022
The prodigious talent has blossomed into one of the best young defensive midfielders in Europe this season. He has made 16 appearances for the middling French club amassing 1100 minutes in a top 5 European league. His stats this season have been brilliant which highlight his defensive, ball carrying and press resistant capabilities.
STATS
The French youth international is a pinpoint passer with supreme defensive acumen. Standing at 6 foot 2 inches he is a proper shield in front of the back 4. Although Michel Der Zarkarian's team has not been very defensively solid as they have conceded 33 in 22 games, Agoume along with Faivre were the ones making sure Brest do not slip down into the relegation mix. Now that Faivre has moved to Lyon in the January window Agoume's defensive presence will be vital for Brest in the second half of the season.
His defensive capabilities see him make 5.57 tackles and interceptions a game which is very close to Yves Bissouma's number of 5.72. Agoume is not yet as complete as the Mali international yet but is also 6 years junior to him giving him enough time to develop to reach Bissouma's level. Agoume is almost as press resistant though, completing 1.17 dribbles a game.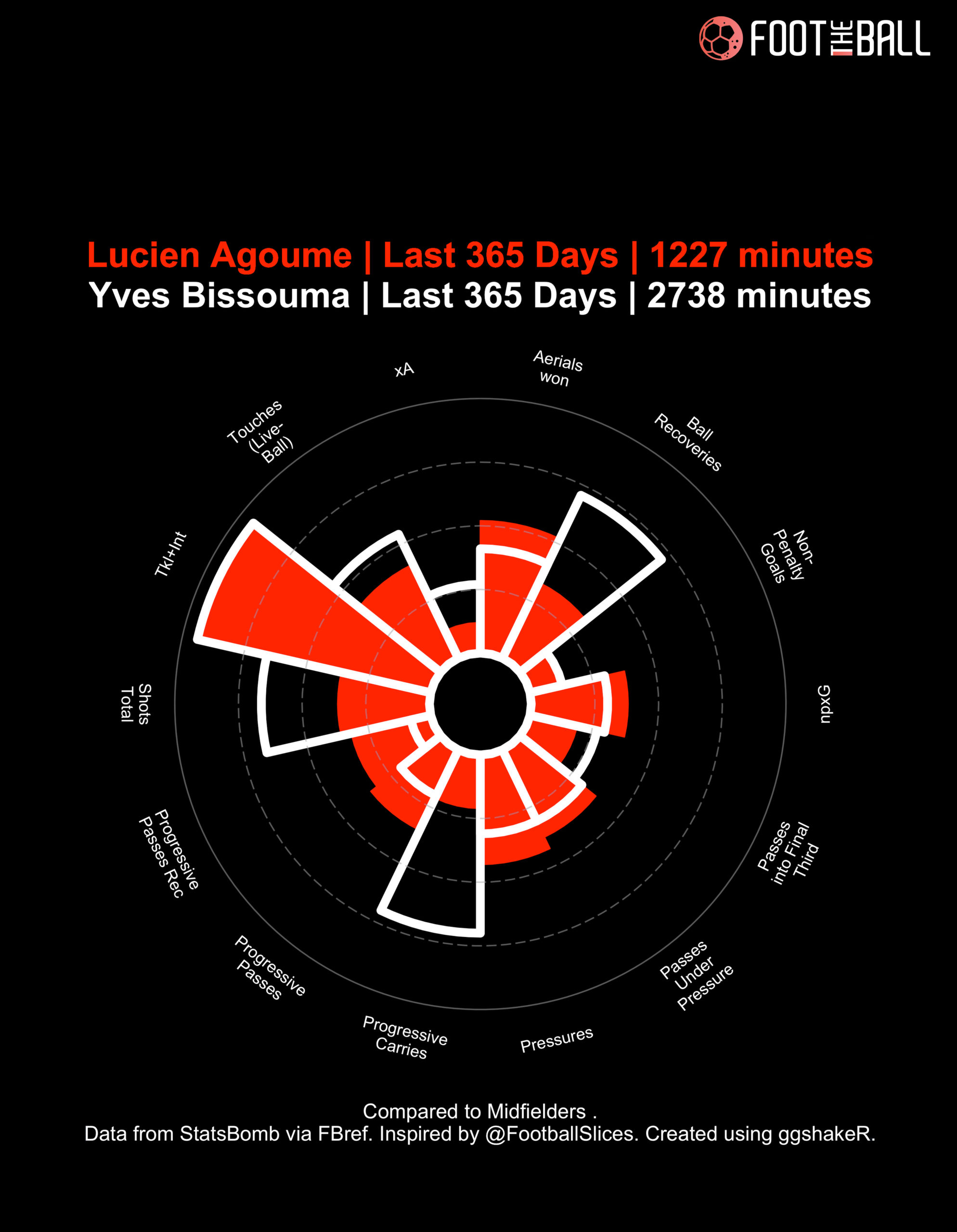 He also makes 17.38 pressures a game which is very high in relation to Brest who are the most passive team in the league with an abysmal PPDA of 18.4. Whereas Bissouma plays in one the most effective high pressing teams in the Premier League in Brighton his pressures are about the same as Agoume's at 16.5.
Lucien #Agoume in #Ligue1 🇫🇷 21-22 with #Brest

Will he stay at #Inter ⚫️🔵next season ?

Is he ready to settle permanently in the #Inter squad ? pic.twitter.com/aCicV2AmFA

— MxD Zone (@mxd_zone) January 31, 2022
His passing numbers also stand out as he makes 47.38 passes with an exceptional 88% accuracy. Although he does lack the ability to carry the ball through the midfield like Bissouma, he has the knack of getting into the penalty box. He takes about 1.54 touches in the opposition's penalty box. Even though he doesn't have an assist to his name this season it shows the ability Agoume has to find space when needed, highlighting his box to box ability. Which is further proven by the progressive passes he receives which are 1.25, which is a world class number for a defensive midfielder.
Agoume does not possess great progressive ability yet, as he only makes 3.37 progressive passes per 90 and 2.64 progreesive carries which is dwarfed by Bissouma's 4.63 carries. He does not lay on many chances per 90 either, a meager 0.8 chances a game, which will hopefully improve as he gains more experience.
Right now with his skill set he is more of an orthodox box to box midfielder, who break up play and start passing sequences to get on the end of, unlike the modern box to box midfielder that can carry the ball through midfield also. At 19 his competent dribble numbers and passing accuracy do show that he has the potential to be elite in terms of progression further in his career.
He is also physically gifted and possesses strength, aerial ability and pace, which means when and if he unlocks his ball carrying ability he might even be better than Bissouma, who is slightly less robustly built, making the Mali international prone to injuries also.
WHAT THE STATS DON'T TELL
Agoume's inherent ability and tenacity has been evident from the start of his career at Sochaux. This coupled with his sheer desire to improve his game shows his mental fortitude to play at the highest level of European football. His reading of the game is extremely mature and his calmness on the ball is a testament to technical prowess.
Not only that, Lucien Agoume also has an extremely mature head on his shoulders, which has earned him a lot of validation from his peers and the fact that he has captained the France youth teams at each level shows his leadership skills. His off the ball work for the team is truly amazing.
📹 | INTERVIEW

"I always work hard to ensure that I'm ready when the Coach calls on me" 🗣

Lucien #Agoume's words after #InterSassuolo 👇 pic.twitter.com/nQS1g67M19

— Inter 🏆🇮🇹 (@Inter_en) June 25, 2020
The Inter loanee makes sure he is not someone who leads by just pushing his players but by example. He is always ready to put his body on the line for the team no matter what the scenario. His robust build also makes sure that he is hardly injured despite having such an intense destructive gameplay, no wonder Conte liked him and signed him.
Inter of the future#Esposito #Agoume #FCIM #InterGenoa pic.twitter.com/xSEWx2e0vW

— Antonio M. Fasulo 🇮🇹🇪🇺🇺🇦 (@fasulo_antonio) December 20, 2019
The Italian coach is renowned for his highly demanding style of football, something Agoume would fit into seamlessly. Despite Conte's switch to Spurs, Lucien Agoume with his high energy, focused mentality and technical ability is a ready made replacement for the ageing Brozovic, Simone Inzaghi should be excited about getting his hands on such an exceptional young footballer.
#Inter, meeting for #Agoume's extension: the latest https://t.co/tDGbbxcVIK

— David Amoyal (@DavidAmoyal) August 11, 2021
Agoume is also not a fan of the media and keeps his personal life private, a perfect indication of his focus and desire to improve. The boy does not want any distractions, he just wants to be the best at what he does.
WHAT MAKES HIM SPECIAL
A deeper look into his stats highlights what makes the 19 year old special, in turn making him a defensive beast. The engine ,defensive acumen and desire to make something happen for his team become clear too. He only gets dribbled past 0.8 times per 90 which is truly elite number.
Inspired by @DKostanjsak's article, I started to wonder if there are any good (and cheaper than Tchouaméni) U-21 options to replace Busquets in the near future.

These players could be interesting:

🇲🇱Mohamed Camara
🇦🇷Alan Varela
🇫🇷Lucien Agoume
🇷🇸Ivan Ilić
🇫🇷Maxence Caqueret

— Football Talent Scout – Jacek Kulig (@FTalentScout) January 26, 2022
He is also always the defensive spearhead as he tackles dribblers 48% of the times and almost always comes away with the ball.
He is present every off the field trying to break up play, which is backed up by his tackle numbers in every 3rd of the pitch. Out of his 2.81 tackles a game he wins about 1.91 one of them ranking him in the top 15% midfielders for this metric. His underlying tackle stats also show his limitless energy. He makes 1.39 successful tackles in his own defensive 3rd, 1.1 in the midfield 3rd and 0.37 in the attacking 3rd.
His tackle numbers in the defensive and attacking 3rd are elite and at 19 he still has room to improve, meaning he can at some point become the best destructive defensive midfielder in the world.
He is also heavily involved in build up play. His ability to start and finish attacking sequences is an added bonus with his defensive numbers. He takes about 19 touches in his own defensive 3rd, a very high number for midfielders. He is hardly the passing hub in midfield with only 31 touches in the centre of the park. But his 1.5 touches in the opposition's penalty area, which means he knows how to find space.
Despite not having elite progressive passing stats Agoume's ability to find long diagonal passes is very unique and reminiscent of Pogba. He attempts about 7.2 long balls a game with a terrifying 84% accuracy making him probably the best long passers in Ligue 1. He ranks in the top 3 percentile for this metric. Thus it is easy to say that with his ability in tight spaces, defensive reading and passing ability he will surely develop into a complete modern defensive midfielder.
POTENTIAL
At this point Lucien Agoume's potential is limitless. He can easily go on to be the next big defensive midfielder in Europe. He would easily fit into any team with a high intensity style of play.
LUCIEN AGOUME

1ST & 2ND SEASON GROWTH
(with Training)#FIFA19 pic.twitter.com/kyo64wAZfp

— FCG (@FIFACareerGems) June 15, 2019
But FootTheBall thinks he should think about his career path carefully as a mis-step might mean that he is not able to get the desired playing time he deserves.
Inter Could Offer Lucien Agoume Or Samuele Mulattieri To Sassuolo As Part Of Deal For Giacomo Raspadori, Italian Broadcaster Reports #InterMilan #FCIM https://t.co/1xB5TBRE4T

— Inter Milan (@intermilan) November 10, 2021
Thus if Inter do not give him a chance in the first team next season, he would most likely push for a move. We see him being the ideal replacement for Yves Bissuoma who's stalk has been rising ever since he moved to Brighton and east Sussex club will be the perfect fit for him specially under Potter.
Inter Value Bayern Munich Linked Lucien Agoume At €15M, Italian Media Report https://t.co/iOhELW0vn3 #FCIM #InterFans #ForzaInter pic.twitter.com/sBys5xACha

— SempreInter.com (@SempreIntercom) February 24, 2021
But there are teams who are in the market for a player with his skill set and quality, he would fit well into Klopp's Liverpool and Pep's City, but the team who could really use him is Manchester United, who are scouring the market for a player like Agoume. Although he is not the progressive defensive midfielder United need, his arrival at Old Trafford will allow the coach to play a more progressive player in a double pivot alongside him.