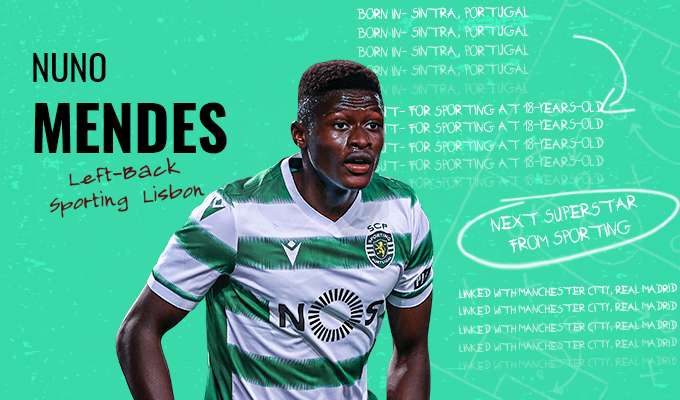 Nuno Mendes: The Flying Wing-Back From Sporting Lisbon
Jamie Carragher, in one of many back and forths with Gary Neville, once said, "Nobody wants to grow up and become a Gary Neville." Of course, he was talking about how the role of a Fullback was a thankless task. There have been numerous such quips said about fullbacks. "A fullback is nothing but a failed winger" is another one. 
However, in modern football, the role of a fullback has been turned on its head. Once regarded as a utility position for technically limited players, the position has blossomed into something else entirely. 
Liverpool fullbacks Trent Alexander-Arnold and Andy Robertson are the creative fulcrums of the side. Joshua Kimmich has been a chance-creating machine for club and country from the Right-Back position. The role has become as focused on attacking as it used to be on defending. It could be argued that the attacking side almost outweighs the defensive.
This has led to a revolution of sorts for the fullback position. At the forefront of that revolution is Sporting Lisbon's 18-year-old dynamic Left-Back, Nuno Mendes. 
PLAYING CAREER SO FAR
Nuno Mendes comes from a famed line of Sporting Lisbon youth academy exports. The Portuguese titans have always been at the frontline when it comes to giving a chance to the youth. Of course, the jewel in their crown remains Cristiano Ronaldo, but players like Luis Figo, Ricardo Quaresma, Nani and many more point to the elite quality of their academy. 
This propensity of Sporting Lisbon giving a chance to youngsters led to the rapid rise of Nuno Mendes. 
Mendes appeared in nine games in the 2019-20 season, mostly providing backup to the more experienced Marcos Acuna. Following the departure of Acuna to Sevilla in the summer of 2020, the club decided to promote Nuno Mendes to the first-choice role instead of looking outside for options. Mendes, aged only 18 at the time, took this opportunity with both hands and ran away with it. He hasn't looked back since in a career that has gone from strength to strength at a pace as rapid as Nuno Mendes plays that game at. 
Mendes played 29 games for the club in the 2020-21 season as they stormed to the title in breathtaking fashion, going nearly the whole season unbeaten. Consistently eye-catching performances from mostly the wing-back position led to a soaring stock of Mendes. 
Nuno Mendes 2020/21:

🦁35 games for Sporting CP
🏆Primeira Liga
🏆Taça da Liga
⭐️Primeira Liga Team of the Season
✍️contract extension with a buyout clause of 70M€
🇵🇹senior international debut
✅Euro 2020 call up

He made his professional debut one year ago. What a talent! pic.twitter.com/vURDEcIURR

— Football Talent Scout – Jacek Kulig (@FTalentScout) June 9, 2021
He was called up by Portugal U21s shortly after his debut. True to form, his ascent in the international set-up mirrored his domestic rise. He was a full international for the senior team just six months after debuting for the U21s, completing the full game against Azerbaijan in the FIFA World Cup 2022 qualifiers. The first-choice option for club and country at just 18-years-old, to say that Mendes has had a blistering start to his career would be an understatement.
STATS
Nuno Mendes mostly appeared as a left-sided wing-back in manager Ruben Amorim's aggressive, pressing oriented 5-2-3 formation. This meant that Mendes' remit was to be an attacking outlet out wide on the left as he had three CBs covering for him at the back. This role suited his forward-thinking game which is reflected in the stats too. 
Mendes averaged 1.2 key passes/90, an appreciable figure for a wing-back. The majority of his key passes were long balls which points to two things- he is an able crosser of the ball, in the mould of Alexander-Arnold, and he could do more with involving himself in the buildup to get the short pass rate upwards. 
In the 2020-21 season, he averaged a shade over 40 passes/90. This is a result of this more chance-creation oriented game but could be worked upon by a coach who prefers a patient buildup. 
Mendes had just two goal contributions in the season gone by: a goal and assist each. However, the end product is something that can be worked upon as he is still at the start of his career, having not made even 50 senior appearances. Moreover, his role in the Sporting system asks him to prioritise ball progression instead of being the one to be at the end of that attack. Still, he has a tendency to move in the inside-left spaces and he is not afraid to shoot if the opportunity presents itself.
On the defensive side, Mendes would probably benefit from having more games under his belt. He has impressed defensively mainly due to his athletic gifts so far in his career. He has a breakneck recovery speed and is proficient in aerial duels. These factors help him get out of sticky situations. He has a less-than-ideal tackle success rate of 69% and an aerial success rate of about 50%. However, the starting signs of anticipation and positional know-how can already be seen in his game. With some tactical coaching and further games under his belt, he has the attributes to be a complete modern full-back.
WHAT THE STATS DON'T TELL
Nuno Mendes is the ideal example of the player about whom the stats don't tell the whole story. FIgures like 69% tackle success, one goal and one assist in 29 league matches mask the impact that he has on his side from game-to-game. 
From the eye test, it becomes clear that Nuno Mendes' footballing brain already belies his tender age. Be it moving forward with the ball or sniffing out counter-attacks before they happen, Mendes has an acute idea of spaces on the football pitch. His footballing education at Sporting started at the age of ten, as an attacking midfielder. This has helped him know about the nitty-gritty of space and time in football. 
He has a knack for taking his time on the ball and releasing it at the opportune moment, also known as 'pausa', wherein his patience can open up spaces in the opposition defence. Furthermore, his ability to find the open man regardless of the pressure he is under is immeasurable through data. Instant switch of play with a crossfield pass has already become a speciality of his. Another particularly interesting facet of his game is his ability to create dangerous situations from throw-ins. He has a bullet throw in him and that is often effectively utilised by Sporting to get out of sticky situations.
WHAT MAKES HIM SPECIAL
He has shown the ability to raise his game to the level he is playing at. Becoming a full-time international after barely 30 senior appearances doesn't happen without being strong-willed and determined. He has taken every career step without looking overawed at his surroundings, indicating a steeliness to his personality. 
✨ ɪᴛ's ᴀ ᴋɪɴᴅ ᴏғ ᴍᴀɢɪᴄ ✨@nunomendes_35 | #MadeInSporting pic.twitter.com/otsiOopeNw

— Sporting CP English 🏆 (@SportingCP_en) September 1, 2020
Being selected for the EURO 2020 squad already shows how much his coaches and teammates believe in his ability. His senior from the Sporting academy, Cristiano Ronaldo, is the personification of driven mentality and Nuno Mendes has shown a similar proclivity towards constantly improving his game. If he keeps this up throughout his career, then the sky is the limit for him.
PREDICTION
While Mendes has barely played one full season of senior professional football, the ability he has shown makes it highly unlikely that he remains a Sporting Lisbon player much longer. Elite clubs like Manchester City and Real Madrid have already registered a concrete interest in him. Although he signed a new contract at Sporting in December, if he continues his rapid ascent with a strong EURO 2020, the clamour and buzz around him might become too much for him and his club to ignore.
FootTheBall predicts that Nuno Mendes will start the new season, 2021-22, at a new club, probably one that is a top contender for the domestic trophies and the Champions League. As per the rumours currently, Manchester City seem to be the likeliest destination for him.
Their manager Pep Guardiola has already evolved the fullback role so a move there could be a good next step for Nuno Mendes. Moreover, City have played without a specialised LB for some time now due to Benjamin Mendy's injury woes. Midfielders like Fabian Delph and more recently, Zinchenko, have had to deputise on the left. Therefore, Nuno Mendes would presumably have a path straight as the first-choice LB for the club.
If Mendes' career so far is an indicator, if he sees an opportunity to be had, he'll run away with it for sure. Whichever club is smart enough to buy him would probably sort out their LB spot for the next decade and a half.