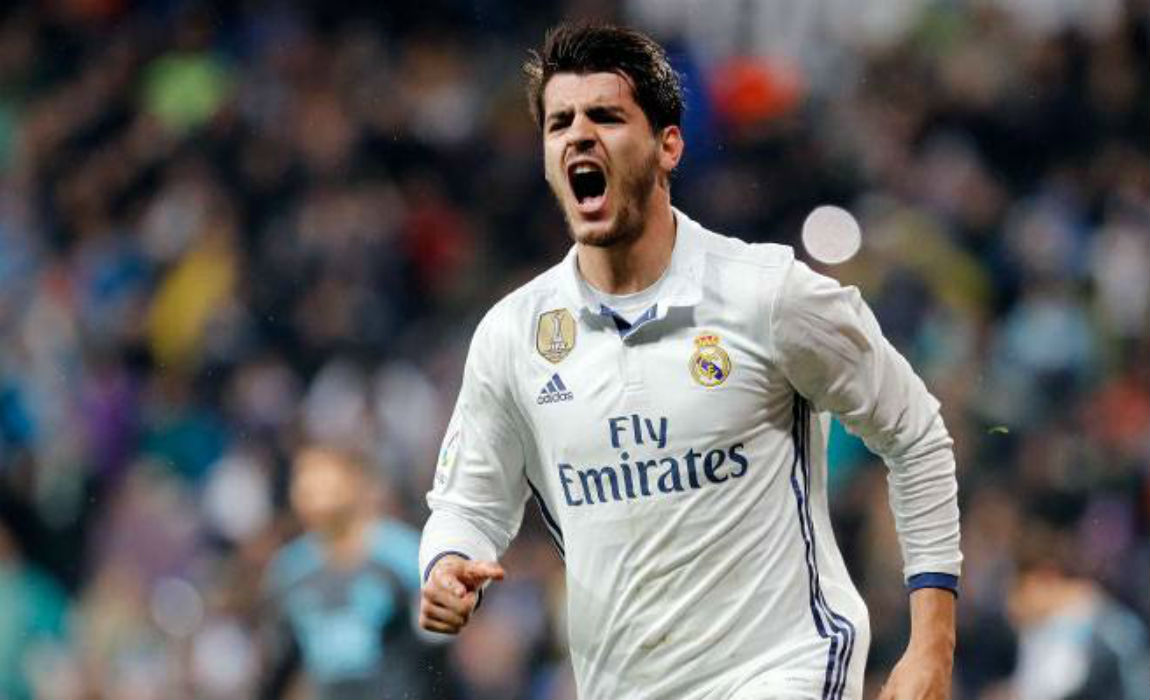 5 Things Alvaro Morata Will Bring To Manchester United
All signs are pointing towards Alvaro Morata leaving Real Madrid this summer.
The Spaniard had a mixed season in 2016/17 and although he scored in most of his appearances, the Spaniard didn't feel he was afforded enough opportunities to start. This led to a public fallout between him and Zinedine Zidane that all but confirmed his impending exit from the Bernabeu.
José Mourinho is a stark admirer of him and with Zlatan Ibrahimovic on his way out, United are in need of a new top class striker.
Here are five things Alvaro Morata would bring to Manchester United.
5

A ball-carrying forward

An underrated characteristic of the Spaniard is his ability to travel with the ball at high speeds. Many look at the 6'2 striker and see a lanky clumsy individual, but his 'on-the-ball' skills suggest otherwise. Many a time at the Bernabéu he's been able to sustain counter attacks by running with the ball over long distances, thus allowing the likes of Ronaldo and Bale to make runs off of him. He has the engine to be a box to box midfielder, the skill to be an attacking midfielder and the shooting technique to be a striker. And at the tender age of 24, he still has a lot to learn in the game regarding his decision making, but once he improves that, it's a guarantee he'll be world class in no time.
4

Competent link up play

Throughout the course of last season, even in his limited game time, Morata maintained a passing accuracy of 78%. In a high-risk role like the central striker, Morata ensured that his link-up play with others did not suffer, despite being tightly marked. The Spaniard always guarantees that his touches in the attacking third are meaningful and decisive and if he can't manufacture a chance for himself, he makes sure that he supplies someone else. Morata as the focal point of United's attack would bring in others at a quicker pace than Ibrahimovic did. He'd also be able to feed off of the others around him by making in behind runs in relation to those one-twos. Such fluidity is needed in the modern game today.
3

A fox in the box

On top of his pace, strength and link up play, the

Spain

international is also versatile enough to be a poacher. The 24-year old is a constant threat in the box that comes alive in the six-yard box. His movement in the final third is often timed to perfection as he loves to run across defenders when crosses are incoming. This kind of mindset will perfectly suit the Premier League and José Mourinho's wide flank tactics. The United manager has often prioritised the attacking prowess of Antonio Valencia over others in the team, giving the Ecuadorian freedom down the right flank to cross as much as he likes into dangerous areas where the ex-

Juventus

forward will be preying around. At 6'2 Morata is an aerial threat who should seamlessly adjust to the physicality of the English Premier League.
2

Pace in the middle

Over the past few seasons, Manchester United have had to suffer from the likes of

Wayne Rooney

, Robin Van Persie and Zlatan Ibrahimovic. They're all players with vast amounts of technical ability but none of them recently have had the pace to match. In the Premier League today, it's imperative to have an all functioning forward that can not only hold up play but also stretch defences when need be. Former Manchester United coach Rene Meulensteen described the 24-year old as 'mobile, agile and good at creating chances.' The striker also has great acceleration and his large leg strides make him impossible to catch when at full pelt, his tall build further aids his flight. At

Old Trafford

, the Spaniard will inject lightning pace through the middle giving Pogba a central option to feed in behind defences.  
1

An out and out striker

No, not a deep-lying forward, not a false nine or a striker that wants to be a winger, Alvaro Morata will finally give Manchester United a straight central forward option up front. Many have called for the likes of Marcus Rashford and Anthony Martial to start up front but Mourinho has had different ideas. However, as Morata is an out and out striker that has no intention of being on the flanks, the 'Special One' will have no option but to deploy him centrally. This will allow Manchester United for the first time in years to have a fluid and pacey front three. The last time the Red Devils had a pacey, powerful and clinical striker up front, Wayne Rooney had real hair.