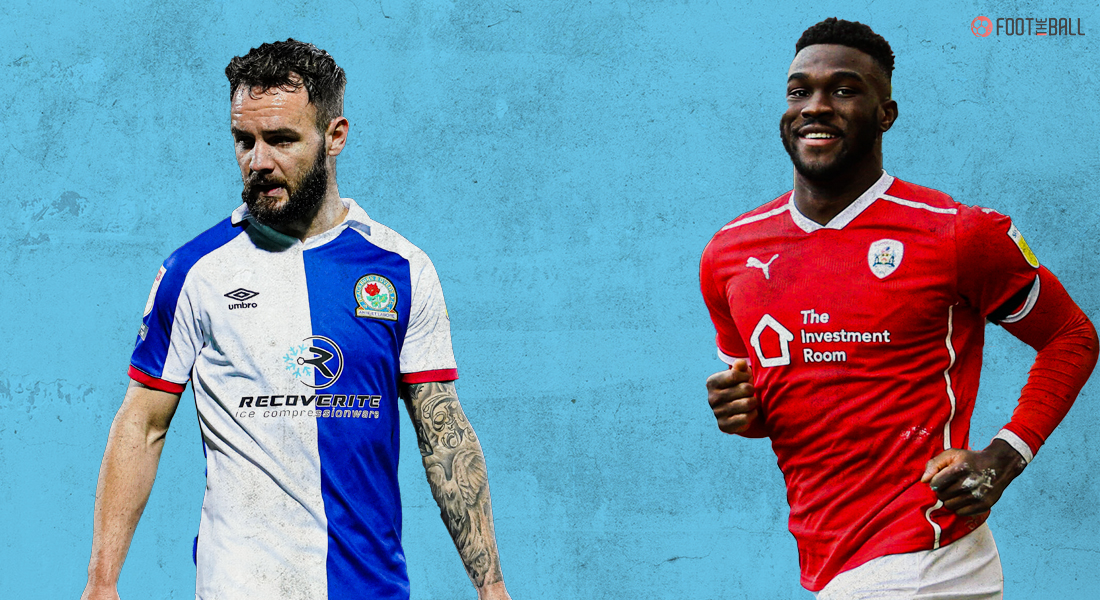 Championship Strikers Adam Armstrong and Daryl Dike Are Attracting Suitors From Across Europe After A Stellar Campaign.
Adam Armstrong and Daryl Dike have been prolific in the Championship for their respective teams. The former is 24-years old and has been the most influential player in Blackburn Rovers. A stellar season that featured 28 goals in 40 appearances for the club. Daryl Dike only played half a season for Barnsley but is the second-highest goalscorer in the club. The two strikers from the Championship should be eyeing for a move this summer.
These two young talents are destined for greatness and have already attracted many Premier League suitors. Rumours linking the players with the various top clubs in Europe has emerged. It may not be long before they are offered a deal by one or other better clubs on the continent.
The Championship has emerged as a hotbed of talent for smart transfers to the Premier League and abroad. This summer will be no different and you can stay updated on the likelihood of your favourite team's transfer with the newest transfer odds. Let's take a look at what these two particular strikers from the Championship bring to the table and where their futures lie.
ARMSTRONG PLAYER PROFILE
The English born attacker is one of the most sought-after young attackers in the country. The life-long Newcastle United fan is the second-youngest player for the club to feature in the Premier League. However, with many senior players and changing management, the player was usually loaned out.
He played for Coventry Club, Barnsley and Bolton Wander before being loaned to Blackburn Rovers in 2018. He helped the team earn a promotion to the Championship in his very first season.  On August 6, 2018, he signed a four-year deal with the club to make his move permanent. The player has played for England's U-16, U-17, U-18 and U-19 teams, recognizing his efforts at the club level.
EXPLOSIVE CENTRE-FORWARD
Armstrong is one of the most explosive centre-forwards in the Championship. A clinical finisher who beats opponents with pace and skill. His dominance in front of the goal is clear. The best part being, he can score with either foot and is also a good header. Of the 28 goals scored, 15 were with his right, 10 with his left and the rest were headed goals.
Contributing five assists, he was instrumental in keeping Blackburn Rovers afloat in the Championship. Although not one of the most accurate passers of the ball, he makes up for it with the goals he scores. He relies on his pace to get the ball moving and gets his shot away when space opens up. He works tirelessly to win the ball back and is a threat both on and off the ball.
DIKE PLAYER PROFILE
American Daryl Dike is just 21 years old and has already attracted attention in Europe. Dike began his career as a professional footballer in the MLS. In his very first season in the tournament, he made an impact for his club, Orlando City SC. Dike was named the MLS Player of The Month in August 2020. Scouts recognised the striker's ability and in February 2021 he joined Championship side Barnsley on loan.
🇺🇸 @DarylDike 💪 pic.twitter.com/7GTCm9iPPU

— Barnsley FC (@BarnsleyFC) June 2, 2021
Reports suggest that there was also a 'buy clause' included in the deal worth nearly twenty million dollars. In the month that followed, Dike scored four goals in six appearances and was named Barnsley's Player of the month in March. Despite an impressive season, Barnsley did not choose to trigger the Buy clause. Hence, he has now travelled back to the US.
At such a young age the player has already accumulated plenty of honours. He was the NCAA Men's Soccer Tournament Most Outstanding Player in 2019. His performances had led to call-ups to the national side as well.
TRADITIONAL CENTRE-FORWARD
The big centre forward has been quick to make his name known wherever he landed. In Orlando, he was named the Man of the Month in just his second month. He repeated the same when arrived in Barnsley as well. The style of play these two teams use is polar. Orlando is a fluid unit. The Lions like to play quick passes and uses the space effectively. Barnsley is a more compact unit that plays more direct football.
Sprinting back from the break 💨@DarylDike | #VamosOrlando pic.twitter.com/M7u99Z3ju9

— Orlando City SC (@OrlandoCitySC) June 16, 2021
The big centre forward has coped well with these changes. In Orlando, although the style did not suit him to perfection, he was keen on getting the goals. He was challenged more often and he learned from those tough situations.
In Barnsley, the player uses his strength and weight to open up space. He cherishes tough situations and uses his firepower effectively. He is what one might term 'the traditional centre-forward'. Dyke has been a handful for all the teams that faced him and thus attracted attention from even the biggest clubs in England.
IDEAL LANDING SPOTS
Adam Armstrong and Daryl Dike are sure to be offered contracts soon. With many clubs reportedly keeping an eye on the two players, it might just be a matter of time now. If clubs do swoop in and offer their bids, they might end up with a bargain for two promising strikers from the Championship that would come at an affordable rate.
Amazing what can happen in 17 months. #GoHoos pic.twitter.com/qeyRiMHz87

— Virginia Men's Soccer (@UVAMenSoccer) June 10, 2021
Blackburn is reportedly willing to let go of Armstrong for merely eight million pounds. He only has a year left in his contract and they might need to sell him now if they ought to make a profit. Newly promoted Norwich City and Southampton are two clubs that are eyeing the young Englishmen. Norwich has plans to bolster their squad while Southampton is looking to revamp theirs.
However, the latest reports also suggest that West Ham might also be on a hunt for the forward. With David Moyes signing a contract extension, the club hierarchy will be supportive if Moyes is interested. Eight million is an absolute bargain and it should be a no brainer.
Whereas Daryl is attracting names like Everton, Leeds and Wolves. Everton has a history of favouring American players and this might just suit both parties. But with the manager not yet confirmed, it might be too early to predict transfer options. Dike does not fit into the style of play Marcelo Bielsa enforces at Leeds and therefore the move seems unlikely.
Wolves on the other hand are looking for strikers to add depth to their squad and they also have the financial means to meet the 20 million dollars demanded by the Championship side for Dike. The striker fits the picture perfectly at Wolves and it will be an ideal buy for the club. Manchester United are also keeping an eye for the player according to reports. The player will most likely be second fiddle at the club riddled with high-profile attackers, affecting his game time.
It is certain that these two have immense talent and are only going to get better. A bargain for whoever places their bids at the earliest for the strikers is clear to see they have a higher ceiling than that of the Championship.