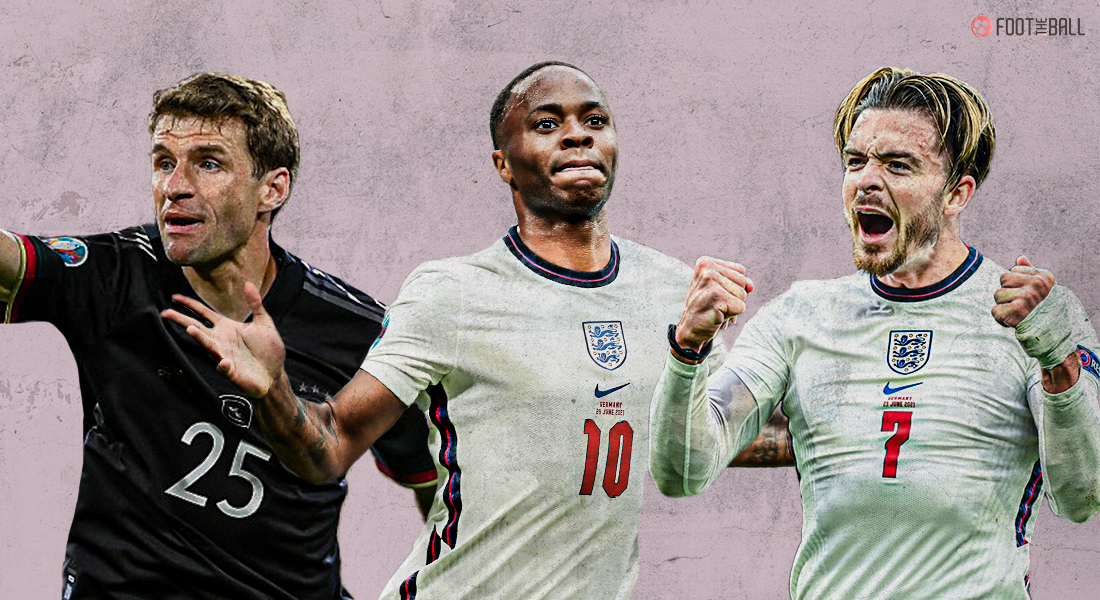 EURO 2020: 5 THINGS WE LEARNED FROM ENGLAND 2-0 GERMANY, ENGLAND MARCHES ON AFTER DEFEATING AN UNUSUALLY BLUNT GERMANY
England beats Germany at Wembley in a 2-0 comfortable win after defeating a disappointing German side. With this win, England have set themselves up with a great chance of reaching a major tournament final.
THIS TEAM! 😍 pic.twitter.com/VF7yfNB10V

— England (@England) June 29, 2021
England stepped onto the pitch hoping their performance would be a lot better than their group stage games as they had only scored 2 goals in the tournament so far. Germany would be happy with their performance as of yet in Euro 2020 as they managed to end up 2nd in the group of death. But their performance could reach greater heights considering the quality in their squad and the Germans were hoping to hit that mark today.
1) A PHYSICAL 90 MINUTES
We truly saw the physical aspect of football tonight as the sheer amount of rough tackles made by both sides is almost baffling to watch. A total of 20 fouls were committed throughout the 90, which is an unusual sight in, especially European football. England conceded 3 yellow cards and Germany conceded 2.
Both teams will feel fortunate that there weren't any injuries involved in this game because it was highly likely that a player or two go off the pitch limping. Both teams were desperate to win possession of the ball but were too fast for each other, hence the miss-timed tackles. The defenders were not keeping their composure and hence gave away avoidable freekicks in dangerous positions in the final third.
2) GERMANY WEREN'T THEIR USUAL SELF
Crucial from @matshummels 👏#ENG 0-0 #GER#DieMannschaft #EURO2020 #ENGGER pic.twitter.com/jpFmzIcf9S

— Germany (@DFB_Team_EN) June 29, 2021
Germany are known for their possession game. For years they have been known for being lethal with their work on the ball in the final third and their fierce link-up play. But the world just didn't see the same German side as we have been seeing for decades. They couldn't hold onto the ball and even though they had their moments their shooting game tonight was below sub-par. Muller had a golden opportunity with 10 minutes left in the game but he couldn't score an easy goal with only the keeper between him and glory.
The forwards missed a lot of simple opportunities in front of the goal and it was simply unacceptable as on any other day, they would have netted the ball on those occasions with their eyes closed.
3) A SAD END TO JOACHIM LOW'S REIGN
Back in March Germany's head coach, Joachim Low had announced that Euro 2020 was going to be his last international tournament, leading Germany and hence with the end of this campaign, we have also witnessed the end of his career with the German national team. He has been with his nation since 2006 and has been through a lot of ups and downs in his tenure. He helped Germany win the 2015 World Cup and Germany would be forever in debt of him.
Joachim #Löw will step down as national team head coach after @EURO2020. pic.twitter.com/t4OuyQmaSC

— Germany (@DFB_Team_EN) March 9, 2021
A Euro 2020 win would have been the perfect send-off for Joachim Low but we guess it was just not meant to be. This was his 198th game at the helm for his country and it is just sad he couldn't hit the 200 mark. Nevertheless, this result doesn't change the fact that he is an absolute legend in the footballing world.
4) ENGLAND'S NEW GAZZA LIVES UPTO HIS NAME
Jack Grealish came on as a substitute on the 69th minute and turned the flow of the game from thereon. Southgate has faced a lot of criticism up till now for not playing Grealish more and the youngster has just proved his worth by tonight's performance. His passing has been spot on and the way he has controlled the central half of the pitch took Germany by surprise.
The second goal Harry Kane scored was because of Grealish' cross from the left flank and even had direct involvement in their first goal as well. There is no doubt Grealish should be starting for England in the Quarter Finals because they wouldn't have won so comfortably if it wasn't for their exciting attacking midfielder.
5) IT MIGHT JUST BE COMING HOME
SCENES! pic.twitter.com/nvlElrvQKJ

— England (@England) June 29, 2021
This was one of the toughest fixtures of the knockout stages and also a crucial one for both sides since they are currently in the relatively easier side of the draws. This was a major obstacle for England and some might just say that Germany was the only team that was predicted to give England a run for their money.
They will be facing the winners of the game between Sweden and Ukraine. They are clearly a better side on paper than both the teams and hence England has a massive chance of making it to the final as lady luck has been with them all this time.