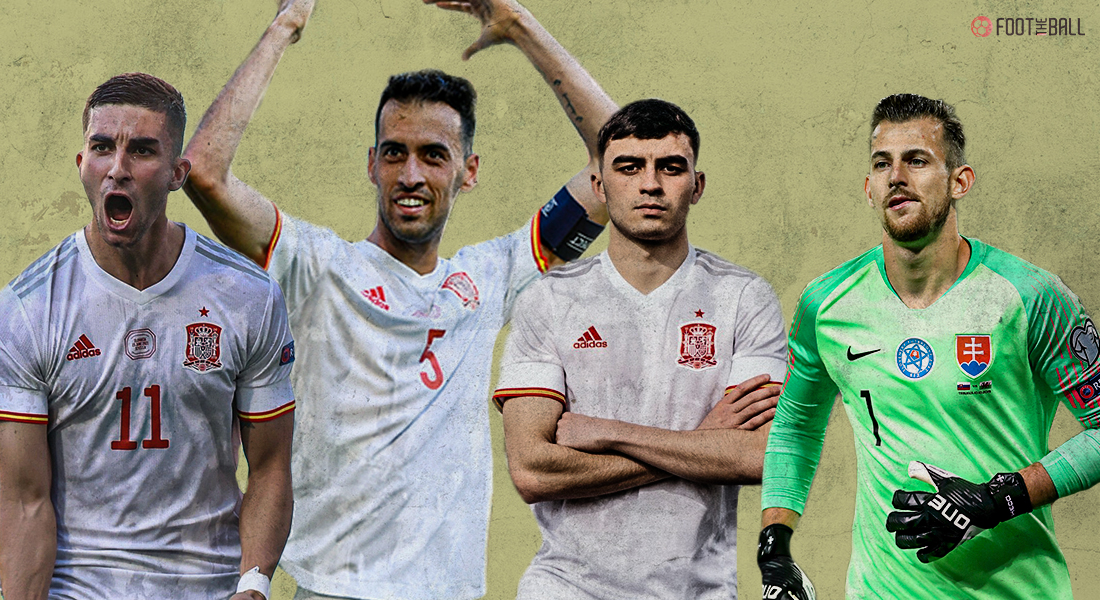 MATCH REPORT: SLOVAKIA VS SPAIN, SPANIARDS QUALIFY FOR KNOCKOUTS AWAY WITH A MASSIVE WIN
Spain beat Slovakia in a whooping 5-0 win in Seville as they finish second in Group D and progress ahead in Euro 2020. Slovakia are 3rd in the table with a goal difference of -5 which is surely not enough for them to squeeze their way into one of the lucky losers spots.
🔢 Group E: Spain heading through as things stand…#EURO2020

— UEFA EURO 2020 (@EURO2020) June 23, 2021
Spain came onto the pitch highly motivated as nothing but a victory would confirm their place in the Euro 2020 knockout stages. Spain had only scored once in the tournament and hoped to scored at least a few goals of the numerous chances they get in front of the goal. A draw would do for Slovakia to finish second in the table if Poland doesn't manage to muster a win against Sweden and looking at the match, a draw was exactly what Slovakia was going for.
Slovakia's Hromada made an honest tackle in the box during the 10th minute and after a long VAR check, a penalty was given to Spain. Spain missed a penalty in their game against Poland which highly jeopardised their position in the tournament and it looks like they haven't learned from their mistakes yet as Alvaro Morata's shot from the spot was saved by Slovakia's Dubravka. Another chance went begging for the Spaniards.
Spain finally got their first goal of the game courtesy of an own-goal by the Slovakian keeper, Dubravka. After a sloppy mistake by one of the defenders, Pablo Sarabia got hold of the ball and took a bullet on the goal but unfortunately struck the crossbar. The ball went high up after hitting the crossbar and in an attempt to push the ball out of the game, he punched it right into the net.
Spain scored another goal in the dying minutes of the first half as Pedri placed an inviting ball in the box for someone to head and Laporte did the job as he scored his first goal in a Spanish jersey.
📸 Aymeric Laporte nods Spain in front ⚽️#EURO2020 pic.twitter.com/Iwtfr4fqSr

— UEFA EURO 2020 (@EURO2020) June 23, 2021
Spain dominated in the first half like they always do, but since their front line has been blunt so far in the tournament, they tried to be more aggressive against Slovakia. As we all know, the problem with Spain this campaign is finishing the ball in the net and even though they were two goals up by halftime, they wouldn't have been that confident as they missed so many chances where they could have easily scored.
Slovakia did their best to keep their defensive line intact but there were still a lot of holes in their backline as both the goals they conceded were in a way because of their goof ups. As expected, Slovakia was playing on the bach foot through the first 45.
🙌🏻 ¡¡DIEZ MINUTOS DE SEGUNDO ACTO!!

La @SeFutbol sigue dominando el juego, el balón y la posesión sin dejar de buscar el ataque ante una Eslovaquia que empieza a despertar.#SVK 🆚 #ESP | 0-2 | 55' #SomosEspaña #EURO2020 pic.twitter.com/lgyBjLqekS

— Selección Española de Fútbol (@SeFutbol) June 23, 2021
In the 55th minute, Sarabia scored an easy goal from the centre of the box courtesy of a beautiful ball by Jordi Alba making the score 3-0. Talk about hitting a man when he is down, Slovakia were looking completely battered on the pitch by this time.
Ferran Torres got subbed in for Alvaro Morata in the 67th minute and scored their 4th goal with his first touch on the ball. A short corner was taken by the Spaniards and Sarabia passed the ball in from the edge of the box which was poached beautifully by the youngster.
Slovakia conceded yet another own goal this time by Kucka. Pau Torres headed the ball towards the net just as he came onto the pitch and the ball took a deflection by the Slovakian midfielder and the scoreline said 5-0.
🇪🇸 Bravo, Spain! La Roja through to round of 16 🥳#EURO2020 | #ESP pic.twitter.com/uqCl9vyNgu

— UEFA EURO 2020 (@EURO2020) June 23, 2021
As you all could have guessed, Spain dominated the second half after having a two-goal cushion. Slovakia tried to open their play and attack more but by doing that, their backline became extremely thin and Spain jumped on to exploit that. Slovakia has been knocked out of the tournament as Spain gets away with the biggest victory in their Euro history. Spain is about to face Croatia in their Round of 16 fixture.
SERGIO BUSQUETS MADE THE DIFFERENCE FOR SPAIN
Jordi Alba was the captain for Spain in their first 2 group stage games but with Sergio Busquets back from his injury, he was passed the captain's armband for tonight. Maybe Busquet's leadership is what Spain was missing all along. After two draws, a 5-0 resounding win is surely what the team needed to boost their morale ahead of the knockout stages.
Sergio Busquets held the midfield together, made his defensive contributions and controlled the attacking plays as well. Sergio Busquets is surely the leader Spain needed.
SLOVAKIA GIFTED THE WIN
When Dubravka saved the penalty, it seemed like Slovakia were going to give Spain a tough time but those thoughts now are very misguided. The first 2 goals they conceded was completely their teams' fault and after that, the game never looked like theirs. A few silly mistakes by them caused Spain to get away with a massive win.
A GAME THAT HAS CHANGED EVERYTHING
Slovakia were second in the table and many believed that they would easily qualify for the knockout stages but that hasn't been the case this evening. With Slovakia surely out of the race, the other third-place teams would surely be optimistic about their chances of going through.
Ukraine, Finland and Switzerland's chances of making it to the knockout stages were pretty thin but now with Slovakia out of the running, they might qualify for the Round of 16 if Portugal by more than 2 goals.