Brazil must feel that they are the strongest national team in South America right now and with good reason, and their fans will be expecting them to defend Copa America successfully.
Rising from the lows of a 7-1 thrashing at the hands of Germany in the 2014 World Cup, and finding redemption after winning gold at the 2016 Olympics, followed by a stellar showing at Copa America 2019, the Selecao have reestablished themselves as international powerhouses. 
Few days into the South American tournament, Brazil has already made their fearing presence felt and is here to cause major problems to their opponents. The Brazilians have gotten off to a solid start, scoring 7 goals in their first two matches and seeming unbeatable under Tite's supervision.
Brazil in #CopaAmerica

🏟 2 games
✅ 2 wins
⚽️ 7 goals
🥅 0 conceded

Who can stop them? pic.twitter.com/Af69QPaPnH

— VBET News (@VBETnews) June 18, 2021
Brazil is undeniably the strongest team in this edition of Copa America, and anything less than winning it all and successfully defending their title will be regarded as a failure.
`
THE BRAZILIAN SHIELD
With strong, talented, and in-form centre backs in Thiago Silva, Marquinhos and Eder Militao at the base of the field, Tite has some "Bad-Boys" at his disposal. Opposing attackers are in for a horror movie when they face three of the most intimidating defensive players in the game. 
Thiago Silva, at 36, is showing no signs of stopping and has been looking like "Vintage Silva" whenever he has featured for Chelsea and his nation. Guiding Chelsea to the UEFA Champions League title in his first season with his incredible leadership and defensive tenacity, the defender is looking like his prime self. 
Along with Silva, Marquinhos is another reliable centre-back who was one of the few bright spots in PSG's disappointing season. Silva and Marquinhos have been in charge of protecting Brazil's goal for years and have succeeded in their roles. They were a key factor in their country's Copa America 2019 victory, surrendering only one goal in six matches.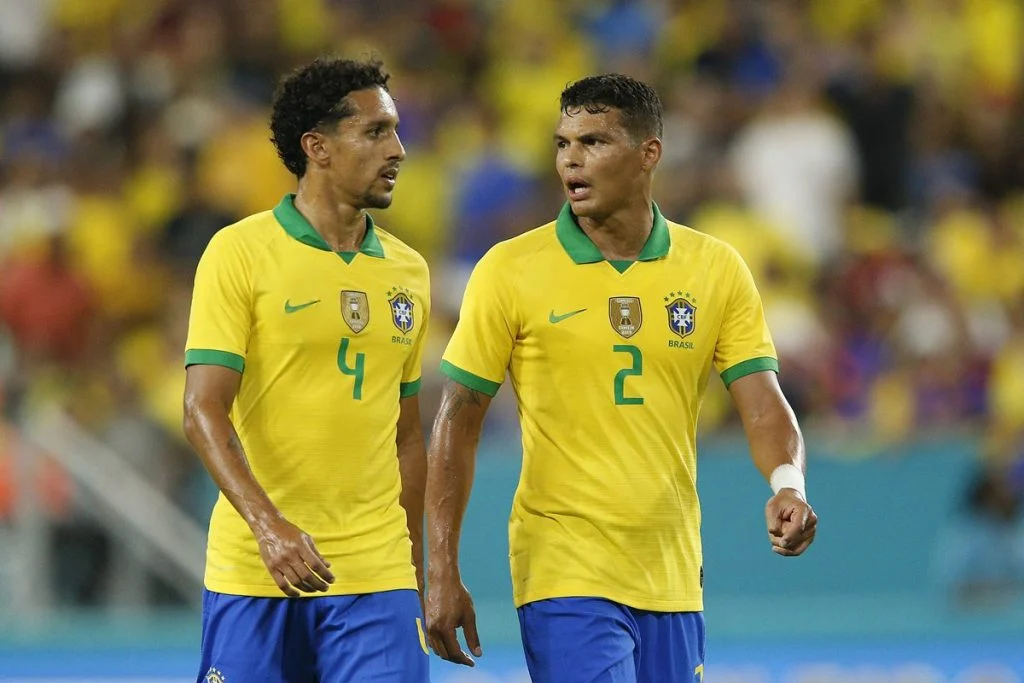 Individually, Eder Militao had a fantastic season and was crucial for Real Madrid in the absence of their first-choice centre-backs. He used his quickness and tenacity in duels to establish his value, and he refined his reading of the game to take them to new heights. 
Los Blancos saw the best of him in difficult times and pressure situations against strong teams, despite the fact that he would not be trusted for matches against sides on the wrong side of the league table months ago. 
Eder Militao 🆚 Chelsea:

7 tackles
7 clearances
3 interceptions
1 blocked shot
91% passing accuracy

A huge performance for Real Madrid in Sergio Ramos' absence 💪 #RMACHE pic.twitter.com/csDbRyaCgR

— Sport360° (@Sport360) April 27, 2021
Brazil boasts one of the finest defences in the competition and among other international teams as well thanks to these three players. And, of course, having two of the world's finest goalkeepers in Ederson and Allison just adds to the defensive brilliance. 
GREAT ATTACKING AND MIDFIELD DEPTH
In recent years, Brazil's attacking firepower has been a nightmare for opposing defences. They boast the greatest talent and depth up front, as well as the most deadly attack among their tournament competitors. 
With the likes of their talisman Neymar, along with renowned and talented players in Vinicius Jr., Firmino, Gabriel Jesus, and Richarlison, the Brazilian offensive line is stacked. 
🔎 | FOCUS

Neymar starred in Brazil's 4:0 win over Peru last night:

👌 71 touches
⚽️ 1 goal
🥅 5 shots/2 on target
🎯 2 big chances created
🔑 4 key passes
👟 30/35 acc. passes
💨 4/11 succ. dribbles
⚔️ 12/25 duels won
🤕 7 fouls suffered
📈 8.4 SofaScore rating#CopaAmerica pic.twitter.com/IFkqJ2e51k

— SofaScore (@SofaScoreINT) June 18, 2021
With two straight MVP performances in their first two matches, Neymar has already been the most impactful player for Brazil in the opening week of Copa America. The 29-year-old draws attention with his elegance, magical dribbling, and ability to set the tempo at the offensive end.
With two goals and one assist, and closing in on Pele's all-time goal-scoring record for Brazil's national team, Neymar is more determined than ever to lead his nation to glory. 
After discussing their attacking brilliance and depth, it's time to discuss their equally excellent midfield. Brazil is a tough side to break down since it has two of the finest defensive midfielders in the game in Casemiro and Fabinho.
We talked about their defensive capabilities to shield the goal, but their defensive midfielders are equally adept at playing a shield in front of the back four. Both the players will be hungry for silverware following a trophy-less season with their respective clubs.  
Players like Fred, Paqueta, and Douglas Luiz bring a lot of depth to the midfield and give Tite a lot of choices when it comes to selecting and deploying them considering the scenarios. 
NO ONE COMES CLOSE TO SELECAO
There are a few talented or challenging teams in the South American tournament, but no one comes close to Brazil in terms of both quality and tactics. 
Argentina is one of Brazil's toughest opponents and the other favourites to win it all, although they would be wishing to avoid the Selecaos in the knockout stages considering the dominating force that they have been. 
Argentina have not lost a game since 𝗝𝘂𝗹𝘆 𝟮𝟬𝟭𝟵 📅

The team to beat at Copa America? 🌎🏆#Argentina #CopaAmerica #CopaAmerica2021 pic.twitter.com/Yz3x89Yhbq

— LiveScore (@livescore) June 22, 2021
Argentina is a strong favourite and has played well in their first three matches led by Lionel Messi yet again. They have talent and possibly more talent than they have had in recent years, in terms of the potential ceiling of several youngsters. And yet, there still is something unconvincing about them, as they lack the tactical ability to compete with much more well-oiled sides in Brazil. 
Argentina have scored two goals in two Copa America games so far. Messi has a goal, an assist and two man of the match awards.

Putting the team on his back 💪🇦🇷 pic.twitter.com/HlT16bad2d

— ESPN FC (@ESPNFC) June 19, 2021
Recurrently, Argentina has been making a few steps back, and dropping their level, as soon as they have got the lead in matches. This doesn't seem a mental issue, of fear or complacency from the players once they achieve the first goal. As it has been happening again and again, over several months and regardless of the scenario or rival, it appears to be a part of Lionel Scaloni's plan and instructions.
They have never attempted to control games and defend through possession, which is like playing with fire and will be punishable against a lethal attacking team like Brazil.  
Other teams like Uruguay and Chile haven't really been the sides they were last decade, owing to their ageing squads and overreliance on their veterans.'
Brazil should have no trouble defending their Copa America crown and winning it all again, given their tactical brilliance under Tite and talent advantages, but in order to accomplish so, Neymar and other players have to be the greatest versions of themselves.