Real Madrid went trophyless for the first time in 11 years. This fact shouldn't take away anything from the players who have outdone themselves in the toughest of seasons. Coming into the season on the back of a non-existent summer break they have performed admirably well. Madrid's midfield trio in particular was brilliant. Toni Kroos, Luka Modric and Casemiro shone again. Casemiro might not get the plaudits he deserves. We are doing just that as we put Casmeiro under the spotlight before Copa America 2021.
🇧🇷 Sempre uma honra e um orgulho enorme defender essa camisa! Parabéns a todo o grupo por mais uma vitória! Estamos todos juntos!

#Brasil #VamosBrasil #SeleçãoBrasileira #CA5EMIRO #BRAxEQU pic.twitter.com/5HwwddadGm

— Casemiro (@Casemiro) June 5, 2021
Casemiro has had another top-class season under his belt. He's quietly becoming one of the best defensive midfielders of all time. At 29 years of age, his trophy collection is enviable. Reaching the peak of his career he has plenty to offer for both club and country. Currently, Casemiro is with the Brazil squad for the upcoming Copa America 2021.
Casemiro captained Brazil in a 2-0 victory in the World Cup qualifying against Ecuador. The midfield lynchpin later spoke that the entire Brazil side including the manager are upset about Brazil hosting the tournament. The future of the tournament is unsure now amidst protests from the public. Whatever may happen before the kickoff Casemiro enters the tournament under the glowing spotlight.
HARDSHIPS TO STARDOM
Brazil is known for producing attackers oozing with skill and talent. In recent years their defensive midfielders are also taking over the world and giving Brazil a complete image. Casemiro can be said as the first of his generation of defensive midfielders to make it big from Brazil. Born in Sao Paulo, Casemiro had to struggle for resources in his childhood. It was understandable in Brazil's economic situation.
Casemiro battling Ronaldinho in a match between Sao Paulo and Flamengo. 🇧🇷💪 pic.twitter.com/YxDPgMsRmQ

— Football Tweet ⚽ (@Football__Tweet) December 15, 2019
Despite all his struggles, he had a love for the game from his childhood. Though he was not technically blessed he always had an aggressive mindset. He used to play as a defensive midfielder right from his childhood. Sao Paulo's youth academy quickly recognized his brilliance and took him under their wing at the age of 11. He made rapid strides through the ranks and made his senior debut at only 19 years of age.
Casemiro was then known as "Carlao" in his native Brazil. He was an integral member of the squad ever since. He won the Copa Sudamericana in 2012 and was a key member of the squad. European clubs that always circle in Brazil noted him. Surprisingly it was the Spanish side Real Madrid that made the move for him. He spent a couple of years with Real Madrid-B before linking up with the senior side where he turned into a superstar.
THE TANK
Casemiro spent his initial years with Real Madrid-B and on loan at FC Porto. He was a squad player under Rafa Benitez and exploded after Zinedine Zidane took charge. Zidane improved the technical side of Casemiro and massively enhanced his other traits of the game. He has become a pivotal member of Zidane's Madrid and became an undroppable name. It'll be interesting to see how he adapts under new manager Carlo Ancelotti.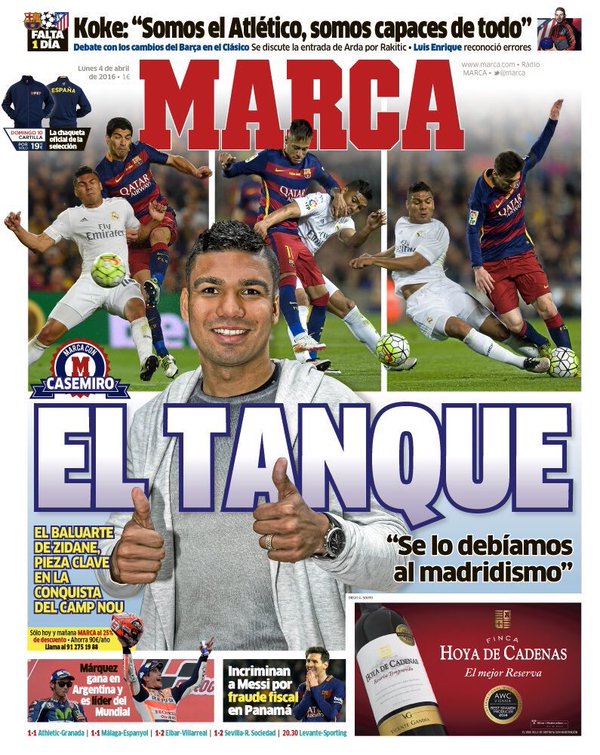 Casemiro excelled at Madrid and made the defensive midfield spot his own due to his traits and versatility. Primarily a defensive mid, he also prospers in a box-to-box role and at centre-back. He is an intelligent, physically strong and aggressive hard-tackling midfielder. Casemiro's work rates in attack and defence are unmatched. He anchors the midfield breaking up innumerable attacks and kickstarting his own team's attacks. His positioning and the ability to read the game make him a destroyer in the midfield. Apart from these defensive traits he also possesses a powerful shot and makes surging forward runs sometimes.
Casemiro has been fondly nicknamed "The Tank " by the Spanish publication Marca. Defensive midfielders are not always covered in glory. They have to do the dirty work when their team needs them. Casemiro exemplifies this behavior as he makes some challenges for the team and takes cards. Sometimes the adrenaline gets the better of him as he ends up making rash tackles. All in all, Casemiro is an all-around midfielder who always puts the team ahead of him. His partnership with Kroos and Modric would go down as one the best trios of all time.
A SERIAL WINNER
Casemiro has won trophies throughout his career. He has continental crowns in South America and Europe as well as an international trophy with Brazil. Casemiro is instrumental in any team he plays for and hence deserves the trophy very well. He has been part of the national team since 2011. He made his debut for the senior side in 2011 aged 19.
Casemito:

– Champions League (4)
– Club World Cup (3)
– UEFA Super Cup (2)
– Copa America
– La Liga
– Copa Sudamericana
– Copa Del Rey

Serial winner and he has so many more years of top football left in him. pic.twitter.com/B0eFfWfGk8

— Brasil Football 🇧🇷 (@BrasilEdition) July 8, 2019
Casmeiro was a part of the 2015 Copa America squad where he didn't feature in any game. He also made senior appearances at the 2016 Copa and 2018 FIFA World Cup. His biggest achievement with the national side was the triumph at the 2019 Copa. He was a world-class defensive midfielder already in 2019 and was Brazil's number one choice. He started a majority of the games along with the final against Peru where they triumphed over Peru.
This time ahead of the 2021 Copa America Casemiro is a leader in the national team. He already captained the team and is a crucial member for them at the tournament. He also has strong competition for his place in the squad. Brazil's current crop of defensive stars includes Fabinho, Fernandinho and Douglaz Luiz. Casemiro has to be on top of his game to defend Brazil's Copa America trophy and stake his claim for the best defensive midfielder crown.