Chile, two-time Copa America champions, are on the lookout for reclaiming their title from the hosts Brazil this summer as they bid to establish themselves as a force to be reckoned with in South America and the world.
La Roja won consecutive South American championships in 2015 and 2016 (both times they won in the final with Argentina) on home soil and on American shores respectively.
But this time around they do not look like the team they once were. Age has certainly caught up with a lot of players in La Roja's squad as was evident in their match with Argentina in the South American World Cup qualifiers.
La Albiceleste dominated the final part of the match as they looked for a winner and were only denied by Claudio Bravo in goal.
FootTheBall takes a look at the Chilean national team and how they stack up ahead of the 2021 Copa America in Brazil this summer.
CHILE'S AGING SQUAD A PROBLEM
The average age of the Chile national football team is 29.4 years. This is simply not a good sign for a team that wants to compete at the highest level for international honours.
In comparison the average age of the Argentine national team is 27.3 years, while Brazil and Uruguay numbers when it comes to the squad's average age are 27.6 and 27.1 respectively.
The oldest member of the Chilean national team is captain and first-choice goalkeeper Claudio Bravo (38 years old) while the youngest members in the squad are Clemente Montes (left winger, 20 years old) and Carlos Palacios (right winger, 20 years old).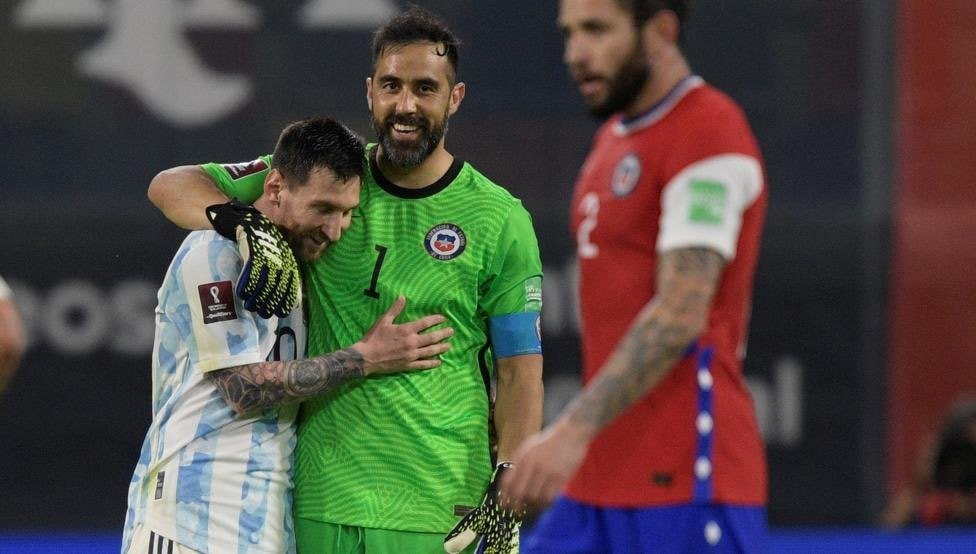 But it is quite evident that both Montes and Palacios will be featuring on the bench for La Roja for the majority of the tournament as more experienced players will be preferred by Lasarte for the all-important tournament.
Apart from Bravo, star man Alexis Sanchez is 32, first-choice striker Eduardo Vargas is 31 and defensive mainstay Gary Medel is 33. Full back Mauricio Isla and midfielder Charles Aranguiz, both key men for Chile, are also 32 each. The starting average age for Masarte's side is likely to be much higher.
Two years ago Chile finished in fourth place at the 2019 Copa America, but if we look at their statistics, they tell us that they had a below-par performance at the tournament as signs of age catching up with the squad showed themselves, albeit in their nascent stages.
Chile only won two of the six matches they played in – against minnows Japan and Ecuador in the group stage. They lost to Uruguay to finish second in Group C and then did not win even a single match in the knockout stage.
CONGESTED 2020-21 SEASON TO HURT CHILE?
Chile's midfield general Arturo Vidal faces a race against time to recover from the coronavirus as La Roja gear up for an eventful summer ahead. The 34-year old Inter Milan player won the Serie A title with Antonio Cote and company this past season.
He made 30 appearances for Inter in the entire season which was affected by the Covid-19 pandemic, resulting in a large number of matches being played in a relatively short span of time. This will surely affect how his body recovers from the wear and tear of a gruelling season in Italy.
And this holds true for the majority of the players in the Chilean team. Most of them are above 30 and it will be difficult for their bodies to convalesce after a physically demanding season that saw players' fitness and recuperation being stretched to a breaking point as the recovery period between consecutive games shortened dramatically.
Add to this the fact that before La Roja's World Cup qualifier game with Argentina, the last ball that they had kicked in a competitive game was in November 2020 and it seems like an uphill task for Lasarte's team to stamp their authority in Brazil when the 2021 Copa America commences.
CHILE'S DISAPPOINTING QATAR 2022 QUALIFIERS

Although there is still a long way to go in the South American World Cup qualifiers, Chile's performance until now makes speaks for itself and it does not take an expert to see that they are struggling.

La Roja have won only one of the five matches that they have played until now – their only victory coming in their match with Peru (who themselves are in the last place in the table).
Thus, they are languishing in 7th place in the table and are two points behind the fifth place that will guarantee them a place in the inter-continental play-offs. Currently Uruguay are qualifying for the inter-continental play-offs from South America.
They were not able to qualify for the 2018 World Cup and if things go on as they are at the moment, they won't be playing in Qatar next year.
As for this year, only time will tell how they fare in Brazil on the back of an extremely draining and taxing season that must have taken its toll on their players.