COLOMBIA AND PERU
Colombia and Peru will square off in a Copa America match-up on Monday at Goiania, Brazil. It is bound to be an intriguing contest as both the nations will be familiar with each other's strengths and weaknesses given that they faced each other earlier this month in the 2022 World Cup qualifiers. Colombia had the upper hand then, smashing Peru 3-0. But the stakes are much higher this time, and both sides will want to leave it all on the field.  
Colombia has had a decent start to their Copa America campaign, with a victory and a draw in their first two matches, but they are yet to gather momentum and display their full potential. Colombia's talented attacking line was anticipated to perform admirably, but they have faltered in front of goal, scoring only once in 180 minutes of football. 
In their goalless draw, against a depleted Venezuelan squad, Los Cafeteros were unable to capitalise on the abundance of chances they had to find the back of the net. La Tricolor, who have not reached the final since lifting their maiden title in 2001, will be looking for a triumph on Monday to bolster their qualifying chances as they aim to go further into the tournament. 
Peru has only played once in Copa America 2021, falling 4-0 to defending champions Brazil in the tournament opener. The White and Reds haven't been the same since losing to Brazil in the Copa America 2019 final, with only two wins in their 12 matches since. 
They'll be hoping to repeat their exploits from the 2019 tournament, but their thrashing at the hands of Selecao isn't a promising start. They stunned many with their progress to the Copa America finals in 2019, and they'll be confident about their prospects here as they still have a long way to go.
TEAM NEWS
Colombia entered the tournament without star player James Rodriguez who was dropped from the squad following an injury-plagued season with Everton. Juan Otero is still unavailable following a positive COVID-19 test earlier this month. 
Midfielder Luis Diaz will miss their encounter against Peru since he was sent off in their previous match against Venezuela. Yairo Moreno suffered an injury in their victory over Ecuador and has been ruled out for the remainder of the tournament.
Colombia Probable Starting Lineup: Ospina; Munoz, Mina, Sanchez, Tesillo; Cuadrado, Barrios, Uribe, Cardona; Muriel, Zapata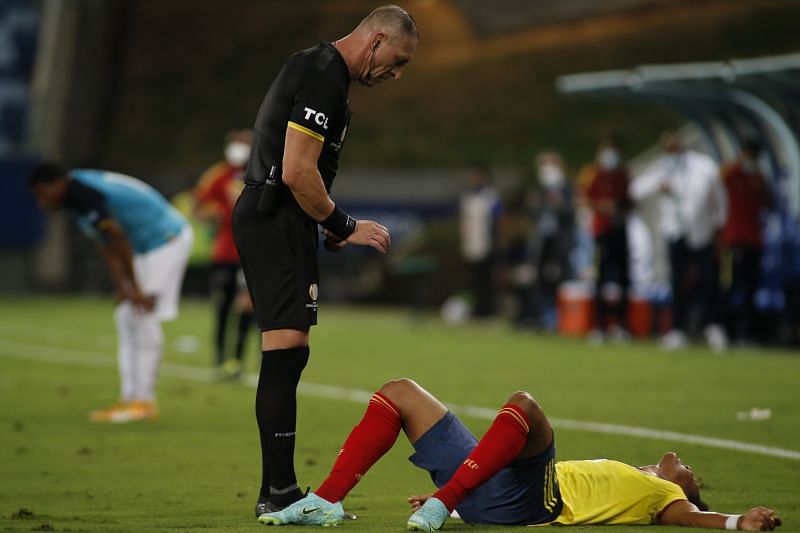 Veteran players such as Raul Ruidiaz and Paolo Guerrero were left from Peru's squad with Ricardo Gareca focusing on developing young players. There are no major injury concerns for Ricardo Gareca's side and will be able to deploy his strongest lineup against Colombia. 
Peru Probable Starting Lineup: Gallese; Corzo, Ramos, Abram, Lopez; Tapia, Yotun; Carrillo, Pena, Cueva; Lapadula
GAME CHANGERS
DUVAN ZAPATA
Duvan Zapata is a physical specimen – standing at a towering 6'2″ and physically built like a Greek god. Because of his leaping abilities, his stature becomes an even more vital tool, making him into a valuable weapon on crosses and set pieces. Despite his stature, the attacker is remarkably fast and athletic, traits he utilizes on a routine basis. He helped Atalanta finish third in the Italian top flight, with 24 goal contributions (15 G, 9 A) under his belt. 
However, he is much more than a physical marvel or an excellent killer inside the box. He makes quick judgments, has a great mentality, and is highly intelligent when it comes to interpreting counter-attacking scenarios. He is no dancer between the lines, but with only a few inches of space, he can wreak havoc.
RENATO TAPIA
Renato Tapia was one of the few highlights of Peru's horrendous performance against Brazil. The defensive midfielder was the only one who brought energy to Peru's game, was tough, and posed a challenge for Brazil's lethal offence to overcome.  
Tapia's tremendous blend of strength and skill, physicality and elegance, makes him an extremely dynamic player. In his brief career, he has already played at center-back, defensive and central midfield, as well as occasionally filling in as a number 10. The 25-year-old is a master in aerial duels and has mastered the ability to carry the ball forward and break down opposing defences with his line-breaking passes. 
PREDICTIONS
While Colombia's most potent weapon, its offence, has struggled, they would like to re-establish their attacking momentum against a Peruvian side that has been in poor form for a prolonged period now.
FootTheBall predicts Colombia 2-0 Peru