Six Ballons d'Or, four UEFA Champions League titles, ten La Liga titles, six European Golden Boots and much more. This is just a glimpse of the trophy cabinet of perhaps the greatest football player of all time Lionel Messi when it comes to his achievements and accolades with his club FC Barcelona. The Copa America title is something that has always eluded Messi.
For all the success and glory the diminutive Argentine has enjoyed in club football, he has nothing to give an account for himself on the international stage. The only honour he has won for Argentina is an Olympic gold medal at the 2008 Olympic Games in Beijing – more than a decade ago.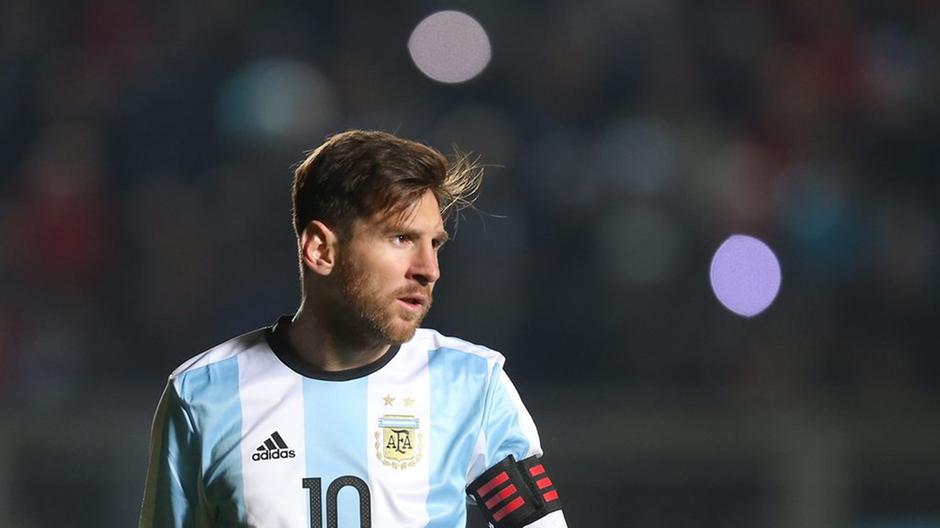 And as another Copa America tournament is in the offing, FootTheBall takes a look at La Pulga's statistics at the world's oldest international tournament.
1) 2007 Copa America
This was the tournament where Messi really burst out at the international scene. The current Barcelona captain had played only a season for the Blaugrana coming into the quadrennial competition. The then 20-year old Argentine shone for La Albiceleste in Venezuela as he scored two goals for his national team (including perhaps the best goal of the tournament in the semi-final with Mexico) as Argentina went all the way to the final.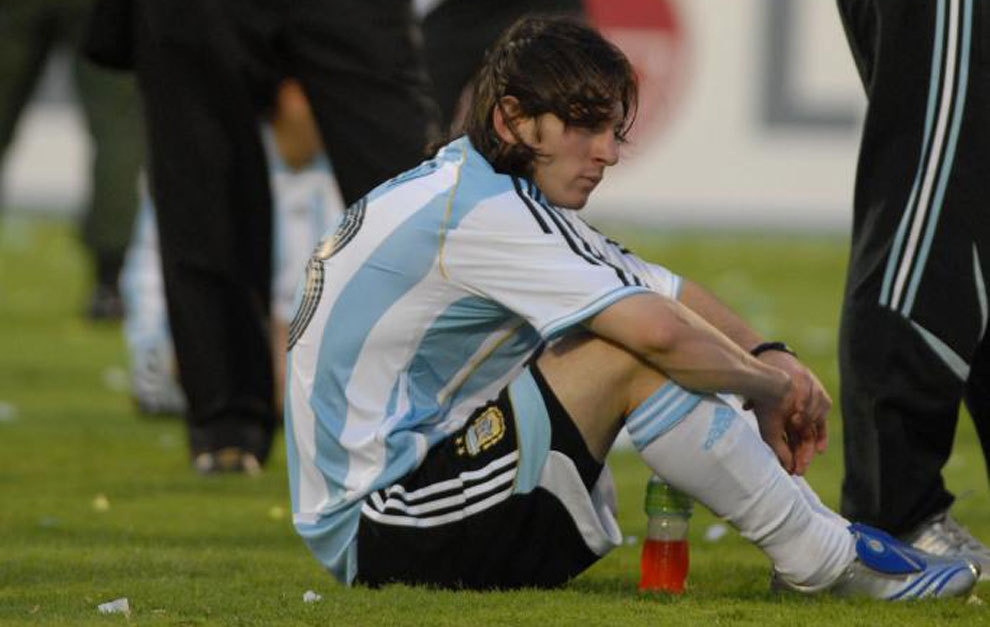 But it was not to be for the young Messi as Argentina were beaten soundly by the Selecao. And for all of La Pulga's prodigious talent and skill, he couldn't help his team win the continental tournament and a first trophy for La Albiceleste since 1993
2) 2011 Copa America
A decade ago Argentina hosted the Copa America and Messi had the chance to cement his status as one of Argentina's greatest players by winning the tournament on home soil, just as Mario Kempes had done for La Albiceleste at the 1978 FIFA World Cup, but the little genius once again came up short and was found wanting in his performance for his nation at the South American championship.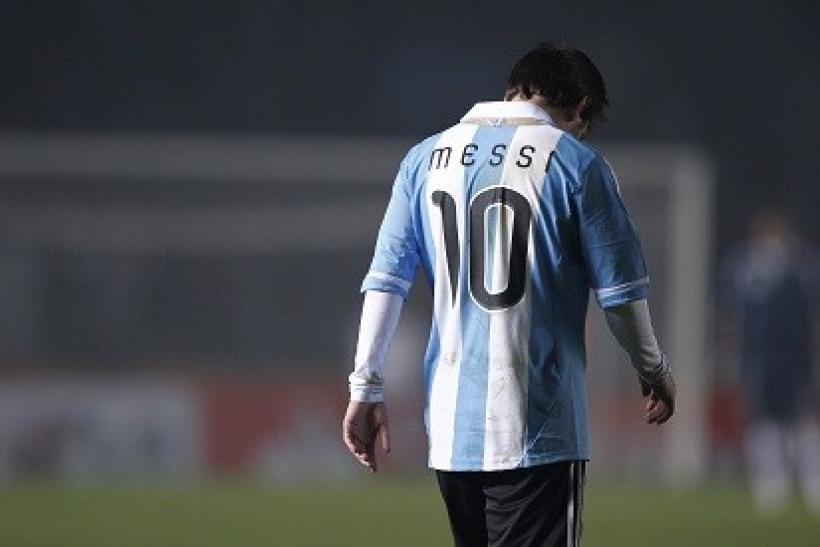 Argentina played four matches across the tournament and were eliminated by eventual winners Uruguay in the quarter-finals. Messi was named the player of the match in two matches during the group stage of the tournament, but did not get on the scoresheet for his national team even though he was never substituted during Argentina's run to the quarter-finals, playing the entire 360 minutes for La Albiceleste.
3) 2015 Copa America
Four years later in Chile, Argentina were once again aspiring to end their title drought with a plethora of the world's best players in their squad – the likes of Sergio Aguero, Angel Di Maria, Javier Pastore and Lionel Messi. And even though La Pulga got on the scoresheet this time around, – scoring a penalty in their opening match with Paraguay – he couldn't inspire Argentina to a continental victory.
Though this is not to say that the Argentine contingent lacked any self-belief or motivation. They went all the way to the final, winning the semi-final with Paraguay by a mammoth five goal margin (Messi bagged a hat-trick of assists and was involved in tormenting the Paraguay backline time and again).
But like the 2007 final eight years ago, Argentina were beaten this time too by hosts Chile on penalties as Messi and company succumbed to a second straight defeat in a major final in as many years
4) 2016 Copa America Centenario
Coming into this tournament, Messi was injured and missed Argentina's opening group stage match against then South American champions Chile, but it didn't trouble the Argentines as they won and exacted revenge for their defeat in last year's final. In the second group stage match, Messi came off the bench to inspire Argentina to a victory, scoring a sublime hat-trick and delivering an assist against Panama.
He gave similarly breath-taking performances against Venezuela and the United States in the quarter-final and semi-final respectively (scoring a goal and delivering a pair of assists in each of these matches) to set up a mouth-watering clash against Chile in the title decider at the MetLife Stadium in New Jersey. But as has been the norm in recent years, La Albiceleste came tantalisingly close to a first international title in almost a quarter of a century, only to lose to Chile on penalties again.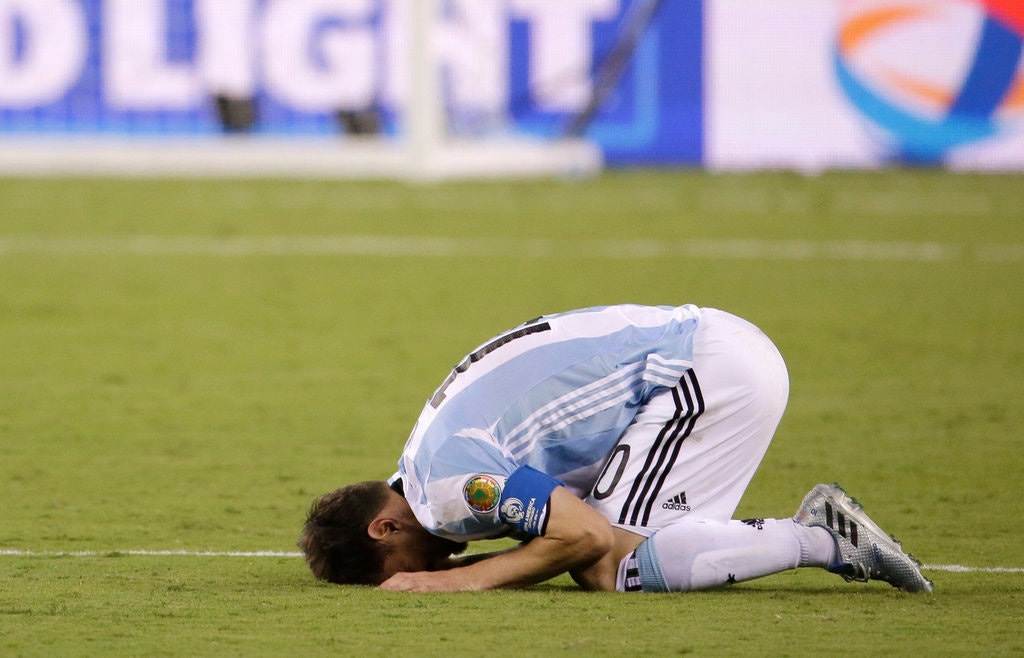 And this time Messi was also to blame for Argentina's heartbreak as he missed Argentina's first penalty against then Barcelona teammate Claudio Bravo. So even though statistically speaking it was Messi's best performance for Argentina at the Copa America (5 goals and 5 assists), he was blamed for Argentina not winning an international title and La Pulga even retired briefly from international football in the aftermath of the tournament
5) 2019 Copa America
Argentina started this tournament in dismal fashion, losing to Colombia in their opening tie. Their record improved as the tournament progressed – drawing with Paraguay and winning against Qatar (Messi was named player of the match with Qatar), but the mesmerising Argentine only scored a solitary goal across the entire tournament (a penalty in the match with Paraguay). In the knockout stages, Argentina managed to win the quarter-final with Venezuela, but succumbed to a semi-final defeat against bitter rivals and hosts Brazil.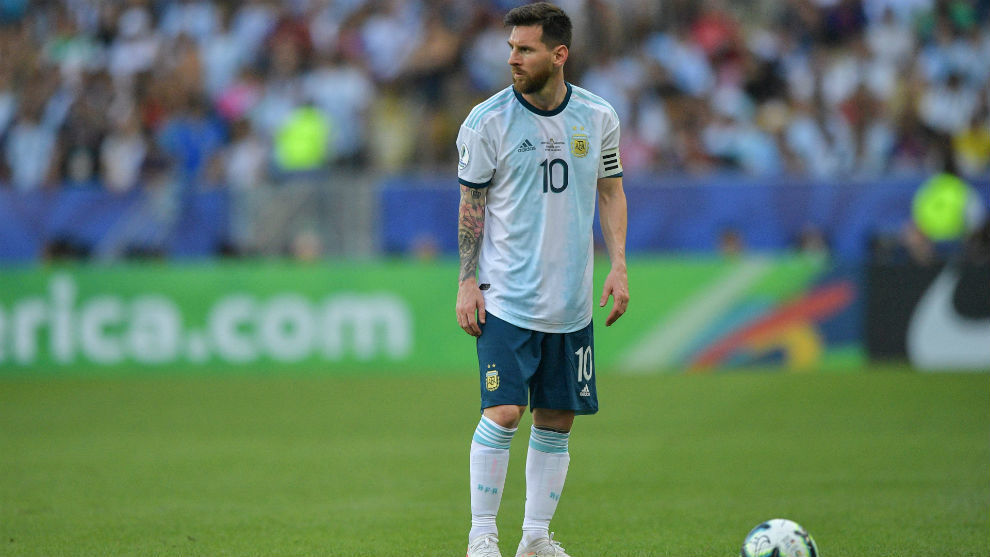 Eventually, La Albiceleste had to settle for a bronze medal at the tournament as they won against Chile in the third place play-off courtesy of goals from Sergio Aguero and Paulo Dybala in the first half. Messi's club teammate at that time, Arturo Vidal reduced the arrears for the Chileans from 12 yards in the second half, but it wasn't enough to secure a third place finish. For the third time in as many Copas America, Messi managed to finish on the podium for Argentina, but an international trophy eluded him and La Albiceleste once again