Colombia will compete in the Copa America competition this summer but will be missing their marquee player James Rodriguez, who has been dealing with calf injuries during his loan spell at Everton throughout the course of the season.  
Despite this, James would have hoped to play an essential role for Colombia in a tournament that they were supposed to host until those plans were thwarted by continuing protests in the nation. 
🚨 James Rodriguez has been dismissed from Colombia's Copa America squad due to fitness issues pic.twitter.com/BgOGER2kdC

— FOX Soccer (@FOXSoccer) May 28, 2021
However, it was announced that James will be dropped from Reinaldo Rueda's roster for the Copa and the 2022 World Cup qualifiers against Peru and Argentina after medical checks revealed that he was not "at the optimum level of fitness to compete." 
Colombia does not lack talent, and their devastating attack is enough to justify that. However, the absence of James in the middle of the park can make things go wrong for Los Cafeteros. 
COLOMBIAN ATTACK
Colombia's attacking talent is a cheat code. Going into Copa America, they have one of the best attacks of all the nations. After relying on James and Falcao for years, Colombia now has fresh daggers upfront in the form of Luis Muriel, Duvan Zapata, and Alfredo Morelos.
Muriel and Zapata have been vital for Atlanta this season, guiding them to a third-place finish in the Italian top division with 37 goals between the two of them. While Alfredo Morelos has been one of the stars of the Rangers' invincible season in the Scottish Premiership. Whether goal scoring or assisting, the 24-year-old striker has excelled in both the departments with 17 goals and 13 assists in 44 outings for the Light Blues in all competitions. 
Muriel and Morelos' versatility will be vital for Los Cafeteros, as both the players can be deployed in any position up front, whether as a winger, supporting forward, or lone striker. They have a unique array of skills that make both players a nightmare for  the opposing defences, thanks to their guile, close control, and devastating dribbling as well as finishing ability 
Duvan Zapata, on the other hand, is a physical specimen. The Atlanta striker, who stands 6 feet 2 inches tall and has the physical frame of a Greek God, is a major threat. His stature might be deceiving, but he excels at lay-offs and manoeuvring between the lines.
His presence on the pitch is critical because he can occupy and push back the two centre-backs, which will allow other players to benefit. And of course, his clinical finishing and venom infused powerful shots are deadly as well. 
JAMES' ABSENCE LEAVES A VOID
Talking about Colombia's attack, the man who had to be in charge of setting the tone for them will be absent. James is one of the nation's biggest footballing stars, having earned 80 senior caps to date and represented his country at two World Cups – memorably winning the Golden Boot en route to the quarter-finals in Brazil in 2014 – and three previous Copa America tournaments. 
🔙 #OnThisDay in 2014 @jamesdrodriguez did this at the @maracana. It helped @FCFSeleccionCol reach the #WorldCup quarter-finals, and the mercurial No10 win the @adidas Golden Boot and that year's #Puskas Award 🇨🇴 🚀 🪙 🥇pic.twitter.com/Gs7jlpM4Vg

— FIFA World Cup (@FIFAWorldCup) June 28, 2020
The 29-year-old's class is evident, however, due to a succession of minor ailments, we did not see it enough throughout the season. Being left out of the 2021 Copa America team has astounded fans as much as it has the player, with a major squabble arising from the Everton midfielder's demand for more rest to completely heal from an injury that terminated his domestic season prematurely.  
Colombia will be missing the creative hub of their team in James Rodriguez. He is a calm, hard-working, creative attacking-midfielder with an excellent positional sense and passing range. He could set the tempo of the game with intricate short exchanges, or switch the play with longer deliveries.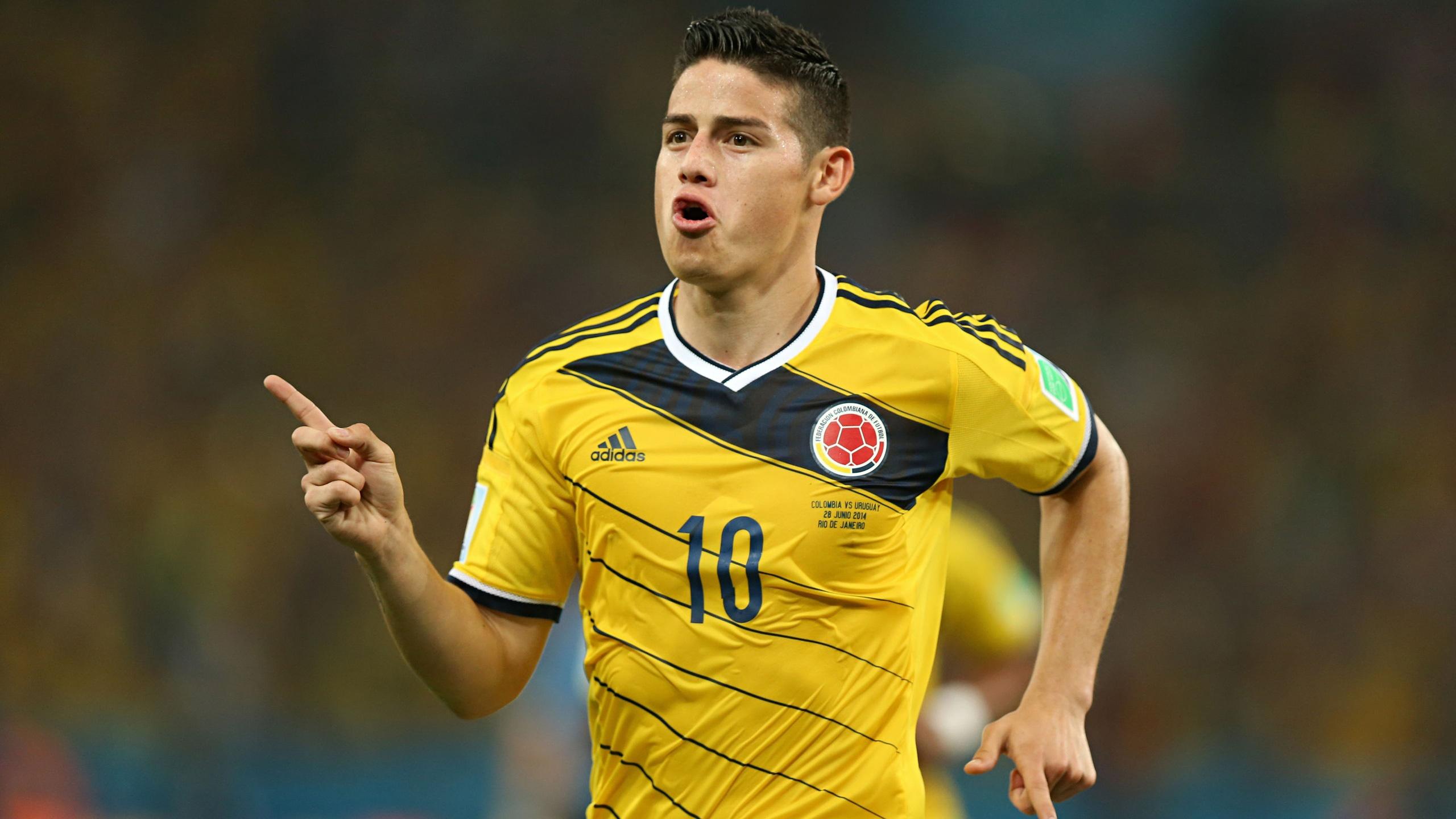 Despite his tiny body, it's his intelligence that allows him to be everywhere. He knows where he needs to position himself in order to create advantages, and then he has the technical quality to beat rivals through one-v-ones. Through the middle or out wide, he reads each situation very well, and, apart from his vision to be a brilliant assister and play-maker, his arrivals into the box leads him to find the net regularly for club and country.
Carlo Ancelotti had stated that the 29-year-old was not always at his best for Toffees this season, but he still managed to contribute 15 goal involvements in 26 games. This season, James shone in the Premier League on occasion, and Everton would have been considerably worse off without him, but missing nine of the final 14 games was not a great look. 
🥁 | You've voted 𝘁𝗵𝗶𝘀 @jamesdrodriguez strike as January's @Davanti_Tyres Goal of the Month!#EFC 🔵 pic.twitter.com/4u6TPOSkIc

— Everton (@Everton) February 18, 2021
Yes, injuries have slowed him down, and he is no longer regarded as one of the finest attacking midfielders as he once was with Los Blancos, but the Colombian is still an outstanding player who has carried his country on his back for years. Colombia's chances of winning a second Copa America title might have been jeopardised by James' absence. 
WHAT JAMES HAD TO SAY? 
Shortly after it was confirmed that he will not be representing Colombia in this year's Copa America, James Rodriguez published a statement, which read: "I am in the final stages of my recovery. In that period I have taken enough time to fully integrate myself into the practice of football and in this way not affect my participation in the next commitments of our selection.
"The pertinent times of this process suggest that I take precaution to participate on day seven of the tie, but they would allow me to join fully on day 8 and of course be available for the Copa America 2021.
Comunicado de prensa. pic.twitter.com/AwzYsKYlJo

— James Rodríguez (@jamesdrodriguez) May 28, 2021
"With surprise I received the statement from the technical team, stating that they do not count on me and wish me a full recovery. Recovery that I have already made and in which I have sacrificed a lot.
"The above fills me with deep disappointment, because for me it means playing for my country. Not receiving the trust from the coaching staff breaks everything and causes me enormous pain, since I have always left even my life for the Colombia National Team jersey.
"For my colleagues, the best energy and best wishes. From a distance I will support with passion as always."
Being disregarded by Colombia is unavoidable. It is a harsh fact that these minor injuries are compounding into something more serious if the country that worships James is set to compete in a major tournament without him.
🇨🇴 | Our Director of Medical Danny Donachie says James Rodriguez was on course to be fully fit for the start of Colombia's Copa America campaign.#EFC 🔵

— Everton (@Everton) May 31, 2021
At this moment, only James Rodriguez can respond and show Colombia that he is still the top player they know. The next move, however, cannot be a heartfelt 200-word message uploaded on social media.
He must let his game do the talking, with the hope that his body backs him up.