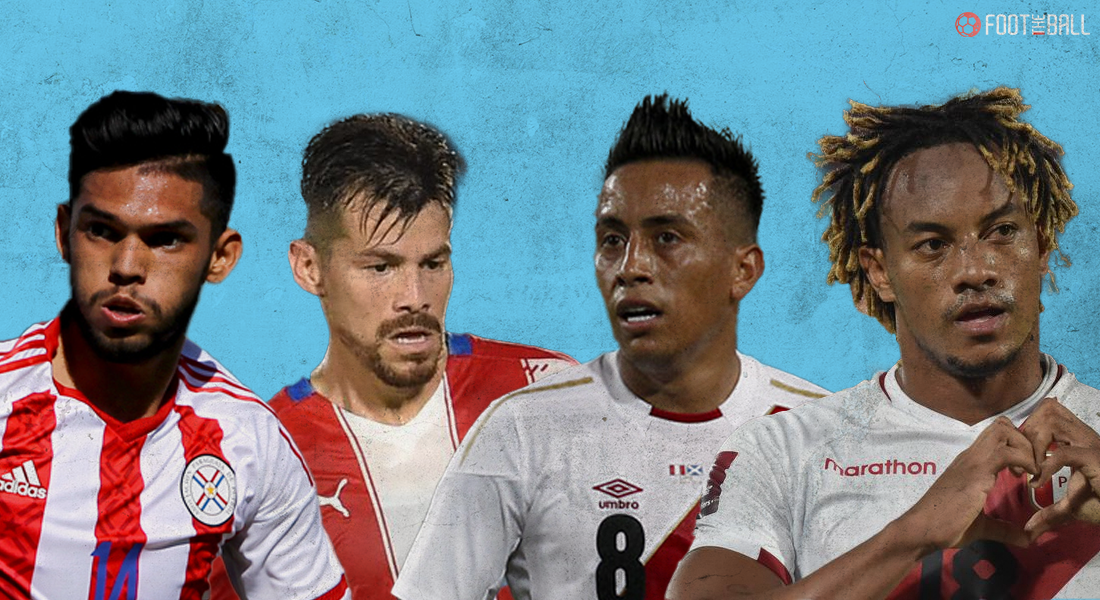 Copa 2021: Peru vs Paraguay, Three Key On-Field Matchups To Lookout For
Peru will take on Paraguay in the first quarter-final fixture in Copa America. Both teams put up decent performances in the group stages and finished 2nd and 3rd in their respective groups. It will be an interesting fixture between two almost equally strong teams.
La #Albirroja ⚪🔴 tiene rival confirmado.

📅 CONMEBOL @CopaAmerica – Cuartos de Final#Paraguay 🇵🇾 🆚 🇵🇪 @SeleccionPeru

🏟 Estadio Olímpico de Goiânia.

⌚ Viernes 2 de julio, a las 17:00 hs. de nuestro país.#ElSueñoQueNosUne 🇵🇾#PoneteLaAlbirroja 🙌 pic.twitter.com/lx15oL5gey

— Selección Paraguaya (@Albirroja) June 29, 2021
This is a hopeful campaign for both teams with neither showing the level of confidence to go all the way. They will be happy to avoid the bigger boys. Peru's leaky defence will need to be patched up quickly if they hope to survive this encounter. Paraguay might be without one of its biggest stars but still possesses enough quality to outclass Peru.
In what is pitted as an exciting encounter, the individual battles will prove to be decisive in the fixture. Let's take a look at the key matchups between the two teams.
CUEVA VS GIMENEZ
Operating from the left side of the midfield, Christian Cueva is one of the key men for Peru. He started all four matches for Los Incas and was one of the most influential players on the field. Although he does not boast a goal or assist involvement, his presence in midfield has been vital. With neat footwork and good passing and crossing abilities, his presence will be a nuisance for the Paraguay defence.
Paraguay's Gaston Gimenez will likely be tasked with limiting Cueva's involvement in the game. His defensive presence from midfield has been a boon for Paraguay and it will need to continue against Peru. Cueva does not need much space to create opportunities and hence Gimenez will need to stay sharp throughout the ninety.
AVALOS VS ARAUJO
Paraguay's number nine, Gabriel Avalos is a big man and looming threat in the 6-yard box. Almost always the first to win aerial duels, dangerous crosses might be deadly if Avalos gets his head onto it. His ability to manoeuvre the ball and to provide good passes to his teammates warrants a lookout notice. When out of possession, Avalos works hard to try and win the ball back and puts in a defensive shift despite being the team's frontman.
Miguel Araujo will be responsible to keep his opposition number nine quiet throughout the game. Peru's centre-defender is not a tall as Paraguay's number nine, but if he organises the defence well, the threat should be manageable. There's no doubt to who will win the aerial battles and so set-pieces and dead-balls will need to be avoided. Araujo will need to work extra hard to keep the ball out of Avalos's reach.
CARILLA VS ALDERETE
30-year-old Andre Carilla is Peru's top scorer. With two goals to his name, he has been the goal threat from the right. Just like Cueva, Carilla likes to drive at players to create space for goal scoring opportunities. With plenty of experience, Carilla knows how to sneak his way through to the goal. If need be, he has an eye for the perfect finish as well. However, his work rate up and down the flank is what adds value to his game. An extra pair of legs in the defensive third and also one to initiate the press higher up the field.
Omar Alderete has started to cement his place in the Paraguay team. The number three occupies the left-back position and has played well in the two appearances in the competition. One to keep his focus throughout the ninety, he will need to be effective when Paraguay takes on Peru. Carilla will try to out-pace the left-back or will try and lure him towards the central areas to create space on the wide-left. Alderete will need to read his play well to stop dangerous crosses and passes in between the lines.
The two teams have an almost equal chance to qualify. With plenty of pace and skill in both teams, it is sure to be a gripping fixture.