His move to Borussia Dortmund in 2017 had raised many eyebrows, but four years later, Jadon Sancho returns to England, now as the second-most expensive English player and as one of the most exciting players in the world.
Jadon Sancho to Manchester United… HERE WE GO! 🚨🏴󠁧󠁢󠁥󠁮󠁧󠁿 #MUFC #Sancho

Done deal confirmed. Agreement reached between Manchester United and Borussia Dortmund.

€90m with add ons. Agents fee and personal terms agreed, contract until 2026.

Medicals pending – then it'll be official. pic.twitter.com/VBto2JqbtK

— Fabrizio Romano (@FabrizioRomano) June 30, 2021
Those who have seen the trickster, who has bamboozled everyone who watched him feature for Dortmund in the Bundesliga, know that even though the initial €85 million paid by Manchester United to land Sancho can sound like too much money, they know the value that Sancho brings to a team and what made the Red Devils open the chequebook.
Everyone might have known this about the 21-year-old. But how much do you really know about Sancho? FootTheBall takes you through 10 facts about the English winger that you might not know.
1) CHILDHOOD AND ETHNICITY
Although he is born in London and is English in nationality, Sancho's immediate roots can be traced back to the Caribbean as both his parents originally hailed from Trinidad and Tobago.
He was born and raised in the Camberwell and Kennington regions of London, respectively, and these areas are notoriously known for the number of illegal activities and crimes that take place regularly.
2) FOOTBALL IN HIS VIENS FROM A YOUNG AGE
As a boy originating from an area that is known for its high crime rate, football was Sancho's one of the only few options that could provide him with an escape route into the outside world. Football was his primary goal as his mercurial talent had been spotted at an early age.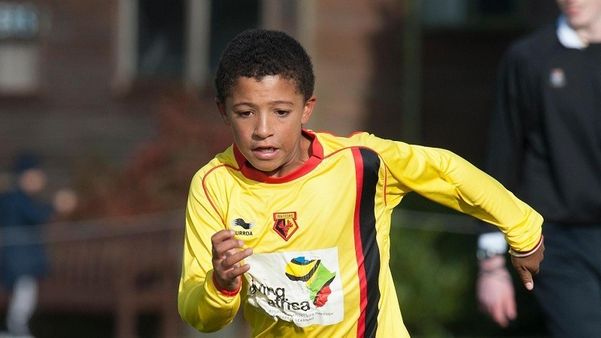 Jadon Sancho, playing for a youth team at Watford. (Image Courtesy: Guardian / Website)
When talking about his childhood with BILD, Sancho says, "After school I always just wanted to play football. Around me a lot of people were doing some bad things, but I didn't want anything to do with that."
3) FATHER WAS HIS FIRST COACH
It is a boon to those who have their parents as their first coaches not only in football but in any area of expertise and it was the same with Sancho. Sean Sancho, his father, worked as a security guard in the early years to earn bread and butter for the family, while also working part-time as a coach in the community for upcoming and talented children.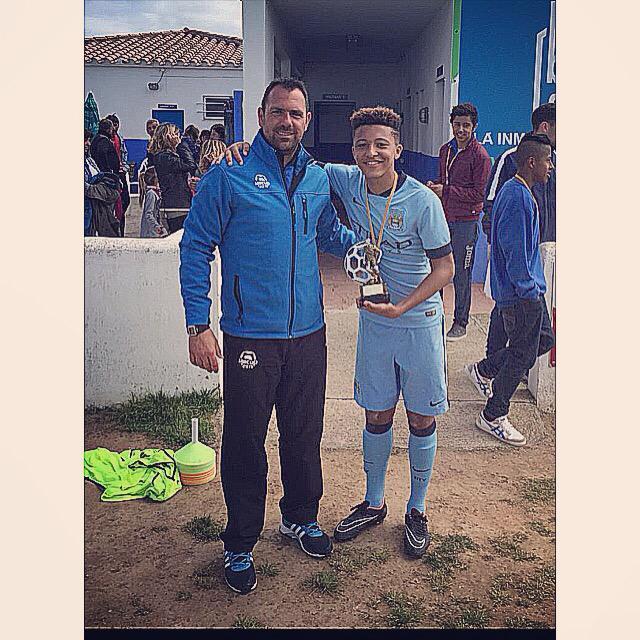 Jadon Sancho with his father, Sean. (Image Courtesy: Sun / Website)
After his son's move to the academy of Watford at the age of seven, Sean continued to be around his son, as he often used to take Watford players to watch England's youth sides and also provided extra coaching to the kids whenever the requirement arose.
4) NICKNAMED 'ROCKET'
During his time in the Watford academy, Sancho was given the nickname of "Rocket", predominantly due to the express pace he possessed but also the trickery that made him what he is right now.
He has another nickname, "The Assist King", which is given by his fans in recent years after his exploits with Borussia Dortmund, as it saw him provide 58 assists to his teammates in Borussia Dortmund.
5) BREAKTHROUGH
After starting off with the youth system at Watford, Sancho made his breakthrough move to Manchester City in 2015, signing at the age of 15. Within two years in the academy teams of the Cityzens, Sancho created a positive reputation for himself, and his exploits with England at the under-17 FIFA World Cup in 2017, helped him better that reputation.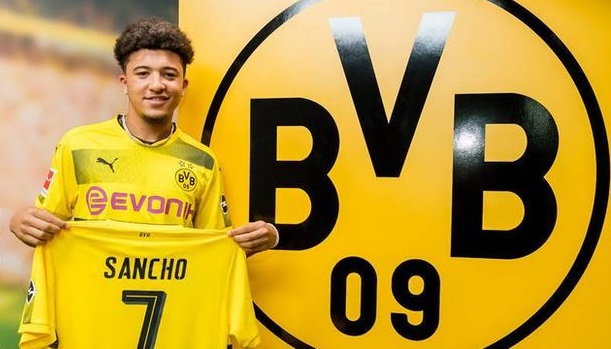 Jadon Sancho signing for Dortmund in 2017. (Image Courtesy: Borussia Dortmund / Twitter)
At the end of the World Cup, he moved to Borussia Dortmund for a reported €8 million after he had received no guarantees about playing time in the first-team at City, managed by Pep Guardiola.
The move to Germany paid off as Sancho went on to create tremors in the Bundesliga which ultimately helped him return to England, now to his former club's rivals, Manchester United, as the second-most expensive England player.
6) AN AVID MUSIC LOVER
Like many of the youngsters who belong to the 21st century, Sancho has a liking towards music, particularly, rap music.
This video, along with Arsenal's Pierre-Emerick Aubameyang, features the English superstar rapping to Micheal Dappah's chartbuster 'Man's Not Hot' and it seems like Sancho can have a rapping career after his footballing days!
7) HIS AFFECTION FOR TRAVELLING
As with young footballers or people, in general, these days, Sancho likes to travel across the world during his vacations as a player and tends to prefer seasides and beaches rather than scenic destinations.
Many of his travels can be viewed on his Instagram profile and most of them feature him chilling along the edges of the beaches.
8) A LOW SOCIAL PROFILE
Like other footballers in this day and age, Sancho is very much active on social media through his Instagram profile, although most of his posts are related to his football career. Only a minimal amount of them have any photos or videos about his family or friends.
He has a Twitter profile too but even that has a very limited mention of his social circle and majorly feature his footballing days with Dortmund and England.
9) WAG?
Sancho is presently unmarried and is also single. He is not dating anyone, at least that is what we can incur as there is no evidence of a partner in his public. It can be that the 21-year-old wants to focus on his football and want to prosper in his career.
But it can also be that there is a secret relationship in his life that he has not yet revealed to the public.
10) LIFESTYLE AND NET WORTH
Sancho's net worth is estimated to be around €15 million which is primarily the salary he gets paid while playing for Borussia Dortmund at, €220,000 per week. Apart from the salary with Dortmund, Jadon Sancho also has deals with brands such as Nike and Pepsi, while also featuring for EA Sports' video game FIFA as their cover star.
Even though he is quite humble about his origins, Sancho has quite a flashy lifestyle as he is seen frequently travelling around the world when on vacations.
With the move to Manchester United officially confirmed by Borussia Dortmund on the Frankfurt Stock Exchange, Sancho's market value is presently €85 million, but that is due to only one year remaining on his contract. It is expected to shoot up after he officially joins the England club in the coming weeks.