The Achraf Hakimi case just keeps getting new twists and turns. After allegations of rape against the PSG and Morocco defender rocked the footballing world, Achraf Hakimi's wife Hiba Abouk asking for divorce added another wrinkle to the story.
However, things have taken another interesting turn since then. French magazine First Mag reported that Achraf Hakimi's wife Hiba Abouk asked for half of his fortune during the divorce proceedings. However, her demands hit an unexpected snag when it was revealed that the sole beneficiary of Hakimi's earnings is his mother!
It was reported that Achraf Hakimi's assets are all in his mother's name and the player himself owns nothing. Therefore, he is not liable to pay anything to Hiba Abouk.
Here's a look at the background of this case, and the key characters in it
Achraf Hakimi divorce case: Background
After GFFN's report revealed that a woman alleged Achraf Hakimi raped her in his suburb home on February 25, the fallout from the allegations caused tremors.
After a back-and-forth between the two parties, with the woman standing her ground on the claim and Hakimi pleading innocence, Achraf Hakimi's wife dropped a bombshell announcement on her Instagram stories.
In a lengthy statement, Abouk said she'll "always be on the side of the victims". She went on to reveal that divorce proceedings with Achraf Hakimi had already begun. They preceded the allegations. She confirmed that the relationship had already ended and only official divorce proceedings remained.
Since then, Hakimi hasn't responded to this statement publicly. He has continued making appearances for PSG and Morocco while the case remains in the background.
However, it again came to light due to First Mag's report. So, who is Achraf Hakimi's mother Sadia Mouth, the sole beneficiary of Hakimi's wealth?
Who is Achraf Hakimi's mother, Sadia Mouth?
Sadia Mouth first came to national prominence during Morocco's dream run to the semi-finals of the Qatar World Cup 2022.
In beautiful images that warmed the heart, Achraf Hakimi was seen celebrating his victory with his mother at his side. When Morocco defeated Spain in the Round of 16, his mother kissed him on the sideline in a moment that defined Morocco's iconic run.
Achraf Hakimi celebrating with his mother after defeating Spain in the Round of 16 is everything ❤️🇲🇦 pic.twitter.com/XPiBNtHpNc

— ESPN FC (@ESPNFC) December 6, 2022
Hakimi has previously revealed that his mother used to work as a cleaning maid in people's houses. Achraf Hakimi's mother and father are both Moroccan immigrants who found a home in Spain.
From what we know about his mother and Hakimi's relationship with her, it comes as no surprise that Hakimi has entrusted all his wealth under her name, which would surely come as a shock to Achraf Hakimi's wife, Hiba Abouk.
Who is Achraf Hakimi's wife, Hiba Abouk?
Hiba Abouk is a Spanish actress of Libyan and Tunisian descent who has been Achraf Hakimi's wife since 2020. The couple has two children, both sons, born in 2020 and 2022. She is 12 years older than Hakimi.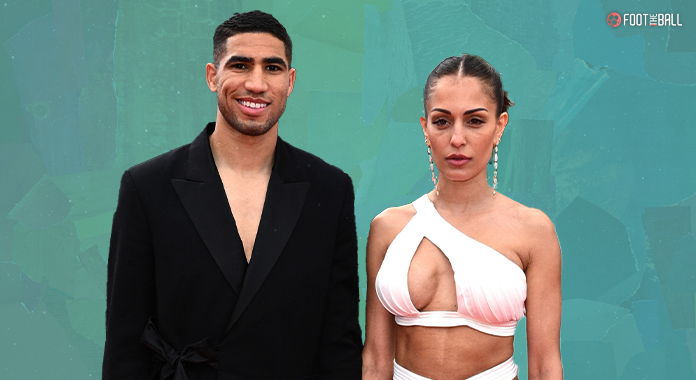 She came to prominence due to her acting career, with her role in El Principe winning her nationwide recognition. With nearly 1.6 million Instagram followers, Hiba Abouk is a big presence on social media. Before she announced her divorce proceedings with Achraf Hakimi, the couple was regularly seen together on each other's social media accounts.
Achraf Hakimi's case- What next?
Hakimi has been placed under judicial supervision after being indicted by the investigating judge in response to the alleged victim's complaint.
On the personal side, divorce proceedings are already underway between Achraf Hakimi and Hiba Abouk. The report of Achraf Hakimi's fortune being under his mother's name deepens an already entangled case where it is difficult to ascertain who is to be held accountable.
Hakimi's side has maintained his innocence during the whole saga. Fanny Collins, Hakimi's lawyer, went as far as to say that the PSG defender is a victim of "an attempted racket".
There has been no response from either Hiba Abouk's side or Achraf Hakimi's camp regarding these latest reports of Abouk asking for half his fortune under divorce proceedings.
The story will be updated with the latest developments as and when they occur.