There is a saying in life, "If it ain't broke, don't fix it." And this is even relevant in football and is evident when more often than not, teams tend to perform worse when their playing system is changed from one to another.
Sometimes these changes are inevitable, due to injuries or suspensions and it is at that time people realise how some of the individuals are vital cogs if a system has to work as it should.
Harry Maguire is a prime example of the above situation. The system put forward by Ole Gunnar Solskjaer has worked very well for Manchester United, achieving them Champions League football for next season while also being in the Europa League Final.
And the most important cog of that system is the Red Devils captain.
Thanks to everyone who has supported me and played a part in my career.

I'm proud and honoured to join @ManUtd. What an incredible football journey it's been so far ⚽ pic.twitter.com/yVaTnBBHv6

— Harry Maguire (@HarryMaguire93) August 5, 2019
Often ridiculed for the fact that he is the world's most expensive defender when Manchester United paid £80 million for Leicester City in 2019, which is in no way his fault, Maguire is genuinely a very good defender, especially in the air and his ability to play the ball.
His arrival not only boosted the club's defensive accomplishments but his calmness and competence on the ball also aided in improving their possession percentage by nearly 2 percent, from 54.5 percent to 56.2 percent in two years.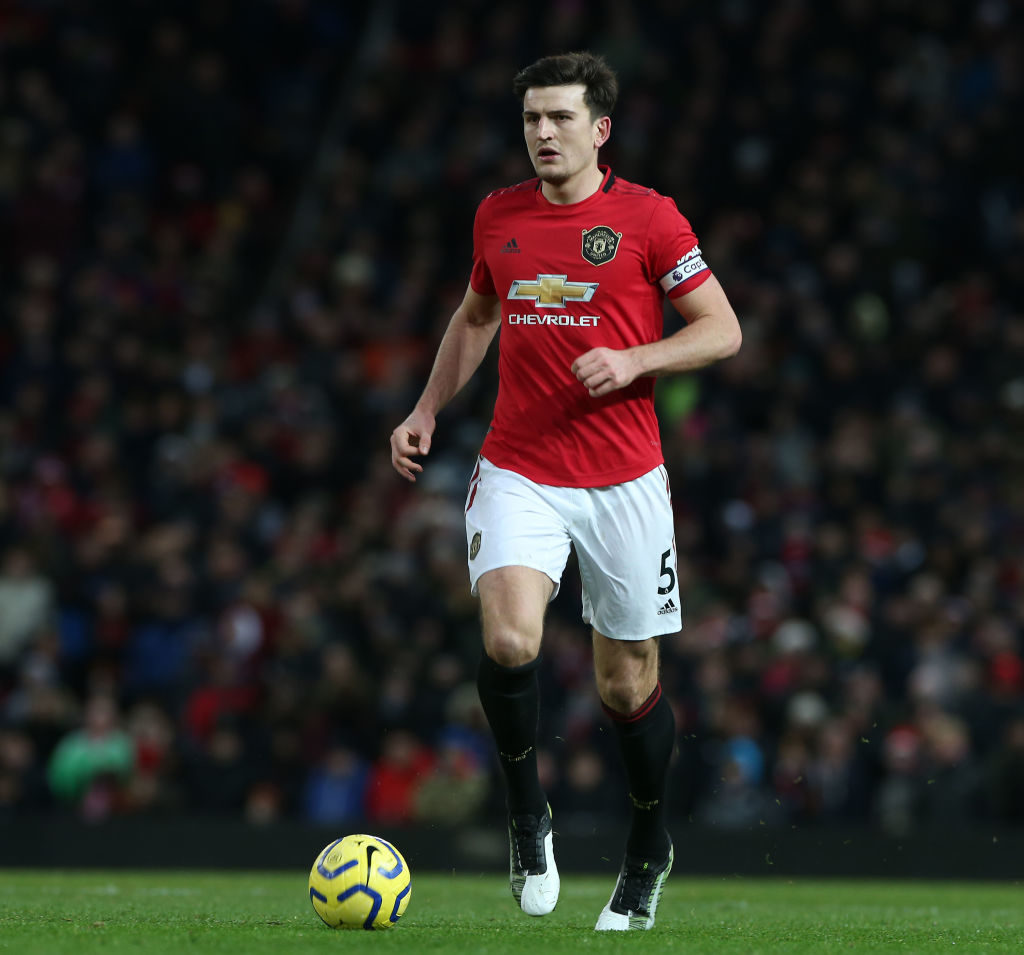 Maguire, starting the attack from the back for Manchester United. (Image Courtesy: Manchester United / Twitter)
That defensive stability was up for a toss when the England defender was subbed off in the game against Aston Villa on the 9th of May, after a ligament injury to his right ankle. This was evidently visible in the subsequent games against Leicester and Liverpool as both the teams were able to carve open the defence of United with ease.
MAGUIRE AND HIS IMPACT AT UNITED
The game against Leicester was going to be the second one in 5 days for United so it was expected from Solksjaer to put out a heavily rotated line-up and expect little from that.
But the game against Liverpool exactly showed why Maguire was such a huge miss for Manchester United, both offensively and defensively.
Under Solksjaer, United are moving towards the protagonist approach in the league and for that Maguire is his backbone. His willingness to step out from the defence is shown by his impressive progressive carrying distance, where he totalled 6,498 yards this season, third in the Premier League after Ruben Dias and Luke Ayling.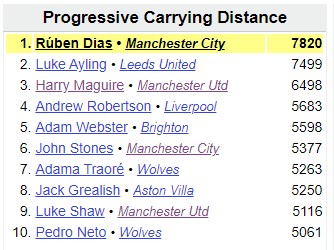 Maguire is in the third position in terms of progressive carrying distance. (Image Courtesy: FBRef / Website)
Defensively too, Maguire stands out in the squad, having the best aerial duels percentage with 77.5%, 5th highest in the league and also second in the club in interceptions with 61, behind Aaron Wan-Bissaka.
Although Bruno Fernandes is the talisman for United, it is Maguire, who commands authority at the back, shielding the goalkeepers.
While teams have been able to breach them every now and then due to mistakes of players, Maguire's defensive stats show that he is still a commanding presence at the back and how United as a system haven't conceded as many goals as compared to goals from individual errors.
WHAT IF HE MISSES THE EUROPA FINAL?
Having seen their captain in a support boot and on crutches this week at Old Trafford, Manchester United fans are praying for the return of Maguire into the line-up for the Europa League final against Villarreal on the 26th of May.
Villarreal 🆚 Manchester United 🔜

All you need to know ahead of the 2021 #UELfinal in Gdańsk 🤩#UEL

— UEFA Europa League (@EuropaLeague) May 6, 2021
United are so used to playing with Maguire, as he rarely misses matches, being without him has been a shock to the system and has clearly taken some adjustment to get used to, and the previous two results were not even remotely pretty to the eye.
With no major news regarding the severity of the injury, people are optimistic that the Englishman will return for the final and the same words were echoed by the manager when asked about the injury.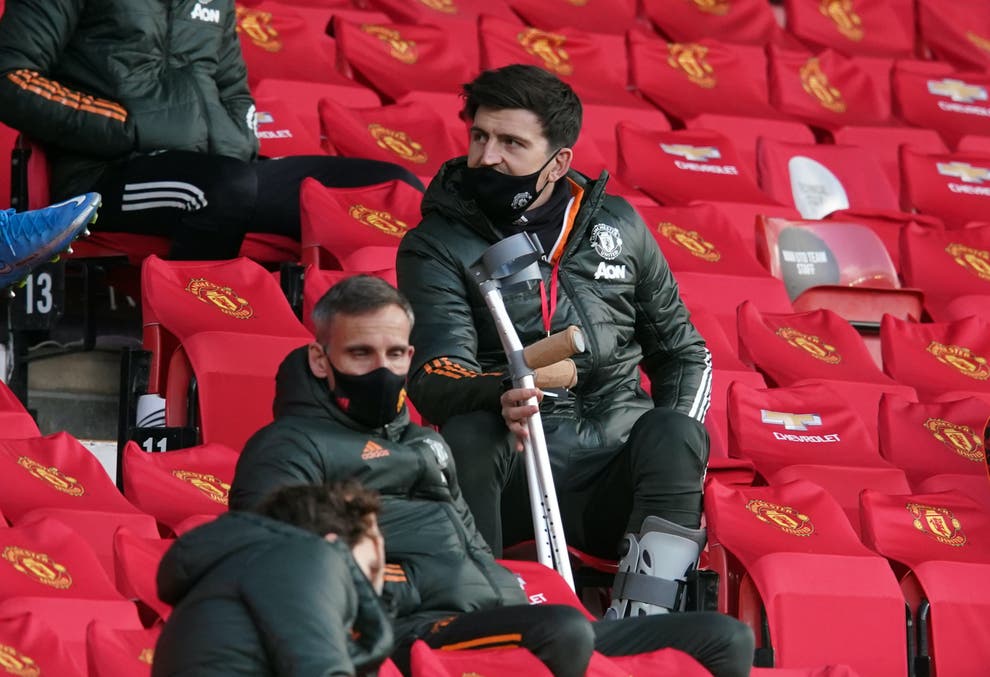 Maguire seen with crutches during the game against Leicester. (Image Courtesy: MSN / Website)
Speaking to MUTV, Solksjaer added,
"We've had scans and the good news is there's no fracture, it's ligament damage, hopefully we'll see him again this season and, hopefully, he'll be ready for the final."
Solksjaer will hope that his captain will return, but if Maguire does not, then he must use the remaining two games in the league against Fulham and Wolves to test out their new system having Victor Lindelof and Eric Bailly as centre backs.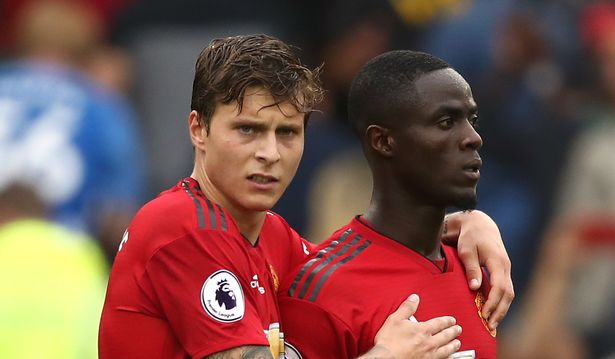 Bailly and Lindelof must be at their very best in the Europa League final if Maguire misses out
This might see the return of Paul Pogba into the midfield from the left-wing, so as to replicate Maguire's ball carrying actions in his absence.
But Maguire's absence will give the advantage to Unai Emery and his Villarreal side to expose the liabilities in the defensive structure of Manchester United and create, what would be a fascinating contest.