Back in May, a new emperor stepped foot in the historic city of Rome to lead the Roman chariots. Known as Jose Mourinho by some and "The Special One" by others, the mood at Stadio Olympico appears to be more euphoric than ever before as one of the most successful coaches in history has turned up to pull Roma out from the dirt. 
In Italian football, a cultural revolution has taken place. Many clubs have seen a radical shift from the conventional schools that defined them. With their passion and positive approaches, managers like Antonio Conte, Roberto De Zerbi, and Gian Piero Gasperini have helped alter ideas and have spearheaded this revolution. 
However, The Giallorossis is still trailing behind and is nowhere near catching up with the rest of Serie A in terms of cultural progression. Their last campaign was plagued with failures and difficulties of many types, with the club playing some of their worst football in recent history and Paulo Fonseca's tenure with the Italians ended with a dismal seventh-place finish.  
With Roma only competing in the Europa Conference League and Jose Mourinho backed by the owners in the transfer window because of which he has a significantly stronger team than some of the other Serie A clubs, the manager has no excuse for not getting the team into the Champions League position for next season. 
JOSE'S DECLINING STATUS AS A MANAGER 
For more than a decade, appointing Jose Mourinho seemed a sure bet for immediate success, but "The Special One's" descent has been so precipitous that he arrives in Italy with one final chance to repair his tainted status. 
For as long as Mourinho has been in the footballing spotlight, beginning with his remarkable Champions League success with Porto, his controversial personality has attracted a slew of opponents who see him as an egotistical tyrant willing to go to any length to win.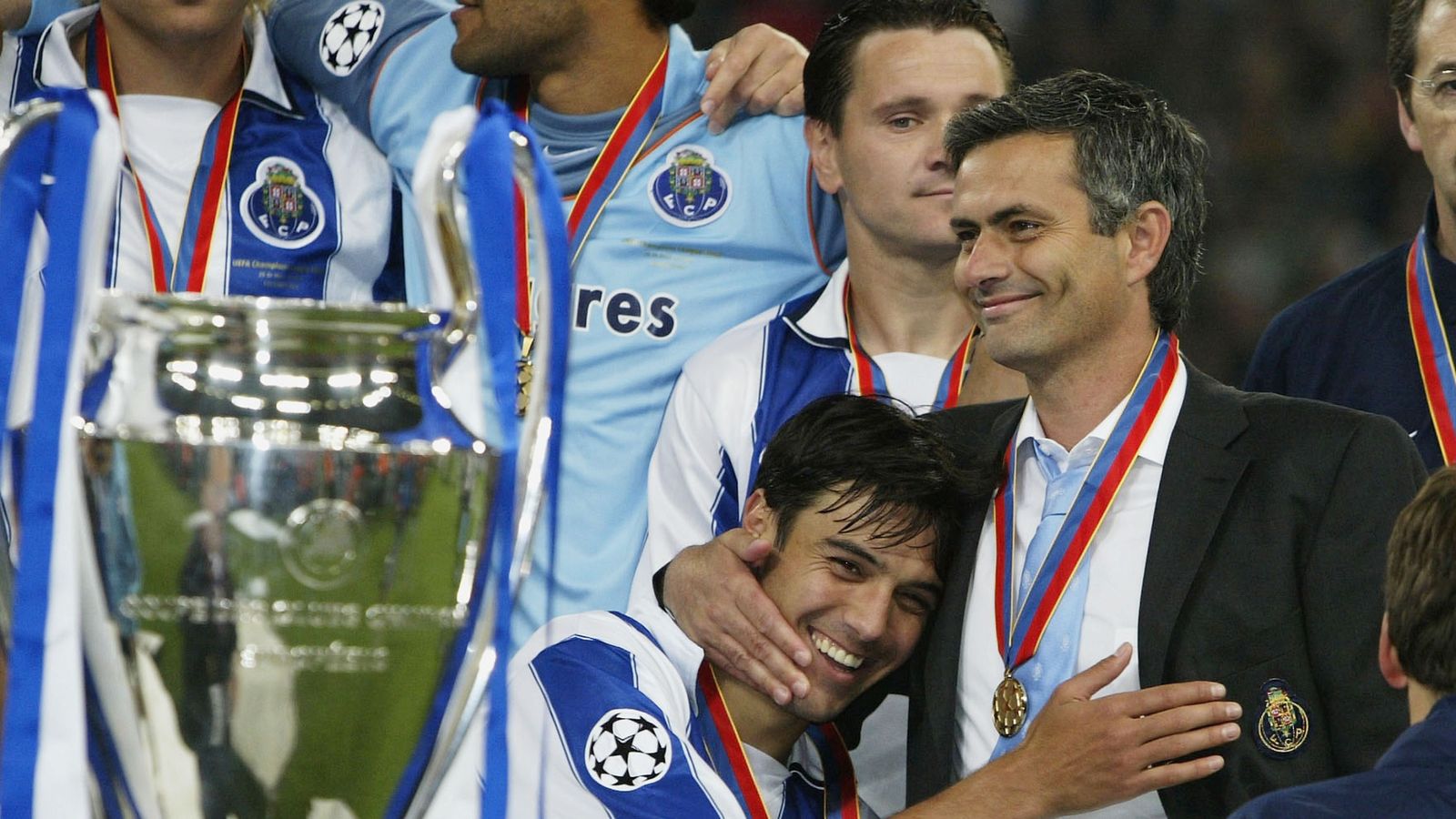 Success followed the Portuguese wherever he went following his spell at Porto, as he enjoyed great European glory with Inter and domestic success with Chelsea and Real Madrid. However, Mourinho's masterclass has dimmed in the past few years, and his previous three stints at Chelsea, Manchester United, and Tottenham have all resulted in his dismissal. 
On this day, in 2010, Inter Milan won their first Champions League since 1965, beating Bayern Munich 2-0 at the Santiago Bernabéu.

The trophy sealed a historic treble for Inter that season, which is still, arguably, José Mourinho's greatest ever year in management. 🏆 pic.twitter.com/tR5ca6QxtT

— Football Tweet ⚽ (@Football__Tweet) May 22, 2021
He moved on from Tottenham in April after 17 months in charge without winning a trophy for the first time since leaving Uniao de Leiria in 2002, whereas his stints at Manchester United and Chelsea produced silverware but concluded in embarrassment.
Mourinho, once touted as a chronic winner, now finds himself dealing with habitual mediocrity clubs. Like Tottenham, who won the English top-flight back in 1961, Roma perfectly matches the definition of those underachievers. The Giallorossi captured the last of their three Scudetto crown in 2001, while their sole European Cup final appearance 37 years ago resulted in a loss against English heavyweights, Liverpool.
Jose Mourinho begins a new chapter in his career and will be eager to do well in order to begin restoring his legacy and repute, as well as perhaps leading Roma to their first Serie A title in almost two decades in the following years. 
ROMA'S NEW ADDITIONS 
Roma's board of directors has chosen to get back on track and has fully backed Jose Mourinho with remarkable additions to his squad this season. Since Alisson Becker's relocation to Liverpool, there has been concern regarding Roma's goalkeeper position.
This explains why veteran shot-stopper Rui Patricio has arrived.  The 33-year-old should have an instant influence at the club and he would certainly help to strengthen their backline with his unrivalled leadership. 
New No. 1⃣ … 𝒖𝒏𝒍𝒐𝒄𝒌𝒆𝒅 🔓

Welcome to Roma, Rui Patricio! 🇵🇹
#ASRoma | @NBFootball pic.twitter.com/otd2nDvqDc

— AS Roma English (@ASRomaEN) July 13, 2021
With the departure of seasoned and reliable striker Eden Dzeko to Italian adversaries Inter Milan, Roma's offensive line was left with a massive vacuum. 
However, they came up clutch when they secured the signing of the promising young striker Tammy Abraham from Chelsea for around €40 million. Roma also acquired Eldor Shomurodov from Genoa as a backup striker to Abraham as well as the left-back from Palmeiras, Matias Vina. 
🅰️🅰️👏 pic.twitter.com/37DuuUq76p

— AS Roma (@OfficialASRoma) August 22, 2021
Despite the fact that Roma may not be ready for a title challenge, this season's Serie A appears to be the weakest in a long time. Defending champions Inter Milan have let star players like Romelu Lukaku and Achraf Hakimi walk, while AC Milan are now without Gianluigi Donnarumma and Hakan Calhanoglu. Atalanta have also lost Papu Gomez, Pierluigi Gollini, and Cristian Romero. These departures from direct Serie A rivals might be beneficial for Roma who have spent around $100 million in a depressed market.  
Fair to say, the credit for this goes to Dan Friedkin, Roma's owner. He has a staggering net worth of $4.1 billion, according to Forbes. The billionaire controls Gulf States Toyota, which sold $9.4 billion in Toyotas in 2019 and has sole distribution rights in Texas, Arkansas, Louisiana, Mississippi, and Oklahoma.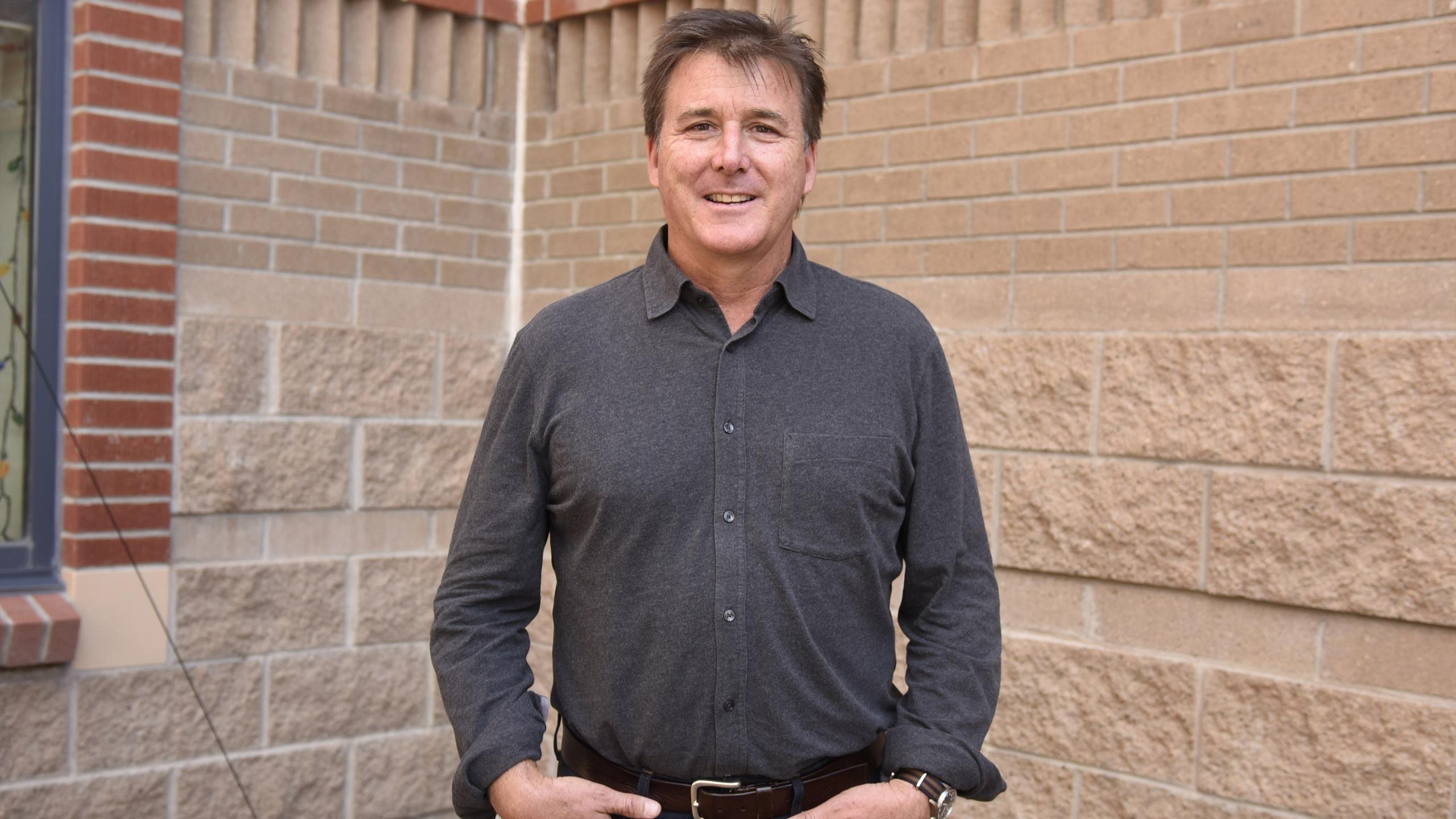 He is also a partner in Auberge Resorts, a premium resort management business with locations in Aspen and Cabo San Lucas. He is also a co-founder and director of Imperative Entertainment, where he began his career in 2014.
INCREASING IMAGE OF BEING A "CHEQUEBOOK MANAGER"
Jose Mourinho's need to spend large amounts of money in order to succeed was one of his harshest critiques during his tenure as a manager of some of the richest clubs in history. 
Since beginning his managerial career with Benfica in 2000, Jose Mourinho has spent a significant amount of money attempting to assemble the strongest roster possible around him for every side he has managed. However, over the last decade or so, he has gained more of a "chequebook manager" status by many people and this point is quite understandable considering that he has now spent in excess of €1.75 billion, the highest in the last 20 years.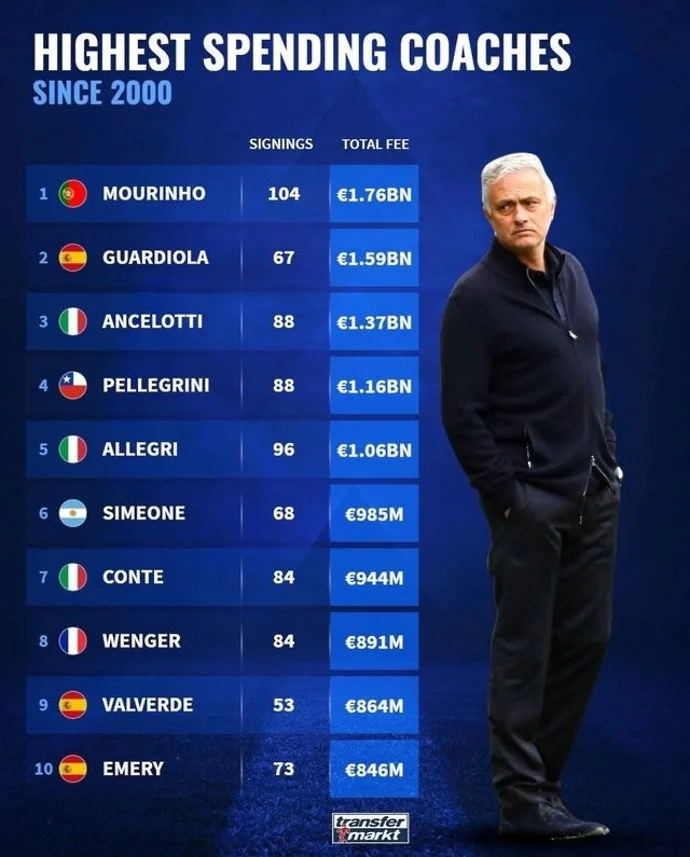 Despite Pep Guardiola's recent buying spree, the Spaniard still trails Jose Mourinho as the highest-spending manager since 2000. However, Pep has spent an astounding €1.59 billion on only 67 players, while Jose has spent €1.75 billion on 104 players. 
Of course, Jose Mourinho has enjoyed great success in his managerial career, however, the hefty spending has not always resulted in results. 
Five of his top six purchases were made at Manchester United, but he was unable to make it work. During the Portuguese manager's spell at Old Trafford, United spent big money on players including Paul Pogba, Romelu Lukaku, Fred, Nemanja Matic, and Henrikh Mkhitaryan. 
Jose Mourinho has spent more on transfers than Tottenham chairman Daniel Levy during their time in the Premier League 😳 pic.twitter.com/Tj1h4EHHjb

— ESPN FC (@ESPNFC) November 21, 2019
With the new Roma manager already spending nearly $100 million in his first season, it definitely lends fire to the discussion about Jose Mourinho being a "chequebook manager." However, "The Special One's" legacy is built on more than simply money, as the manager demonstrated with Chelsea and Porto, reaching the European summit with both clubs.
Mourinho now confronts the most challenging task of mending the shattered pieces of his legacy while still assisting a Roma team in a slump.