In the merry-go-round for managers in Europe's top leagues, even Olympique Lyonnais were affected but for Les Gones, it was more of a mutual understanding rather than the sacking of the manager.
Rudi Garcia left the club after failing to take the club into the Champions League and is now replaced with Peter Bosz, who was successful at Bayer Leverkusen in Germany but was sacked after the club tumbled down the table during the 2020-21 season.
We're delighted to announce the arrival of Peter Bosz as our new manager until 30 June 2023! 🔴🔵#Bosz2023 pic.twitter.com/TUD99css4T

— Olympique Lyonnais 🇬🇧🇺🇸 (@OL_English) May 29, 2021
After finishing seventh in the league in 2019-20, little was expected from Lyon in terms of any challenge for the league title before the start of 2020-21. Also, their runs to the semi-finals of the Champions League and the Coupe de France had made them look like a team ready for cup competitions rather than for a league campaign.
But Rudi Garcia had surprised everyone by taking Lyon to fourth place in the league, and at one stage were at the first position for three weeks in a row, before some poor performances had seen them drop down into fourth, which took away Champions League football.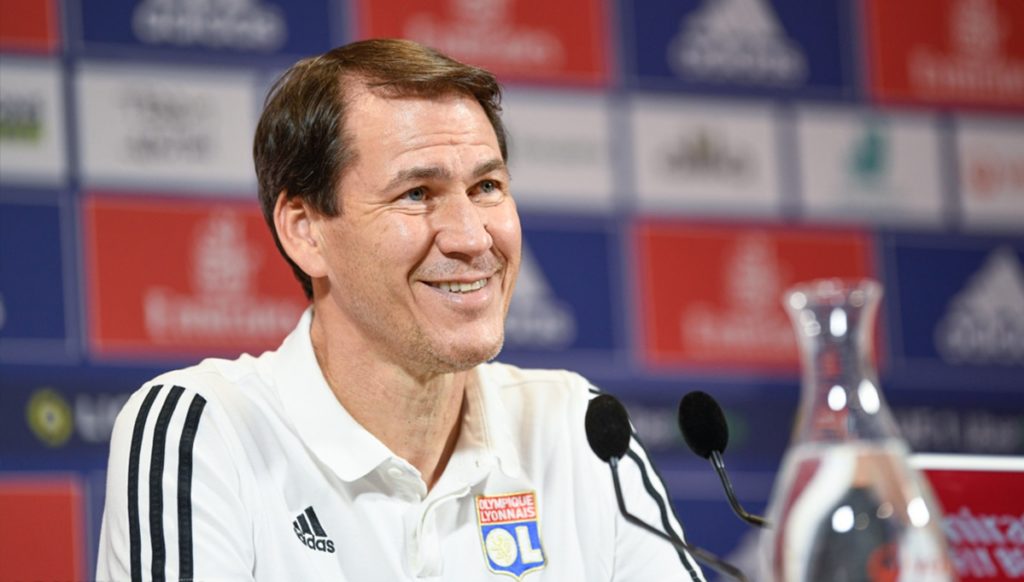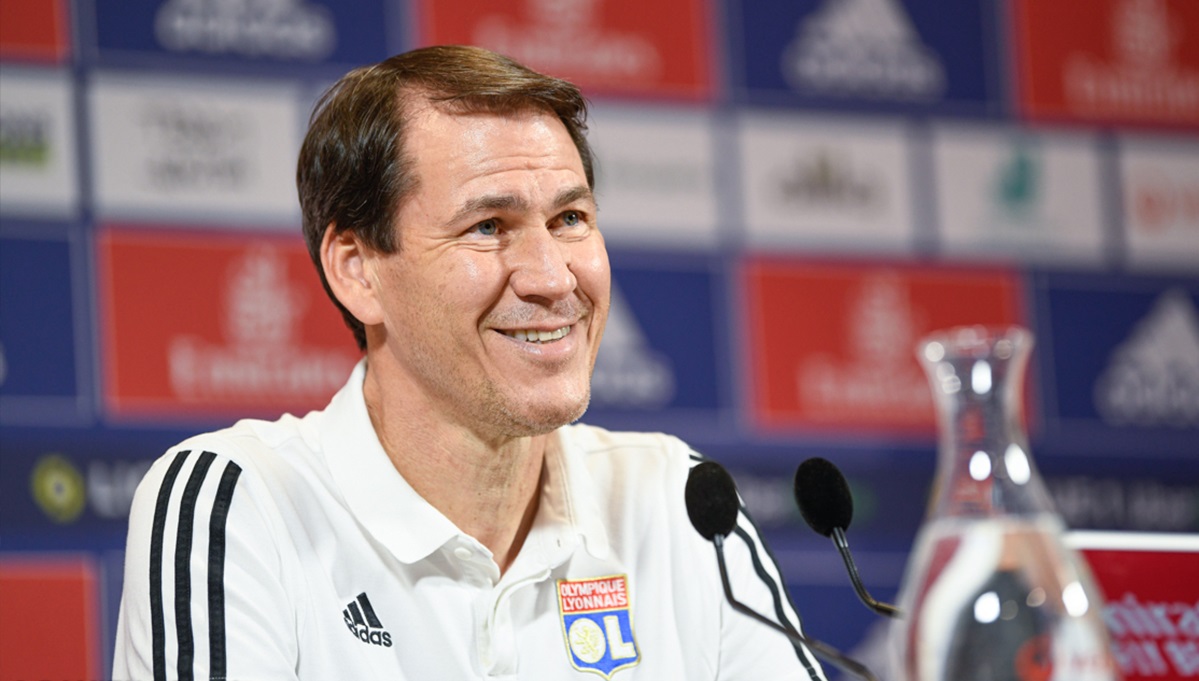 Rudi Garcia had done wonders during his two seasons at the club. (Image Courtesy: OL / Website)
While the squad is strong enough to lay another challenge at the likes of Lille and Monaco, heavy summer recruitment will be needed to fight Paris Saint-Germain, who have gone to strengthen their squad heavily and are still not finished with their business. And FootTheBall is here to take you through how the season might pan out for Lyon and whether they, under Peter Bosz can claim the league title for the first time in nearly 15 years.
CAN PETER BOSZ REPLACE RUDI GARCIA?
Lyon have had quite a roller-coaster season the previous time around and most of it can be attributed to the brilliance of their former captain Memphis Depay, who has departed to Barcelona and manager Rudi Garcia.
After nearly a decade, the club had made a significant charge for the title, and even though they had finished second twice in 2015 and 2016, Paris Saint-Germain were runaway winners by the time half of the season had completed.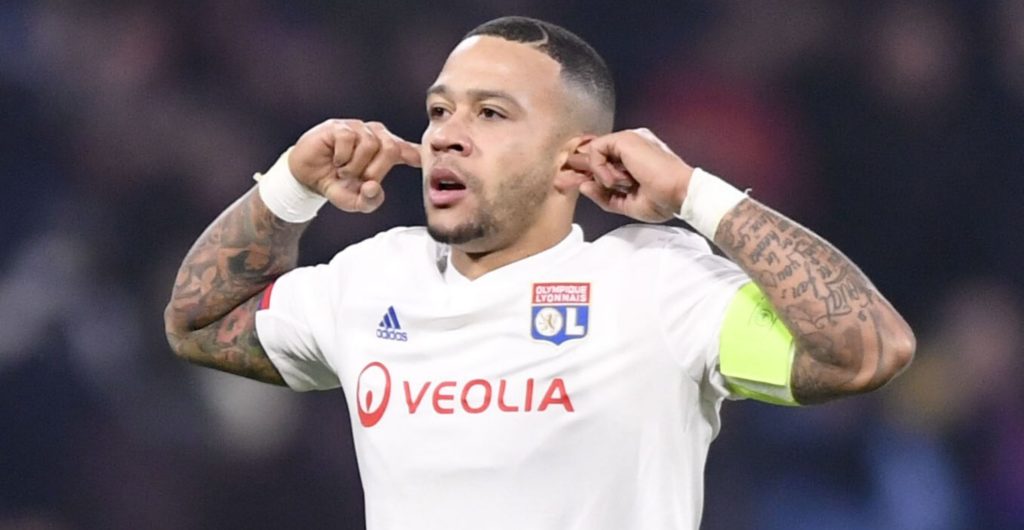 Depay had been nothing short of a legend for Lyon and will be difficult to replace, both as a player and a captain. (Image Courtesy: Ligue 1 / Website)
Up until the 10th matchday, Lyon were hovering around in the middle of the league table but after that, they had gone on a consistent run that kept them in the top three for twenty matchdays in a row.
But key defeats to PSG and Lille left them out of the running for the title and the defeat against Nice on the final day of the league had left them out of the Champions League spot, leading to the resignation of the manager.
🎙Rudi Garcia 🇫🇷 announces his departure from Lyon: "It was my last game tonight. I would have liked to leave the club in the Champions League." #OL #Lyon pic.twitter.com/ttCXKOXa7S

— RouteOneFootball (@Route1futbol) May 23, 2021
Rudi Garcia had replaced Slyvinho in October 2019 when the club was performing poorly and had immediately bought stability and led the club to a seventh-place finish in the league and the semi-finals in the Champions League.
Peter Bosz was appointed as Garcia's replacement, and as a manager who has managed the likes of Borussia Dortmund, Bayer Leverkusen, and Ajax, there are certain expectations from fans that the Dutchman will have to face.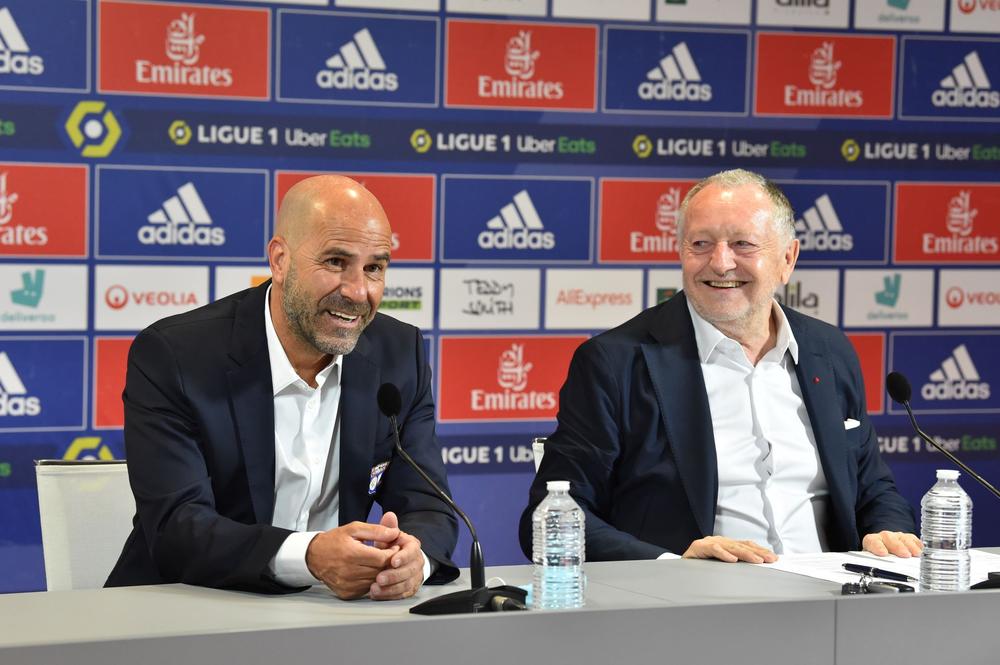 Peter Bosz with Jean Michel Aulas, the president of Lyon. (Image Courtesy: L'Equipe / Website)
However, the appointment marks a change of strategy for Lyon president Jean Michel Aulas, who has never before appointed a recently sacked coach and it is certain that Bosz will be raring to go ahead with Les Gones and prove his previous employers wrong about his sacking. But he will have to instil his methods quickly into this Lyon side who have got used to Garcia's unusual methods and tactics.
SQUAD OPTIONS FOR GARCIA
Although Lyon are set to have a new manager in Peter Bosz, they still have a good squad that can go on to challenge the top teams such as Lille and Monaco for the Champions League spots while PSG, after their summer transfer activity, might seem a step too far. They have a talented youngster in Lucas Paqueta, who has had a stellar Copa America campaign with Brazil and will most likely be the club's star player after Depay's departure.
Unlike his predecessor Rudi Garcia, who is tactically flexible and can set up his teams in different formations, Bosz sets up his team predominantly in a 4-3-3 with one holding midfielder and two number 8's whose main responsibility is to join the attack and help the forwards in the final third. Lyon can have a problem here as they have an abundance of young holding midfielders who used to get relatively equal minutes under Garcia.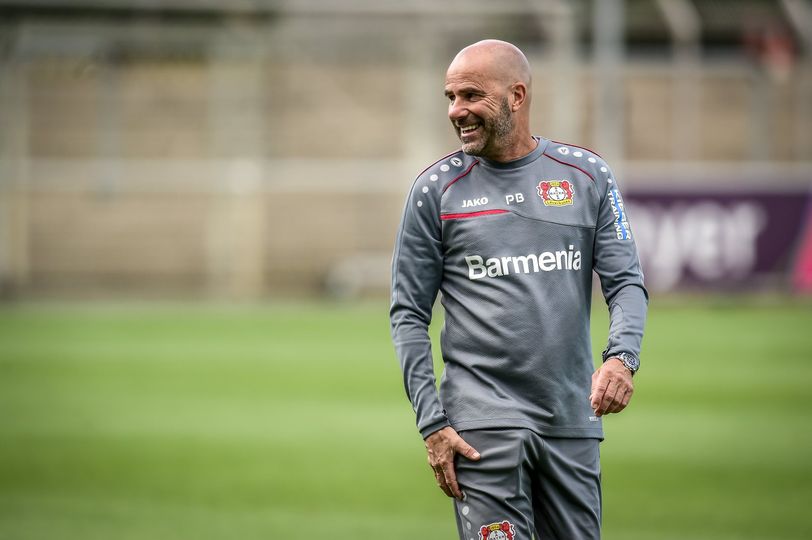 Bosz during his tactical sessions at Leverkusen. (Image Courtesy: Bayer Leverkusen / Facebook)
Houssem Aouar can potentially leave the club this summer after last year's failed attempt, with the likes of Arsenal and Liverpool keeping tabs on the Frenchman. His departure can open up a spot for either Bruno Guimaraes or Maxence Caqueret but they will have to tweak their game in order to play as an attacking number eight along with the ever-present Paqueta.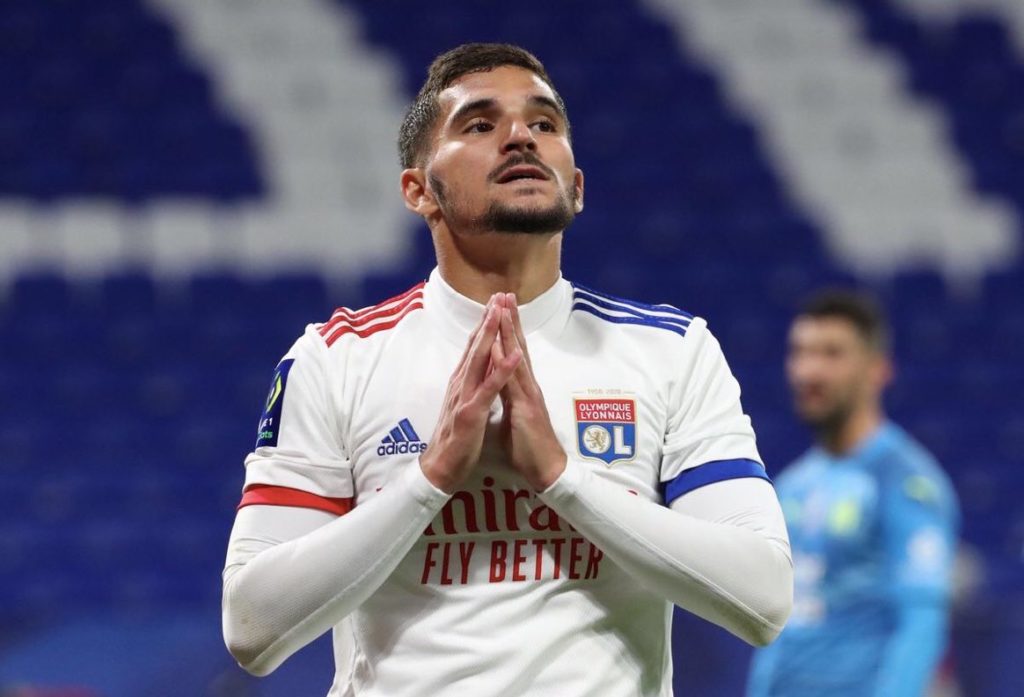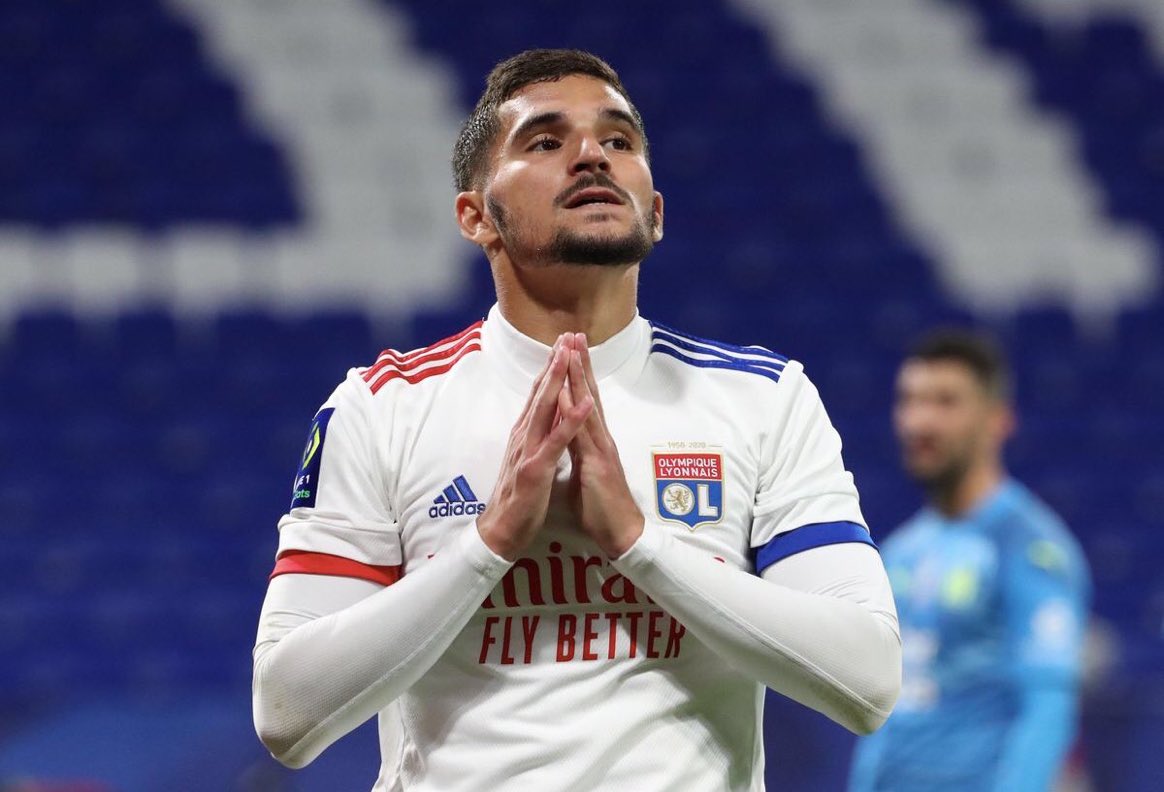 Houssem Aouar's future will be dependent on how the midfield of Lyon will be used by Bosz. (Image Courtesy: Ligue 1 / Website)
In attack, the departure of Depay, that too on a free transfer leaves a gaping hole. Although Moussa Dembele has returned from Atletico Madrid after a season-long loan, he is no longer at the same level as he struggled to get any game time in Spain. Fans will hope that Cameroonian Karl Toko Ekambi and Zimbabwean Tino Kadewere will continue the dazzling performances they had shown in the previous season.
L'OL monte en puissance contre Wolfsburg

À l'image de Karl Toko Ekambi, auteur d'un doublé, les Lyonnais ont montré de belles choses contre Wolfsburg pour leur deuxième match amical (4-1), ce samedi https://t.co/ciOuIXbXvj pic.twitter.com/COSRdt5UCu

— L'ÉQUIPE (@lequipe) July 17, 2021
However, Bosz's main objective will be in making 17-year-old Rayan Cherki into a world-beater by the end of the season. The youngster has been able to garner many plaudits after his displays for the youth side, but it will be upon him to himself to the next level and become a regular in the starting eleven in 2021-22.
The defence for Lyon is pretty much set, with the likes of Jason Denayer, Marcelo, Leo Dubois, and Maxwell Cornet making up a strong back four for Bosz. The return of Joachim Anderson after an impressive season at Fulham on loan, albeit their relegation, will make this defensive quartet even stronger but with the likes of Tottenham and other Premier League clubs interested in the Dane, it might be difficult for Lyon to hold him for the upcoming campaign.
FINAL THOUGHTS
With Champions League football out of the way, Lyon can outrightly focus on putting up a title fight, even though the Europa League beckons. Although Bosz has the experience of taking a side to the finals stages of Europe's secondary continental competition, as seen during his time at Ajax where he took them to the finals in 2017, the main objective given by the management would be for the Dutchman to make Lyon challenge for the Ligue 1 championship.
And for that, they will have to work their socks for the entire season and show no signs of inconsistencies similar to those visible during the 2020-21 season.
Les Gones are very much at the level of Lille and Monaco in terms of squad quality on paper, but Paris Saint-Germain are two levels above all, and this time around they will be seen as a side that can be too high to catch and hold on to.
If the club can stay within the striking distance of Parisiens until the end, they can put in late charge but if they lose ground in the early stages, they might have to settle for the cup competitions and the Europa League.