The debate of who is a better player between Lionel Messi and Cristiano Ronaldo has been the hot topic of the beautiful sport for the last few years. And why wouldn't it be? The two have been on top of the throne for years and have established themselves as the Gods of football. 
But the two players who have arrived on the scene and might usher in a new age of "football rivalry" are Kylian Mbappe and Erling Haaland. Both superstars have shown that they are the next sporting phenoms with the world of football at their fingertips! Mbappe and Haaland have been balling out this season with their respective clubs and are proving exactly why they are the next big thing. 
| | | |
| --- | --- | --- |
| Player profile  | Kylian Mbappe  | Erling Haaland |
| Age  | 22 | 20 |
| Country | France | Norway |
| Height | 5'10 | 6'4 |
| Preferred foot | Right | Left |
| Weight | 73 kg | 88 kg |
EVOLUTION
Kylian Mbappe got to the forefront first when, after 17 years, Monaco secured a Ligue 1 title in 2016-17 and marched to the UEFA Champions League semi-final. The French winger was named Ligue 1 young player of the year and also won the Golden Boy award after finding the net 26 times in 60 outings.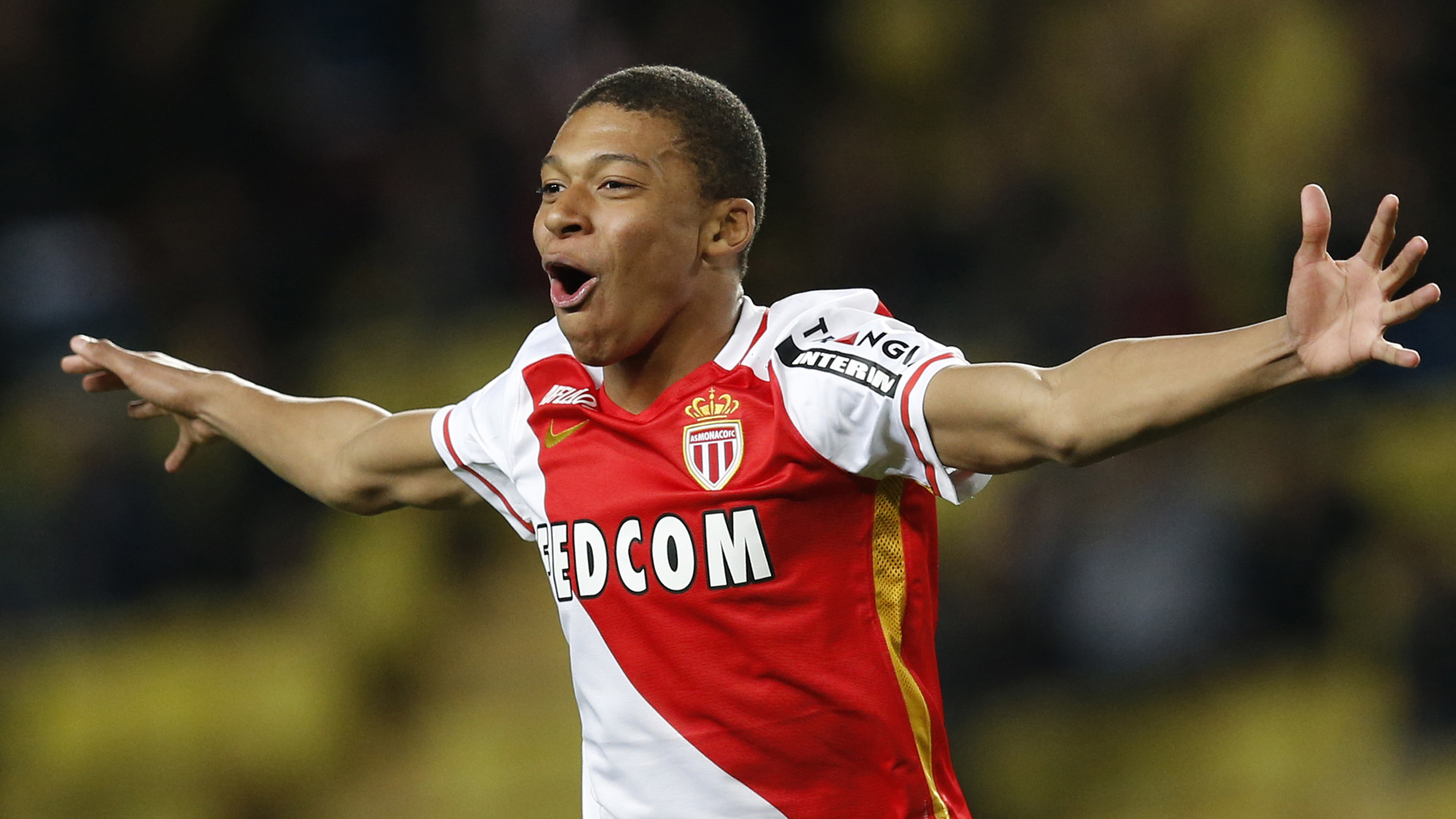 His stellar breakthrough season with Monaco earned him a €180m move to the French giants, PSG making him the most expensive teenager transfer of all time. And since then he has been on a roll. Mbappé has won three Ligue 1 championships, two Coupe de France titles, was voted Ligue 1 Player of the Year and has won Ligue 1 top scorer twice at PSG. He is also the club's third-highest goalscorer in history already. 
Mbappé made his senior debut for France in 2017, when he was 18 years old. He became the youngest French player to score in a World Cup at the 2018 FIFA World Cup, and the second teenager, after Pelé, to score in a World Cup Final. As France won the championship, he emerged as the tournament's joint second-highest goalscorer, and he earned the Best Young Player and French Player of the Year awards for his efforts. At 22 years of age, his resume is already in the world-class tier. 
Erling Haaland began his career at his hometown club, Bryne, in 2016, then moved to Molde the following year, where he spent two seasons before joining Austrian club Red Bull Salzburg in January 2019. He won two Austrian Bundesliga titles and one Austrian Cup while at Salzburg. He completed a move to the German club, Borussia Dortmund in December 2019 for a fee estimated to be in the range of €20 million.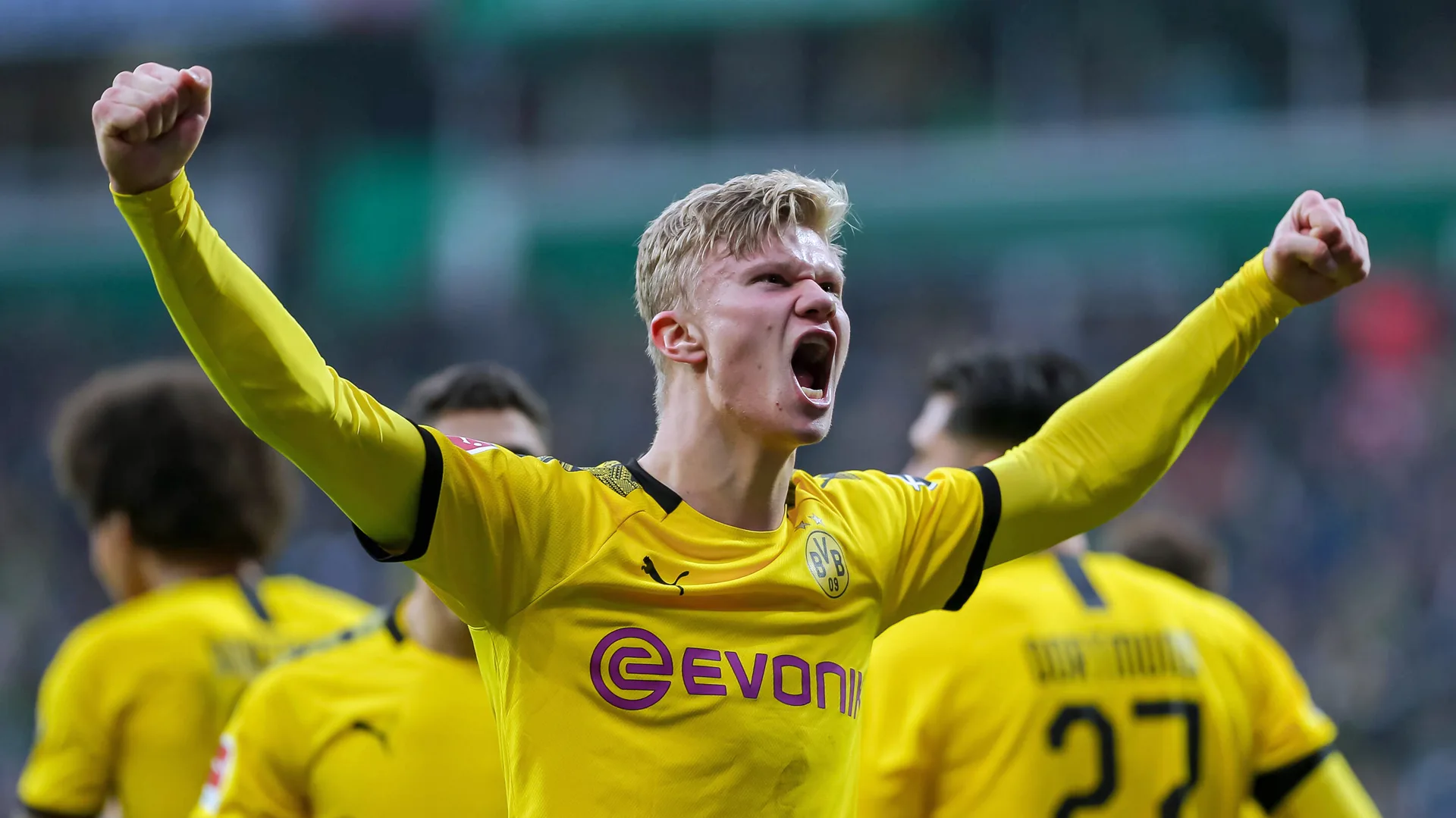 He made his debut for Borussia coming on as a second-half sub and scoring a hat-trick inside 23 minutes of a 5–3 victory. Haaland came off the bench once more in Dortmund's match against 1. FC Köln, marking his second club appearance. He scored after twelve minutes and added another ten minutes later to lead his team to a 5–1 win becoming the first player in Bundesliga history to score five goals in his first two games. His scintillating performances earned him the 2020 Golden Boy award. 
In the 2019 U20 World Cup, Haaland scored a mind-blowing 9 goals in a single match for Norway against Honduras. Those nine goals were enough for earning him the tournament's golden boot award. Following the tournament, he made his debut for the Norway senior team. 
He recently won the DFB-Pokal Cup with Dortmund after beating Leipzig 4-1. Although Haaland's trophy haul isn't stakked, the Norwegian is just getting started.
Like Messi and Ronaldo, Mbappe and Haaland have a completely different style of play and approach to the game. 
BOLT
Kylian Mbappe is a player who defines speed and acceleration. In a blink of an eye and he'll be miles ahead of his opponent. The 22-year-old is a speed dribbler, with a very accurate touch even while sprinting and with a unique ability to quickly change directions in 1v1s. Moreover, with his deceptive physique, defenders always have an arduous time trying to out muscle or catch him when he gets into his stride.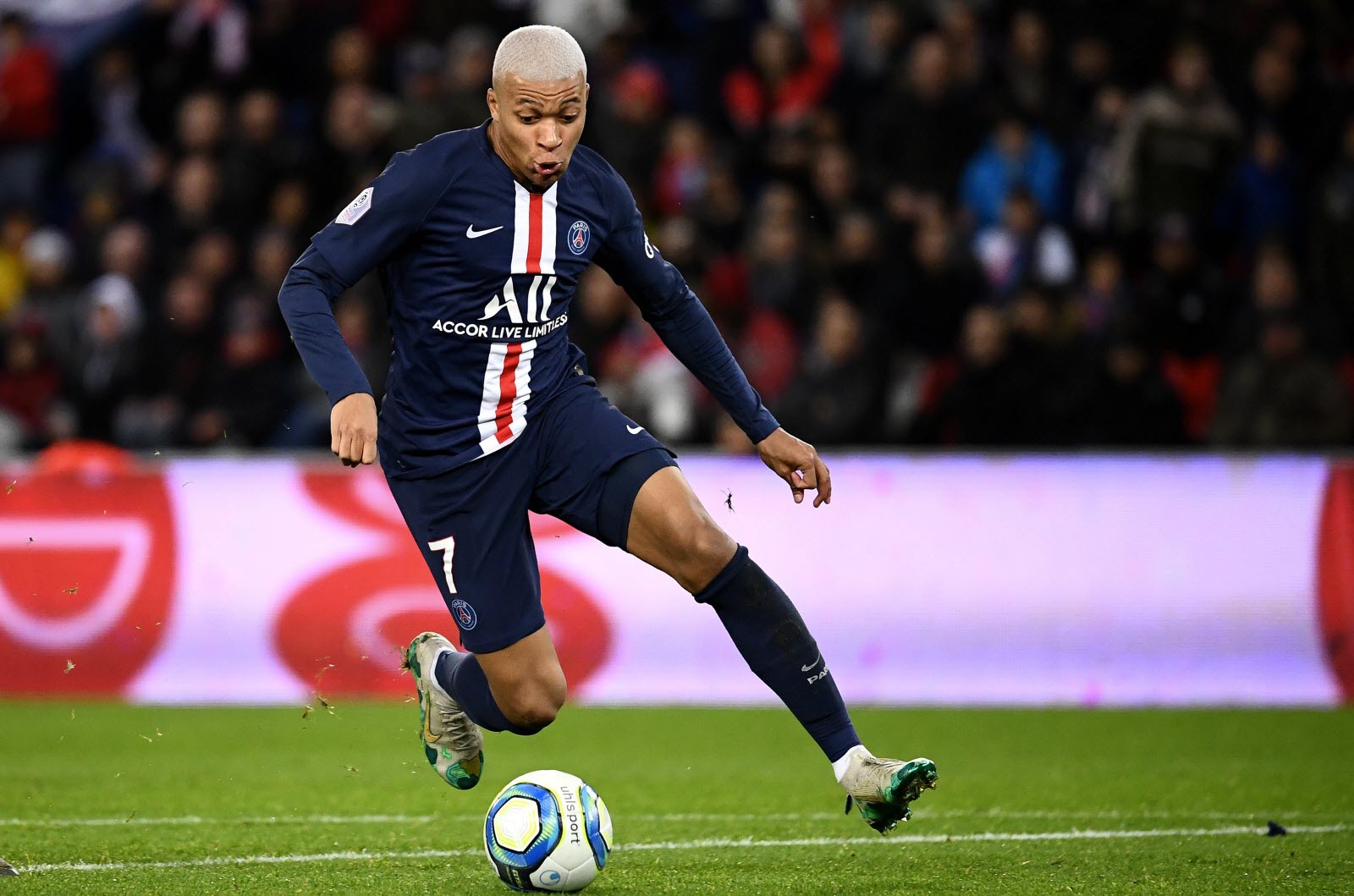 He tends to cling to the last defender's shoulder, causing them to be constantly concerned about him sneaking up behind them. And once he starts running with the ball in his feet, no player in the world is capable of catching him. Mbappé is a really formidable and consistent scorer as well because of his blistering speed and deadly finishing – a blend that will remain extremely beneficial no matter how football progresses. 
THE TERMINATOR
Erling Haaland is a cyborg born in a lab. Since breaking onto the scene as a seventeen-year-old, Erling Haaland's game has been defined by his impressive pace, lethal finishing and power. The way he runs, bending his back to be more aerodynamic, with his legs being as big as two Messi's, he still accelerates at a flaming pace and hits the ball like a bullet while doing marvellous things with his feet.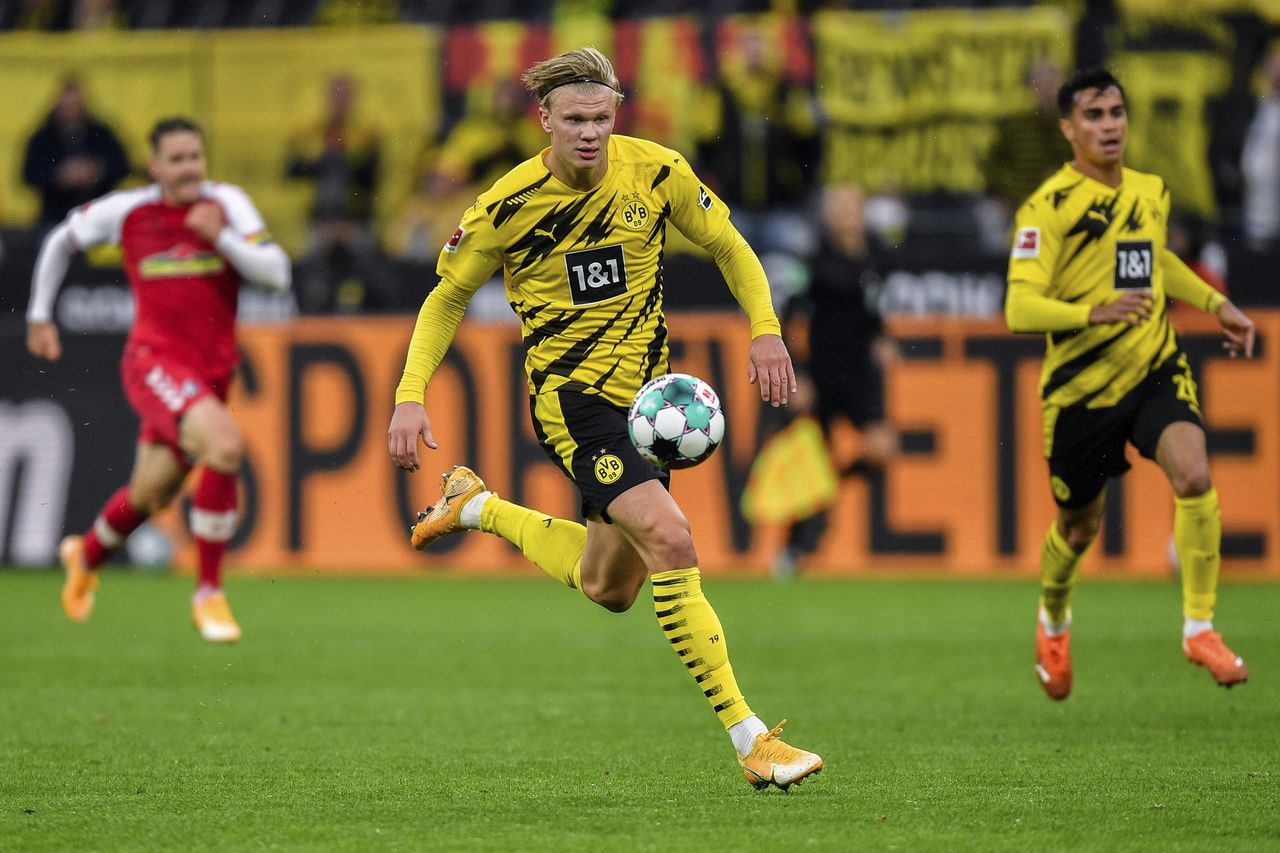 Known for his scoring abilities, he is not just a physical phenomenon or an incredible killer inside the box, but he does much more than that. The 20-year-old is a strong runner both out of possession and with the ball at his feet. He makes very good decisions at high speed, he has a top mentality and competitiveness, when he presses he seems a giant against kids, he is very intelligent to interpret 3v3s and only with a few inches of space he can wreak havoc. 
STATS COMPARISON
Mbappe and Haaland are unarguably the clearest heirs of Messi's and Ronaldo's throne, and their spectacular stats speak for themselves.
Kylian Mbappe for PSG and Monaco has found the back of the net 159 times in 231 appearances and assisted 78 times in all the competitions. 
🤯 @KMbappe was at it again last night.

🤩 Just the 39 goals so far this season for the 22-year-old.

— SPORF (@Sporf) May 13, 2021
In the UEFA Champions League, the Frenchman has scored 27 goals and assisted 17 times in 45 matches. He is leading the scoring chart in Ligue 1 this season as well with 25 goals to his name.
For his national side France, he has scored 16 times in 42 appearances.  
Haaland's goal-scoring numbers have been phenomenal. He has scored 104 goals and assisted 27 in 151 club matches and is the fastest player ever to reach the 100 goals mark. 
20-year-old Haaland this season:

39 games 👤
39 goals ⚽️
9 assists 🎯
German Cup winner 🏆
Champions League top scorer 🥇 pic.twitter.com/L8nCHd2iA6

— ESPN FC (@ESPNFC) May 14, 2021
In the Champions League, he has found the back of the net 20 times and assisted 3 in 16 outings. In this UCL campaign, he became the first teenager ever to score double-figure Champions League goals in a single campaign after scoring 10 goals in 8 matches. In Bundesliga this season the Norwegian has been tremendous, scoring 25 goals in 26 matches for Borussia Dortmund.
For his national team Norway, he has scored 6 times in 10 appearances. 
WHO IS BETTER?
Both Mbappe and Haaland have been exemplary in their growth. With their great astuteness and potential, both of them will travel great distances, and their performance and consistency can bring them numerous honours. It would be premature to compare the two athletes because they have different goals and it's scary to think that none of them have reached their primes. But it's only a matter of time before any of them rises to prominence. Till then, let's just enjoy their growing phase.