Defending champions Manchester City's 1-0 defeat to Tottenham Hotspurs brought an end to an exciting weekend of football in the Premier League. The best league in the world was back after a two-month break ending the anxious wait of its fans. Right from the first game, there was no shortage of drama in the Premier League in the first game week.
One round down, 37 to go. #PL pic.twitter.com/3mTP00cNcw

— Premier League (@premierleague) August 15, 2021
Exciting games, world-class goals, last-minute thrillers, you name it you have it. After a proper resting period this time, the players were recharged properly. This clearly resulted in more high pressing and fast tempo of the games, unlike the previous year. The fans have also returned to the stadiums making it a complete return to normalcy.
On footballing terms, Manchester United, Chelsea and Liverpool have made their title statements in the first game week. Though Manchester City have suffered a blow, we know they can come back. Other teams like West Ham and Everton have also impressed in the new campaign.
FootTheBall looks at the five things we learned from the first game week of Premier League.
1) THE FANS ARE BACK, AND HOW THEY WERE MISSED!
No more empty stadiums, no more fake noises, no more digital fan walls, no more listening to players swear on the telly. Gone are the dark days of ghost games. The game that belongs to the fans is back. The game that goes to a whole new level due to the fans is back. After one and a half years, the stadiums have opened their gates to let their 12th man in.
Things you love to see 😍

So good to have fans back in #PL grounds pic.twitter.com/yfnWG1nuVk

— Premier League (@premierleague) August 15, 2021
The first game of the season gave a good glimpse of what's to come. The new Brentford Community Stadium bounced together as their side beat Arsenal on the opening night. This is the spirit of the game that was missing last season. Ever since all the games saw full crowds for the first since March 2020. Many players and managers shared how it felt to be back in front of the fans again. Manchester manager Ole Gunnar said fans gave him "butterflies" before the game.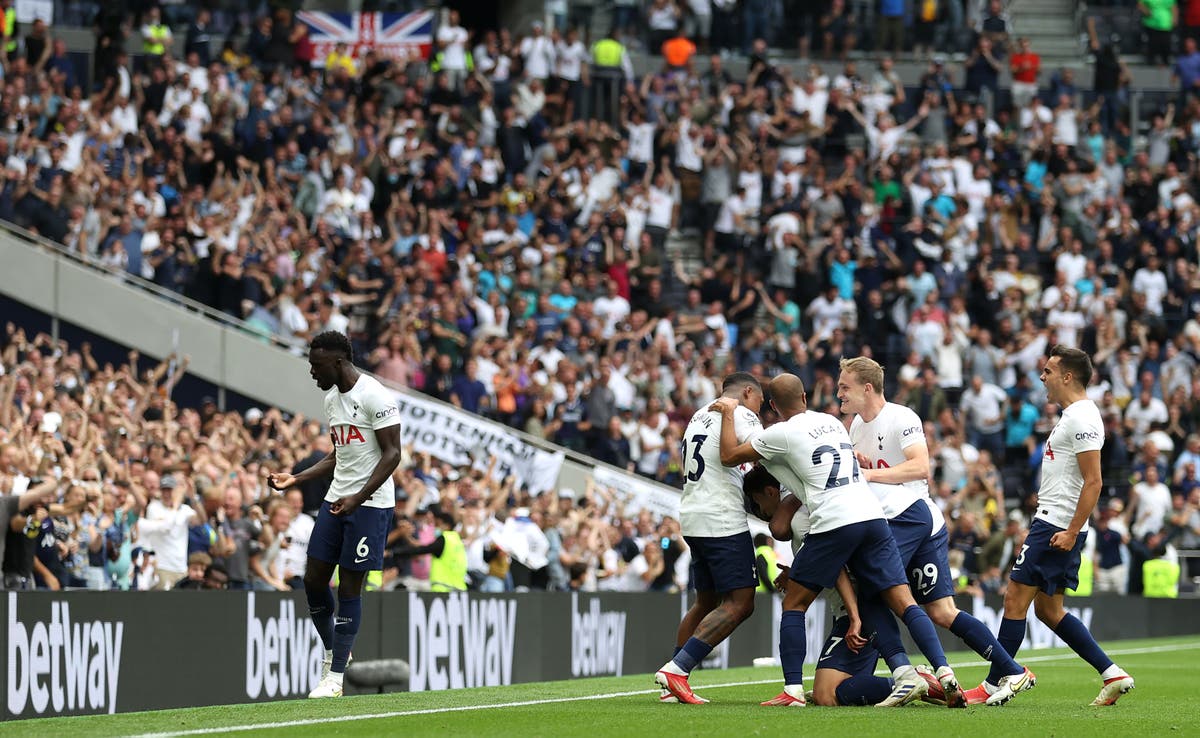 It is estimated that nearly 300,000 fans flocked the stadiums during the first game week of the new season. As the fear of the pandemic eases, the number is only set to go up. Rejoice fans and fasten your seat belts for this is going to be a rollercoaster of a season.
2) SLICK REFEREEING
Ever since the introduction of VAR, the league hasn't been the same. Also, few tweaks to the FIFA law meant that the assertions that the game has "gone soft". Referees were awarding soft penalties, minimal contact fouls were given and handballs were dealt with harshly, especially in attack. VAR rulings stirred a controversy or two regularly due to the dissected offside lines and bizarre explanations later.
🇳🇬 Dennis
🇸🇳 Sarr
🇨🇴 Cucho

Three points to start the season 👌 pic.twitter.com/HDZSXUhg1Q

— Watford Football Club (@WatfordFC) August 14, 2021
Recently concluded Euro 2020 laid a marker down for the European leagues to follow. The decisions were smoother with the benefit of the doubt given to the attacking side. VAR checks were quick and conclusive. English defender John Stones spoke about how he would accept those changes in the Premier League. The league certainly took a page out of their book and after constant dialogue with the clubs, new changes were made.
Many minor incidents in the penalty box were ignored. Referees were content with playing advantage on. Watford made incredible use of the advantage granted by Mike Dean as Cucho Hernandez curled an effort to triple their lead against a stunned Aston Villa. Similar instances can be seen throughout the campaign. We can expect smooth play without too many interruptions from VAR as well. The VAR checks would now run effectively in the background.
3) BRENTFORD THE NEW SURPRISE PACKAGE?
The Premier League has a new tradition of seeing a surprise package from the newly promoted sides. Wolverhampton Wanderers, Sheffield United, Leeds United were the recent debut stars. Brentford started their season with a bang and are in contention to be the stars this time after a 2-0 win over Arsenal.
Tonight we made this our home#BrentfordFC #BREARS pic.twitter.com/Hmx1t9oeRL

— Brentford FC (@BrentfordFC) August 13, 2021
The London side made a name for themselves in the Championship with their high intensity, free-flowing football. The Bees welcomed Arsenal for their first-ever game in the Premier League. As always, the Bees stung first through Sergi Canos as their press carved Arsenal open. The stunned Gunners didn't have a reply to Norgaard's header from a long throw in. Their overall play impressed everyone and a similar run would do wonders for the team. Meanwhile, Mikel Arteta and Arsenal have a long way to go as they seek a return to glory days.
Other promoted sides like Watford and Norwich had mixed results. Watford under Xisco Munoz went up against a formidable Aston Villa side. To their credit, the Hornets ran away with the game after scoring three times in the first 70 minutes. Though Villa mounted a late comeback it wasn't enough.
This man 🤩@28xisco28's first time at a full Vicarage Road 💛🏠 pic.twitter.com/RYWd8kLFmn

— Watford Football Club (@WatfordFC) August 14, 2021
Norwich on the other hand were beaten comprehensively by Liverpool. Jurgen Klopp's reds after a turbulent season got back to their fearsome best. They showed no respect to new boys as they scored three goals and recorded a clean sheet. The Canaries' task won't get any easier as they face Machester City next.
4) NO EQUALS IN THE LEAGUE
This weekend of football was extremely exciting. Surprisingly, there were no draws in the league. Draws are one of the most common results in football when two equal sides meet. By the things of it, no side were equal in the Premier League as they tried to give a good first impression.
The scenes when this went in… 🎉@AleMacAllister loves a late goal! 😏 pic.twitter.com/UekHMh1F9f

— Brighton & Hove Albion (@OfficialBHAFC) August 15, 2021
Yes, there were surprising results like Brentford's win over Arsenal, but there were no draws in the league. The Brighton-Burnley game was heading towards a late draw in the league. James Tarkowski's early header gave Burnely an early lead. It was cancelled out by Neal Maupay in the last quarter of the game. Shortly after, Alexis Mac Allister scored to turn the game in Brighton's favour. Everton too had a late comeback to prevent a draw against Southampton.
FT. GET IN!!!!! 🙌

Blues bounce back from 1-0 down with goals from Richarlison, Doucouré and Calvert-Lewin. UTT!

🔵 3-1 😇 #EVESOU pic.twitter.com/J3uA8WLZ6u

— Everton (@Everton) August 14, 2021
Leicester City survived a late onslaught from Wolves to hold onto their one-goal lead. Even Tottenham held their nerves as Manchester City threatened to take something from the game late on.
5) THE DEFENDING CHAMPS NEED KANE TO CATCH UP
Manchester City had yet another slow start to the campaign. Given their late resurgence last season, there is no need to worry yet. But the manner of their defeat must've hurt Pep Guardiola. City were doing everything right on the ball except scoring. Their wingers and playmakers like Jack Grealish, Riyadh Mahrez, Raheem Sterling and Kevin de Bruyne were getting into good positions but to no good effect.
Pick ourselves up and dust ourselves off 💪

⚪️ 1-0 🔷 #ManCity | https://t.co/axa0klD5re pic.twitter.com/OwWLW6jDFc

— Manchester City (@ManCity) August 15, 2021
When they got their head up, they found no one in the box. It is the job of a clinical striker to be there in the box and provide that final flourish. Pep Guardiola must now seek additional funds to meet whatever Tottenham are demanding and sign Harry Kane. The English international is one of the best, if not the best striker in the world and would explode under Guardiola at City.
Morning, Reds 😉#MUFC | #MUNLEE pic.twitter.com/vY4v870PNz

— Manchester United (@ManUtd) August 15, 2021
City must wrap this signing quickly else they would fall behind early as the title race begins to shape up. They were the clear-cut betting favourites going into the season, armed with their British transfer record signing, Jack Grealish. However, this unexpected loss against Spurs, combined with their rivals starting ominously, has shifted the "One-horse title race" narrative somewhat. According to the fresh and current Sportsbet.io news, City still remain one of the prime contenders for the title, but another upset or two in their next few games, and the picture could change rapidly.
Manchester United, their city rivals, made the biggest statement of all as they dispatched Leeds to the cleaners. Bruno Fernandes continued where he left off in the last season and it would only get better for the Red Devils with Jadon Sancho and Raphael Varane getting up to speed.
European champions Chelsea made a positive start too as they beat Crystal Palace 3-0. Thomas Tuchel's men looked sharp and would be significantly boosted by the new signing Romelu Lukaku. Liverpool too look like themselves again as they welcome key figures back from long-term injuries.
The perfect start! 😁

Up the Chels! 🔵 pic.twitter.com/T3k8tE6TIO

— Chelsea FC (@ChelseaFC) August 14, 2021
City must be wary of the threat posed by their rivals and must be ruthless in the market to defend their crown again.