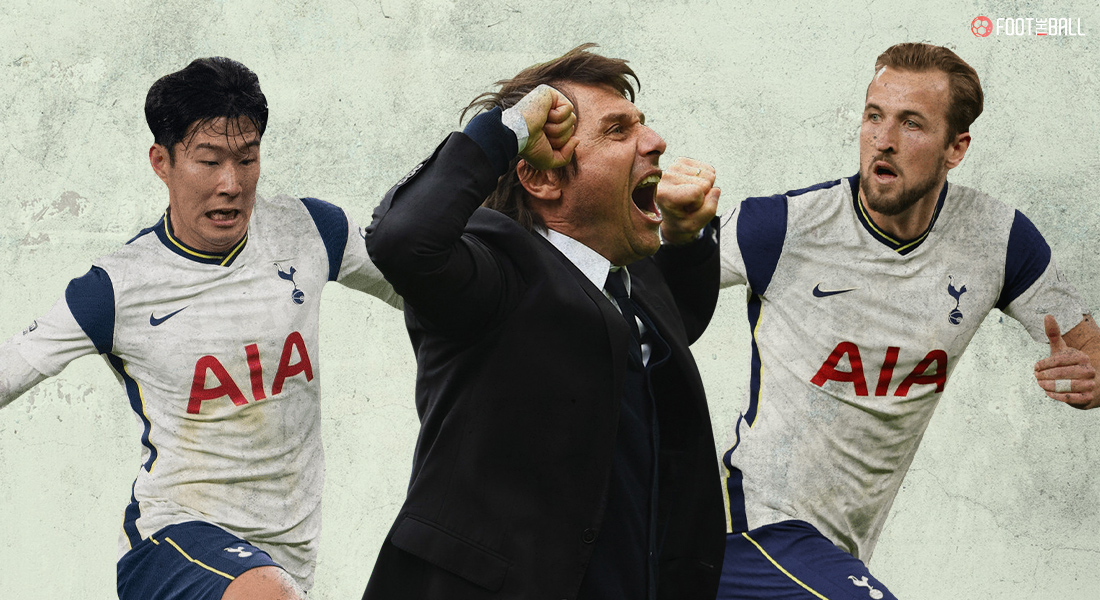 FANS ARE DREAMING OF SILVERWARE AND TOP FOUR. HOW MUCH OF IT CAN BE A REALITY?
Antonio Conte is back in the Premier League. That is not the most surprising thing, this is- he joins as the new manager of Spurs. The surprise u-turn in Conte's mind, having rejected the job in the summer, will be most exciting for the team's supporters.
— Tottenham Hotspur (@SpursOfficial) November 2, 2021
They have had to endure a dismal start to the season, winning five and losing five of their 10 league games. The heavy defeat to Manchester United at home was the final straw, with chairman Daniel Levy said to be "furious" at the result. With Conte being appointed on the same day that Spurs' wait for a trophy hit 5000, it is safe to say the expectations are more than a bit high.
5000 – Tottenham have appointed Antonio Conte on the day that marks exactly 5,000 days since the club last won a trophy (the 2008 League Cup). Exorcism? pic.twitter.com/11uBChtPIl

— OptaJoe (@OptaJoe) November 2, 2021
But what can constitute a "successful season" for the club? Can they make the top 4 or is it too late? Should they just focus on winning the Europa Conference League? The questions are manifold.
NEVER TOO LATE
Realistically, the position is not too grim for Spurs yet. They are only five points behind West Ham in 4th with 28 more games left. Thankfully for them, three of their next five opponents are in and around the relegation zone. Conte will be hoping for a full haul of 15 points but it is the way the team has been playing that has raised a lot of concerns.
The defence has been cut open far too easily so far, having conceded the joint-most goals in the top half of the table. The midfield hardly inspires confidence, with Oliver Skipp looking lost in most games. Harry Kane's struggles have been highlighted a lot, with Conte needing to do a lot of work with the striker who can benefit from the manager's style. If the talisman can get back to his firing ways, then the ceiling of the team is really quite high.
Antonio Conte on Harry Kane during Euro 2020 🗣

"It's in the box where he's clinical and as a coach, I would always keep him in there because he's devastating."

Will he rediscover his best form under Conte? 🤔 pic.twitter.com/24SleCufQS

— Oddschanger (@Oddschanger) November 2, 2021
Even after a slow start, they have the personnel to get things done in a very effective fashion. Conte will no doubt be changing the formation and lineup quite a bit, making use of his trusted 3-5-2 for the opening games at least. Moreover, his demands of an extreme workrate from all of his players helps in the team being united on the pitch, doing what the manager demands of them. Spurs' mentality is in dire need of a reset and reboot which Conte will be providing to the extreme.
"Yeah…I prefer to kill him" 🤭

Now Antonio Conte has been confirmed as Tottenham manager, we couldn't resist throwing it back to this brilliant interview with Thierry Henry 🔙 pic.twitter.com/RbDU38A0fc

— Soccer AM (@SoccerAM) November 2, 2021
Spurs have also made it to the quarter-finals of the Carabao Cup, a competition where they made it all the way to the final last season. With four-time defending champions Manchester City already knocked out, the race for the trophy is wide open. Conte will be prioritizing the league rankings, but there is a more than good chance of Spurs finally ending their silverware drought in the domestic cup.
CAN EUROPE PROVIDE A SOLUTION?
Conte's arrival in Europe's third-tier competition immediately puts him as the top two managers there, alongside Jose Mourinho. However, such has been their form that Spurs currently sit 3rd in their group, after a 1-0 defeat against Vitesse away from home. The reverse fixture will be Conte's first match in-charge and a solid win will go a long way in uplifting the fanbase.
Vitesse have just beaten Tottenham 1-0! Another great result for Dutch football.

Vitesse go 2nd in the group while Tottenham go 3rd.. 😭 pic.twitter.com/jIcY3rdQhR

— 𝐀𝐅𝐂 𝐀𝐉𝐀𝐗 💎 (@TheEuropeanLad) October 21, 2021
Along with the Carabao Cup, the Europa Conference League provides the two clearest pathways to trophies. Conte has a habit of utilising a set number of players, no matter the situation or opponent, and is a clear breakaway in what Nuno was doing- changing the entire lineup for European commitments.
𝐓𝐡𝐞 𝐟𝐢𝐫𝐬𝐭 𝐢𝐧𝐭𝐞𝐫𝐯𝐢𝐞𝐰: Antonio Conte. pic.twitter.com/8BICCuSZbS

— Tottenham Hotspur (@SpursOfficial) November 3, 2021
The real test will come in the latter stages as teams from the other European competitions drop down. If Spurs can make a run to the semis or even the final, it will be a major achievement given their recent form on the continent.
NEW ADDITIONS WILL COME
Everyone associated with the club and to a broader aspect, the league, is waiting for what Conte and Spurs do in the January transfer window. It is no big secret that Conte likes revamping his squad in order to perform to the best of their capabilities. This was also considered one of the main sticking points last summer, when Levy was unwilling to give in to the spending plans of the manager.
🗣 "Not at all, we trust in our players."

Fabio Paratici when asked whether he has spoken to Antonio Conte about January transfers pic.twitter.com/vqB74iCEyt

— Football Daily (@footballdaily) November 3, 2021
Now that he is finally in the job, it can be safely assumed that there will be incomings in the next year. Moreover, Kane's desire to leave the club can serve as a further boost in Conte choosing to bring in a striker to soften the blow whenever the Englishman eventually departs. The midfield can certainly use some more bodies, with Conte said to be eyeing players from Serie A which he knows so well.
Tottenham were working on January transfers before Antonio Conte's appointment #THFC https://t.co/eLosUNB4J8

— Express Sport (@DExpress_Sport) November 3, 2021
The fact that Conte has been using the 3-5-2 already in his training sessions shows that he is willing to start off with the tested formula. Some players are a questionable fit for that, especially given how much pure wingers Spurs have and not enough wingbacks.
CAUTIOUSLY OPTIMISTIC?
The final finishing position of the club is impossible to predict right but knowing Conte, he will be pushing for top four. If they can bring in quality reinforcements and reignite the epic partnership between Kane and Heung-Min Son, watch out Premier League!