Mario Manzukic has recently decided to retire from professional football after what has been a successful and decorated career. The player has played all around the world and has asserted his dominance everywhere. He is arguably one of the most underrated players of his time and true football fans will know how good he was.
At the age of 35, Mandzukic has decided to hang up his boots after suffering through recurring injuries and not getting into his usual form for the past couple of seasons. FootTheBall takes you back on memory lane and relives 10 of the best and most iconic moments from Mario Mandzukic's career.
1) ) UCL GOAL OF THE SEASON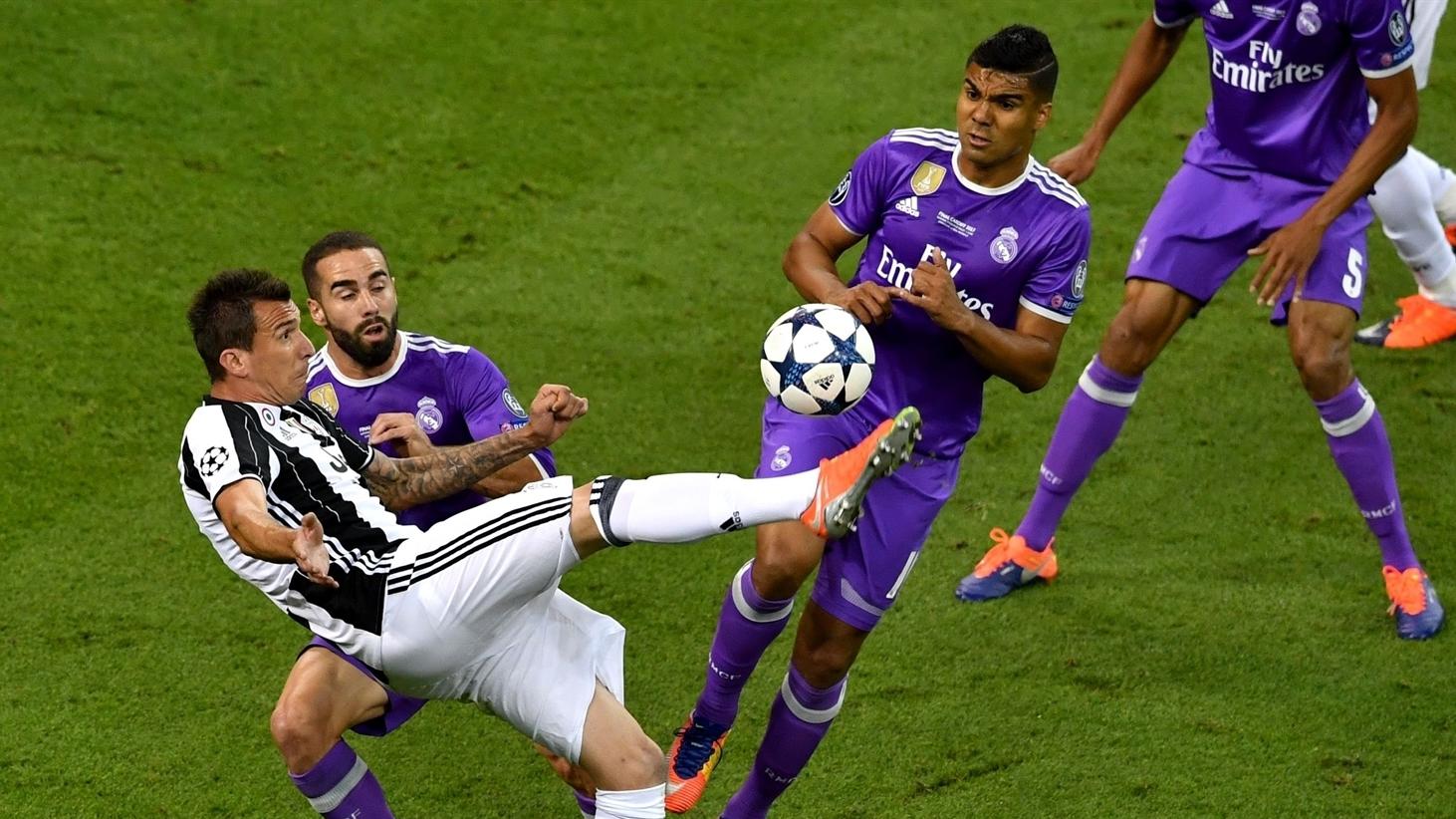 Mandzukic's goal against Real Madrid in the Champions League Final is arguably the best goal he has scored in his career. Juventus were trailing 1-0 midway through the first half when Juventus constructed a beautiful team goal. After a few first touch volley passes, Mandzukic chested the ball and a well placed overhead kick beat Keylor Navas as the scores got level. Although Juventus lost that game, Mandzukic won the UEFA goal of the season and rightly so.
2) ENGLISH DREAM KILLER 
England were just 1 step away from reaching the finals of the World Cup in 2018 as the scores were all tied up between them and Croatia in extra time. In the 109th minute, Ivan Perisic flicked the ball with his head inside the box and Mandzukic did well to find space and bury the ball into the bottom right corner past Pickford. Mandzukic leads his nation to their first-ever World Cup final. This is probably his best goal for Croatia and made him a national hero.
3) THE GREATEST DER KLASSIKER
Mario Mandzukic, who represented Bayern from 2012 to 2014 and scored Bayern's opening goal in the victorious 2013 Champions League final, turns 34 today. Happy birthday, Mario! pic.twitter.com/U5v67Cjck3

— Bavarian Tweets 🏆🏆🏆🏆🏆🏆 (@BavarianTweets) May 21, 2020
We all know that Bayern Munich and Dortmund are fierce rivals, but the scenes were on a whole new level when they tussled in the 2013 Champions League final. Mandzukic scored the winner in the 60th minute of the game and although it was a simple tap-in, it doesn't lower the importance of the goal. This was Bayern's first Champions League win in 10 years and they did so in their last season under Jupp Heynckes.
4) OOPS, THE WRONG END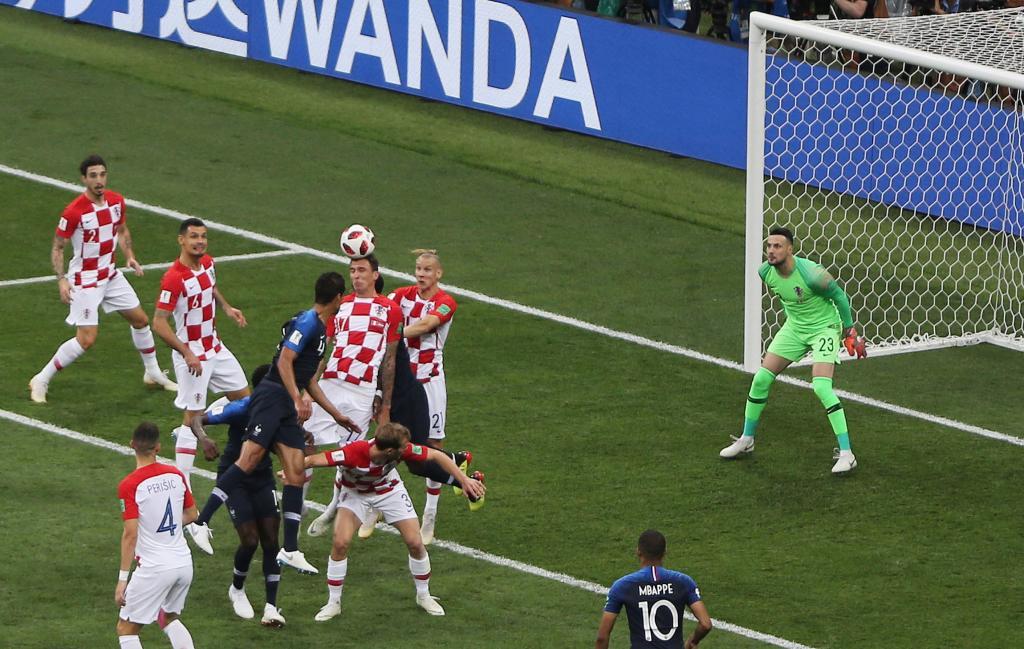 This Mandzukic goal will forever be remembered by Croatian fans but for all the wrong reasons. Croatia conceded the opening goal in the final of the 2018 Fifa World Cup thanks to Mario Mandzukic. Griezmann struck the ball from a free-kick which met Mandzukic's head and the ball deflected into the goal. Although he carried his nation to the finals, his legacy will be tainted by that unfortunate own goal.
5) LEAVING THE OLD LADY
Madzukic had become a cult hero for Juventus fans for his consistency and supremacy upfront. He joined the Old Lady in 2015 and since then Juventus won every single Serie A until his departure in 2019. He also scored many important goals in the Champions League and although Juve didn't achieve European glory with Mario, he surely had a great impact on their good performances in the tournament and was a true match-winner. Mandzukic's departure is surely an iconic event in the club's history which also transformed his career in a way as he joined the Qatari club Al Duhail.
6) ICONIC FIGHTS
📷 Throwback: 2017 Champions League Final. Sergio Ramos vs. Mario Mandzukic pic.twitter.com/FcNQUi7PEo

— RMadridHome_ (@RMadridHome_) November 9, 2018
Mandzukic's intensity was also one of his trademark traits and made his games even more entertaining and interesting. His tall stature and physique helped him dominate other players physically which created a lot of spats in his career. Mandzukic has had a fight with some of the biggest names from the game. He has had fights with Robert Lewandowski, Lionel Messi, he also dared to strike a nerve of Sergio Ramos. Ramos is known for being a little rough on the pitch and Mandzukic dared to get in a fight with him as well. His intense attitude showed us how passionate he was about football.
7) IMPORTANT GROUP STAGE BRACE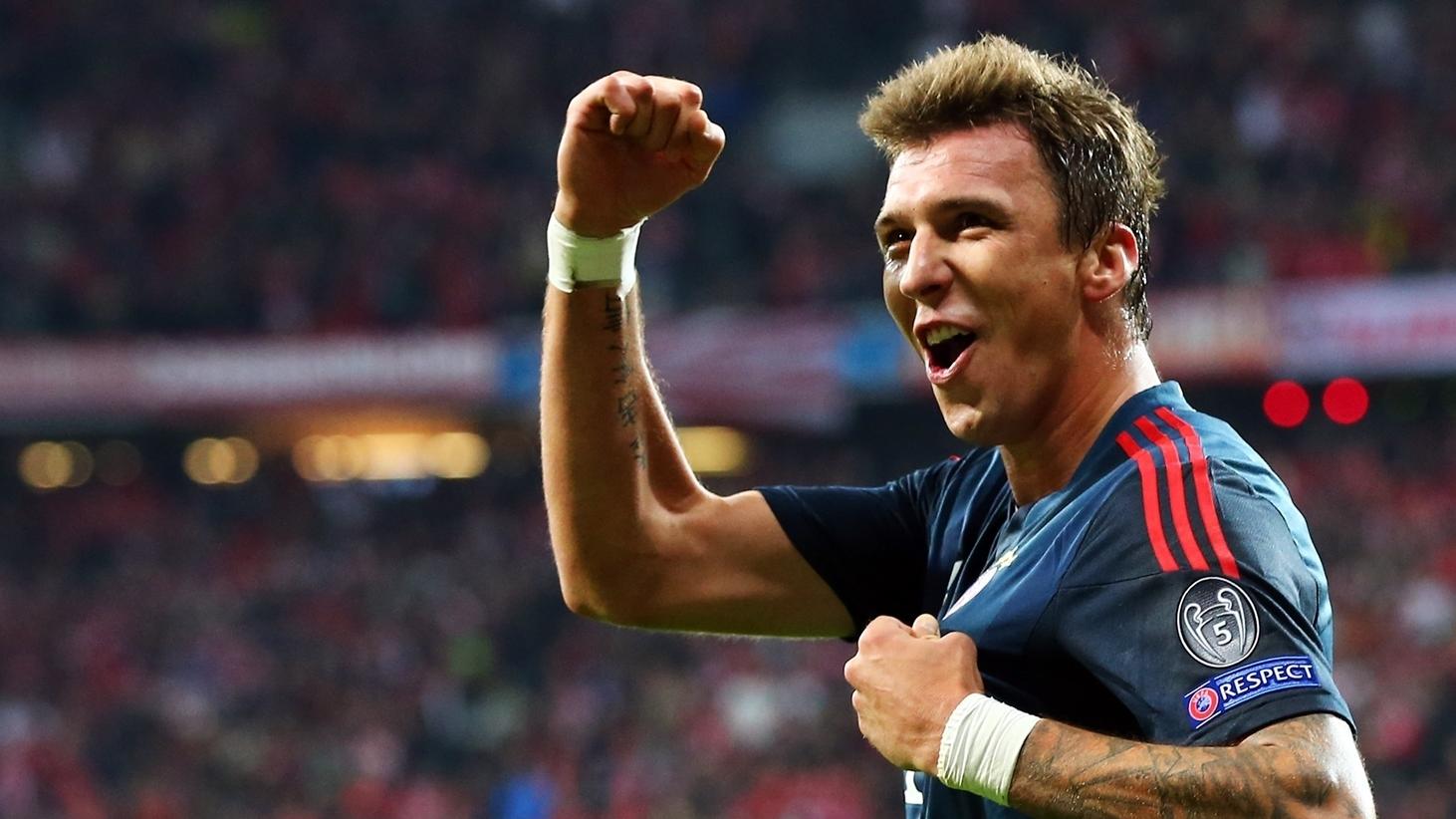 The 2014/15 Champions League group stage didn't fail to disappoint anyone since the battle for the Round of 16 spot went onto the last fixture. A loss against Olympiacos would have meant that Atletico Madrid would finish 3rd in the table and get knocked out of the competition. Atletico Madrid had lost their first fixture against Olympiacos but they pulled themselves back when they met again on matchday 5. Madzukic scored a hat-trick ensuring they finished 1st in the table and Olympiacos had to settle for a Europa League spot.
8) A SEASON TO REMEMBER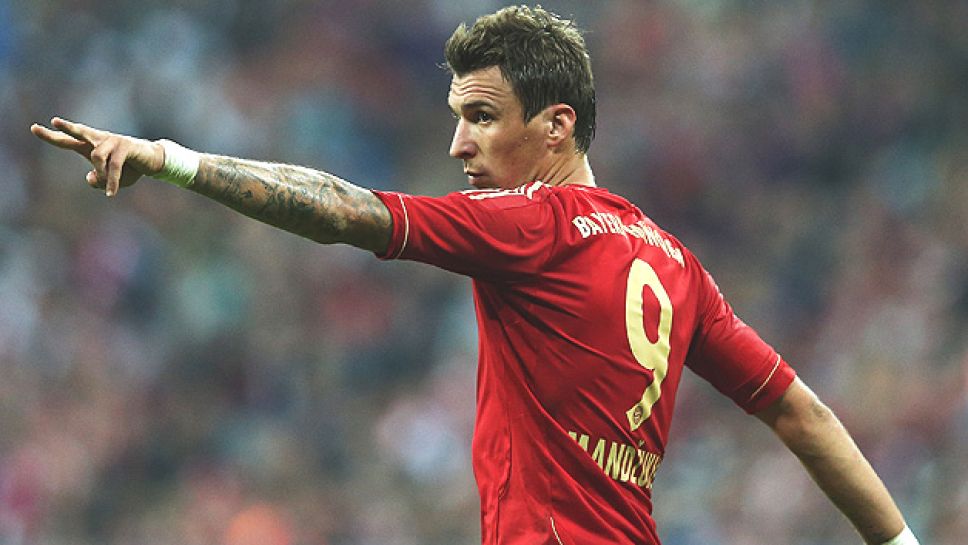 The 2013 season was Pep Guardiola's first time taking charge of Bayern Munich and it turned out to be a fantastic year for them, especially Mario Mandzukic. In their 2nd game of the season, Bayern played Frankfurt away from home and there was just 1 goal between them by the final whistle. Mandzukic smashed a left-footed volley in the net which sparked a flare in the player that lasted till the end of the campaign. Mandzukic scored 21 goals in the Bundesliga that year and Bayern won the league title after losing only 2 games out of the 30.
9) DANGER MAN AT THE ETIHAD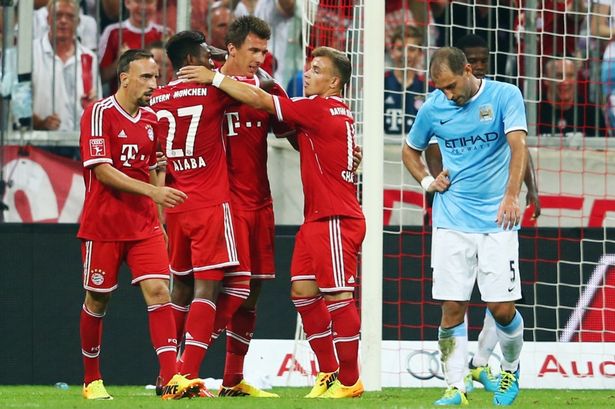 Manchester City were the team to beat with their rising prominence under Manuel Pellegrini. Juventus beat them in both their group stage fixtures and Mandzukic scored in both of them. Although Juventus got knocked out in the round-of-16 stage, Mandzukic's brace will never be forgotten by both sets of fans.
10) A HEADER TO CHERISH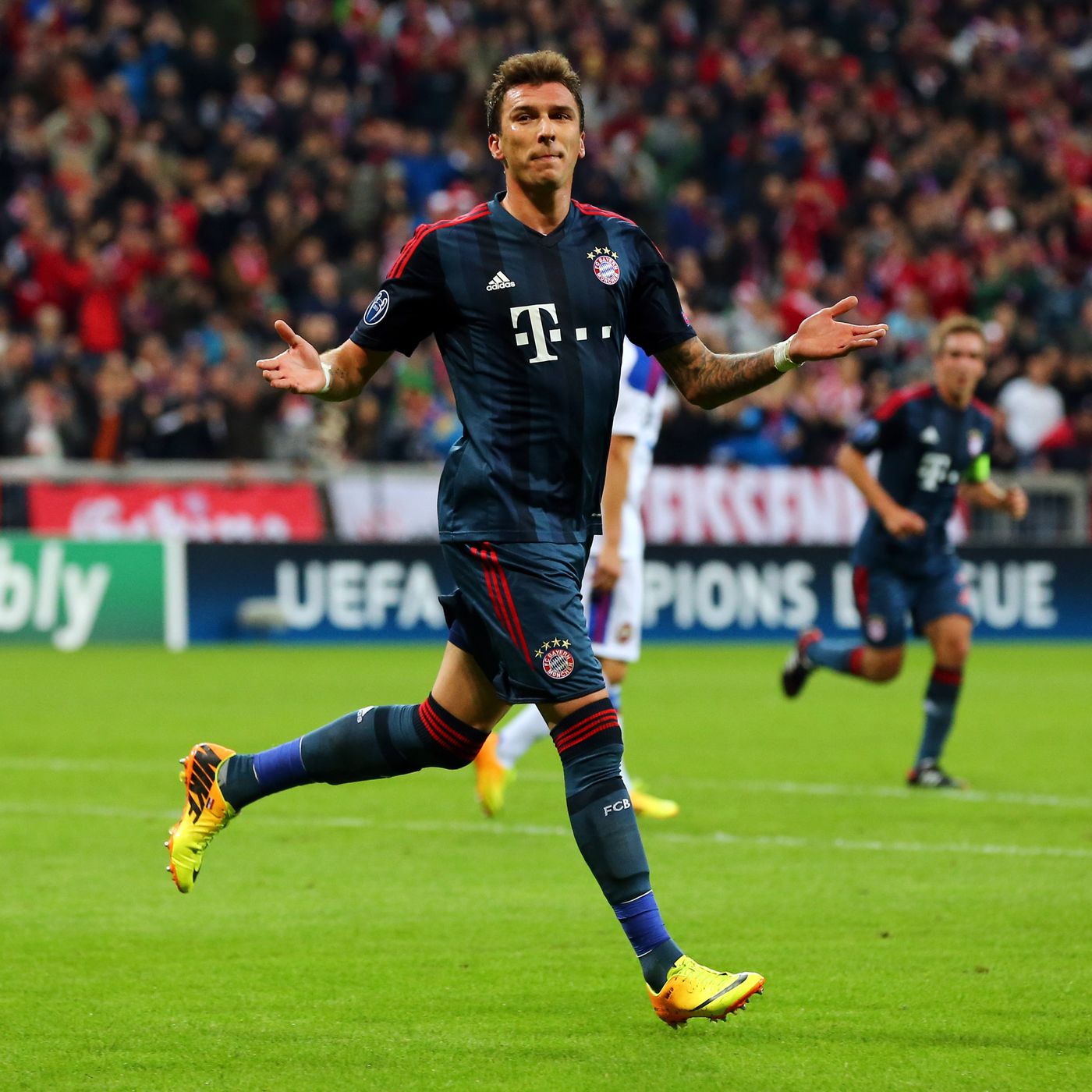 In the 2013 Group Stage fixture against CSKA Moscow, Mandzukic scored a header that will remain iconic for years to come. Robben crossed the ball from the right-wing through a free-kick and Mandzukic leapt up higher than any other player in the box and a powerful header pierced through passed through the fingertips of the keeper. It was one of the most satisfying and aesthetically pleasing goals by Mario Mandzukic.