There are several ways fans, clubs or players pay tributes to any legendary footballer. However, making a mural remains one of the most iconic ways to pay respect to any legend. And over the years, the world of football has seen some iconic murals.
Some of these were made to pay tribute to players for a remarkable achievement (like winning a FIFA World Cup). In contrast, some were made to0 acknowledge their overall contributions or made after the legend had passed away.
These murals are not just mere pictures but represent the game's and its fans' deep bond with the player. So, without further ado, here are the top ten murals that pay tribute to legendary footballers.
Mohamed Salah- Liverpool
By the time he calls time on his Liverpool career, the Egyptian star Mohamed Salah will definitely become one of the best players ever to play for Liverpool. Salah has helped Liverpool win seven trophies, including the Premier League and UEFA Champions League.
So, it was no surprise when in March 2022, local artist John Culshaw was selected to paint a massive mural of Salah. The mural has been painted opposite the King Harry Pub on Anfield Road near Liverpool's iconic stadium.
The mural has two representations of Salah. In the first, he is doing his trademark celebratory pose with his hands extended, while the other has him facing his back while he trudges along Anfield's pitch.
Stunning new Mo Salah mural has been put up in Liverpool 🔥 pic.twitter.com/yXAnVf6WVw

— Watch LFC (@Watch_LFC) March 28, 2022
Neymar- Miami 
Made before the start of the 2018 FIFA World Cup by renowned designer Brandan Odums, the famous mural of Brazilian superstar Neymar is situated between SW Eighth Street and SW First Avenue in Miami, Florida. It took an entire week to make by a team of experts—two other murals of Mohamed Salah in Egypt's jersey and Paul Pogba in France's jersey.
The mural shows Neymar in the Brazilian jersey, and on his head are pictures of Neymar in different celebratory and playing postures. Besides his photo, the text 'Neymar is larger than life' is written. Odums said, "There were a few people who were not fans of Neymar [who] would scream out what team they were fans of. I was excited that it was getting such a response. A majority of people were excited to see it was Neymar."
Neymar mural near Downtown Miami and Metrorail Brickell station. pic.twitter.com/uD5IcY315x

— Kartik Krishnaiyer 🇺🇦🌻⚽️ (@kkfla737) May 21, 2018
Zinedine Zidane- Paris 
Zinedine Zidane's famous mural was part of the 11 graffiti commissioned before the start of Euro 2016, which was hosted by France. 11 different designers were chosen for each image, and Zidane's famous mural was painted by Alezx and Brok.
The mural was drawn in Paris' famous Hotel de Ville Square between June 16-19, 2016. Other murals that were painted alongside Zidane were
Gianluigi Buffon, Paolo Maldini, Franz Beckenbauer, Carles Puyol, Phillip Lahm, Andrea Pirlo, Andres Iniesta, Cristiano Ronaldo, Thierry Henry, and Marco van Basten.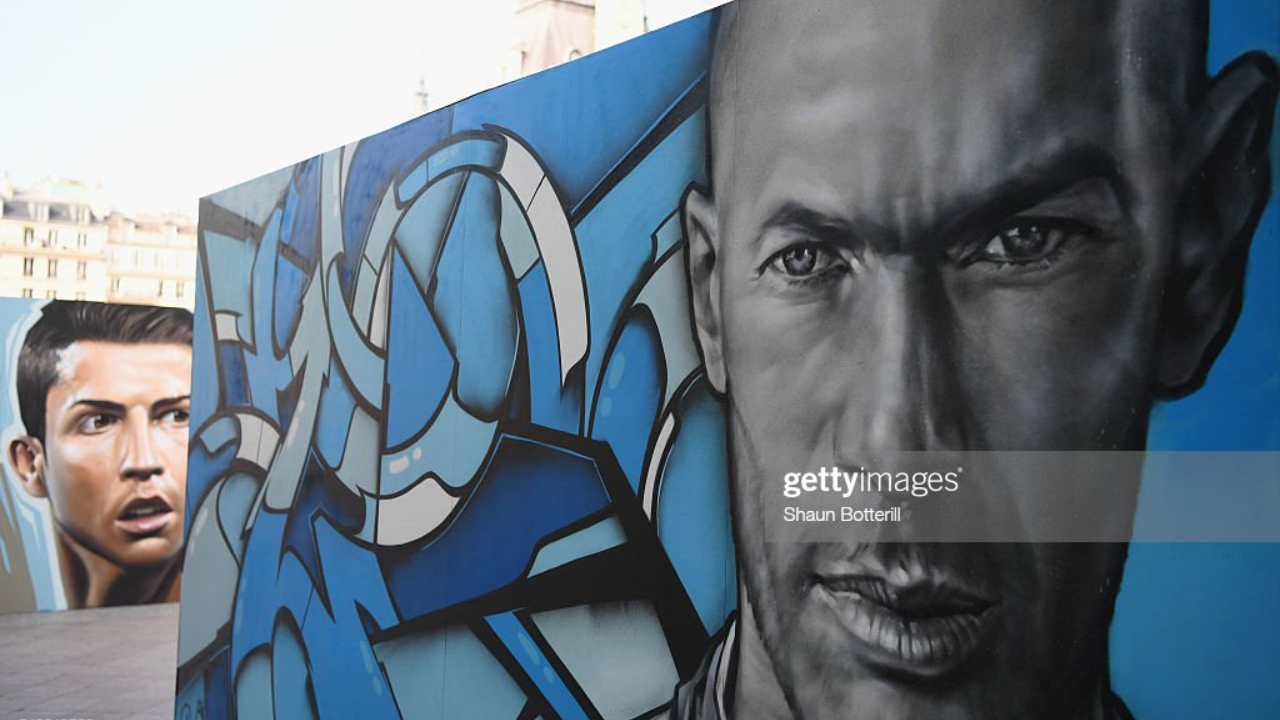 Diego Maradona, Johan Cruyff, George Best- Manhattan
Imagine three legends of the game being envisioned into one mural. This is what one will see when they pass through the Mechanic Alley, a street under the Manhattan Bridge. The street has in total five legends, but three of them, i.e. Diego Maradona, Johan Cruyff and George Best, have been combined in one mural.
Made on a white background, the mural shows the three players in black and white. Besides the mural, there is another one showcasing Manchester United's legendary manager, Alex Ferguson and Franco Baresi, one of the best defenders in the history of the game.
😍 Beautiful mural in #NewYork! 🎨 #TheGroundNYC pic.twitter.com/d6MuA1swRr

— Johan Cruyff (@JohanCruyff) June 15, 2020
Sergio Aguero- Manchester 
"Back to Balotelli, AGEUROOOOOOOOOOOOOOOOOOOOOOO!!!!!". These words have now been immortalised in football folklore. With just seconds remaining, Sergio Aguero got on the end of a Balotelli pass and smashed the ball past a hapless Paddy Kenny in Queen Park Rangers' goal. And after scoring the goal, Aguero would remove his shirt while running to the sidelines.
This iconic moment has been plastered as a mural in Manchester's Northern Quarter, where a picture of him taking off his shirt after scoring that incredible goal has been drawn. However, the mural was removed after his move to Barcelona, which invited fierce criticism from Manchester City fans. It was created by Murwalls, a company specialising in making bespoke pieces.
The Sergio Aguero mural being sprayed down.
21/06 pic.twitter.com/nEbu4eMD7S

— 𝕊𝕋𝔸ℕ𝔻 𝕐𝕆𝕌ℝ 𝔾ℝ𝕆𝕌ℕ𝔻 👊 (@Ultramaniatics_) June 21, 2021
Pep Guardiola- Manchester 
Since joining Manchester City, Pep Guardiola has won trophies left, right and centre. In his seven years at the club, the Spaniard has won 11 trophies, including four Premier League titles. And so it was no surprise when a mural was created dedicated to him for his incredible achievements.
The mural has also been created by Murwalls, which was behind the Aguero masterpiece. Murwalls commissioned graffiti artists Meana and Snotone to make it near Ashton New Road opposite the Mercedes garage.
Huge mural of Pep Guardiola unveiled opposite the Etihad Stadium https://t.co/YjX2xE8013 pic.twitter.com/bV98nrpjrQ

— ANTI GRAFFITI PAINT (@URBANHYGIENE) September 21, 2022
Johan Cruyff- Amsterdam
Created by Brazilian street artist Paulo Consentino and AkzoNobel, a paint company, the unique mural of Ajax and Netherlands legend Johan Cruyff is a brilliant tribute to the world-class player. It is made on the walls of De Meer, the old stadium of Ajaz.
Measuring 11 metres in length and 7.6 metres in width, the mural was created to honour his legacy on the 20th anniversary of the Johan Cruyff Foundation. During his fantastic career at Ajax, Cruyff won an astonishing 18 trophies, including eight Eredivisie and three European Super Cups.
At 18.14 hrs exactly tonight, we unveiled the Johan Cruyff mural in Amsterdam, together with @AkzoNobel and mayor vd Laan! #CruyffLegacy pic.twitter.com/QqnKCzdddO

— Johan Cruyff Foundation (@JCFoundation) May 9, 2017
Lionel Messi- Buenos Aires
In December 2022, Lionel Messi perhaps became the greatest player ever to play the game when he won the FIFA World Cup in Qatar. Argentina won their third crown after beating France in the final in a penalty shootout. It was the only major trophy that had eluded the Argentine maestro all these years.
And to celebrate this iconic moment, Argentinian artist Maximiliano Bagnasco created a mural six metres in height and five metres in width; the mural depicts Messi lifting the World Cup. According to Bagnasco, it took him 60 spray paints to complete the artwork.
Lionel Messi's World Cup mural in Buenos Aires is a thing of beauty 😍 pic.twitter.com/WycCWfSYi1

— Football on BT Sport (@btsportfootball) December 24, 2022
Read more:
Diego Maradona- Buenos Aires 
Diego Maradona is one of the greatest players ever to play football. In an astonishing career, Maradona won 11 trophies playing some of the best football the game has ever seen. And after almost two years of his tragic death, street artist Martín Ron in collaboration with Maradona's family, created an iconic mural.
The mural depicts his picture from the 1990 World Cup final, where he captained Argentina. Unfortunately, his nation would lose the match courtesy of a late Andreas Brehme penalty. 'We chose this expressive image together with his daughters Dalma and Giannina and their mother Claudia Villafañe,' Ron said. He added, 'It was taken during the final of the 1990 World Cup in Italy, between Argentina and West Germany. He captained this match, and you can really see his frustration."
Football icon Diego Maradona was born on October 30, 1960 🇦🇷🔟

𝐃𝐨 𝐲𝐨𝐮 𝐡𝐚𝐯𝐞 𝐚𝐧𝐲 𝐬𝐡𝐢𝐫𝐭𝐬 𝐭𝐨 𝐫𝐞𝐦𝐞𝐦𝐛𝐞𝐫 𝐡𝐢𝐦? #Maradona

Artist Maximiliano Bagnasco created this awesome mural on a 10-story building in the town of Canning to the south of Buenos Aires 🔈 pic.twitter.com/3chmtqHQP6

— They Think Kits All Over (@TheyThinkKits) October 30, 2022
Pele- Santos 
Pele is regarded as the best player ever to play the game by many, and with good reason. The Brazilian legend remains the only player ever to win three FIFA World Cups. And on his 80th birthday, street artist Eduardo Kobra painted a gigantic 800 sq metre mural of him in Santos, Pele's hometown. According to Kobra, it took him 45 days, working 10 hours each day and 300 spray paints, to finish the gigantic painting.
Parabéns aniversário 80 anos do Pelé ! pic.twitter.com/8g4YGW1zeU

— Eduardo Kobra / kobrastreetart (@kobrastreetart) October 23, 2020
In an interview, Kobra explained his motivation behind the mural. "When I travel, in all the places I go, the first name from Brazil that comes up is Pele, whether it's in Japan or in Africa. He's a Brazilian hero," he said.