Sergio 'Kun' Aguero. The man, the phenom who became one of the greatest strikers ever to play the game. A serial trophy winner and record-setter who was beloved everywhere he went. The man who moved to Barcelona this summer in order to play with his longtime friend and teammate, Lionel Messi.
https://www.instagram.com/p/CXgSvUgsyFf/?utm_source=ig_web_copy_link
But things never seemed to work out at Camp Nou. With Messi leaving and Aguero struggling with fitness issues, his debut was delayed by months. However, he made an instant impact by scoring on his debut against Real Madrid in the El Clasico. That was to be one of its last involvements in football, as he has now announced his retirement after being diagnosed with cardiac arrhythmia.
https://www.instagram.com/p/CXfbP-ZDwbs/?utm_source=ig_web_copy_link
No matter how his final sojourn panned out, he will always remain a hero for club and country. FootTheBall celebrates the top moments from an incredible career at the very highest level.
YOUNGEST EVER DEBUTANT IN ARGENTINA
Aguero made his professional debut with Independiente in 2003 at the tender age of 15. In the process, he broke his future father-in-law Diego Maradona's record itself. Though that would remain his only appearance in that season, the feat still stands, and next year would see him write his name into the record books once again.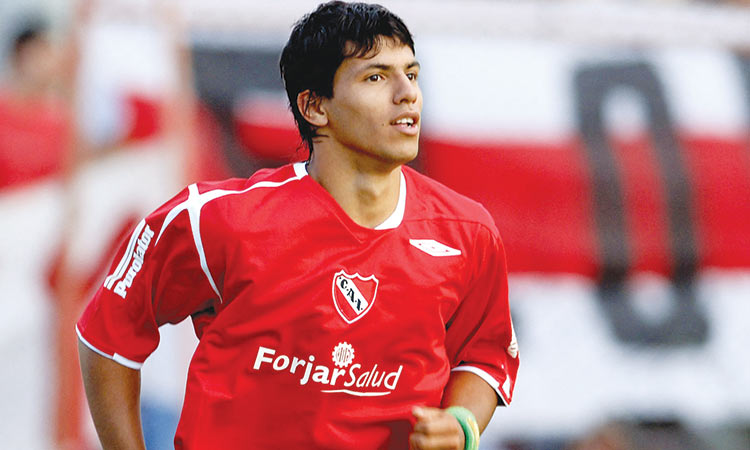 Aguero became the youngest ever player to debut in the Copa Libertadores. This time he held the record for three years. A sign of things to come later in his career of course.
TEENAGER WINNING IT ALL
2007-08 would prove to be one of the first great years of Aguero's glittering career. He was captain of the Argentina U20 squad that won the FIFA U20 World Cup. Additionally, he was named the Best Player and finished as Golden Boot winner at the tournament as well. Aguero would be named Golden Boy in 2007 for his exploits, before winning the Don Balon award for the ensuing league season.
🇦🇷 Throwback to when Sergio Aguero won it all at 2007 U20 World Cup.

Captain ©️
Winners 🏆🇦🇷
Golden Ball 🥇
Golden Shoe 🥇

Baller since day one. 🔥👏 pic.twitter.com/v0Orxo2qSS

— FutbolBible (@FutbolBible) March 26, 2020
A 19-year-old fresh faced Aguero scored 27 goals and had 11 assists in 50 games for Atletico Madrid across all competitions, helping the team qualify for the Champions League after a gap of 10 years. Aguero would also help Argentina clinch the Gold medal at the 2008 Olympics.
FIRST MAJOR TROPHY
Aguero's first piece of silverware at club level came in the 2009-10 season. Atletico had made it all the way to the final of the Europa League against Fulham. The striker assisted both the goals in a 2-1 win over the English side to win the first of his two European trophies.
🇦🇷 #HBD 2010 winner Sergio Agüero! 🥰#UEL pic.twitter.com/cWyZn6xfDC

— UEFA Europa League (@EuropaLeague) June 2, 2020
That was not all as he would play an even more decisive role in the UEFA Super Cup against Inter. Aguero once again set up the first goal before scoring the second himself in a 2-0 win. He would go onto finish his Atletico career by surpassing 100 goals and notching up his first career hat-trick too.
SENSATIONAL CITY DEBUT
His transfer to Manchester City in the summer of 2011 was not well received by fans of his former club but Aguero hit the ground running. He made his debut against Swansea City in the first Premier League game of the season and immediately stole the headlines.
𝙊𝙣 𝙩𝙝𝙞𝙨 𝙙𝙖𝙮 in 2011, Sergio Agüero scored twice on his debut for City against Swansea City! 🔥🇦🇷#MCFC pic.twitter.com/9LxG3szSkH

— Manchester City News (@ManCityMEN) August 15, 2021
Having come on just before the hour mark, it took him less than nine minutes to open his account. Aguero then provided a sublime assist for David Silva, taking the ball over the goalkeeper and flicking it for the Spaniard. The full stop came in the final minute with Aguero scoring a rocket from more than 30 yards out to seal a comprehensive win.
FIVE GOALS IN 20 MINUTES
Newcastle were put to the sword in 2015, being hammered 6-1 by City. But the Magpies were leading till just before halftime, when Aguero struck the leveler. After the break, it was the 'Kun Show' as the Argentine hit four goals without reply to put Newcastle down.
In the process, he became one of only five players ever in the Premier League era to hit five goals in a single match. Furthermore, it was also the fastest a player has ever scored five goals since the Premier League began.
CITY'S RECORD GOAL SCORER
Aguero left City as their all-time leading scorer with 260 goals across 389 appearances in all competitions. He is also the top scoring non-European in the Premier League with 184 goals, which is also the most for a single club.
Sergio Agüero will leave Manchester City this summer after 10 seasons with the club.

𝟏𝟖𝟏: 4th most goals by a player in the Premier League
𝟐𝟓𝟕: Man City's club record scorer
𝟏𝟎𝟖: Best minutes per goal ratio of any Premier League player to score 100+ goals.#MCFC pic.twitter.com/FFcFEMWbjI

— The Analyst (@OptaAnalyst) March 29, 2021
Needless to say, he is also City's greatest ever scorer in the Champions League with 43 goals. Moreover, Aguero sits fourth in the all-time Premier League scorers list and remains one of the greatest to ever grace the English game.
COPA AMERICA WINNER
After years of heartbreak at the senior international level, Aguero finally managed to lift a major trophy with Argentina. Though Messi's virtuoso performances stole the show, Aguero remained a key leader in the dressing room and even recorded an assist in the competition.
Barcelona player Sergio Aguero celebrating Copa America Victory with Argentine Teammate Lionel Messi pic.twitter.com/LsDrPnhS1C

— Barça Worldwide (@BarcaWorldwide) July 11, 2021
He had been overshadowed by younger cohorts and some injury concerns remained which limited his game time but he still reminded everyone how impactful he can be on his day.
MOST HAT-TRICKS IN PREMIER LEAGUE
12. Another record that Aguero demolished since his arrival in English football. His first came in his second ever home match in his debut season against Wigan Athletic. Aguero is also one of only three players to score multiple hat-tricks against more than one opposition.
Premier League hat-tricks since Sergio Aguero joined:
Aguero 1️⃣2️⃣
Arsenal 🔟
Tottenham 🔟
Liverpool 🔟
Chelsea 🔟
Manchester United 6⃣
Truly underrated 🇦🇷 pic.twitter.com/B78xyGRdAp

— Manchester City News (@ManCityMEN) April 13, 2020
He had a particular liking for Newcastle and Chelsea, battering the Blues 6-0 once in 2019. The nearest active challenger to Aguero remains Harry Kane, who last scored thrice back in 2017.
GOLDEN BOOT WINNER
For a striker so prolific, it is a little unbelievable that Aguero only won one Golden Boot during his 10-year career. That just speaks to the volume of great goal scorers that the Premier League had during his time and how he still managed to become the best.
26 – Sergio Agüero won the Premier League golden boot with 26 goals, his best scoring season in the competition. Lethal. #OptaPLSeasons pic.twitter.com/PYbAjBNEPB

— OptaJoe (@OptaJoe) April 22, 2020
The 2014-15 season was not especially successful for City as they went trophyless, a rare phenomenon before and since. However, the Argentine netted 26 goals on his way to becoming top-scorer. It was also the season where he went past the 100 goals mark for City across all competitions and ended up winning the club's Player of the Year award.
AGUEROOOOOOOO
The commentary on this iconic day for this iconic moment will remain unmatched.
Martin Tyler: "I swear you will never see anything like this ever again!"

Peter Drury: "Staggering! Just staggering!"
Even keeping the final seconds aside, it was an incredible match. QPR had taken a 2-1 lead and managed to hold it as the game entered five minutes of injury time. Edin Dzeko equalised from a corner but City needed to win outright. The the real drama began:
"Staggering! Just staggering!"#OnThisDay @ManCity pic.twitter.com/B5fS6kdNVU

— Premier League (@premierleague) May 13, 2019
Third last kick of the game: Mario Balotelli manages to lay the ball off to Aguero at the edge of the box.
Penultimate kick of the game: Aguero fakes a shot before taking the ball past a defender and into a shooting position.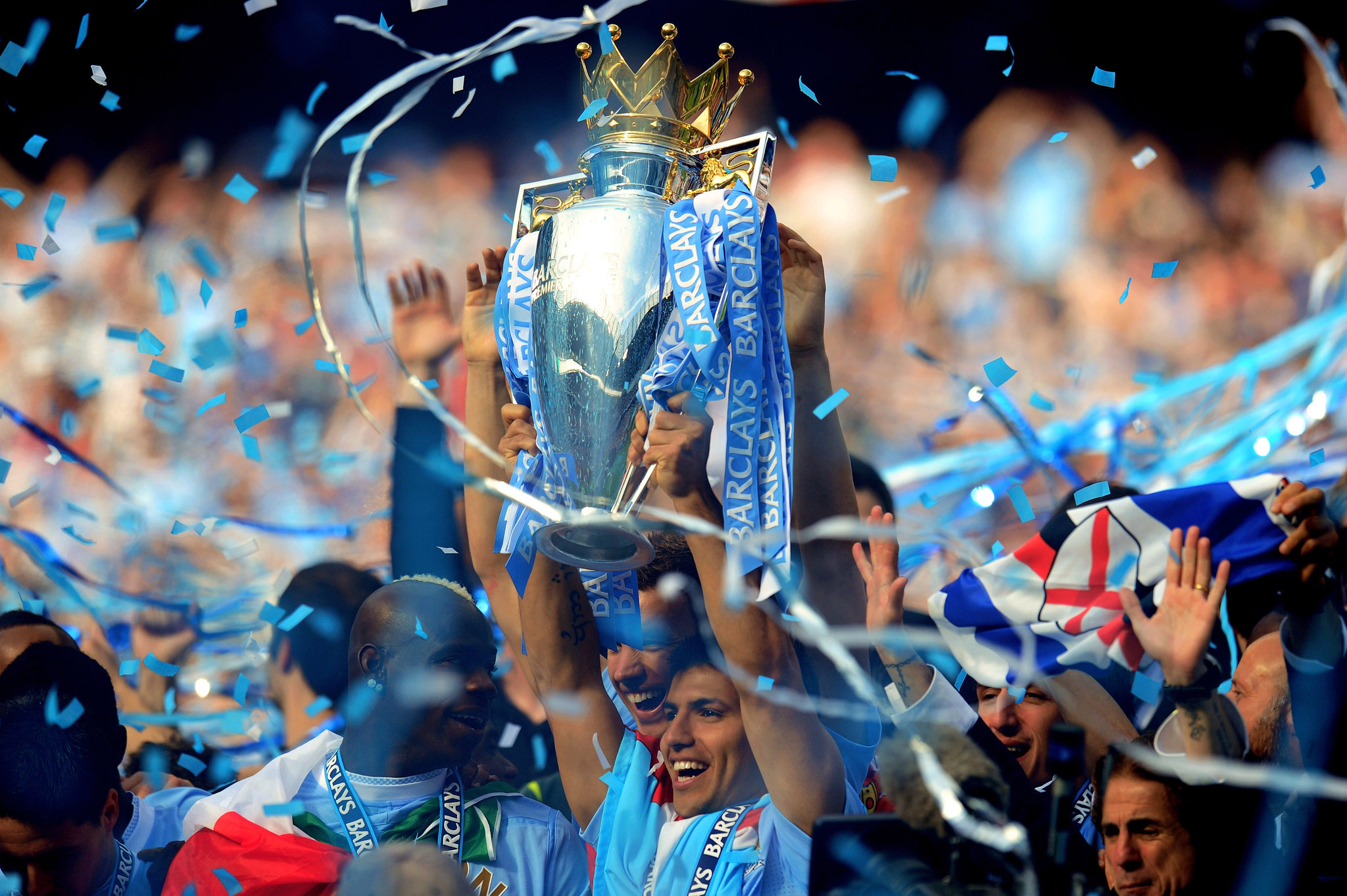 Final kick of the game: The moment that sealed history with City pipping their arch-rivals on goal difference to win their first ever Premier League title. It was also their first ever league crown in more than 40 years. Unmatched.
Feature image courtesy: The Irish Times