Records are set for goals and it is for those goals that many even turn up to watch these games. In an ever-increasing world of goal-hungry football fans, the role of the defenders is often the second choice of conversation. But despite what many believe, the adage still stands true, "Attack wins you games, defence wins you titles".
FootTheBall tries to shortlist the ten best centre-back pairings of all time. The ten greatest pairings that were capable of stopping even the legends of the game. The backbones of the team, whose importance cannot merely be pinned down by words.
10. BOBBY MOORE AND JACK CHARLTON (ENGLAND)
Bobby Moore is widely regarded as one of the best defenders of all time. A world cup winning captain whose intelligence, composure and skill were recognised and appreciated by the best footballers in the world. A world cup winning captain and a legend at West Ham United. Jack Charlton was an exceptional defender as well. Winning silverware with Leeds United and spending the entirety of his career with the club, Charlton is a club legend.
2 – Captain Bobby Moore was the only @England player to assist more than one goal at the 1966 World Cup, with both coming in the final including the famous 'They Think It's All Over' goal. Wolstenholme. #OptaWCYears pic.twitter.com/Sqn1eT1J9s

— OptaJoe (@OptaJoe) April 29, 2020
But what makes these two special, is their contribution to the national team. The two were exceptional for England were responsible for its success in the 1966 World Cup. Bobby Moore's forward thrusts were complimented by Charlton's willingness to stay back. Complimenting each other's ability, none could have figured these two never played a single minute together at club level. An ideal defence, one that knew its strengths and weakness and played a brand of football that lifted England's only World Cup.
9. JOHN TERRY AND RICARDO CARVALHO (CHELSEA)
There is no better way to put this, John Terry and Ricardo Carvalho are the best centre-back pairing the Premier League has ever seen. A four-year dominance under Jose Mourinho, one which took Chelsea to the heights of the League. Conceding just 15 goals in 2004/05, a record that has stood the test of time, Chelsea went on to win the Premier League title. Winning back-to-back Premier League titles and frustrating opposition attackers in the process.
#TBT: John Terry and Ricardo Carvalho back in 2008… pic.twitter.com/AEVCEP4imx

— Chelsea FC (@ChelseaFC) May 26, 2016
John Terry's ruthless power and Carvalho's exceptional intelligence made them an unbelievable defence. Complimenting each other's ability, the duo was the pivotal reason for Mourinho's dominance at Chelsea. Sadly, it only lasted four years as Carvalho eventually left Chelsea for Madrid.
8. GAETANO SCIREA AND CLAUDIO GENTILE (ITALY AND JUVENTUS)
We don't really know for sure when, why and how Italy started producing the best defenders the world has ever seen. Gaetano Scirea and Claudio Gentile are some of the most revered defensive duos the world has ever seen. One of Italy's finest products, the two shaped both the Juventus and Italian backline and remained there for a prolonged period. Winning six Serie A titles together and a World Cup with Italy, these two started a heritage that would carry on for years.
The Italians are synonymous for the art of defending.#JuventusFC have had some of the greatest defenders to play the game including Gaetano Scirea, Sergio Manente, Claudio Gentile to name just a few.

Will Dutchman De Ligt join the list of legends of The Old Lady? pic.twitter.com/VRCFz1QToe

— 3Retro Football (@3retro_) July 16, 2019
Heard of the Blocco-Juve? The name was given to the group of Juventus players that dominated Italian football and the Italian national team. Scirea and Gentile were the backbones of that revered unit. Gentile was an uncompromising defender.
Ramming anything and everything in his path to win the ball, a nightmare for an opposition attack. Scirea on the contrary was elegance personified. A cool ball-playing defender whose capabilities matched that of a modern central defensive midfielder. A perfect combination and an effective one as well. The tradition they built still lives on!
7. FRANCO BARESI AND ALESSANDRO COSTACURTA (AC MILAN)
If Juventus had a dominant centre-back duo, AC Milan boasted a fabled back four. A talented defence that is regarded as one of the best ever defensive units the world has ever seen. In that four, played a certain Franco Baresi, a club legend, an Italian legend and one who is regarded as one of the greatest defenders of the game. After 10 years at the Milan club, Baresi was partnered with Alessandro Costacurta, a partnership that went on to dominate Italy for years on end.
AC Milan, 1995. pic.twitter.com/asA9lsGBht

— 90s Football (@90sfootball) July 18, 2021
The back four went on to win 17 titles during which they had a 58-game unbeaten run. Conceding just 21 goals in the unbeaten streak, AC Milan's defensive duo was a headache to play against. Few defences in the world have ever formed a partnership this good for this long a period. The dominant era of the club, one which was left in good hands.
6. NEMANJA VIDIC AND RIO FERDINAND (MANCHESTER UNITED)
Manchester United never featured a defensive duo this good and is likely to never do so. Nemanja Vidic and Rio Ferdinand were in a class of their own. Simply outstanding in all aspects of the game, the duo went on to lift five League titles and a Champions League. Voted to be one of the best centre-back partnerships in the league ever, the two dominated the defensive lines. Like many on this list, complementing each other's ability and personifying the ideal Red Devils.
— Rio Ferdinand (@rioferdy5) March 26, 2021
Rio Ferdinand was an outstanding ball-playing defender. Skilled enough to play off his line with an excellent range of passing. His positional sense and his ability to read the game was exceptional. Vidic was the hard hitter. He ran at you with the intent to kill and was a nightmare of opposition attackers. Both were good tacklers and ate up any ball that hovered over their heads. Outstanding to say the least!
Vidaaaaaa ❤️ https://t.co/HfQewa1aW2

— Rio Ferdinand (@rioferdy5) March 27, 2021
5. SERGIO RAMOS AND RAPHAEL VARANE (REAL MADRID)
A decade long centre-back partnership came to its end this summer. A partnership that goes down in history as one of the best ever seen. Three back-to-back Champions League titles exemplify their dominance in Europe. Sergio Ramos and Raphael Varane are the best one could hope for. Real Madrid has had many famous defenders, but none were as effective as this duo.
https://twitter.com/FootTheBall/status/1421082733590106112
Raphael Varane took on the role from Pepe, and none believed that the partnership could be bettered. The Frenchmen proved them wrong. Their dominance in the defensive third and their presence in the attacking half was exemplary. Aerially dominant and physically strong, the duo was unbeatable in defensive scenarios.
Varane's presence in defence facilitated Ramos's odd runs into the attacking half. Chipping in the crucial goals from time to time, they stamped their authority as one of the best pairings the La Liga has ever seen.
4. CHIELLINI AND BONUCCI (JUVENTUS AND ITALY)
Yet another Italian duo on the list, Chiellini and Bonucci are the modern-day advocators of Italian defence. A decade-long domestic dominance at Juventus is simply just a pointer to how good the two are. Their understanding of each other and ability to read each other's minds is extraordinary.
The two personify everything you need in a defender. Brutal, unforgiving, uncompromising, physical, aerially dominant, positional sense and even ball-playing ability. They are two great defenders on their own and the partnership projected their brilliance.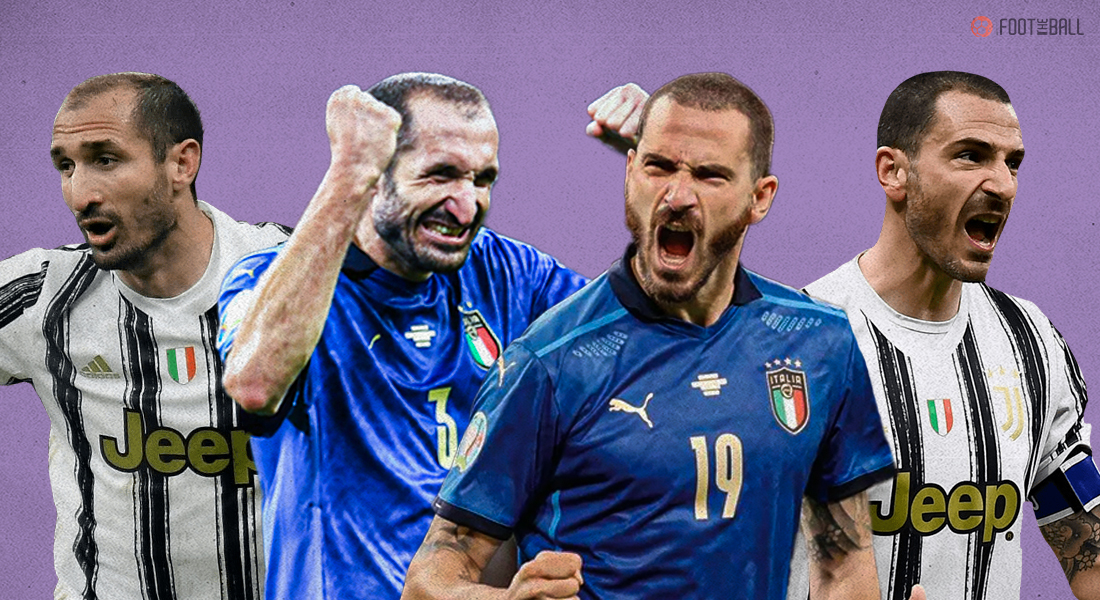 The recent European Championship victory is a reminder of how good the pair is. Carrying the flames of Italy's defensive dominance, the two were brilliant in what was a much more attack-heavy Italian side than ever seen before. Quality and consistency.
3. CARLOS PUYOL AND GERARD PIQUE (SPAIN AND BARCELONA)
World Cup-winning partnership. A treble-winning partnership. Carlos Puyol and Gerard Pique did not take the limelight in a star-studded Barcelona and Spanish national team. However, the success of these two sides without this pairing may be questionable. Carlos Puyol and Gerard Pique did what was needed. They defended with their hearts and out and kept nothing for chance.
Carlos Puyol on whether Gerard Pique is better than him: "Yes. He is the best centre-back in the world. We're different. He is key to Barcelona in everything he contributes, his leadership, how he competes. He is a phenomenon and a great friend." pic.twitter.com/yYiM4AFMeo

— Squawka News (@SquawkaNews) March 26, 2019
Puyol was the captain every team needs. Sure, and focused there was nothing that waivered this man's confidence. Unwilling to give in, putting his body on the line, the Spanish captain was a no-nonsense defender. Pique's ball control and his capability to hold drive the ball to the fabled midfield were exactly what the defence needed. Not many attackers enjoyed playing against this duo. Probably the best Spanish defensive partnership in La Liga.
2. FRANZ BECKENBAUER AND HANS-GEORG SCHWARZENBECK (BAYERN MUNICH AND GERMANY)
"Der Kaiser", Franz Beckenbauer is not just regarded as one of the best defenders of all time but as one of the best players of the sport. A two-time Ballon d'Or winner, the most of any defender, this German defensive engine was unbelievably good. Twelve successive teams of the season appearances and a FIFA World Cup, he is a legend of the game. But, much of his credit also lies with his centre-half pairing with Hans-Georg Schwarzenbeck.
😇 Legende.
⛔ Vorstopper.
© "Katsche".

Alles Gute zum 7⃣1⃣. Geburtstag, Hans-Georg #Schwarzenbeck! 🎉 #MiaSanMia #FCBayern pic.twitter.com/opjcq8PJ5V

— FC Bayern München (@FCBayern) April 3, 2019
The two were among the best defensive duos at the time, and few have bettered. Imposing presence in the Bayern Munich and German backline, they won almost every competition they played in. With elegance, brilliance and tenacity, the duo was formidable. Winning title after title with Bayern Munich and the World Cup with Germany, they are regarded as the finest centre-half pairings to ever play for the German national side.
1. PAOLO MALDINI AND ALESSANDRO NESTA (AC MILAN AND ITALY)
"In all my time coaching at AC Milan, if I really think about it, I've never explained them how to defend, or what movements to make in order to have a certain cover during matches. I never did, what was I supposed to explain to those two?!" – Carlo Ancelotti
Lock and Key. Of all the Italian greats on this list among others, none have been so immaculate as these two. Paolo Maldini and Alessandro Nesta are the most iconic centre-back duo in world football. There weren't too many better than these two, there aren't any more now either.
Maldini transitioned from full-back to centre-back following the departure of Franco Baresi. Paired up with one of the best technical defenders of all time, Alessandro Nesta, the AC Milan and Italian defence was sorted for years to come.
Words simply aren't enough to describe their excellence. Both could do everything. They knew how to read the game and how to organise defences. Could stop attacking movements even before it started. Aerially dominant, seldom needing to rush in for a last-ditch tackle, they are the true artists. Never has defence seemed so elegant and beautiful as it did under these two. The best ever, without a doubt!