George Weah is regarded as one of the greatest African players ever to grace the game. His unerring finishes, ability to beat defenders with pace and skill along, while being humble throughout helped him earn plaudits from every team he played for.
Former AC Milan, PSG, Chelsea, Monaco striker and Ballon d'Or winner George Weah has been elected as the new President of Liberia. 🇱🇷 pic.twitter.com/ijVuUcAVfS

— Oddschanger (@Oddschanger) December 27, 2017
He remains the only one from his continent to have won the Ballon D'Or to go with several other honours. FootTheBall recounts the top moments from the now-president of Liberia's illustrious career.
LEARNING UNDER ARSENE WENGER
Weah started making his name in the Liberian top-flight, winning both the league title and the domestic cup but was spotted in Cameroon by Claude Le Roy. He informed Wenger who was ever keen to take a budding youngster on board.
From professional footballer to president of Liberia 🇱🇷

George Weah in Arsène Wenger's words pic.twitter.com/tBJCETiEPv

— Arsenal (@Arsenal) February 7, 2018
Weah joined Monaco in 1988, winning the Coupe de France in 1991 along with being runners-up in the 1992 European Cup Winners' Cup. To this day, he credits the Frenchman for having the biggest influence on his career and dedicated the Ballon d'Or win to him as well.
THREE-TIME AFRICAN FOOTBALLER OF THE YEAR
Weah was the most distinguished player from Africa during his time, noted for his goal-scoring exploits across the French league and then with AC Milan. He won his first award at the end of his debut campaign with Monaco, which was also his maiden major award.
𝗚𝗲𝗼𝗿𝗴𝗲 𝗪𝗲𝗮𝗵, ballon d'or 1995.

Joyeux anniversaire Mister, @GeorgeWeahOff 🎂✨#ASMLegends pic.twitter.com/6zg1tiFWXS

— AS Monaco 🇲🇨 (@AS_Monaco) October 1, 2021
His performances with the principality club saw him move on to PSG with whom he played even more superbly to win the award in consecutive years of 1994 and 1995.
FOUR TROPHIES IN THREE YEARS
PSG were a rising powerhouse in the 1990s and with Weah at the helm, they racked up silverware to boot. Two Coupe de France wins in 1993 and 1995 sandwiched by his first European league title.
PSG's George Weah in a match v Olympique Marseille, 1992. pic.twitter.com/4T9iWZvJ2s

— The Antique Football (@AntiqueFootball) March 30, 2014
Weah also won the Coupe de la Ligue in 1995 while his prolific nature earned him the Golden Boot in the 1994-95 UEFA Champions League campaign after netting eight times.
INSTANT MILANESE HERO
Weah was signed by Fabio Capello in 1995, linking up with Roberto Baggio and Dejan Savicevic. Milan romped to the Serie A title as Weah finished top-scorer for his club with 11 goals.
☄ Weah! One of the most ferocious strikers ever to wear the 🔴⚫ jersey. Happy birthday, George! 🎂 pic.twitter.com/HEk5CISTaH

— AC Milan (@acmilan) October 1, 2017
In the ultra-defensive Italian league, Weah remained one of its most lethal finishes, scoring 35 goals over the next three-and-a-half sessions.
WORLD, AFRICAN AND EUROPEAN NUMBER ONE
1995 was the pinnacle of Weah personally and came amidst a rich spell of trophy winning at club level too. Along with the Ballon D'or, he also won the FIFA World Player of the Year and his third African Player of the Year awards.
👑 King George 👑

🌍 In 1995 he became the first African player to win the FIFA World Player of the Year award

🎂 Many happy returns, @GeorgeWeahOff! 🇱🇷 pic.twitter.com/IvKNS46e1S

— FIFA.com (@FIFAcom) October 1, 2020
He simultaneously held all three before going on to lift the African Player of the Century award in 1996. In 2004, Weah was named by Pele in the FIFA 100 list of greatest living players ever.
THAT GOAL AGAINST HELLAS VERONA
Without doubt his greatest ever strike, and one fondly remembered by everyone associated with the Rossoneri. In a league match against Verona in 1995, Weah received the ball directly from the opposition's corner in his own penalty box.
With all the Milan players back defending, Weah went on the most glorious solo run. He ran and ran and kept on running as the Verona players tried desperately to snatch the ball off of him. They were unable to do it and Weah slotted the ball home for the winner.
SECOND SERIE A AND CHELSEA MOVE
Milan won a second league title in 1999 but the next year would mark his end in Italy. Having made only 10 appearances till the midway mark, Weah signed with Chelsea in January 2000 for the remainder of the season. He would later move on to Manchester City where he would be less successful before leaving Europe for good in 2001.
FAVOURITE BLUE
Weah made an instant impact with Chelsea, scoring the winner against Spurs on debut. He followed it up by scoring further against Wimbledon and Liverpool but his bigger impact came in the FA Cup.
Happy birthday to former Blue George Weah, who is 48 today! #CFC pic.twitter.com/F4mjZTzwBy

— Chelsea FC (@ChelseaFC) October 1, 2014
Weah netted game changing goals against Leicester City and Gillingham as the Blues made it all the way to the final. He started in the 1-0 win against Aston Villa but left the club in the summer.
NATIONAL HERO OF LIBERIA
Weah remains the greatest player in the history of his country, having made his debut in 1986. Coming from a substantially weaker nation, he never got the chance to play at the FIFA World Cup.
🇱🇷🇱🇷🇱🇷
He was named FIFA World Player of the Year back in 1995 🏆

At the age of 51, Liberia's George Weah returned to international action in a friendly against Nigeria yesterday 💪 pic.twitter.com/gEZEZzFJTT

— FIFA.com (@FIFAcom) September 12, 2018
However, Liberia did qualify for two editions of the AFCON in 1996 and 2002 but were unable to make it out of the group stages. His number 14 shirt was retired in 2018 after he played in a special friendly at the age of 51 while being the president.
RECORD GOALSCORER 
Having had an international career that spanned 16 years, Weah sits second in the list of top appearance makers with 75. His 18 goals during that time put him as his country's outright leading marksman of all time.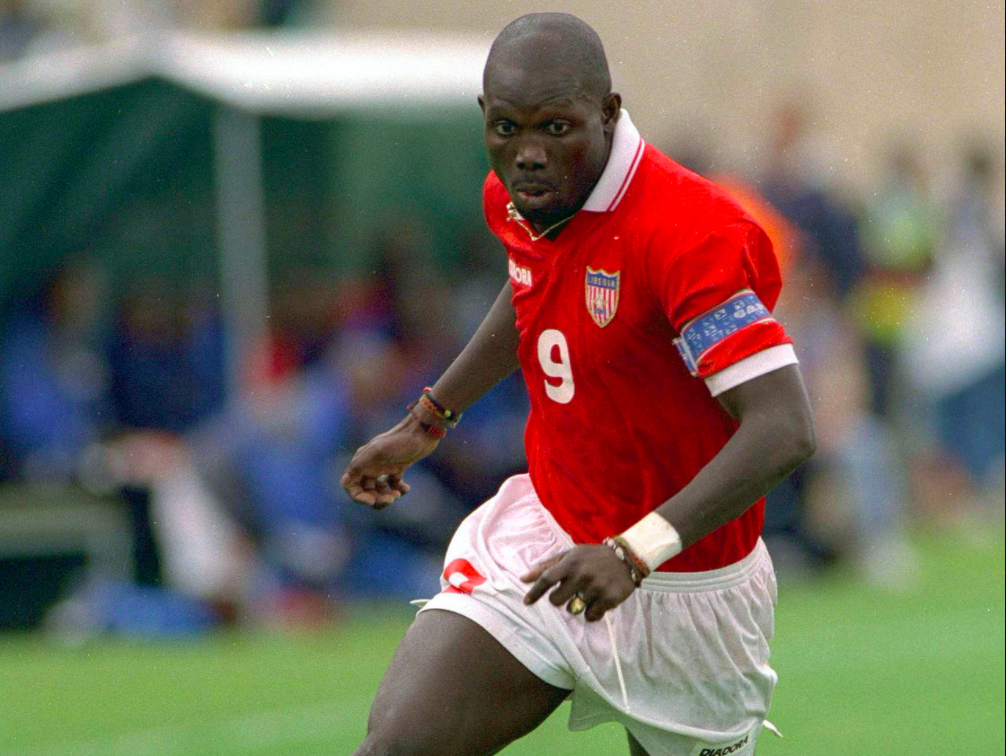 Weah's success at club level was enough to put him on his continent's map but more so was his dedication in improving the conditions of the team. He paid for trips against other nations, salaries, and kits out of his own pocket, leading him to be christened as "King George."