It is the polarizing manner in which, both these managers set-up their teams that make them so good to watch whenever they go head-to-head.
In Klopp, Liverpool have a coach who likes his teams to press high up the pitch, win the ball back close to the opponents goal and to have a high work-rate for the full 90 minutes week-in week-out.
On the other hand, Portuguese tactician Jose Mourinho demands his players to create a low-block, drop deep and use the space this offers on counter attacks.
After their recent showdown at Anfield, in which Klopp and Liverpool triumphed via a stoppage time winner from Roberto Firmino which gave them a 2-1 victory, Jose Mourinho hit out at Jurgen Klopp and his staff for their behaviour on the touchline. It was a top-of-the-table clash, which explains Mourinho's criticism towards the Reds boss.
Words between Jurgen Klopp and Jose Mourinho at full-time 👀

What do you think was said?#PLonPrime #LIVTOT pic.twitter.com/TH0aJQhKZs

— Amazon Prime Video Sport (@primevideosport) December 16, 2020
Speaking after the match, Jose said, "We were playing to win, we were not playing to get a point".
"A point would have been quite a fair result, but we played to win and had the biggest chances to win it. The moment of the occasions and the reaction they had, they were in trouble.
"The game was always under control. I feel it was a very undeserved result, but that's football. At half-time we move a little bit the pieces, but overall the game was always under control and I am very pleased with the performance.
"The changes were to find counterattack situations, which we did immediately, but with [Lo Celso]'s yellow card and the incredible pressure these guys on the touchline put on the officials, I was afraid of the yellow card and I had to take him off.
"I am not the one to speak to my colleagues about their behaviour on the touchline."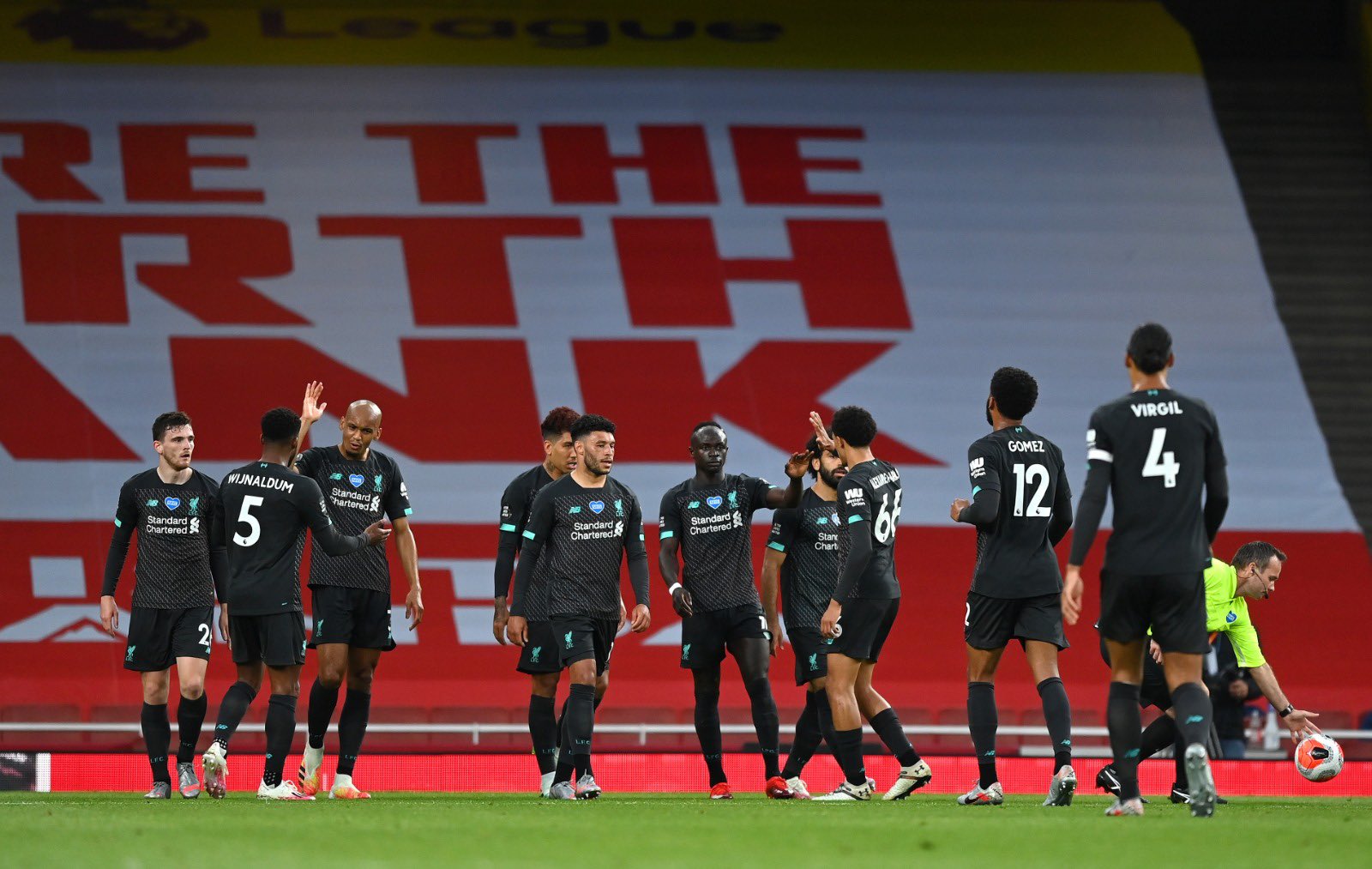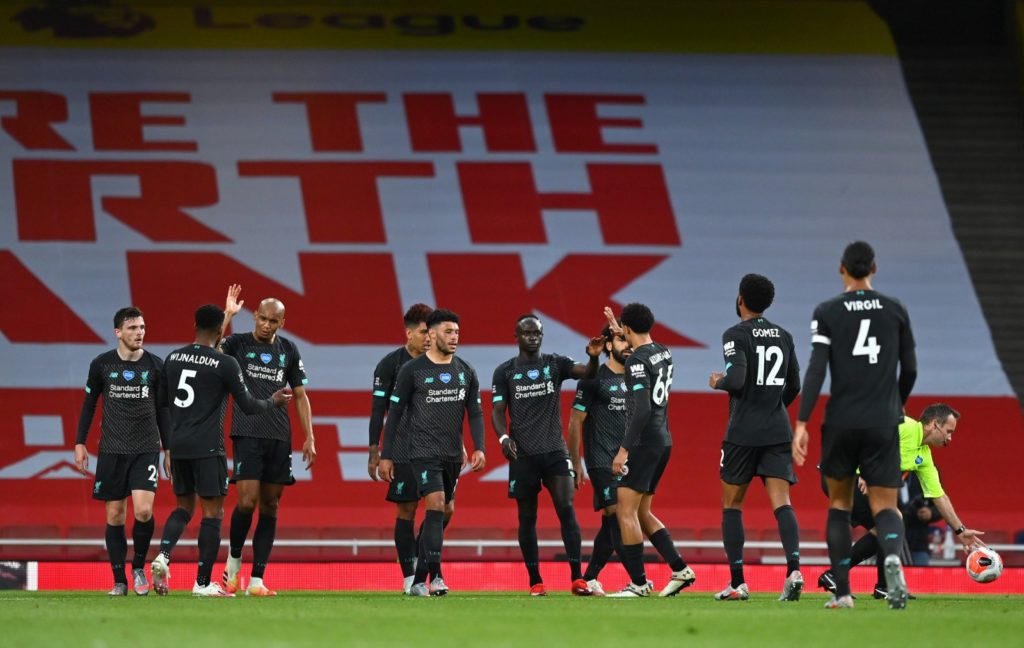 Klopp replied to this in his post-match conference saying, "Nothing serious, he said it himself so I don't have to repeat it. No argument."
In contrast to what Mourinho thought of Liverpool's performance, Jurgen was more forthcoming in his praise of his team, adding, "A good game against a counterattacking monster, the possession we had, we did incredibly well".
"Yes, they have scored a goal, had two chances; apart from that we controlled the game and it is a massively deserved three points and I am happy".
"For me, it is offside [the Spurs goal]. They watch it 20 times, but when I saw it, it is offside. There is nobody to blame; the best way to defend Tottenham is to keep the ball all the time.
"It was just a really good game, and I am so happy we scored that goal because it felt like 70% of the ball against a top side," Klopp added. "Bobby [Firmino], what a header, I am over the moon for him. What a game he played, those movements, he opens up all the other gaps."
Breathing Fire
The post-match interview was a classic of its type, in its own way. Jose Mourinho was his usual self, unapologetic, firing off his darts.
The headline though was that Jose Mourinho thought Tottenham had been the better team in their defeat at Liverpool, and with it a jibe at Jurgen Klopp.
As yet Klopp vs Mourinho has been a rivalry that hasn't really reached its true potential and that could be about to change. With the footballing world getting tired of Mourinho's mind games, this could actually lead to something fascinating.
💬 "In the second-half we got in the face of the goalkeeper two times, three times. We have to score and win the game – period."#THFC ⚪️ #COYS pic.twitter.com/JrhoKL6reL

— Tottenham Hotspur (@SpursOfficial) December 17, 2020
Klopp hasn't been the most vocal of managers since his arrival in the premier League, but such is the charm of his Portuguese counterpart that even the calmest and coolest of minds jump the gun. Injuries and some controversial VAR decisions have played a part in getting him rattled and that is evident from his recent restlessness in interviews.
Sniffing Vulnerability
Mourinho on his day is an expert at sniffing vulnerabilities and weaknesses from anything at any given time; and perhaps he is of the thought that even a calm-headed manager like Klopp can be needled into mistakes.
A prime example to this was last season's incident in a match where Liverpool beat Chelsea to lift the Premier League crown, where the German and Frank Lampard got into a heated exchange of words.
While the Spurs boss was right to criticise Klopp's behaviour on the touchline, he also smartly planted the seed for his very own intention. The next time any such incident includes Klopp, there could be card in line waiting for the German or at the very least, the media and wider public may begin to pick up on Klopp's antics and start scrutinising them which is what Mourinho intended all along.
https://twitter.com/FootTheBall/status/1340325278124568576
With Mourinho , there are always games within games and anything that makes Klopp vulnerable at this point is a bonus for the Portuguese. Smart move?
Overwhelm
In the whole 90 minutes, what Spurs only did was allow Liverpool to overwhelm them, which is hardly arguable.
The match was a reminder to the fans and pundits alike that why very few elite teams these days operate with a low-block system like Mourinho's and allow opponents to come at them.
Mourinho may yet argue about how his side were just minutes away from snatching a draw from the Champions, but in truth, there are still doubts over his approach for modern day football and the stats from the match don't lie.
Put that in your Pipe and Smoke it
After that late drama at Anfield, both managers had different views about the game and Mourinho vented his frustration over the antics of Klopp on the touchline.
"I told him [Klopp] the best team lost and he disagreed, but that's his opinion," Mourinho said following the top-of-the-table clash at Anfield. To which Jurgen replied, "I thought he was joking. But he wasn't, so that's it."
Mourinho further added, "If I behave the same way he does on the touchline, I do not stay there. That's animated? Do you want me to take the board with the added time from the fourth official's hands and see what happens to me? For some reason I am different."
"I thought he was joking."

"But he wasn't, so that's it."
Mourinho was fuming after this defeat and 24 hours later his adversary received the award for The Best FIFA Men's Coach for the second consecutive season and is the only manager in the history of football to do so; beating Bayern Munich coach Hansi Flick in the process.
And the Portuguese tactician, fresh from his wounds did not take the news very well and thought Flick should have won the award instead.
Clear some more space in that cabinet, boss…

Jürgen Klopp has been named BBC Sports Personality Coach of the Year 2020! 🏆👏#LFC | #SPOTY pic.twitter.com/oU4uUXBJeD

— Liverpool FC (@LFC) December 20, 2020
"I think the only chance for Flick to win is if Bayern find two or three new competitions for him to win," the Spurs boss said, according to Daily Mail.
"So maybe if he wins seven titles in one season, maybe he wins the award.
"I believe he only won Champions League, the Bundesliga, German Cup, European Super Cup and German Super Cup.

"He only won five, including the biggest one of all. Poor Flick. I think the only chance is for Bayern to find two or three more trophies to see if he can win it."
In Mourinho's defence, very few people would disagree with his point and Klopp himself agreed with it saying that Flick deserved it more than him for The Best FIFA Men's Coach 2020.
"I don't know why people voted for me," the Liverpool manager said. "Flick deserved it for his titles."
Well that's the honest and down to earth Jurgen Klopp we know…