On the night of 22nd December, Messi did something that was believed no one could ever do. Lionel Messi scoring his 644th goal for Barcelona broke Pele's record for the most goals scored by a player in one club.
Pelé scored 643 goals in 757 matches for his loving club, Santos FC. Not only did Leo break the Brazilian legend's record, but he also did it faster. On his 749th appearance for Barcelona, Messi scored his 644th goal, adding another record to his name. The world has to bow down to the 'Goat' yet again as the Argentine silences his haters. Statistically, Messi has scored a goal every 1.16 games. To break the record as it stands now, a player will have to score an average of 43 goals per season for 15 years. The record alone sounds fascinating but reading the stats makes it so much more breathtaking.
THE GOAL THAT BROKE THE RECORD
Before & After pic.twitter.com/JfgaJxH2Bz

— FC Barcelona (@FCBarcelona) December 22, 2020

Barcelona was playing Real Valladolid in their 14th game of La Liga this season. Messi had scored his 643rd goal in the match against Valencia CF and hence the fans were eager to see Messi score the record-breaking goal. Initially, Valladolid was doing great. They had good possession, were attacking in numbers and were somewhat controlling the game. But things started going south after Messi nearly broke the record in the 7th minute when the ball hit the post and went out. Barcelona started to get better on the ball and around the 20th minute, Messi was again close to scoring the opening goal but was stopped by Jordi Masip, their keeper.
By the end of the first half, Barcelona was two goals up. Messi had provided the assist to Lenglet in the first goal and made the essential passes during the second, yet he hadn't scored one yet. Nearly one hour had gone by and Leo was still goalless, the fans started feeling they would have to wait for another game before seeing their star break the record, but Leo finally lit their spirits up. In the 65th minute the youngster, Pedri backheeled the ball in the box finding Leo, who after taking two steps buried the ball in the bottom corner, a class goal by a class player.
PRAISE FROM PELE
'Dico' himself expressed his admiration by posting a message on Instagram after Messi equaled his record. He stated, [espl_quote]" Congratulations on your beautiful career at Barcelona. Stories like ours, of loving the same club for so long, unfortunately, will be increasingly rare in football. I admire you very much."[/espl_quote]
Even Gary Linekar, one of the greatest strikers from England tweeted his amazement. The whole world is amazed, wondering what more will Leo do, what great heights will he achieve.
Lionel Messi has scored his 644th goal for @FCBarcelona. He's beaten @Pele's record of most goals scored at a single club. This is a record that no one thought would ever be beaten. It will never be beaten again. 👏🏻👏🏻

— Gary Lineker (@GaryLineker) December 22, 2020
The 33-year-old Argentine has led his club through many ups and downs and has broken many records along the way, the love for his club is what keeps him going. He even posted a heartfelt and thankful message in which he wrote, "I can only thank everyone who helped me over the years, my teammates, my family, my friends and everyone who supports me every day."
MESSI – ABOUT HIS SITUATION WITH THE CLUB
Not happening with Koeman around 🙄#Messi #Barcelona #FCB #LaLiga #Marca #Football pic.twitter.com/jlvQNDYGeE

— FootTheBall (@FootTheBall) December 22, 2020
In a leaked snippet of an hour-long interview which is going to be released on 27th December with the journalist Jordi Évole, Messi said," The truth is that today I'm fine."
He stated that he was in a tough situation in the summer with all the conflict between him and the club, but as of now he is happy and is looking forward to winning La Liga and other titles for Barcelona. After he won his 7th trophy earlier this week, he was asked about his ambitions on winning the 8th Pichichi Trophy to which he replied, " I would prefer to win La Liga before getting Pichichi." He said that he and his teammates have been completely dedicated and are planning to dethrone Real Madrid from the Spanish Title.
IS MESSI STAYING?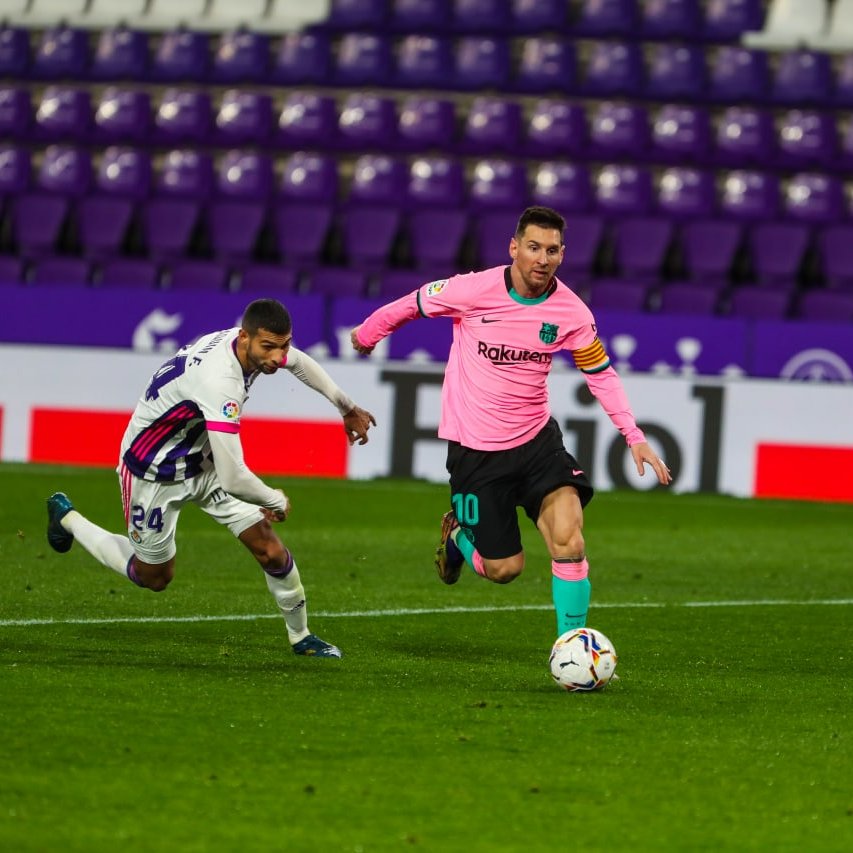 As of now, fans can take a sigh of relief because Messi has stated he is happy and is looking forward to fighting in all the competitions for his club. But he has been dodging questions regarding his future at the club and has not stated anything in particular about next season.
Paris or Manchester? 👀 BTW, Have you ever gone back to a lover that jilted you? Did it work out? Asking for a friend 🤷‍♂️#Messi #Neymar #PSG #Barcelona #FCB #Football pic.twitter.com/XGHOUBlx7O

— FootTheBall (@FootTheBall) December 3, 2020

Messi staying or leaving is an issue for tomorrow, but his current state is important for now. Barcelona has not done well this season compared to their standards, they are currently standing 5th in the table, 8 points behind the leading Atletico Madrid. After giving the interview and breaking the record, the talisman has reassured his fans that the team is passionate about winning and are going to give their best. With 7 games won out of 14, Barcelona can still bounce back if they use the momentum created by Messi this week. They have PSG as their opponents in the Round of 16 of the Champions League where Leo is going to face his ex-teammate Neymar with whom he might play next year. If they manage to get past this hurdle, Barcelona can restore their lost pride once again.