AC Milan have been on a tear this season, making it 10 wins from their 11 games after last night's victory over Roma. They are currently sitting second on the table, just behind Napoli on goal difference. Even without some of their key operators in recent times, this team has been firing on all cylinders for more than a year and it is all thanks to one man Stefano Pioli.
The best bits from last night's triumph! Enjoy them while they're still fresh 😍

Il meglio di #RomaMilan: riviviamo la grande vittoria di ieri sera! 😍 #SempreMilan
Brought to you by @skrill pic.twitter.com/pPqXLPAVt3

— AC Milan (@acmilan) November 1, 2021
The Rossoneri finished 2nd in Serie A in 2020-21 which was manager Stefano Pioli's first full year in-charge. A return to the UEFA Champions League after seven years was a much vaunted goal for the Milanese, achieved under a coach who was almost on the verge of being replaced at the end of 2019-20.
🔙 Back where we belong 🔴⚫#BackHome 👉 #UCL#SempreMilan pic.twitter.com/mhWIdG1o6L

— AC Milan (@acmilan) May 23, 2021
Pioli's remarkable turnaround coupled with some clever moves in the transfer market and successful tactics on field look to turn Milan into champions once again.
RESCUE MISSION
To be clear, Pioli was not the first choice for the club two years back. Having just resigned from his job with Fiorentina, he was out of work while Milan hired Marco Giampaolo to replace the departed Gennaro Gattuso. Giampaolo and the new look board featuring club legends Paolo Maldini and Zvonimir Boban brought in players who remain to this day.
OFFICIAL: Marco Giampaolo is AC Milan's new head coach pic.twitter.com/7Nigu3iHyK

— Milan Eye (@MilanEye) June 19, 2019
The likes of Franck Kessie, Theo Hernandez, Ismael Bennacer, Ante Rebic all made the move to San Siro, but Giampaolo's footballing philosophy was falling short on the pitch. Milan were kicked out of the UEFA Europa League for breaching Financial FairPlay but even the renewed focus in Serie A was not working.
Official Statement: Marco Giampaolo ⬇https://t.co/PpcvyanX5f

— AC Milan (@acmilan) October 8, 2019
Four defeats from their opening seven games had left the Rossoneri 13th in the table. Giampaolo was sacked with Pioli being asked to take over till the end of the 2019-20 season. Pioli found the going tough in the initial stages, with three defeats in his first five games but his unique approach to the game showed signs of improvement.
OFFICIAL: AC Milan have appointed Stefano Pioli as their new manager. Pioli is their ninth full-time manager since they last won the #SerieA in 2011. pic.twitter.com/SR9eA7xBdJ

— Bolarinwa Olajide (@iambolar) October 9, 2019
In his first game in charge against Lecce, the former Lazio boss made use of a little known 3-2-2-3 formation. Hakan Calhanoglu played as the attacking midfielder in front of Franck Kessie and Lucas Biglia while Hernandez ran rampant down the left flank. Five wins and two draws from seven games in December and January saw them climb up 8th.
Loan signings Simon Kjaer and Alexis Saelemaekers took a while to get up to speed but soon became crucial pieces for Pioli but it was the return of a former icon that provided the final answer. Zlatan Ibrahimovic was brought back on a free transfer, with fears over his age greatly exacerbated. He immediately became the focal point of the attack as Pioli switched to a 4-2-3-1, using Rebic and Rafael Leao on the left flank more.
15/15 – Zlatan #Ibrahimovic is the 1st #ACMilan player able to score 15 goals in his first 15 games in a single Serie A campaign in the three points for a win era:

🇸🇪 Ibrahimovic: 15 goals – 2020/21
🇺🇦 Shevchenko: 14 goals – 2003/04
🇺🇦 Shevchenko: 13 goals – 2000/01

Olympus. pic.twitter.com/ZAhe2tpNjs

— OptaPaolo 🏆 (@OptaPaolo) March 22, 2021
Milan spent the final twelve matches of the season without defeat, including victories over Juventus, Roma and Lazio. That kind of form helped the team finish in 6th and earn a place in the qualifying round of the Europa League. Most notably, it was the output of their new players which provided fans with further joy.
On this day in 2019, Stefano Pioli was appointed as Milan head coach.

41 official games

24 wins
11 draws
6 defeats pic.twitter.com/VINcSQDOPa

— Milan Eye (@MilanEye) October 9, 2020
Ibrahimovic scored 11 goals and five assists while Rebic was the top-scorer with 15 goal contributions in all competitions after becoming a regular since January. Calhanoglu's own 20 goal involvements (11 goals, nine assists) across competitions was another plus as Pioli was widely expected to stay. However, the extension did not come with its fair share of rumours and public fallout.
PERMANENT MAN AND BUILDING FURTHER
Chief Football Officer and new hire Boban was fired in March, having made claims in the media that CEO Ivan Gazidis was aiming to bring former Iceland and RB Leipzig manager Ralf Rangnick for the upcoming season. The speculation did not die down with Boban's departure as Pioli was said to be a "stop-gap" option till the summer. Despite the club being linked to Rangnick for a long time after the end of the campaign, Milan decided to extend Pioli's contract for two more years.
Ralf Rangnick and AC Milan have decided to break their agreement. Rangnick will stay @ RB Leipzig, Stefano Pioli is going to extend his contract until June 2022 as Milan manager. 🔴⚫️ @SkySport #Milan #ACMilan

— Fabrizio Romano (@FabrizioRomano) July 21, 2020
In the transfer window, the transition to an overall younger squad continued. The loan moves of Saelemaekers, Rebic and Kjaer were made permanent. Brahim Diaz, Sandro Tonali and Diogo Dalot were brought in on loan while aged personnel like Biglia, Pepe Reina, Giacomo Bonaventura were among a flurry of departures.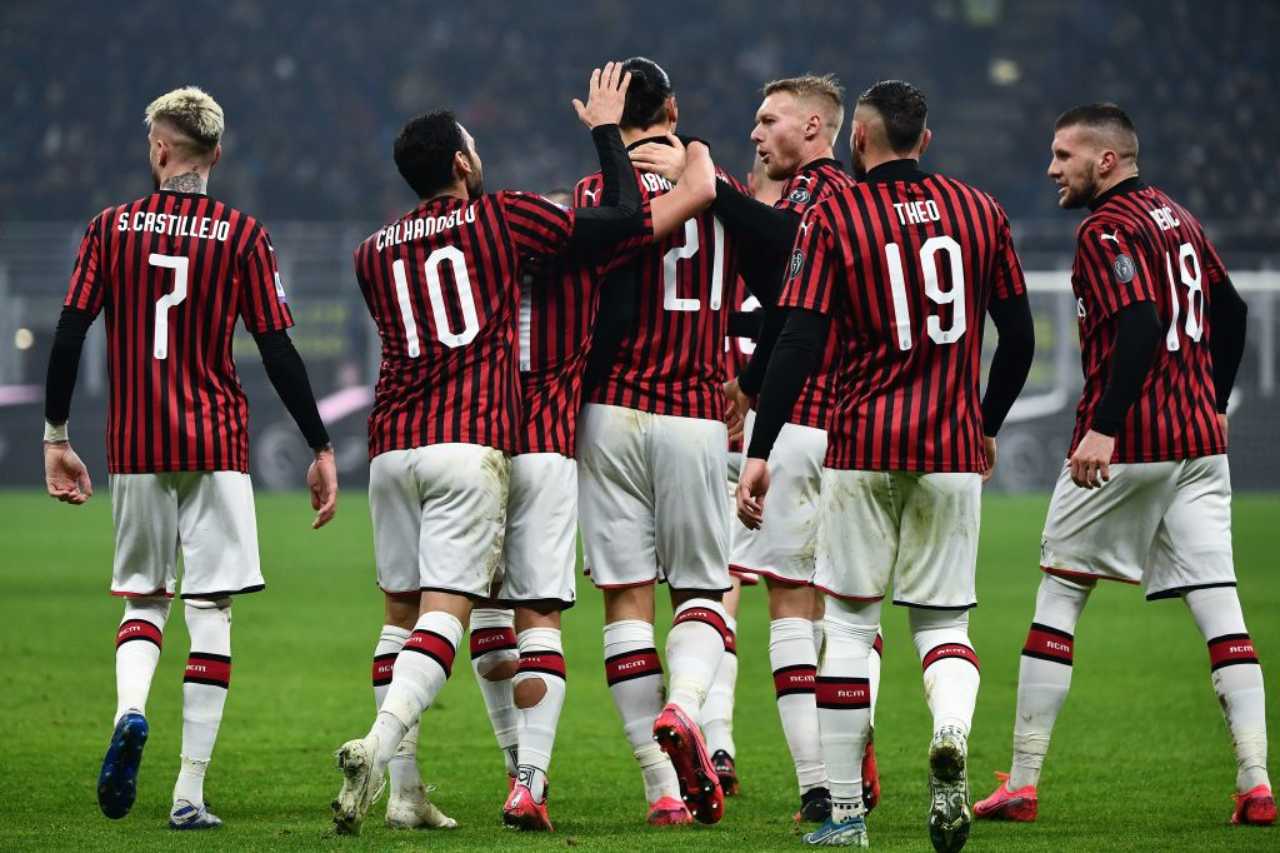 With Pioli now acclimatized with the team even more, Milan ran rampant through the opening weeks of the 2020-21 season. 15 games, 11 wins and four draws had the Rossoneri setting the mark as league leaders on the back of enterprising plays.
AC Milan hold the longest unbeaten streak in Europe's top five leagues this season having not lost any of their last 15 games.

Stefano Pioli working wonders with the Rossoneri. pic.twitter.com/wfb40Lwb4f

— Squawka Football (@Squawka) January 5, 2021
Hernandez and Davide Calabria became the foremost fullbacks in Serie A, with the former regularly linking up with attacks due to his blistering pace. Kessie cemented his place at the base of midfield, serving as the pivot through the team.
15 – #ACMilan have won 15 games away from home in Serie A this season, equalling the best tally in a single top-flight campaign level with Inter in 2006/07. Assault.#TorinoMilan #SerieA pic.twitter.com/GUR1eotwYn

— OptaPaolo 🏆 (@OptaPaolo) May 12, 2021
Ibrahimovic's supreme dominance in the air and hold up play meant that other attackers were finding spaces to get into great shooting positions. Leao came onto his own as a threat out from the flanks while Rebic remained a danger every time he played.
Two defeats each in January and February meant Milan fell off the top into the Champions League positions. They were briefly fifth but four wins from their final five games saw them clinch the runners-up spot. Ibrahimovic finished as the team's top goal getter with 17 in all competitions but the real breakout star was Hernandez, racking up eight goals and seven assists. Calhanoglu once again had 20 goal contributions, and Pioli's tactics of keeping it simple, utilizing the wide areas and playing fast has reaped rewards.
ONTO A BETTER FUTURE
2021 was another fruitful summer window, turning the loan deals of Tonali and new defensive sensation Fikayo Tomori into permanent moves. Tomori was supreme in his six-month stay at San Siro, keeping clean sheets in two-thirds of the matches he played. His form was enough to usurp club captain Alessio Romagnoli, a move that has continued into the new season.
⭐ Fikayo Tomori saved his best WS rated performance of 2020/21 for AC Milan's 3-0 win away to Juventus (8.89 rating)

🏟️ Not a bad place to leave your mark…

📝 Now Milan have signed Tomori permanently from Chelsea pic.twitter.com/SvvWtb0IqY

— WhoScored.com (@WhoScored) June 17, 2021
The impact of losing Gianluigi Donnarumma and Calhanoglu was mitigated as Milan moved to acquire Ligue 1 winner Mike Maignan while Diaz moved into the role behind the central striker. OIivier Giroud joined on a free, adding further veteran presence up top.
A lot of their moves over the past two to three years has been made possible by the presence of a sound ownership. American investment firm Elliott Management took control of the club after former owner Li Yonghong failed to pay back his loan to the company. They have been pumping funds regularly as seen by their business of dealing with players. More than €100m was spent in 2019 followed by over €50m in the past two years.
Elliott Management founder Paul Singer: "In the past few months, Chairman Paolo Scaroni, a refreshed Board and a reinvigorated management team, have all instilled a new sense of purpose to AC Milan." pic.twitter.com/qRVlX1km7z

— Milan Eye (@MilanEye) September 18, 2018
What has been even more impressive is how they have been able to fully utilize players who had been discarded/overlooked at their former clubs. Diaz, Hernandez, Dalot, Kjaer are all sound examples of this while their approach of loaning in players has been widely successful. The move to transition into developing young players and using them regularly is a hallmark of Milan under Pioli.
🎯 𝗚𝗼𝗮𝗹 𝗔𝗰𝗵𝗶𝗲𝘃𝗲𝗱 🎯
1️⃣0️⃣0️⃣ games as @acmilan manager for Stefano #Pioli, considering all competitions 🔴⚫👏🏻#SerieA💎 #WeAreCalcio pic.twitter.com/KlyuDvGidL

— Lega Serie A (@SerieA_EN) October 26, 2021
It remains to be seen whether they can keep up the early season momentum and finally bring back the league title. Nevertheless, Milan has established themselves as one of the most dominant teams in Italy and Pioli can feel proud to have played a major role in that.