RB Leipzig blew off some steam with a much-needed victory in the Bundesliga. Jesse Marsch rallied his troops to a 6-0 rout of Hertha Berlin to register just their second victory in the league. The American manager was under pressure even though Marsch denied it after a bad start to life at Leipzig. However, he denied it saying it was only a matter of time before things clicked. With a thumping result before their midweek Champions League clash, it looks like the bulls are finally starting to kick in.
🗣️ @jessemarsch on #RBLCLU:

"We're really looking forward to the game. It's our first home game in the competition and we want to give our 23,500 fans a good performance.

That's not going to be easy, though, because @ClubBrugge are a very good side."

🔴⚪ #WeAreLeipzig pic.twitter.com/Xg9AAi6vOY

— RB Leipzig English (@RBLeipzig_EN) September 27, 2021
The Bulls were becoming a steady force in the league with being in the title race continuously. Boy wonder manager Julian Nagelsmann managed the team excellently. The young German, in fact, launched a tactical revolution at Leipzig and threatened to end Bayern's monopoly over the league. Just when a challenger was rising, Bayern acted ruthlessly.
They plundered Leipzig in the transfer market. With Nagelsmann leaving, a new manager was needed to make sure that the progress wasn't lost. The famed RB network is well connected throughout Europe and always replace from within. Marsch who was succeeding at Leipzig's sister club RB Salzburg was brought home. This became a no brainer because Marsch already worked at Leipzig a couple of years ago and was familiar with all the players.
Marsch jokingly worried about Druck – the German word for pressure, before the season began. He felt it first hand following Leipzig's slow start to the season. They had only one win in the first four league games and were humiliated by Bayern Munich and Manchester City. But slowly, Marsch is turning the tide around with his calm head.
THE AMERICAN EXPLORER
Marsch was a midfielder for various MLS clubs at the turn of the century. After retiring as a player, he turned his focus onto coaching. He followed his college and club coach Bob Bradley to the USMNT as an assistant coach. It was followed by a short spell at Montreal Impact. Following that he took a sabbatical to sharpen his coaching teeth.
Marsch hit the jackpot when he got into the RB network through New York Red Bulls in 2015. He became the coach of the year in 2016. Any prominent performances in the RB circuit are noted well and escalated quickly. Hence Marsch's call came from Leipzig where he was offered an assistant role to the legendary Ralf Rangnick. So he left New York as their most successful manager in 2018.
🧠 Our masterminds for the 2018/19 season: head coach Ralf #Rangnick with assistants Jesse #Marsch, Robert #Klauß and Lars #Kornetka 🔴⚪#DieRotenBullen pic.twitter.com/hQ75zpyPEb

— RB Leipzig English (@RBLeipzig_EN) July 9, 2018
Learning the trade from Rangnick and knowing everything he could about Leipzig, he made an immediate step up to Salzburg as the head coach in 2019. During his two years in the Austrian capital, Marsch became one of the most exciting managers in the world with his attacking football.
Trophies followed too and so did epic matches. One Champions League fixture against Liverpool at Anfield stands out particularly. After being 3-1 down at halftime, Marsch delivered a halftime talk that went viral. He pushed his players to express themselves and suffocate the big boys. A miracle followed as Salzburg equalized to make it 3-3 only to lose to a last Mohamed Salah goal.
Similar impressive performances and league and cup double in successive years at Salzburg made him the number one contender for the Leipzig job.
THE TACTICAL BATTLE
Though Marsch was an ideal candidate, he didn't walk into Leipzig in ideal conditions. The club was on fire following the departures of manager Julian Nagelsmann and their best defender Dayot Upamecano to Bayern. To add insult to injury, club captain Marcel Sabitzer was also pried away by the Bavarians. With so many holes in the squad, Marsch was backed well in the transfer window to finish his squad.
Despite the signings of key players, the club suffered a slow start as the players were caught in a crossfire between Nagelsmann's and Marsch's systems.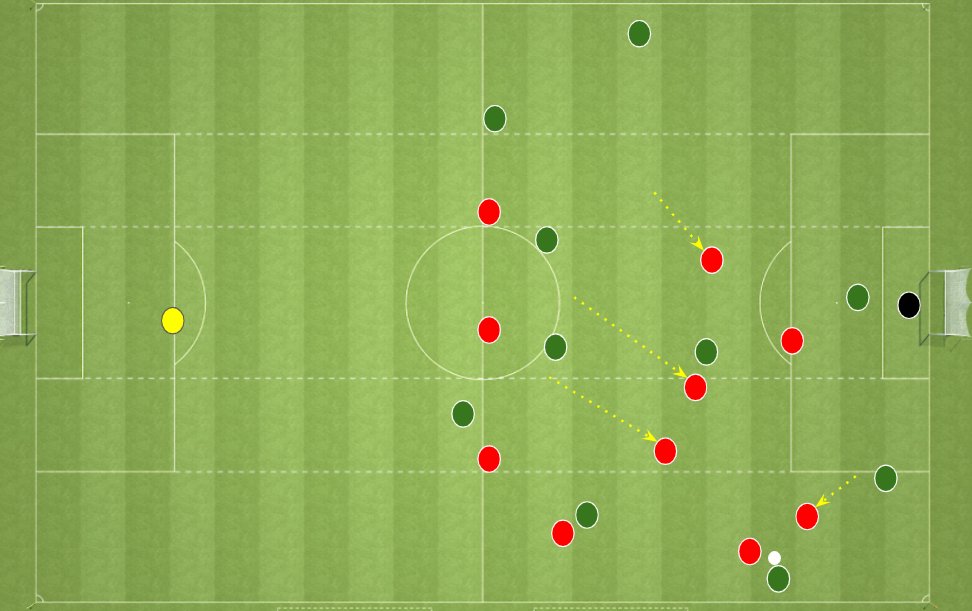 Marsch is on a growing list of managers that won't rely on a particular formation. He believes that players should be comfortable playing multiple roles on the pitch. They should be fluid and keep interchanging throughout the game according to situations.
Yet on paper, a 4-2-2-2 formation could be seen at Salzburg. Marsch uses a narrow central midfield to overload the central areas. He is always honest about his ideas and shared that his team presses to score goals but not to win the ball back. The two strikers play quite narrowly in the final third occupying both the centre-backs. The two men behind are "wide 10s" according to Marsch. They take the onus of chance creation and pressing aggressively.
When it comes to possession, Salzburg are direct and take little time to covert attack into defence. The verticality showed by his team is brilliant as they play one-touch football to progress the ball up the field into dangerous areas.
Things didn't click on the pitch and the result wasn't there, but the fans were flawless! Thank you 🔴⚪️

#WeAreLeipzig pic.twitter.com/T8vuWac8sr

— RB Leipzig English (@RBLeipzig_EN) September 11, 2021
This was stark opposite to Nagelsmann's tactics. The German manager believed in a three-man backline and a possession-based football. Though it strayed from RB school of thought, he extracted results. High flying wing-backs and a high line were common characteristics of his Leipzig side.
THE SLOW TURNAROUND
At Leipzig, Marsch chose to deploy a paragmatic 4-2-3-1. This immediately eliminated the likes of Angelino at wing-back. With width being nullified, going central was the only option for Leipzig. And they struggled even at that as new signing Andre Silva isn't the type to survive without service up top. The Portuguese striker needs a co striker to feed off and isn't fully integrated into the side yet.
After losing Upamencao and Ibrahima Konate, the defence lost a bit of pace and is playing deeper. Though new signings Mohamad Simakan and Gvardiol impressed, they need to grow into their roles. This lacklustre defence was carved open by Bayern Munich. Nagelsmann returned to face his former side and humbled them 4-1 to show the gulf in class.
🗣️ @jessemarsch:

"It's always difficult against Bayern; they have a lot of quality and showed that today. We didn't play badly and gave it everything.

With a little bit more luck and more composure in the final third, it could have been a different game."

🔴⚪️ #WeAreLeipzig pic.twitter.com/949d800mOT

— RB Leipzig English (@RBLeipzig_EN) September 11, 2021
Marsch also lost two other league games as they won only against Stuttgart in the opening four games. That win can be attributed to Stuttgart's open defence which was well exploited by Marsch's narrow central offensive style.
Then came an enticing clash against Manchester City in the Champions League. In a game that saw 9 goals, City scored six times making a mockery of Leipzig's static defence. The long balls in behind weren't dealt with as Jack Grealish scored a Messi-Esque goal. However, Marsch saw fight and promise from his side as they scored three goals albeit everything coming through Christopher Nkunku.
"It doesn't get any easier when a team isn't rewarded with the results that they're working so hard for," Marsch said after the game. "We need success on the pitch to restore that self-confidence in the team." His team heard his call and delivered shortly.
Through intensive training drills, they are slowly tuning to the idea of Marsch ball. Players need to be intelligent and be aware of each other's positing to thrive in his system. Thus a great chemistry is needed between his players and Marsch is brewing it slowly.
6️⃣ goals today for the boys from @RBLeipzig_EN 💪

⚽️⚽️ @C_Nk97
⚽️ @YussufYurary
⚽️ @NordiMukiele
⚽️ @EForsberg10
⚽️ @DouDouHaidara04 pic.twitter.com/EPdjShUvut

— Bundesliga English (@Bundesliga_EN) September 25, 2021
A perfect display was put on against Pal Daridai's Herth Berlin. The Bulls hit them for a six with Nkunku, Poulsen, Forsberg, Haidara and Mukiele all on target. Another confident display in the Champions League against Brugge might boost their morale.
With an easy run up coming up in the league between now and the next international league, expect Leipzig to make moves from their 10th position in the league. Though Marsch might have taken time, he is slowly delivering in Germany.