With Jesse Marsch departing for Germany to take over at RB Leipzig, RB Salzburg announced the signing of Matthias Jaissle, their former U18 side manager. The 33-year-old's employment may have raised some eyebrows, but there was no one more deserving, and his hiring just adds to the brilliant list of fresh, young managers heading some of the biggest clubs in Europe. 
🗣 Matthias #Jaissle: "Wir freuen uns nach den vier Wochen intensiver Vorbereitung, dass es endlich losgeht. Die Burschen waren mit viel Energie und Konzentration dabei. Wir sind daher guter Dinge, dass wir das Cupspiel am Freitag gewinnen." pic.twitter.com/rAMZjrj8Sz

— FC Red Bull Salzburg (@RedBullSalzburg) July 14, 2021
The Red Bull factory has established itself as a frontrunner in terms of cultivating and promoting coaches. Though not necessarily local products, they capture some of the finest rising tacticians (particularly from Germany, Austria, and the United States) following certain clearly defined standards. Matthias Jaissle is unquestionably one of those up-and-coming tacticians. 
With RB Salzburg securing the signatures of one of the hottest young managerial prospects, let's have a closer look at Matthias Jaissle and what can the 33-year-old manager bring to their table.
CAREER
A former defender for Hoffenheim, Matthias Jaissle had to give up his footballing career following a string of injury setbacks. But with his managerial career, the German has been quite cautious with the steps in a young career that is blossoming at a tremendous pace.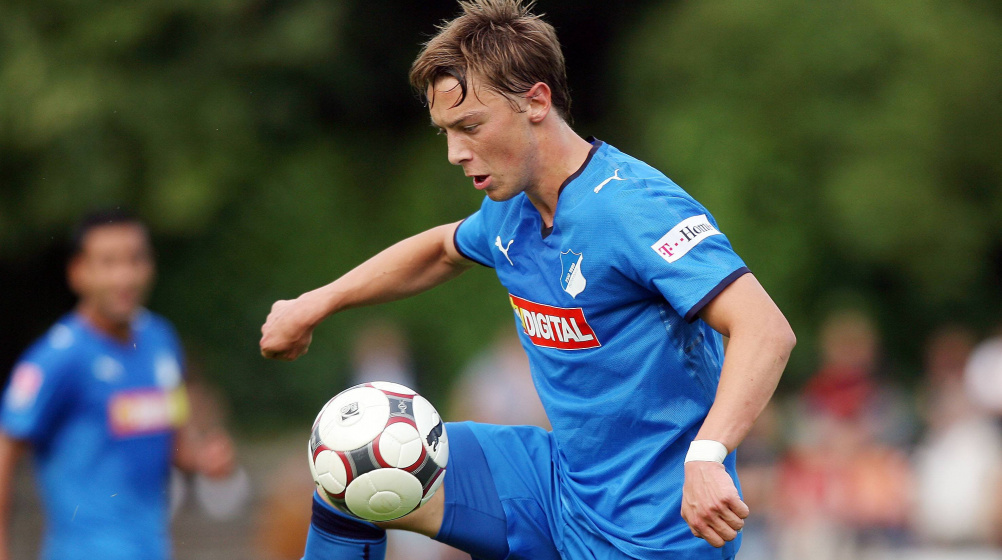 Beginning with RB Salzburg's U17 side, he moved on to Brondby IF as an assistant manager, then as the manager of FC Liefering (RB Salzburg feeder club) before returning to Salzburg as manager of the U18 squad. And now, after only a year, the 33-year-old has been granted the daunting opportunity of leading the senior pack.
OFFICIAL: Red Bull Salzburg have themselves promoted the next man up. Liefering's Matthias Jaissle is their next head coach. #RBS https://t.co/rF6Rcij7Ay

— Ronan Murphy (@swearimnotpaul) April 29, 2021
Jaissle took over as manager of Liefering in January when Bo Svensson left to become head coach of Mainz in the Bundesliga. The German took over as manager of the club, which was in second place when he arrived. In the end, his squad came within a whisker of winning the title, finishing equal on points with eventual champions FC Blau-Weib Linz.
A LOGICAL OPTION FOR RB SALZBURG
The best and most logical option for RB Salzburg was Matthias Jaissle. He was perfect for the Salzburg youth team but was always ready to step up and be at the service of the first team. 
If he does well with the senior team, he will be able to stay longer, but if for some reason the administration decides that a new manager is needed, Jaissle will be happy to return to the youth team and there will be no need to sack him.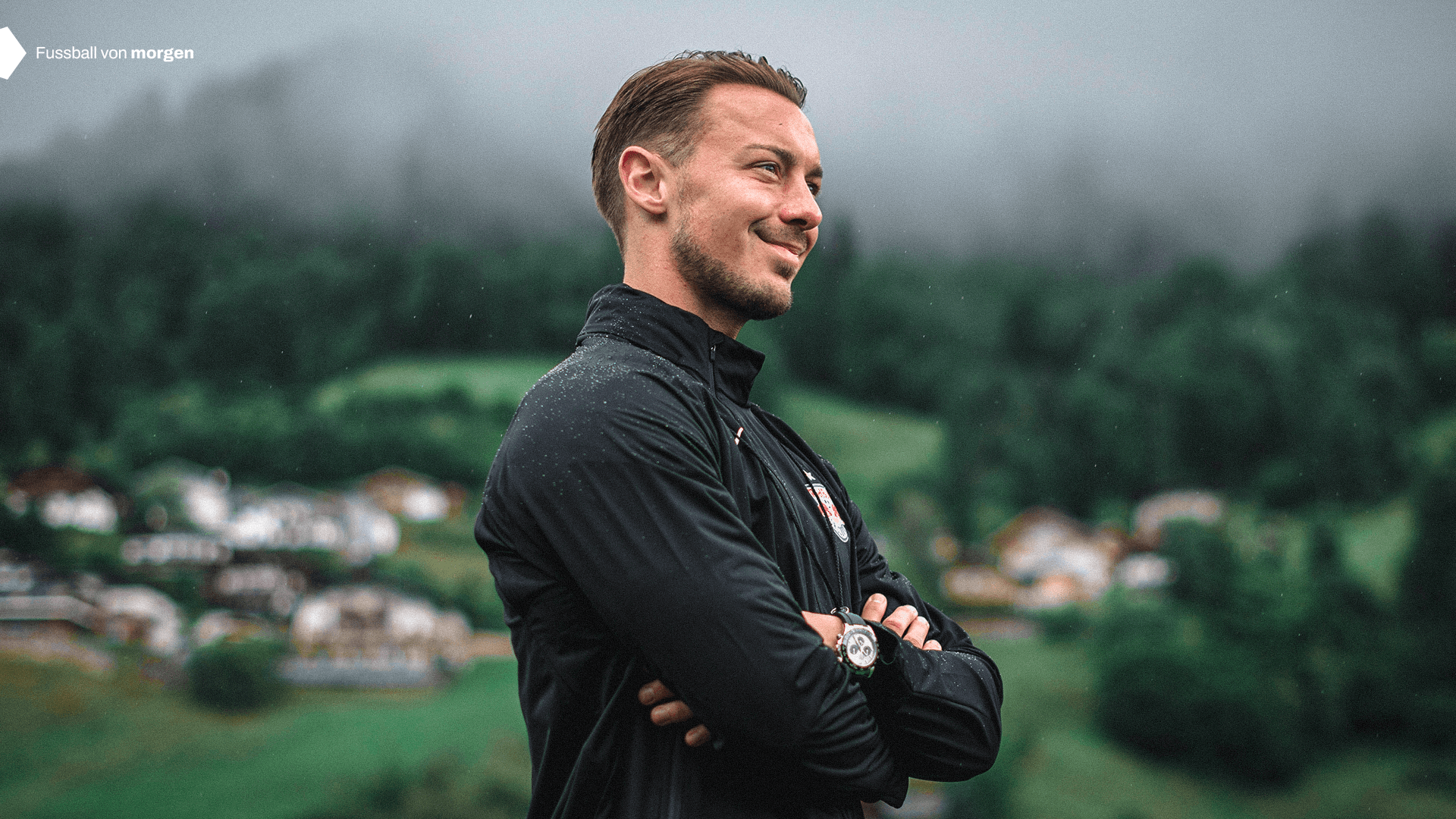 Also, with his voice and knowledge, Jaissle has been shaping talents over the years. He inherited the U18 side last year and before that the U17 team, and with him, competing and developing youngsters started to go hand in hand. Teenagers had to take responsibility and that made them grow, facing veterans while acquiring new concepts, learning roles, and progressing within a recognizable collective.  
The blend of an academy viewpoint and the broader demands of a senior team may provide a highly rewarding experience for young managers. And it is for this reason that Jaissle's career path in management has seemed exceptional thus far. Salzburg's reserves have provided him with an opportunity to prove himself before his promotion. In his one year there, the U18 side only strengthened, and Salzburg as a club with a strong tradition of betting on youngsters – making his duties far from insignificant.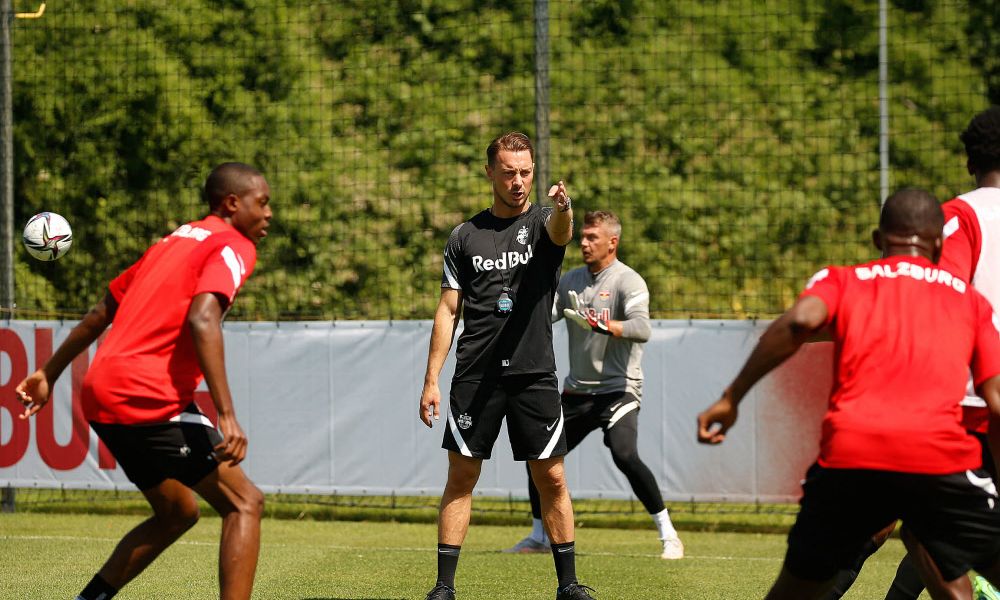 RB Salzburg, under Jaissle, should try to promote as many academy graduates as possible and ease their adaptation to the first team. This will be a transitional period, and bravery and faith in youth are required to make the most of it. Matthias Jaissle is one of the best for that.   
TACTICS
Matthias Jaissle is very concerned with his principles since everything else is secondary to them according to him. He is adamant that there can be no progress without principles, both on and off the field. 
Style, attention to detail, and the quest for innovation — Matthias Jaissle ticks all these boxes. Salzburg's new manager is one of those German managers influenced by Guardiola's arrival in the Bundesliga, and like the City boss, Jaissle has a meticulous eye for details and a heavy focus on build-ups and pressing. 
His U18 Salzburg squad and FC Liefering mastered the art of simple football. They continually found angles and passing possibilities, which decreased the amount of time his players needed to think about their next move. Jaissle's teams are masters at building from the back, regardless of the opponent. They attract rivals very high up the field with deep possession to then exploit the space they leave behind. 
What distinguishes Matthias Jaissle is his profound conviction. Even if his opponents are terrifying, you can be certain that he will not abandon his approach. 
Keep an eye on Matthias Jaissle, the new RB Salzburg manager. Another former Rangnick player and coaching mentee, the 33-year-old is being seen as the next big thing by many.

— Raphael Honigstein💙 (@honigstein) April 29, 2021
The overwhelming supremacy of RB Salzburg in the Austrian Bundesliga should allow him the flexibility to try new things, and it will help him add trophies to his resume. Conscious of their culture and traditions, he may adopt the defining characteristics of Salzburg (competitiveness, verticality, high pressure) and carry them to the next level.