There's an American revolution setting at Leeds United. After the club from Yorkshire parted ways with Marcelo Bielsa in an emotional decision, Jesse Marsch, formerly of RB Leipzig, took over at Elland Road. After a close shave with relegation last year, Jesse Marsch's Peacocks have started the season on fire. Unbeaten after three games, beating Chelsea 3-0, the naysayers are beginning to quieten. Coincidentally, quietening the naysayers is a common theme of Marsch's career. How?
Read below to find out 10 interesting facts about Jesse Marsch, the first American coach to win a European trophy.
1) Jesse Marsch's first time at Anfield
Jesse is from Wisconsin, USA. He started playing football at a young age despite it being a sport that was not so famous in America. When he was 15, he was part of a regional team and was on tour at a youth tournament in the UK where he was taken to Anfield to watch Liverpool play. He was a massive fan of European football and dreamt of playing there someday. Before leaving, he ran onto the pitch and scooped some of the turf from the pitch as a souvenir. Such was his love for the sport.
Jesse went to Princeton for his schooling and also played soccer for the Princeton Tigers soccer team where he played as a midfielder and forward and scored 16 official goals for them.
2) Marsch's playing career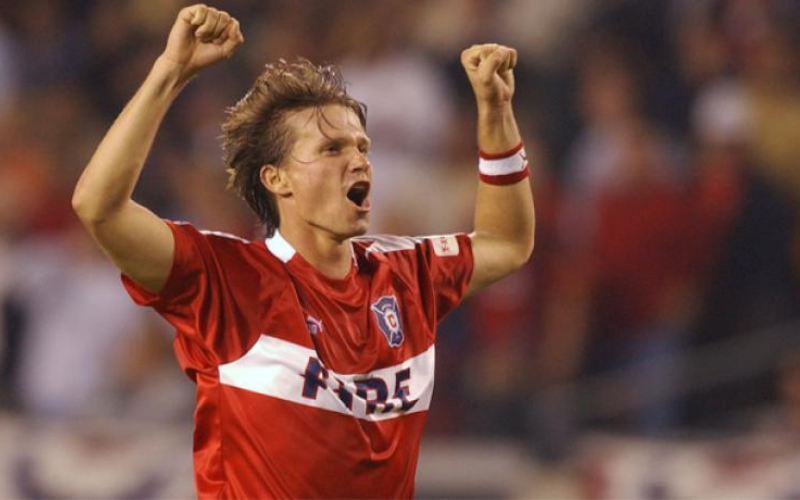 Marsch was then drafted to DC United in 1996 where he spent two years. DC United won those two consecutive seasons but Marsch himself couldn't make a name for himself and only played 15 matches while he was there. He then joined the Chicago Fire where he became a starter and won the 1998 MLS Cup also making him three times MLS Cup champion. Chicago Fire also won the 1998, 2000 and 2003 US OPEN Cup with Jesse. In 2005 Marsche moved to Chivas USA where he played for 5 seasons and finished his career.
Jesse, when leaving Chicago, had the highest amount of season appearances for them and was a club legend. By the time he ended his playing career, he was one of the only three players to play for 14 seasons in MLS and went down in history as one of the great players of his time. Although he had a good career in the US, he couldn't make it to Europe he did achieve that later in his coaching career.
3) Gets into coaching
In 2012, Jesse was appointed as the first head coach of the Montreal Impact, who were playing their first MLS campaign. Montreal ended 12th in the season with 42 points. Although the players and the fans were content with the manager's way of doing things, the club's management fired Marsch justifying by saying there was a conflict of philosophy between the Club and the manager. After spending a couple of years coaching Princeton's College team, he was called to make his entry in the Red Bull's Football Empire.
4) RedBull poster boy- Jesse Marsch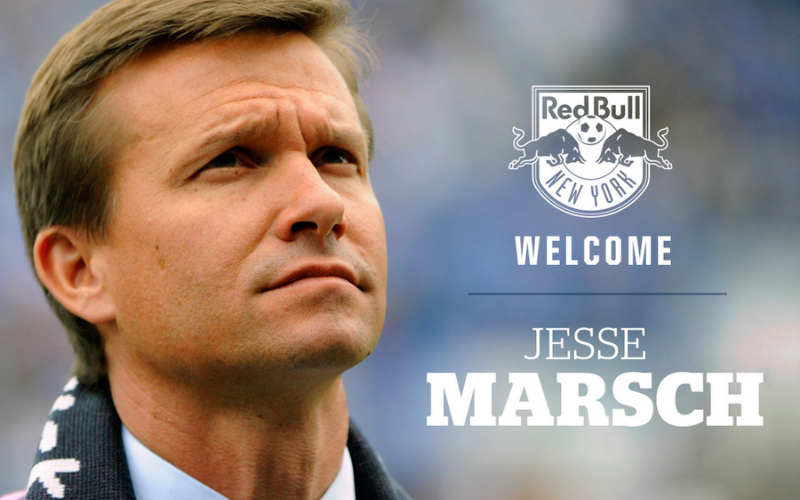 In January 2015, Marsch became the Head Coach of the New York Red Bulls replacing Mike Petke, who was the most successful coach in the team's history. Before Petke, New York Red Bulls hadn't won any trophies and were not one of the top clubs of the league but Petke helped them win their first major trophy. He had revolutionised the club and had won the hearts of the fans by doing so. The fans were not at all happy when Mike got fired and Jesse was appointed. Marsch was under immense pressure as he was about to replace a club legend. Sounds familiar, Leeds fans?
Jesse did an amazing job in his first season and led the club to The MLS Supporters Shield. He also made a club record of 18 league victories and 60 points. With this, he was named as The MLS Coach of the year in his first season with the red bulls. In 2018, Marsch left the club but had surely made a difference during his time at the American side. He led his team in 151 matches out of which he had won 76 and drawn 30. After the success in New York Red Bulls, Marsche kind of got promoted.
5) Away from the spotlight in Germany
Jesse #Marsch, previously of @NewYorkRedBulls, will join #DieRotenBullen as an assistant coach. pic.twitter.com/8AXwQ36B4y

— RB Leipzig English (@RBLeipzig_EN) July 9, 2018
Marsch was appointed as the assistant coach of the German club Rb Leipzig in the 2018/19 season. The head coach at the time was Ralf Rangnick. Ralf Rangick had been an integral part of RB Leipzig and had held many managerial positions for the club. RB Leipzig was only founded in 2009 and has played in the Bundesliga since 2016. Ralf was highly experienced and had deeply contributed to the club's success and Marsche's one season here was probably a training phase for him by the club's legend himself.
Jesse learnt the working of European football here and also the famous Gegenpressing, German managers tend to use. After one season in the German Club, Jesse was appointed as the head coach in Leipzig's sister club RB Salzburg.
6) Jesse Marsch at RB Salzburg
What a club! What a team!! Very proud of our group! 🏆🇦🇹 pic.twitter.com/NN32JHNJan

— Jesse Marsch (@jessemarsch) May 29, 2020
RB Salzburg plays in the Austrian Bundesliga and have been the dominant team of the league. Unlike RB Leipzig, this is an old club with a lot of history. Red Bull bought the club in 2005 and rebuilt their whole system and the club has been doing wonderful ever since. The fans weren't really happy with the idea of an outsider leading their team. Banners saying 'No to Marsch' were seen even before he was officially hired. Sensing a pattern here?
Doubters were soon silenced he did a marvellous job, winning both, The Austrian Bundesliga and the Austrian Cup in his first season. He also did well in the CL and established RB Salzburg as a name in the Champions League. After dominating the Austrian scene, he was appointed as the manager of RB Leipzig, as the rocket of his managerial career kept going up and up. However, the first hiccup soon followed as he failed to impart his principles to the club and got sacked after an underwhelming run of results.
7) Jesse Marsch=Bielsa lite?
Jesse Marsch has always believed in high-paced gameplay. He applies Gegenpressing, which he learned during his time in RB Leipzig and feels that losing the ball is not an issue if you can get the possession again and attack. He plays central during counter-attacks and scarcely uses his wings to push the ball ahead. Jesse doesn't use a fixed formation and he improvises seeing the condition of the game. He used 9 different formations during his time in Salzburg. Jesse pushes his players to press as much as they can and uses this pressure to destabilise the opposition's defence. Watching Salzburg play under Marsch is similar to watching Klopp's Liverpool. Jesse has a radical style of play with highly intensive pressing and man-marking and his tactics are similar to Marcelo Bielsa when it comes to high-octane gameplay.
This has definitely played a role in Leeds going for Jesse Marsch as Bielsa's replacement. It remains to be seen if he has a better time transferring his instruction than he did at Leipzig.
8) Brash and bold personality
Jesse Marsch is bold and passionate. He gives his all while working with the team and loves what he is doing. Even though he came from a small state in the US, he believed in himself no matter what everyone said and did what no other American could to prove himself. He is a man who is strong-willed, brave and a man who leaves his comfort zone in order to succeed without hesitating. These qualities can even be seen in his team while they are playing and this shows that Jesse Marsch is a true leader who is willing to go the extra mile.
9) His video that went viral
A snippet of the halftime team talk by Jesse Marsch during the Champions League game against Liverpool went viral and shook the internet. Liverpool was winning 3 goals to nil and Jesse was furious. He tried to motivate his players with mixed German/American curse words to do so. His strong words inspired his players who went on to score three goals in quick succession and conceded none till the 69th minute.
Although Salzburg lost the game, they showed the world how ferocious the club can be, Liverpool, being one of the best teams in the world were challenged by the underdogs. The world saw the potential of the club and how their Head Coach inspired his team and turned the game around.
10) Ambassador for USA managerial talent
Marsch has been a trailblazer for USA managerial talent in his career so far, recording numerous "Firsts". However, he is the second American manager to take charge of a PL club. Bob Bradley had an ill-fated spell at the helm of Swansea City, which greatly tarnished the reputation of American managers in the minds of the average PL fan.
Marsch would, therefore, come with the added burden of restoring that image. A successful spell at Leeds United could again open the doors for managers from the USA to take on more challenging jobs away from home. Therefore, Marsch's role at Leeds would be that of a trailblazer again, even if he's not the "first" this time.
Jesse Marsch's Career has been full of people saying he won't succeed and him proving them wrong at every point. Therefore, it was unlikely that he would be fazed by the challenge at Leeds United. He achieved his primary objective last season by steering the club away from the relegation zone. Now starts the mission of establishing Leeds as a PL force, while consolidating his reputation that took a hit at RB Leipzig.