Just over a year ago, Ronald Koeman called Luis Suarez into his office. The Dutch manager told Suarez that he wasn't required anymore. In a deal that surpassed logic, he was sold for as little as €6 million to title rivals Atletico Madrid. The Uruguayan delivered the league title in Madrid and returned to face Barcelona yesterday. Suarez assisted and scored a goal to inflict a 2-0 defeat on his ex-employers. The result shows how flawed Ronald Koeman's management is and how far Barcelona have slumped.
🎙Manager @RonaldKoeman on the words of support from Barça President @JoanLaportaFCB pic.twitter.com/NIHzOTb9Ez

— FC Barcelona (@FCBarcelona) October 2, 2021
Barcelona is currently a house on fire and Ronald Koeman is just a confused firefighter. The moment he decides to put out an existing fire, a new fire erupts. The club is buried under a mountain of debt. With the financial crisis looming, maintaining a squad and signing new players almost became impossible. These combined with Koeman's coaching failures are pushing Barcelona to new lows with every game.
Full Time #AtletiBarça pic.twitter.com/mnzpqIF6LP

— FC Barcelona (@FCBarcelona) October 2, 2021
It was thought that Koeman was on borrowed time at Barcelona. His side couldn't create chances, couldn't score or even play in an aesthetically pleasing way. At the back, they're brittle and are susceptible to counters. Despite his side's poor run, Barcelona couldn't sack Koeman. It is understood that the Catalans would have to pay a hefty compensation package to Koeman if he is to be discharged from his duties. The board favours keeping him till a permanent solution is found and run his contract down. But how damaging this could prove to Barcelona in the longer run.
A SERIES OF DISASTERS
Barcelona were one of the most successful clubs of the previous decade. 2015 marked their peak as they lifted the second treble in six years. But like any great team, they regressed. A lot of key players like Xavi, Iniesta and Dani Alves left. At the same time, ex-president Josep Maria Bartomeu was running the club chaotically. He had to let Neymar Jr leave to the dismay of Barcelona fans for a world-record fee. The funds brought in were disastrously redistributed in the form of flops Ousmane Dembele, Phillippe Coutinho and Antoine Griezmann.
The Barcelona brand was also misused by Bartomeu and the debts only kept increasing. The team's performance on the pitch wasn't up to regular standards. Though Ernesto Valverde delivered league titles, he was judged on his performances in the Champions League. Importantly, the brand of football he played was termed as boring as he was shown the door.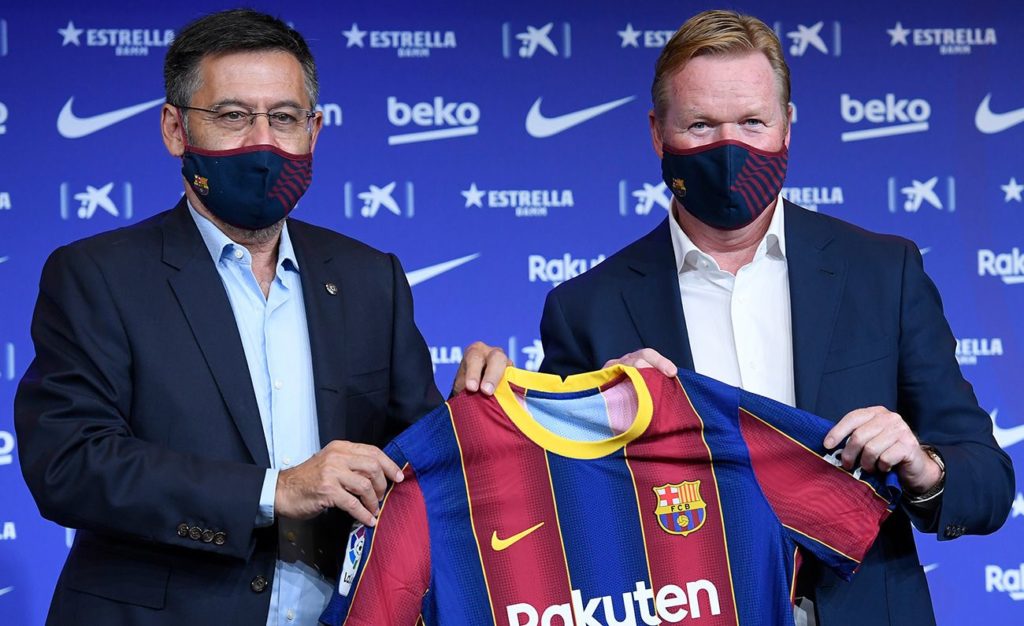 His replacement Quique Setien had a short and forgettable spell that culminated with the 8-2 thrashing in the hands of Bayern Munich.
To limit the damage, a coach with Barcelona DNA was sought. Ronald Koeman was coaching the Netherlands at that time. He was doing an admirable job at that one as the Dutch played some attacking football. Barcelona called Koeman and he duly accepted the offer. He had the tag of being sacked by Everton in his previous spell on his head. Yet the ex Dutch centre-back arrived with hope into a club full of chaos.
AN UNHAPPY MARRIAGE
Koeman knew the gravity of the task he had on his hands. He knew that this Barcelona side is not a superpower anymore. Succeeding with the national team is a different thing and rebuilding a club is a completely different thing. It was believed that Koeman isn't a master tactician or a brilliant man-manager to complete the rebuild. Despite the worse situation surrounding him, he only has himself to blame for many troubles at the club.
His decision to kick out Luis Suarez could be said as the worst one ever. The legendary Uruguayan striker was deemed to be not fit for Barcelona by Koeman and was forced out of the club. Suarez had a point to prove and he did rub it in the face of Koeman when he scored against them yesterday for Atletico Madrid.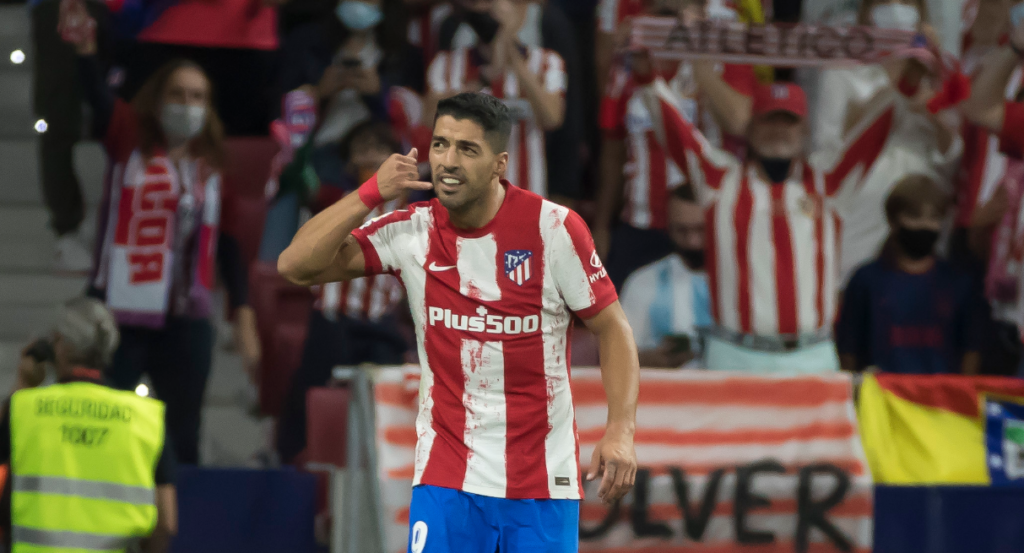 Koeman's handling of Riqui Puig also leaves one asking a lot of questions. The dynamic Spanish midfielder is an excellent forward thinking midfielder. He has enormous potential and can be Barcelona's solution to their troubles in the final third. Yet Koeman rarely uses him for reasons unknown. The midfielder has been frozen on the bench and only gets meaningless cameos off the bench. Another youngster Pedri has been overused by Koeman even when Puig was available.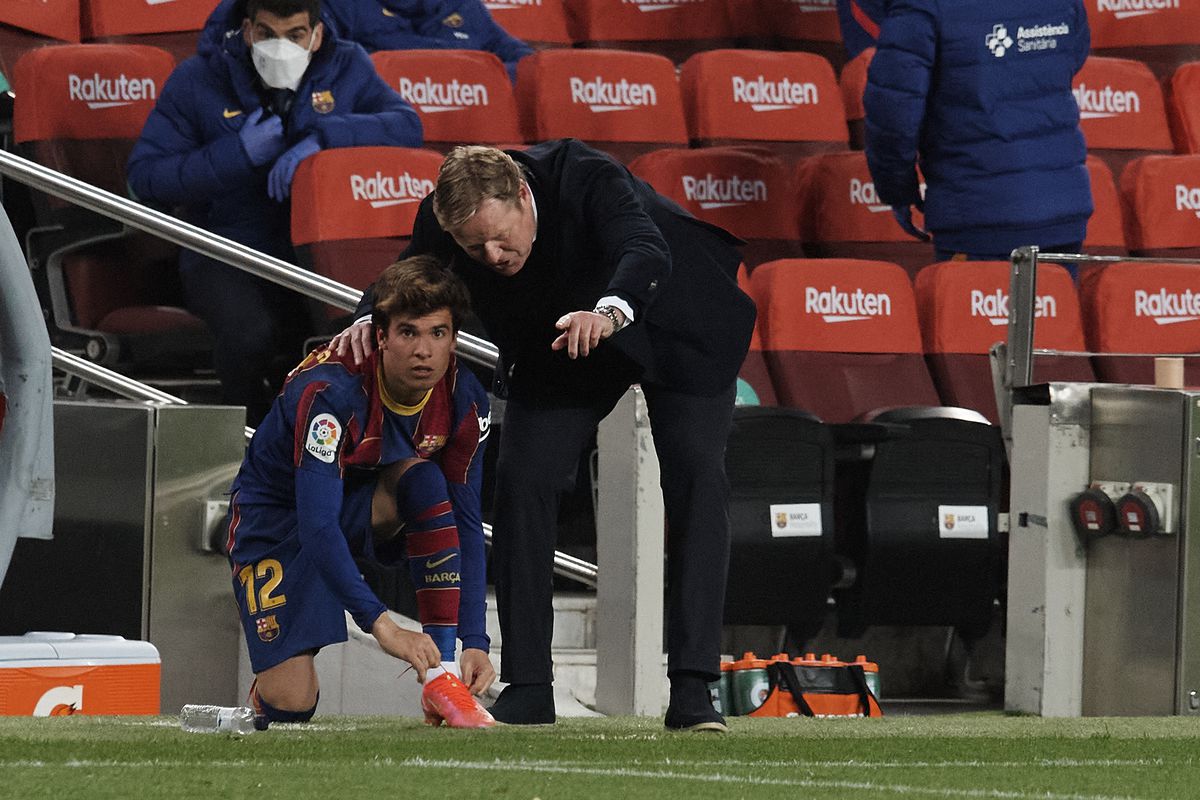 Besides, Koeman has a huge ego, where his flamboyant comments haven't helped his standing with the club. He once boldly claimed that Barcelona has a future thanks to him. In reality, that future Koeman claimed is nowhere utopian. If anything, he is leading them into a darker path of humiliation in league and cups.
Koeman often takes things lightly in his press conference. After losing to Bayern Munich in the Champions League, he said, "I understand Laporta's feeling, he is a fan of this club. I don't like it too when we lose 3-0 vs Bayern Munich. But I look at the situation in a sober way. They bring on Gnabry, Hernández & Coman. We have to bring on young talents from our youth system."
NO SIGNS OF AN END
Barcelona have endured a disastrous start to the new campaign. They had the sole possession of arguably the best player of all time in Lionel Messi. But Messi's contractual situation and the wage cap set by La Liga meant that Messi couldn't sign a new contract with them. He left for PSG this summer after almost spending his entire career in Barcelona
The new signings were all free agents. Memphis Depay, Sergio Aguero and Eric Garcia were all signed on a free. Existing players like Gerard Pique and Sergio Busquets had to take massive pay cuts to register the new players as well.
Memphis Depay started the season in fine form as Barcelona won two of three games in the league. Their fortunes turned for the worse after the international break. They have only won a single game in their last six outings in all competitions.
❌ vs Bayern Munich
🤝 vs Granada
🤝 vs Cadiz
✅ vs Levante
❌ vs Benfica
❌ vs Atletico Madrid

What does Ronald Koeman need to do to get Barcelona back on track? pic.twitter.com/cZZrA1P4f9

— William Hill (@WilliamHill) October 2, 2021
Bayern Munich and Benfica inflicted painful 3-0 defeats in the Champions League. The club are without a point and a goal to their name after two rounds and staring at an early exit if they don't change their way.
In the league, they dropped points to Granada and Cadiz before a win against Levante. The defending champions Atletico once again humbled Barcelona with a 2-0 victory.
Koeman's team selection and formations aren't consistent and players suffer as a result. The fixture list only gets tougher for Barcelona. They face high flying Valencia, Real Madrid and Rayo Vallecano in the league. A doubleheader with Dynamo Kyiv would seal their fate in the Champions League.
The board's decision to stick with Koeman might cost them dearly in the future. Even if it strains their purse, the club must look to get rid of Ronald Koeman and save Barcelona from slipping further down the table.