The UEFA Champions League has a habit of producing upsets. Every year, there are a few results that go against the supposed norm. It was Juventus' turn in 2022 to experience that feeling. The Old Lady were blown away by Villarreal under Unai Emery. Having drawn 1-1 in the first-leg in Spain, Juventus would have been confident. However, they were smacked 3-0 at home, suffering an embarrassing round-of-16 exit.
🟡 Villarreal earn stunning win at Juventus!

⚽️ Gerard Moreno, Pau Torres, Danjuma#UCLdraw pic.twitter.com/MgIagPP4VB

— UEFA Champions League (@ChampionsLeague) March 16, 2022
However, Villarreal have proved that wasn't a flash in the pan. Drawn against Bayern, nobody gave them a chance. Still, Bayern could count themselves lucky to be down only one goal after an eventful first leg. Emery, often ridiculed and put down, has been doing a superb job with the Yellow Submarine. It is time to appreciate the true genius of the manager over the years.
King of the Europa
Unai Emery rose to fame with Sevilla in the mid-2010s. That is not to say he was an absolute unknown before that. Emery led Almeria to promotion to La Liga in 2007 and then achieved three consecutive top-three finishes with Valencia. He joined Sevilla in January 2013 and the fairytale began. The fairytale that unfolded had fans revelling in joy for years to come.
Sevilla boss Unai Emery has won a record-equalling third title as coach in this competition.

🏆🏆🏆 #UELfinal pic.twitter.com/JjRW2iCY3N

— UEFA Europa League (@EuropaLeague) May 18, 2016
Winning the Europa League in 2014, 2015, and 2017. Furthermore, Emery had established himself as a top-class manager. He had a clear group of core players who knew their jobs effortlessly. The ticket to a bigger job was on the horizon.
A tale of two cities
Emery joined PSG in June 2016, staying for two seasons. He won 87/114 matches across all competitions. However, his tenure in Paris is most remembered for that second leg against Barcelona. Having won 4-0 at home in the first leg, all they had to do was play normally. That was not the case. Barcelona completed a comeback for the ages, winning 6-1 at the Camp Nou. This was the start of the mental collapses that still haunt PSG to this day.
Unai Emery's record at PSG:

Ligue 1: 🥈🏆
Coupe de France: 🏆🏆
Coupe de la Ligue: 🏆🏆
Trophée des Champions: 🏆🏆
Ligue 1 Manager of the season: 🏅

Highest Champions League finish: Round of 16. 👀 pic.twitter.com/7PXVQnCUJ7

— Squawka (@Squawka) May 14, 2018
Nevertheless, Emery's time was not at all a failure barring that blip. He won the domestic quadruple in his second season before leaving for Arsenal. The Gunners had a middling first season, having started off brilliantly but ending with a whimper. However, Emery worked his magic in the Europa League, reaching the final once again.
Arsenal endured a heavy 4-1 defeat that further reinforced the negativity surrounding him. Emery was already a bit of a non-serious character in the press, given his average grasp of English and "odd" antics.
Unai Emery has penned this heartfelt message after being sacked by Arsenal. pic.twitter.com/Mvsfvs0baM

— ESPN FC (@ESPNFC) November 29, 2019
Having finished in fifth place in 2018-19, Emery was sacked in November after poor results piled up. It was widely believed that his spell at the club had been a failure but that's not telling the full story. Emery had been critical in developing an identity through his stars.
Pierre-Emerick Aubameyang broke out as a superstar while Kieran Tierney and Granit Xhaka became regulars. Arsenal tailed off in 2020-21 under Mikel Arteta, missing out on Europe altogether for the first time in 25 years.
Captain of The Yellow Submarine
Villarreal appointed Unai Emery before the 2020-21 season. The club's finances were a far cry from the days of PSG and even Arsenal. Villarreal were mainly successful through dogged scouting and promoting young talent like Yeremi Pino to get the best out of the team.
Emery quickly gelled with the players and started looking impressive right from the off. He had a set group of players that did not rotate much. Each position mostly had one more understudy.
Sorry, @Arsenal fans 👀

Unai Emery has Villarreal in superb shape this season 🔥

Currently in the top 4, could we see the Yellow Submarine back in the Champions League in 2021/22? 💛#LLL
🧡🇪🇸⚽️ pic.twitter.com/8qeVnlAkch

— La Liga Lowdown 🧡🇪🇸⚽️ (@LaLigaLowdown) December 23, 2020
Emery revived the careers of Juan Foyth and Etienne Capoue along with making some shrewd signings. Dani Parejo, Geronmino Rulli and Francis Coquelin have all become regular starters since they arrived. Villarreal had an average 2020-21, finishing in seventh place. However, Emery worked his magic in the Europa League once again. The Yellow Submarine made it all the way to the final, beating Arsenal along the way.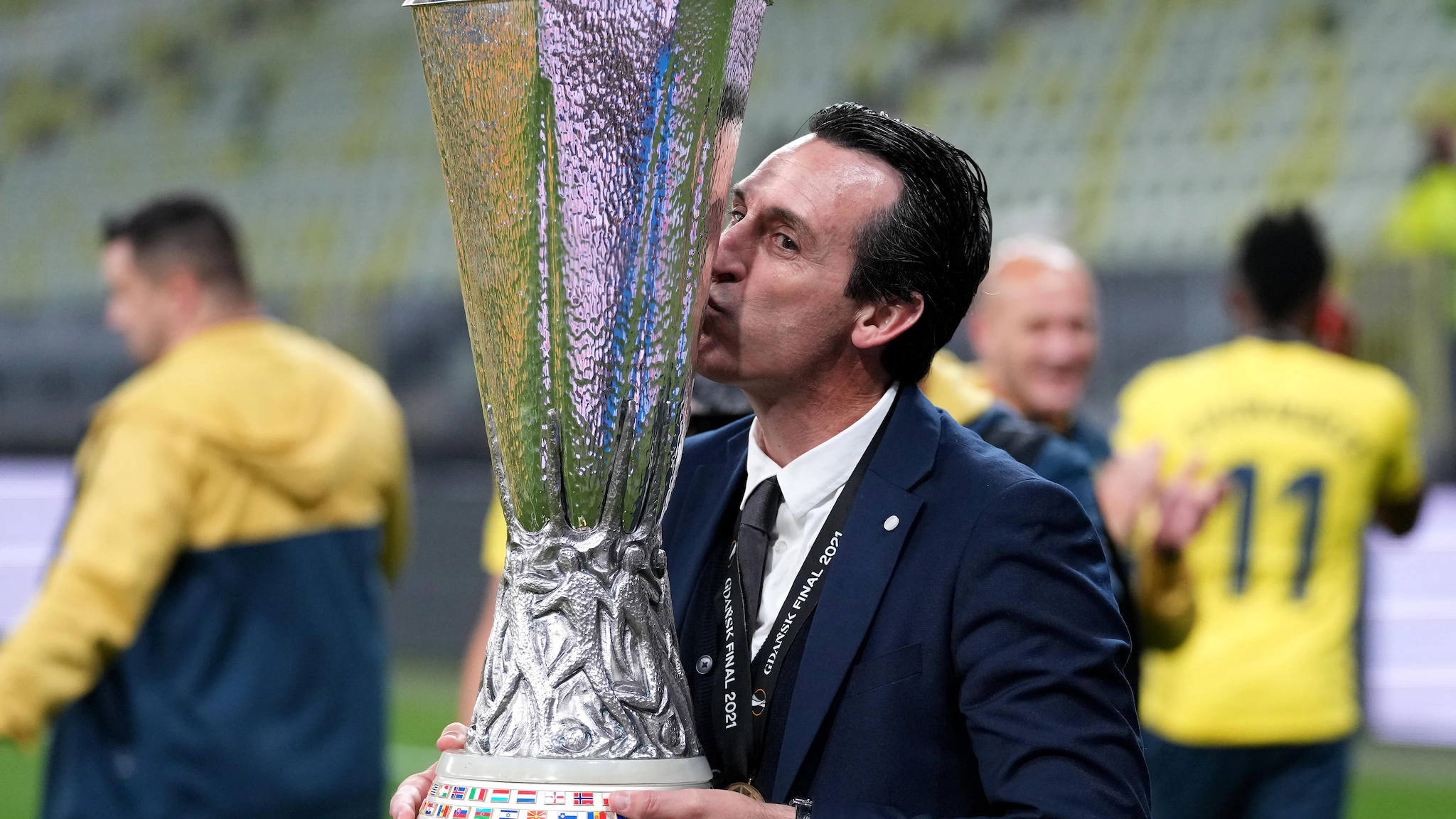 Manchester United awaited them and after a gruelling 120 minutes of action, Villarreal won 11-10 on penalties. It was the club's first major piece of silverware and defeating a European great was no mean feat.
The cult goes on
Unai Emery has settled on a pretty conventional 4-4-2 with Villarreal since his arrival. The rise of Pau Torres combined with the agelessness of Raul Albiol in defence. The midfield creativity provided by Parejo, Coquelin and Capoue.
Emery signed Arnaut Danjuma in 2021 who has proven to be a hit already. The Dutch attacker has scored 13 goals and provided four assists already. Danjuma was a nightmare for Bayern to deal with. With Gerard Romero missing matches due to injury, he has been the most potent goal threat.
Arnaut Danjuma has been directly involved in 17 goals in La Liga & the #UCL , more than any Villarreal player this season:

👕 26 appearances
⚽️ 13 goals scored
🅰️ 4 assists

Finishes off Juventus. 🇳🇱💫 pic.twitter.com/He7pDTdImz

— Statman Dave (@StatmanDave) March 16, 2022
Villarreal have not had the greatest league season so far, sitting in seventh place currently. They are 12 points behind Atletico Madrid for the final Champions League spot. The triumph over Juventus was their game plan being executed to perfection. However, their win against Bayern was a statement-making result.
Villarreal ran riot over their more illustrated opponents. Coquelin had a goal ruled out and Unai Emery's Villarreal looked like they'll finish the tie in the first leg itself.
Unai Emery has won the #UEL more times than any other manager in the competition's history.

This season, he's qualified for the #UCL quarter-finals for the first time in his career.

Making the step up. 💪 pic.twitter.com/OjzrR3f4PZ

— William Hill (@WilliamHill) March 16, 2022
Unai Emery and Villarreal are looking like a solid pair for the long run. It remains to be seen if they can repeat their performance against Bayern in the second leg. Nevertheless, whatever be the result, he has already re-established himself as a premier manager in football.