The rebuild at Manchester United under Erik Ten Hag is underway. News broke a few weeks back that a maximum of 12 players would be leaving the Red Devils potentially this summer.
While the squad will be shaped the way Ten Hag wants it, the backroom staff is also slowly beginning to take shape according to the former Ajax boss' needs and demands. Steve McClaren had a secret meeting with the higher ups at Manchester United and Erik Ten Hag recently. Now McClaren is being linked to an assistant manager's job at Manchester United under the much younger Ten Hag's tutelage.
Manchester United are preparing contracts for both Mitchel van der Gaag and Steve McClaren as they will join Erik ten Hag, becoming part of the new coaching staff in the next weeks. 🔴🤝 #MUFC

Van der Gaag told Ajax three weeks ago of his intention to sign for Man United.

— Fabrizio Romano (@FabrizioRomano) May 13, 2022
Steve McClaren has had a somewhat of a journeyman career in football management and coaching. He has managed at various levels in the English Pyramid itself, he is also managed in the Netherlands, Germany and Israel. He has slowly faded away from the upper echelons of management so you still might be struggling to put face to the name.
Steve McClaren 'definitely joining' United coaching staff #mufc https://t.co/bB7CUpqpMt pic.twitter.com/YENrZGWyW3

— Man United News (@ManUtdMEN) May 13, 2022
So we are here to tell you all about Steve McClaren and what he can potentially bring to Manchester United as a member of the backroom staff.
Who is Steve McClaren?
Stephen McClaren or Steve McClaren was a good if not exceptional midfielder in his playing days. He played for the likes of Hull City and Derby County during the late 70s and early 80s. McClaren never played in the top flight of English football but was considered one of the best players in the lower leagues.
After retiring , McClaren started coaching the youth and reserve team of his last club, Oxford United. Under manager Denis Smith he learned the tricks of the trade only to return to Derby County in 1995. At Derby he took on the role as assistant manager alongside Jim Smith. Smith and McClaren together got the Rams promoted to the Premier league in their very first season incharge. The pair went on to establish Derby County as a good Premier League club.
In 1999 Sir Alex Ferguson's Manchester United came calling and Steve McClaren was appointed assistant manager to the legendary manager.  He replaced Brian Kidd in the Red Devils backroom staff. Steve McClaren had a distinguished first season at Manchester United working under Ferguson  as they went on to win a historic treble. He soon developed a reputation as one of the most foremost tactically astute coaches in the country.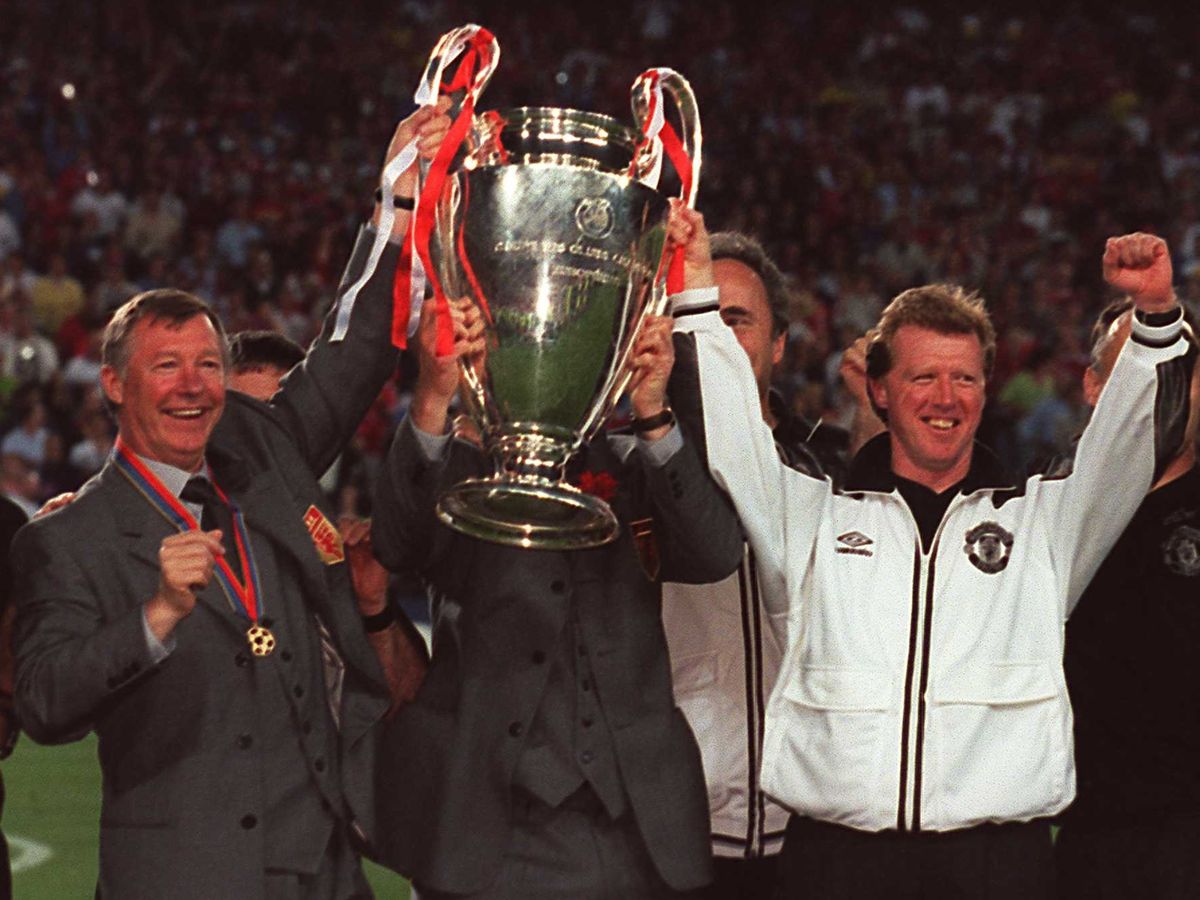 Steve McClaren advocated the use of sports psychologists and video analysis as his methods ensured that Manchester United won a league title every season he was there,1999,2000 and 2001.
In 2001 took up the role as Manager at Middlesbrough, this was his first job in the hot seat. During his tenure at Boro he guided them to a League Cup in 2004, their only trophy till date. They also were UEFA cup runner's up in 2006 under McClaren.
His achievements were recognized by the FA who appointed McClaren as the manager of the England men's national team in 2006. But he was dismissed later as the Three Lions failed to qualify for Euro 2008.
McClaren was heavily scrutinised by the English media and he looked for a new start, which he found in the Netherlands.
He was appointed by FC Twente as manager after he was sacked by the FA. Here is where McClaren had two different stints as a manager. In his first stint Steve McClaren guided Twente to their first Eredivisie title in 2010. He challenged the dominance of Ajax and PSV in the Dutch league during his first tenure.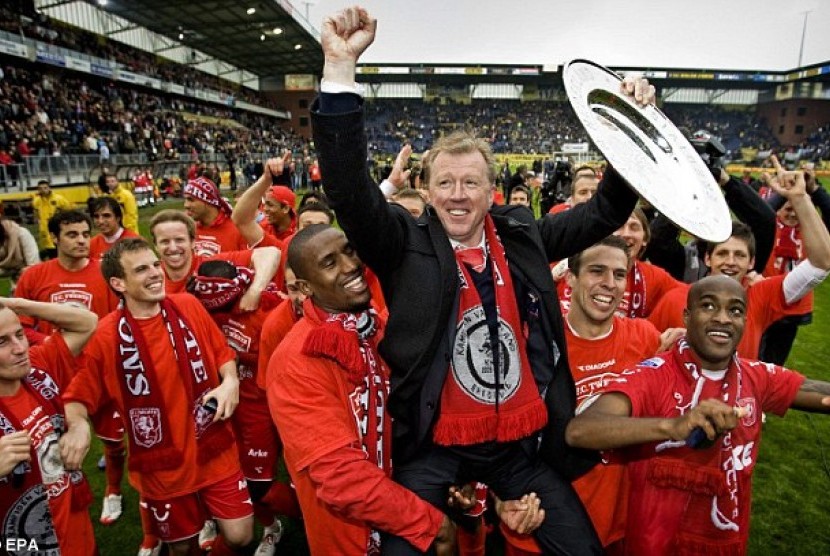 After leaving Twente for Wolfsburg soon after winning the Dutch league title, Steve McClaren's career lost momentum. He got sacked by the Bundesliga team mid-season and since then, he has not had any notable stints at any club he has managed.
From 2010 to 2019 he has managed 7 clubs with hardly any success tarnishing his early career reputation. Although he was almost always bought into a struggling club to fix things, he does not seem very suited for the main job at a big club.
What does Steve McClaren offer Manchester United?
In the late 90s and early 00s Steve McClaren was considered a pioneer and one of the brightest managers in the English game. In fact during his time as Alex Ferguson's assistant Steve McClaren was considered somewhat of a lucky charm for Manchester United. But the Red Devils need more than luck right now to stop the rot.
Steve McClaren set to join Manchester United's backroom staff this summer?

LISTEN 🔊
🍏 https://t.co/yVmUKaJBib
🎧 https://t.co/5le7Dlt8kJ pic.twitter.com/5sKZkL9yUZ

— Man United News (@ManUtdMEN) May 15, 2022
Currently Steve McClaren is being linked to the assistant job under Erik Ten Hag. What is funny is that there is some history between McClaren and Ten Hag. The Dutch manager was in fact Steve McClaren's first assistant manager at FC Twente where he won the league. Seems like Ten Hag does value his opinion highly and could easily cultivate a successful working relationship.
McClaren's faith in sports psychology will bode well for the Red Devils regardless of the position he is appointed at. The United squad this season has constantly looked unmotivated to play for the badge, to do even the basics right. If the two Eredivisie winning managers are able to solve this problem alone it will have a drastic effect on the whole club.
We at FootTheBall think Steve McClaren does not offer much as an assistant to Ten Hag at Manchester United though. McClaren will most likely be appointed as someone who oversees transfers and helps Ten Hag navigate the tough Manchester United board. Since they both already know each other well . McClaren also already has some insight into United as one of the biggest clubs in the world. A non coaching role would suit him better. We do not see him having too much influence on the tactical side of the game. Espcially after Ten Hag's arrival at Manchester United.