Looking Ahead for Saturday's Manchester Derby, we take a look back at some of the greatest matches between the two Premier League giants.
1.) Manchester United 0-1 Manchester City, April 1974 [ For the tragic after effects of the goal]
When the last gasp effort in the form of a back heel from Denis Law found the back of the net, two outcomes were imminent. Firstly, City managed to win the bragging rights that year and secondly, the Scot sent his beloved former team on the path out of English football's top flight division after a stint of 36 years.
But why this game is considered as one of the most remarkable is because of the after effects of the goal. Instead of running riot and lifting the roof off at Maine road with the home fans, Law refused to celebrate. In fact the goal had such a deep impact on him that he had to be immediately substituted and never went on to play another League game for the club.
One may be wondering why..?? Well 11 years, 237 goals in 404 appearances until he was released from Old Trafford may answer just why events unfolded the way they did at Maine road that specific night in 1974.
An invasion from the united set of fans with five minutes of normal time left on the clock meant that the game did not even manage to see the final whistle. The Football league upheld the result and United were relegated to the second division, even if it was only for a season.
2.) Manchester City 2-3 Manchester United, Nov 1993 [When you feel you had hit rock bottom, yet now you really did]
With City just having suffered a painful Champions League exit at the hands of Turkish giants Galatasaray 4 days ago, they would have been looking to avenge that defeat with a Manchester derby win.
The fulfillment of the objective began seemingly well with two back to back goals from Niall Quinn and Brian Horton before the half-time whistle.
But football can be a very brutal game with the most bitter of outcomes, and with Sir Alex as your manager,Eric Cantona and Robbie Keane at your disposal, a united revival didn't seem very far fetched.
After a typical yet exquisite Ryan Giggs pass led to an equaliser at the hands of Eric cantona in the 78th minute, Maine road was left silent, which would soon turn into heartbreak. Three minutes left on the clock, and a young Roy Keane cropped up to smash home the winner.
19th win in 22 league games, and United went on to win their second title under Sir Alex. As for City, this was long before the Arab money started pouring in, and hence, the club finished 16th, three points above the relegation zone.
3.) Manchester United 1-1 Manchester City, April 2001.[ When the derby gets violent]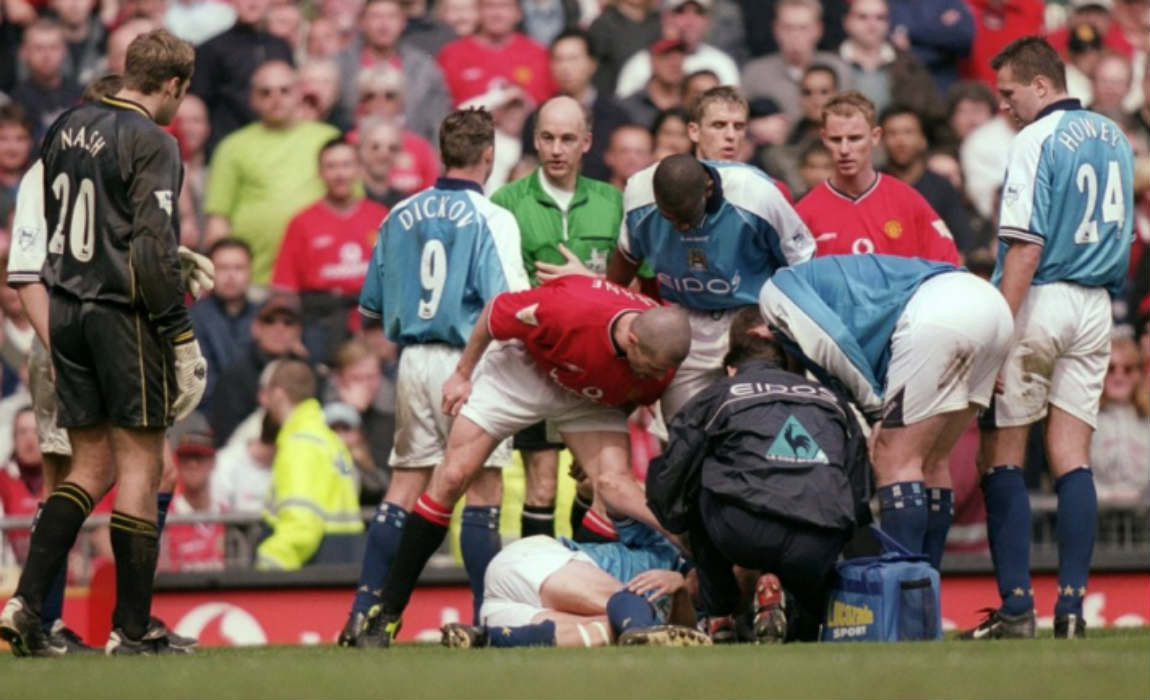 A game not remembered for football but an end to a bitter 4 year feud between United captain Roy Keane and City player Alf-inge Haland is why this specific derby stands out.
The story dates back to when the Norwegian played for Leeds and claimed that Keane had been faking injury in September 1997.
Waiting for the right moment to strike, the wait finally ended in 2001 when the United Captain took out his frustrations with a high-level tackle that left the defender in a crumbled heap.
The outcome, a three game ban and a whopping £5k fine and just to clear the air, Keane later did justify his actions in his autobiography by stating how he wanted to f***ing hit him hard, making it reasonably clear that this was no accident.
As for the game( YES the game), Teddy Sheringham's second half penalty was cancelled out by a late Steve Honey equaliser.
4.) Manchester United 4-3 Manchester City, September 2009.[ Money doesn't guarantee success]
Considered as the best Manchester Derby ever, 2009 saw Arab money pour in as the blue side of Manchester splashed over £100 million on recruitments, with the likes of Emmanuel Adebayor, Joeleon Lescott and a £25 million former United man Carlos Tevez joining in the summer of 2009.
But money doesn't always guarantee you victories, and that is what this match was all about.
A classic to and fro saw United lose their lead three times before an unlikely hero had the last laugh and sent Old Trafford and all red devil fans across the world into a revelation that till date remains embedded in their memories.
With the likes of Wayne Rooney, Darren Fletcher, Gareth Barry and Craig Bellamy all getting on the scoresheet, the game was tied at 3-3 and looked to be heading that way.
But Michael Owen's destiny had other plans for the evening. The Liverpool legend stepped up to the occasion, by grabbing hold of a sumptuous Ryan Giggs through ball and coolly finishing off to produce his most and probably only memorable United memory.
5.) Manchester United 1-6 Manchester City, Oct 2011.
Described by Sir Alex Ferguson as his worst managerial game in charge of Manchester United, the game and the way it unfolded saw City make a statement that the title was theirs to lose, and that maybe the tide of dominance had shifted in Manchester.
Roberto Mancini's men broke the deadlock in the 22nd minute through a certain Mario Balotelli( who, as it had been reported that morning, had set off a firework in his own house). The celebration that followed is till date regarded as one of the most iconic celebrations in football history, as he took off his jersey to brandish a T-shirt with "Why always me" printed across.
Back Foot from the very start, it was Jonny Evans's catastrophic red card to prove to be the nemesis for United that afternoon leading to a second half City on-slaught.
Further goals from Sergio Aguero, David Silva and one more from Mario Balotelli saw the chants "6 past De Gea" being sung by the City fans across the stadium.
The game turned out to be an initiation for the Blues to cement their hands on the title that year, whereas United could only respond with an FA cup tie victory over their bitter rivals.