After leading the table for first 20 weeks of the 2020/21 campaign, AC Milan might altogether miss out on Champions League football, which could extend their absence from Europe's top club competition for eight straight years.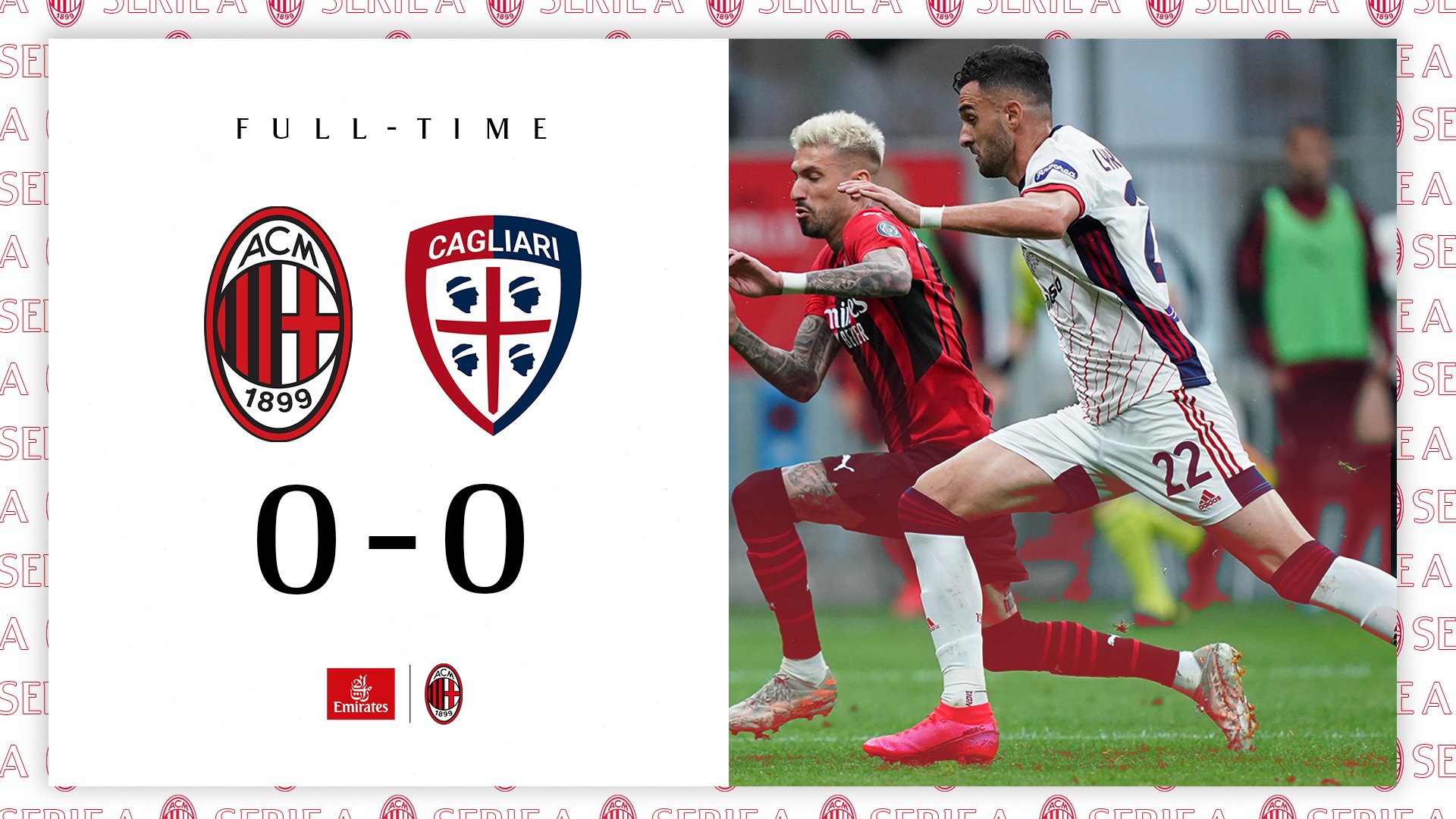 Milan's recent draw against Cagliari might just trigger Rossoneri's failure to qualify for the Champions League. (Image Courtesy: AC Milan / Twitter)
They were heralded champions at the half-way stage which nobody could have predicted, with the youngest starting eleven in the league that included a 39-year-old Zlatan Ibrahimovic up front.
Although he was bound to steal the headlines, Milan's success can be very much attributed to the midfield swagger of Ismaël Bennacer and Franck Kessie, the daringness of Theo Hernández and Hakan Clangour, the unselfishness of Davide Calabria.
But the recent patchy form and a key injury to Ibrahimovic before the last game of the season might derail their campaign entirely.
THE SUPPOSED RESURGENCE AND DOWNFALL
Milan started their resurgence since the fag end of last season. They even went unbeaten in the league for almost a full year, 304 days to be precise, from March 2020 to January 2021.
Under manager Stefano Pioli, Milan lasted 27 games without any defeat in the league but since then it has been a downward spiral all together.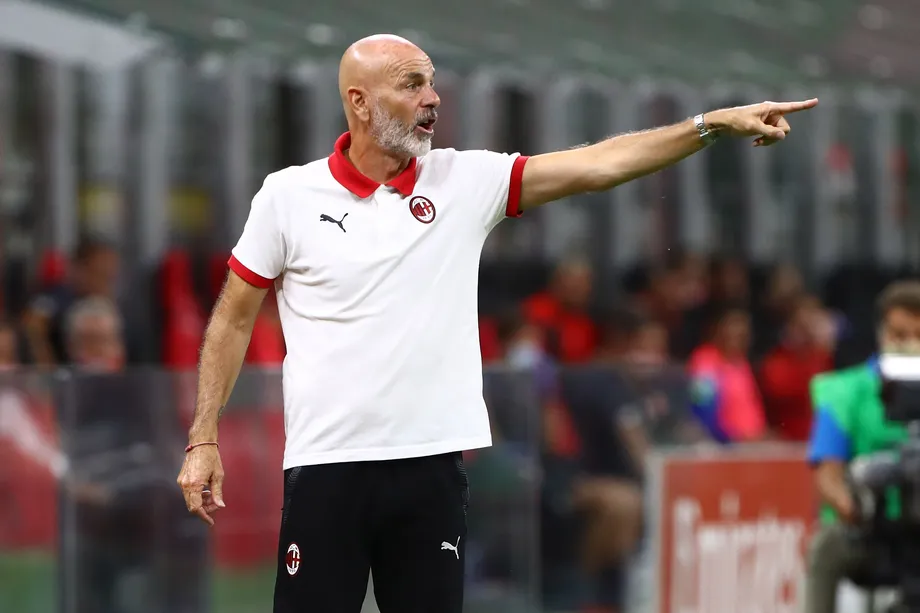 Stefano Pioli has done wonders with the young squad at his disposal but they are yet to take the next giant step forward. (Image Courtesy: AC Milan / Website)
Pioli even tried to fend tags of champions-elect that were put even before the league had reached the period of Christmas and insisted to his squad and to the media too that their objective was to get back into the Champions League after seven seasons being away.
Stefano Pioli urges Milan to play 'the game of a lifetime' against Atalanta, but insists missing out on the top four would be 'a disappointment, not a failure.' https://t.co/vxk3fDV7gq #ACMilan #Cagliari #SerieA #MilanCagliari #SerieATIM #Atalanta #Juventus #Napoli pic.twitter.com/Vil6aqdISo

— footballitalia (@footballitalia) May 16, 2021
Many thought the Italian was trying to be over cautious with his squad, but little did they realise that the young squad at Pioli's helm was such brittle in terms of that winning mentality that after those 27 games unbeaten in a year, they could not muster more than two wins in a row until May 2021.
Their inability to win games against big teams in crunch situations was evidently visible since January. Five of the seven defeats that Milan suffered were in the hands of the rest of the top six, Inter, Atalanta, Napoli, Juventus, and Lazio. And four of them came at their home, San Siro.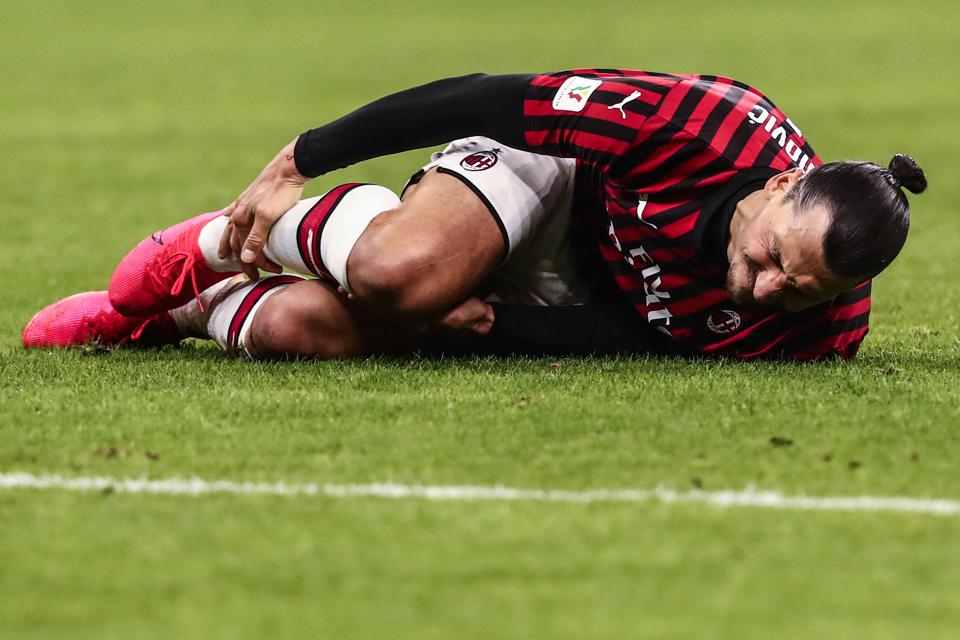 Ibrahimovic's injury against Juventus is a big blow for Milan and is set to miss the game against Atalanta. (Image Courtesy: BBC / Website)
Much has been affected by Ibrahimovic's injury too. The talismanic Swede missed some crucial parts of the season due to various injuries and teams were able to take advantage of his absence and hurt the Rossoneri quite effectively.
WHAT CAN HAPPEN ON THE FINAL DAY?
And now as the Serie A approaches it final weekend of the year, only two teams, Internazionale and Atalanta have confirmed their spots in next season's UEFA Champions League. The remaining two spots are being fought by AC Milan, Napoli, and Juventus, who are in fifth.
Perhaps the toughest fixture is for Stefano Pioli's men as they travel to Bergamo to face high-flying Atalanta in their final game while Napoli and Juventus face mid-table clubs Hellas Verona and Bologna, respectively.
🔚 #SerieATIM 🗓️ #AtalantaMilan fixture date and time

Data e orario ufficiali dell'ultima di campionato #SempreMilan pic.twitter.com/pkRshzTcPt

— AC Milan (@acmilan) May 17, 2021
A win is enough for Milan to take them through but if they draw or drop points, they will have to depend on the results of games that Napoli and Juventus playing in. Both Milan and Napoli are on 76 points while the Old Lady are on 75.
The finish line is very close: here's the updated League Table! ✅

Tell us your mood with one emoji: ___ ⬅️#SerieATIM #WeAreCalcio pic.twitter.com/fFqebGfETP

— Lega Serie A (@SerieA_EN) May 17, 2021
If they tie on points, it is a three-way tie. Milan have the upper hand on Napoli, Napoli have the upper hand on Juventus and Juventus has the upper hand on Milan.
REPURCUSIONS ON MISSING OUT ON CHAMPIONS LEAGUE
The main drawback on missing out on Champions League football is money. Milan have been badly hit by the pandemic last season and it is believed that there will be a similar scenario if they fail to qualify for the Champions League after bottling a potential league title.
According to Swiss Ramble, the capital club are faced losses of around £169 million pre-tax last season and in the last three seasons, the losses have accumulated to nearly £402 million before tax.
You don't have to look too far to see the seriousness of the financial predicament with pre-tax losses of the 12 ESL clubs adding up to a worrying £667m, even before #LFC announce their results. Three of them lost more than £100m: #Milan £169m, #MCFC £125m and #FCBarcelona £112m. pic.twitter.com/eOJU4oa5yw

— Swiss Ramble (@SwissRamble) April 26, 2021
While this is huge amount of money, some of it can be recovered if Milan qualify for the Champions League which can be essential to bring more broadcasting revenue and also revenue from other sources linked to the competition.
All in all, it is must for Associazione Calcio Milan to qualify for the UEFA Champions League this season and the game against Atalanta on Sunday, 23rd May, is their most important game in nearly a decade.