Paul Pogba's documentary, aptly named "Pogmentary" made waves in the football world. Being such a closely guarded sport, a peek behind the curtains makes football a prime candidate for Amazon's 'All or Nothing' series.
While football fans(especially Arsenal fans) around the world all patiently awaited Amazon Prime's All or Nothing: Arsenal, the streaming service surprised viewers with news of an All or Nothing Argentina release date which was set for July 10.
Where Arsenal represents the documentary series' fourth chronicling of an entire club season following on from Manchester City, Tottenham and Juventus, this is the second time All or Nothing has closely followed an international team – The first team being Argentina's long-standing arch-rivals Brazil.
The Argentina national team Amazon Prime series will be available in two weeks in the United States and the rest of the world in November. 🇦🇷 https://t.co/AmNgU4MdCJ

— Roy Nemer (@RoyNemer) July 23, 2022
Back in 2020, All or Nothing: Brazil — which followed the Selecao's road to victory at the 2019 Copa America — was released to praise from both critics and the audience. It offered incredible insight into the pressures and joys of representing the world's most famous team while allowing viewers one foot inside the Canarinho dressing room.
Argentina hadn't won a major international trophy since 1993, but claimed the Copa America with a win over Brazil in the final last July.
It will now be the subject of a documentary series and FootTheBall presents all the details, including the release date, where to watch and more.
What is All or Nothing: Argentina?
Argentina 'All or Nothing' will give fans a first-hand look at Messi's Copa America adventure. It will also highlight Lionel Scaloni's methods in the Argentine dressing room, with the coach transforming the fortunes of the South American nation after taking over in 2018.
The documentary will cover exclusive behind-the-scenes footage of Argentina's Copa America campaign, World Cup Qualifiers of FIFA World Cup 2022 in Qatar and most recently the Finalissima. The Amazon series will also bring the fans some exclusive footage of some household names in Argentinian football right now. From Angel Di Maria to Emi Martinez and of course the living legend – Lionel Messi.
Messi's Copa America final speech is also part of the much-awaited documentary, and fans will no doubt want to see their favourite team and player in action for some inside scoop.
All or Nothing: Argentina release date
Amazon Prime's documentary on Argentina was due to be released on July 10, 2022. After some delay, the much-awaited docuseries is finally here, although it is still not available in some countries.
According to multiple reports, the documentary will be available in the United States in mid-August and in the rest of the world in November 2022. The Argentina series, for now, is available in over 240 countries, according to the Argentina FA, however many users are still unable to watch it.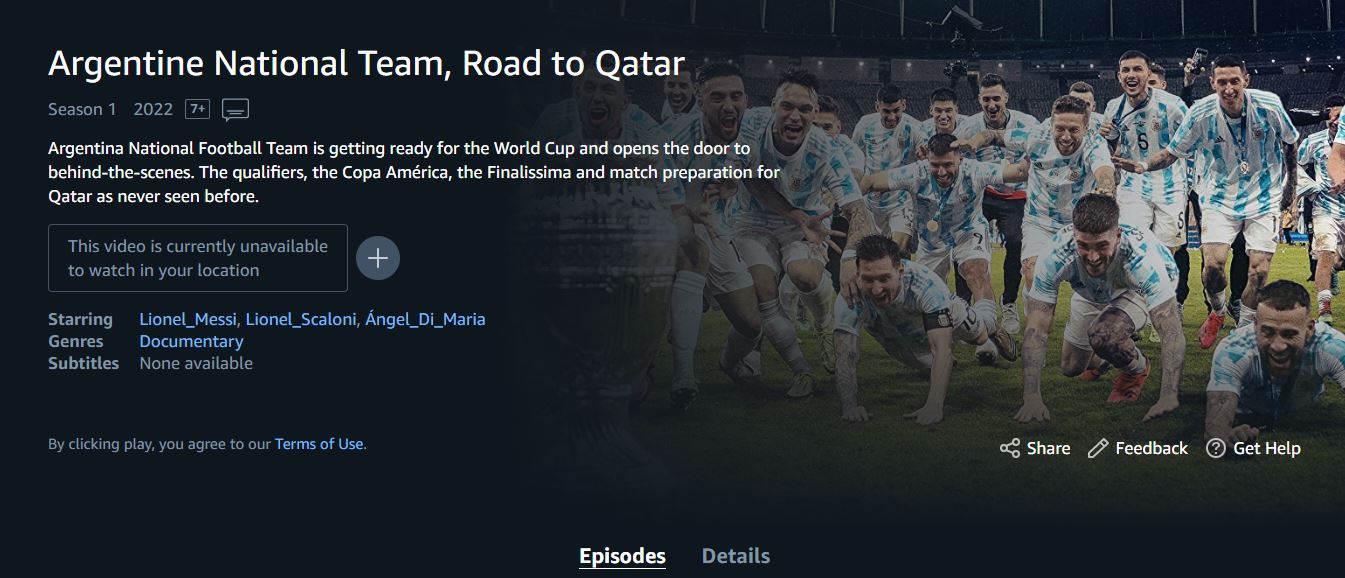 The Argentina series on Amazon Prime Video is available in more than 240 countries and territories, says the @Argentina account. However, many are unable to watch still as it's "unavailable" in their location. 🇦🇷 pic.twitter.com/1oOf72ka1w

— Roy Nemer (@RoyNemer) July 22, 2022
It is the season of a behind-the-scenes look at footballing powerhouses. Be it the "Pogmentary" bringing Pogba at the centre of a storm once again or Arsenal's All or Nothing, football fans will be feasting on content this summer, and with this docuseries featuring Messi in it, fans can't wait to get a look at it.
Where to watch All or Nothing: Argentina
The "All or Nothing: Argentina" series will be available to watch exclusively on Amazon Prime Video. New members can sign up for a free 30-day trial on the website.
An Amazon Prime subscription is £7.99 in the UK or $12.99 per month in the U.S.
Argentina: All or Nothing trailer
Amazon Prime did not release the official trailer of this documentary. They took a very different approach to this one by skipping the trailer for this series and surprise fans directly with the docuseries.
THREAD | Some moments from Argentina 'All or Nothing'.

S1E1 pic.twitter.com/69nZxL4ZsL

— safwan manaf (@elculeismo) August 13, 2022
So it goes without saying that fans have high hopes for All or Nothing: Argentina, especially with the hindsight of knowing it's Lionel Messi's odyssey to a first major trophy for La Albiceleste — the thing he wanted more than anything else.