August 23 has long held a special place in the heart of AFC Ajax fans. It is on this date that two of their footballing greats, Frank Rijkaard and Jari Litmanen made their debuts in 1980 and 1992 respectively. The Dutch great became a household name for club and country before going on to have a successful managerial career.
Jan Vertonghen, Frank Rijkaard & Jari Litmanen all made their debut for Ajax on this date (23rd of August). Great players who have all been part of great history. 🌟👏 pic.twitter.com/SFHHNmhm5d

— 𝐀𝐅𝐂 𝐀𝐉𝐀𝐗 💎 (@TheEuropeanLad) August 23, 2020
Meanwhile, the Finnish attacker remains the greatest player of his nation largely due to his play at Ajax. On this auspicious day for one of the world's most beloved teams, FootTheBall recalls the careers of the two players in the Netherlands.
FRANK RIJKAARD
NATIVE BOY
Rijkaard was born and brought up in Amsterdam so it made perfect sense for him to begin his career at Ajax. The defensive midfielder made his senior team debut at the tender age of 17, scoring in the first match of the 1980-81 season.
Frank Rijkaard at Ajax in 1981 🇳🇱 pic.twitter.com/7pls8MfBmT

— History of Football⚽ (@historyfutball) December 3, 2018
He quickly developed into a regular fixture of the squad but times were tough under Aad de Mos with the manager bemoaning his inexperience. Though he managed to win three league titles and the Dutch Cup once, the arrival of Johan Cruyff really transformed his play to a much higher level.
#Klassieker, 1️⃣9️⃣8️⃣5️⃣!
🎯 Frank Rijkaard! 😍#ajafey pic.twitter.com/2QK6aAPv1g

— AFC Ajax (@AFCAjax) October 27, 2018
Rijkaard became an expert with the ball at his feet, noted for his exemplary work-rate and passing along with energy to combat across the entirety of the match. He was able to link-up plays with balls from deep which made him an essential creator in the squad, even crossing double figures in goals across all competitions twice.
Under Cruyff and yet to turn 25 even, Rijkaard won another Dutch Cup along with his first European trophy- the Cup Winners Cup. However, an infamous clash with the manager led Rijkaard to demand a transfer away from the club in 1987 which put an end to his first chapter.
HOMECOMING HERO
After an immensely successful, trophy-laden spell with AC Milan, where he became one of the best in his position, Rijkaard returned to Ajax in 1993. Under the stewardship of Louis van Gaal and with teammate Danny Blind, he formed the impregnable defensive duo who led them to two consecutive Eredivisie crowns.
📸 – On this in 1993, Frank Rijkaard returned to Ajax after spending 5 seasons at AC Milan.

The rest… as they say… is history. ✨🏆 pic.twitter.com/pyZfwiX9jn

— 𝐀𝐅𝐂 𝐀𝐉𝐀𝐗 💎 (@TheEuropeanLad) July 27, 2020
The 1994-95 campaign was one of the best as they went undefeated in the league while also lifting the UEFA Champions League, defeating his old club in the final. That was also his last professional match with the 33-year-old retiring as a truly great player of his time.
WHERE IS HE NOW?
Rijkaard's most remembered managerial is of course with Barcelona, leading the side to five major titles including the 2006 Champions League while also overseeing the debut of Lionel Messi. He was a head coach for 16 years but revealed in 2017 that it was not something that was a total fit for him.
🎉 | Former Barça manager Frank Rijkaard celebrates his 57th birthday today!
Rijkaard's Barcelona won the UEFA Champions League in 2006 with a 2-1 win against Arsenal in the finals. pic.twitter.com/0K1xMjiBsD

— La Senyera (@LaSenyera) September 30, 2019
Rijkaard never saw himself as continuing on for too long in this role so he quit. Nowadays, he spends most of his time with family overseeing the numerous property investments having retreated from the footballing view completely.
JARI LITMANEN
PLAYMAKER FROM ABROAD
The Finn was already an established starter across three of his homeland's top-flight clubs by the time Ajax came calling. His performance in the final of 1992 Finnish, including scoring caught the eye of a scout from the Dutch club who urged them to sign him. Despite Louis van Gaal's reluctance to play him too much in his debut season with just 14 appearances across all competitions, better days were soon coming.
Jari Litmanen, Ajax#Ajax #Lancieri pic.twitter.com/fO1F1ImXi2

— Football Memories (@footballmemorys) October 29, 2019
The impending departure of Dennis Bergkamp saw van Gaal give the number 10 shirt to Litmanen who was thus initiated as the departing hero's successor. The move paid instant dividends with the attacker racking up 26 goals in the 1993-94 season, the most in the league. Along with winning the league, Litmanen was also named the Footballer of the Year.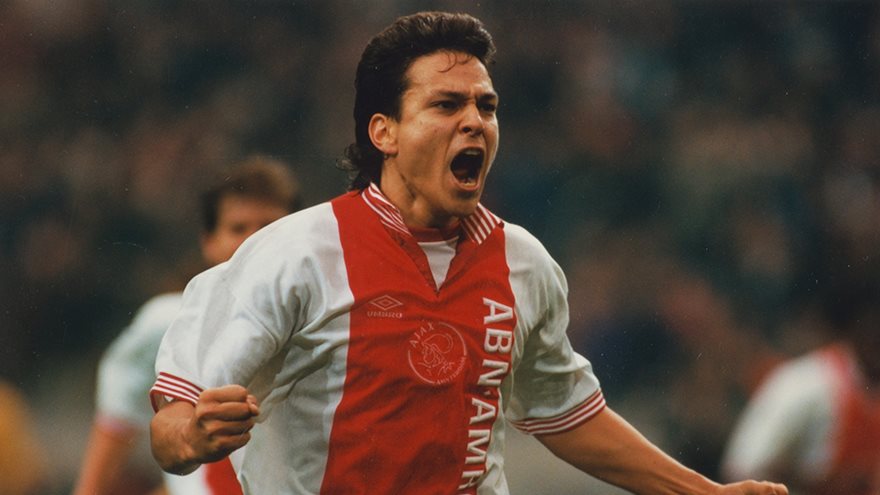 He won three titles in a row along with the Champions League in 1995, being a teammate of Rijkaard at the same time. The Dutch midfielder named him "the best number 10 we ever had." Furthermore, Litmanen also won three Dutch Cups as well as the Intercontinental Cup in 1995.
The greatest Finnish footballer is Jari Litmanen. He played well into his 40s. Jari's father, Olavi, actually played five caps for Finland himself and was a serial cup winner with Reipas/FC Lahti. But it was not only Olavi who played, Jari's mother, Alice,also won cups with Lahti pic.twitter.com/PiR7yseON3

— Jonas Adnan Giæver (@CheGiaevara) November 10, 2018
He was an intelligent goal scorer, able to manoeuvre in tight spaces and setting up teammates too. With 129 goals in all competitions for Ajax, he was a bonafide hero for the club along with being the best of his nation. However, injuries began to crop up during the latter part of his Ajax career which would follow him in future as well.
UNDERWHELMING PART TWO
Having left in 1999, Litmanen returned in 2002 after two underwhelming, injury-filled spells at Barcelona and Liverpool respectively. Despite helping Ajax to the quarter-finals of the Champions League, his performances had certainly lost the previous spark. He only scored seven goals during the first season while none the following campaign, though he did win another title.
1x Champions League winner, 5x Dutch champion, 3x Dutch cup winner, 2x UEFA Supercup winner, 1x Club World Cup winner, 133 goals scored for the club.

Happy 50th birthday to an absolute legend, Jari Litmanen! 👑🎂 pic.twitter.com/viSuahE14s

— 𝐀𝐅𝐂 𝐀𝐉𝐀𝐗 💎 (@TheEuropeanLad) February 20, 2021
The injury bug prevented him from regularly playing which led to his departure in 2004. Litmanen's future travels were much the same except for his last with HJK where he won the double of league and cup. He remains Ajax's leading goal scorer in European competitions (26 goals).
Since retiring, Litmanen entered punditry with Finnish broadcasting company YLE, overseeing Euros and World Cups recently. He continues to be a commentator for international games and the Finnish matches as well.