La Liga giants Atletico Madrid are no more in the hunt for Chelsea striker Diego Costa, as they rubbished rumours of his possible move back to the Spanish capital.
Earlier last month, Chelsea striker Diego Costa was heavily linked with a move back to La Liga, with media reports claiming that the 27-year old has handed in a formal transfer request to the Chelsea hierarchy, as he looked forward to join Atletico Madrid this summer.
However, after the recent turn of events it is believed that the former Atletico Madrid star has made up his mind and would stay put at Chelsea.
After recovering from injury, Costa featured in Chelsea's comfortable 3-1 win over AC Milan in a pre-season friendly on Wednesday night.
Speaking to the press before the match, new Blues manager Antonio Conte confirmed that Costa is happy to stay at Chelsea.
"Diego Costa is a Chelsea player and very happy to stay with us," said Conte.
Chelsea signed the aggressive striker in 2014 for a fee of £32 million and Costa has been fairly successful with 32 goals to his name in 54 games.
In an interview with the Spanish paper Marca, Atletico president Enrique Cerezo almost echoed Conte's statement.
"Diego has a contract with Chelsea and he belongs to Antonio Conte's team," said Cerezo.
"Chelsea are our friends, just as the great Atletico man Diego Costa is our friend. But his place is with Chelsea and we are sure that he will be successful there. We cherish Diego for what he has given us and he knows where his home is," Cerezo added.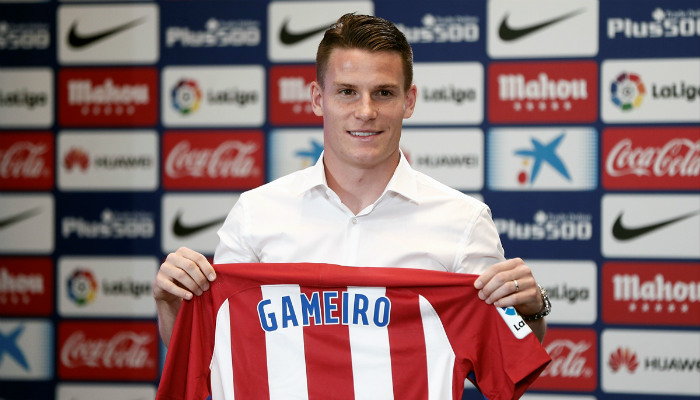 Cerezo stated that he was happy with the new summer signings, especially Kevin Gameiro, which added a lot of depth to his team, ahead of the new season.
"We have worked closely with Diego Simeone, to sign players he is in agreement with," said Cerezo.
"We haven't spent more than we have been able to. But we are done signing players. La Liga will not allow us to sign more, there will be no more signings.
"Gameiro is the type of player we like to sign. From the start, he was our main goal. We are delighted that he is an Atletico player," he concluded.