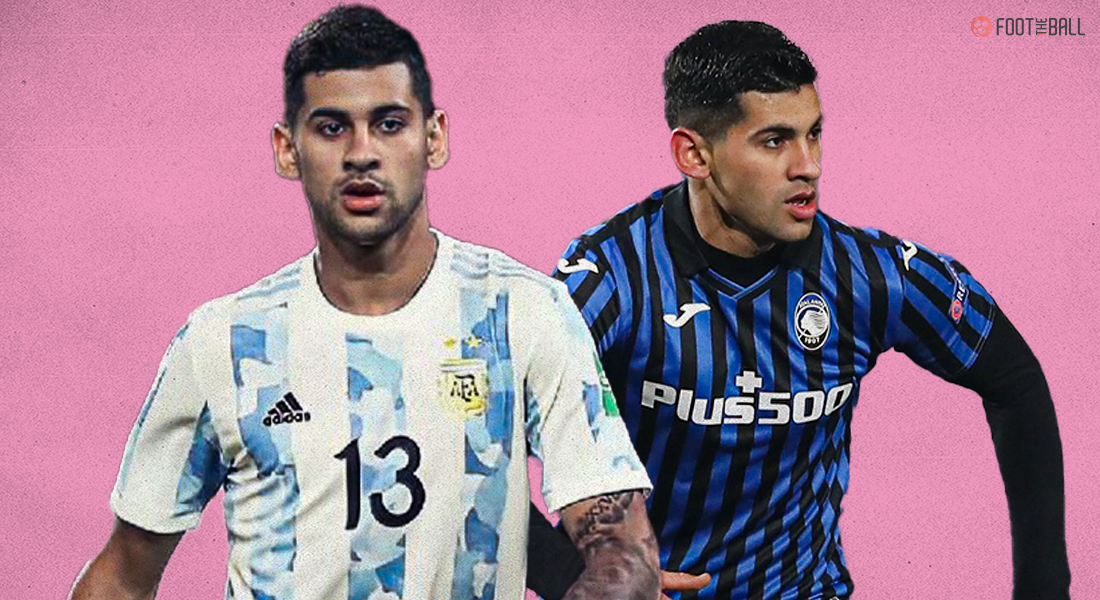 Cristian Romero Might Be On His Way To Old Trafford This Summer; United Reportedly Ready To Pay €45 Million For 23-Year Old Centre-Back
Manchester United are interested in signing a centre-back before the start of next season and Ole Gunnar Solskjaer has reportedly set his eyes on landing 23-year old Atalanta defender Cristian Romero for this purpose.
As per Eco Di Bergamo, the Red Devils have made a bid of €45 million to sign the Argentine centre-back from the Italian side this summer.
The former Belgrano player impressed for La Dea this past season as Gian Piero Gasperini's side finished third in Serie A and will be playing in the Champions League next season.
FootTheBall takes a look at the 23-year old Argentine's potential transfer to Manchester United this summer as rumours continue to swirl about the impending move.
CRISTIAN ROMERO – ATALANTA'S ROCK AT THE BACK

The former Genoa player was adjudged the best defender in the Italian top-flight this past season, ahead of the likes of Inter's Skriniar, De Vrij and Bastoni, Juventus' Matthijs de Ligt and Napoli's Kalidou Koulibaly.
As such, Atalanta intend to activate his release clause of €16 million ahead of next season to retain their jewel even though there is still one year left on his loan move from Turin to Bergamo.
But the prospect of selling the currently Juventus-owned player seems like a move that La Dea will be keen to make as they will reap a direct financial benefit in the form of capital gains on his sale.
If the rumours doing the rounds are true, then Romero might as well be on his way to the Premier League next season.
ROMERO TO EARN A MOVE TO OLD TRAFFORD THIS SUMMER?
Manchester United need a centre-back to partner Harry Maguire in the heart of defence for the Red Devils ahead of the start of next season. 
Atalanta enjoy a good relationship with the Old Trafford outfit and if a move does materialise for the Argentine this summer, it will be Atalanta's biggest sale in the transfer market thus far.
Earlier in January, the two cubs had reached an agreement for the transfer of Amad Diallo from Italy to England. Therefore, La Dea will give an offer from United a lot of thought before they decide to go ahead with anything. 
Meanwhile, Romero's stock can rise during the course of this summer if he puts in excellent performances for La Albiceleste at the back in the 2021 Copa America.
Romero made his debut for Argentina in their World Cup qualifier match with Chile that ended in a 1-1 draw. Argentina manager Lionel Scaloni was all praise for the 23-year old centre-back, heaping him with plaudits at the end of the match.
"Romero didn't surprise us," Scaloni said. "I wasn't wrong when I said that the national team has a great centre back" he added. "We are happy, he played as if he had played 100 matches with the team"
"In the end, the best play in the national team" Scaloni opined on the 23-year old's rock-solid performance in defence for La Albiceleste.
Undoubtedly Romero will be aiming to cement his place at the back for La Albiceleste ahead of the 2021 Copa America in Brazil where Argentina have been drafted in Group A with the likes of Uruguay and Chile.
ROMERO – THE JACK OF ALL TRADES
In addition to all this, Romero has the ability to play at right-back as and when the situation demands it, and Solskjaer will not be looking to pass up the chance of signing such a defender who can offer him versatility at the back.
Coupled with this his attacking contributions – he scored or assisted in every tournament that Atalanta played in the 2020-21 season including 2 goals and 3 assists in Serie A – and he becomes perhaps the most sought after centre-back in Europe this summer