Acts of footballers have had various kinds of results across the world of football such as Marcus Rashford's fight against child poverty that had resulted in governments coming down. Comically or not, Portugal's Cristiano Ronaldo also had a similar kind of impact on another entity, this time though, wiping off billions in the market value of Coca-Cola after his actions in a recent press conference.
The Portuguese captain, who is world-renowned for his health conscience, made his thoughts clear on Monday, in a press conference before his side's first game on the European Championship, against Hungary.
Within seconds of sitting down, the 36-year-old put away the two Coca-Cola bottles that were in front of him and holding up a bottle of water up saying, "Agua" (water) in Portuguese in a gesture appearing to encourage people to drink water instead of aerated drinks.
Even though Coca-Cola is one of the sponsors of Euro 2020, Ronaldo had no problem in putting a stern message across as he urged everyone to 'drink water' instead. Such a suggestion by the global football superstar wiped off a whopping $4 billion from the brand and market value of Coca-Cola.
The video of Ronaldo snubbing Coca-Cola went viral on social media with several fans and publishers all across the world sharing it extensively. Understandably, it had a negative impact on the beverage maker's stock prices.
The share price which closed at $56.16 on Friday, suddenly dropped to $55.22 within an hour of the market re-opening on Monday, gesturing to a dip of 1.67% in the price of one share. This dip has seen the market value of the company go down from $242 billion to $238 billion, a drop of $4 billion.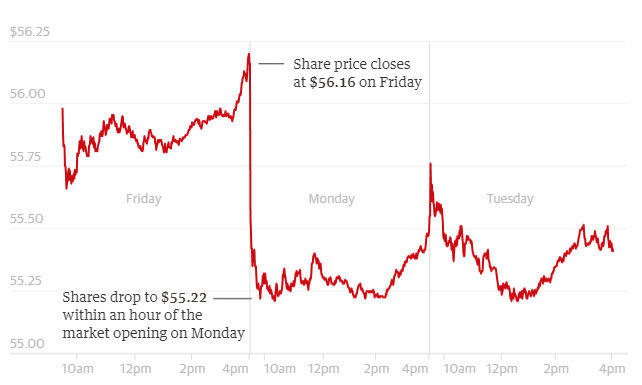 Graphic representing the fall in the share price of Coca-Cola after the actions of Ronaldo. (Times are shown w.r.t Eastern Daylight Time)
Although the price has seen an increase on Monday, it fell even more on Tuesday, falling to $55.03, resulting in a further loss for the firm.
Coca-Cola also decided to put in a statement after Ronaldo's act, saying: "everyone is entitled to their drink preferences" as people have different "tastes and needs".
A spokesperson of the Euro 2020 tournament also shared his views on the matter by saying: "Players are offered water, alongside Coca-Cola and Coca-Cola Zero Sugar, on arrival at our press conferences."
This event of Ronaldo removing the Coca-Cola bottles was followed by Paul Pogba, who did something similar by removing the bottles of sponsor Heineken kept in front of him during the post-match press conference after France's 1-0 win against Germany on Tuesday.
Pogba's face before moving the Heineken bottle 😂 pic.twitter.com/47UNyrepzU

— utdreport (@utdreport) June 16, 2021
Surprisingly though, Pogba's actions have not seen any dip in the share price or market value of Heineken, instead, they rose by nearly 1.3%, from €98.18 during the close of the markets on Tuesday to €99.52 on Wednesday, one hour before the end of the market.