Twelve clubs from England Italy and Spain have announced their decision to break away and form a European Super League. Six of the clubs are from England, and three each from Spain and Italy. The clubs have decided to go ahead with the decision even after UEFA and their respective country leagues released a statement that such a move would lead to strict action.
THE CRIMINALS
Manchester United, Manchester City, Liverpool, Chelsea, Arsenal and Tottenham Hotspur join the league from England along with Real Madrid, Barcelona and Atletico Madrid from Spain and Inter Milan, AC Milan and Juventus from Italy. Real Madrid president Florentino Perez will serve as the first Chairman of the league while Andrea Agnelli and Joel Glazer of Juventus and Manchester United will be the Vice Chairmans.
Three further clubs are expected to join the league before the start of the inaugural season. Bayern Munich and Borussia Dortmund have rejected the offer to join the league. The statement claims that there will be a corresponding Women's ESL launched as well. New York based investment bank JP Morgan has set a 6 billion Euros fund for the project while DAZN is ready to pay 3.5 billion Euros for broadcasting rights. UEFA will reportedly demand a compensation of 50-60 billion Euros.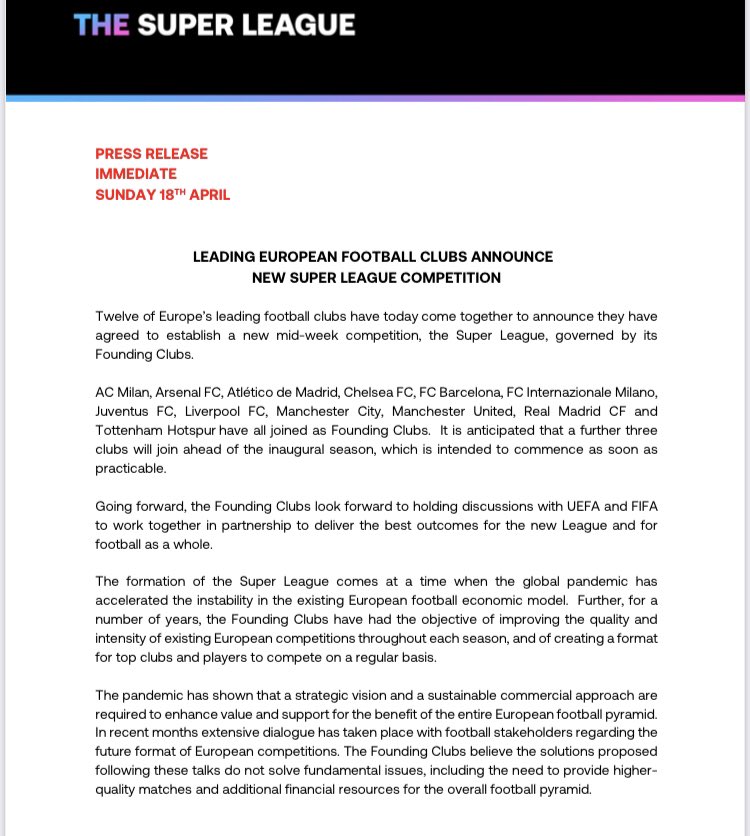 THE FORMAT
The 15 founding teams will add five teams based on performance in the season prior to have 20 teams in the league. The teams have claimed that matches will be played to continue participating in the domestic league but it remains to be seen whether they will be allowed to do so or not. The 20 teams will play each other home and away in two groups of 10. The top three sides from each group will qualify for the quarterfinals while the teams finishing fourth and fifth will compete in a playoff round for the remaining two spots.
WHAT THEY HAVE TO SAY
'Chairman' Firorentino Perez released a statement claiming that the European Super League will help people and the big clubs are simply carrying out their responsibilities.
We will help football at every level and take it to its rightful place in the world. Football is the only global sport in the world with more than four billion fans and our responsibility as big clubs is to respond to their desires.
Vice Chairmen Andrea Agnelli and Joel Glazer also released tokenistic statements claiming to be working in the interest of fans.
"Our 12 founder clubs represent billions of fans across the globe and 99 European trophies. We have come together at this critical moment, enabling European competition to be transformed, putting the game we love on a sustainable footing for the long-term future, substantially increasing solidarity, and giving fans and amateur players a regular flow of headline fixtures that will geed their passion for the game whie providing them with engaging role models." ~Agnelli

"By bringing the world's greatest clubs and players to play each other throughout the season, the Super League will open a new chapter for European football, ensuring world-class competition and facilities, and increased financial support for the wider football pyramid." ~Glazer
FIFA and UEFA have reiterated that any player participating in the league will be banned from their own competitions. All 12 clubs have left the ECA. A power struggle between the clubs, administration, players and fans is to follow.
FIFA statement: pic.twitter.com/wHBZranezY

— Raphael Honigstein💙 (@honigstein) April 18, 2021
The European Super League has long been in the pipelines and it has finally been announced now. Football as we know it is dead. The clubs claim that this step is being taken to induce stability and improve intensity in European football. Make no mistake, it is nothing of the sort. The ESL is the highest form of capitalism at its absolute worst. A working class sport in its origins, football has completed its transition to a capitalist tool.