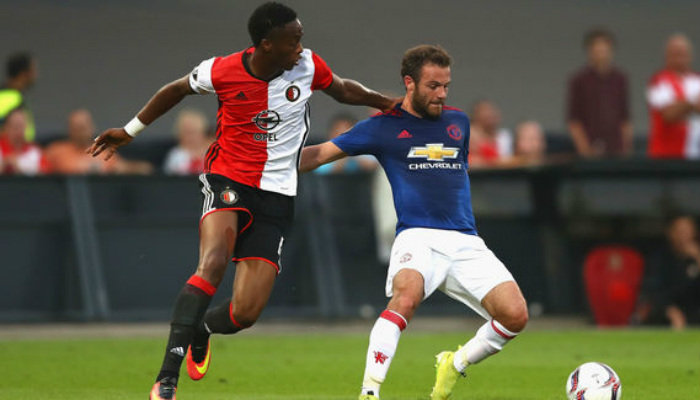 Premier League giants Manchester United made a disappointing start to their Europa League campaign with a shock 1-0 defeat to Feyenoord at Rotterdam, as new manager Jose Mourinho suffered his second consecutive defeat.
Manchester United looked out of shape right from the kick-off and they clearly lacked the intent to take an early lead. On the contrary Giovanni van Bronckhorst's Dutch side basked in confidence and pushed more men forward.
Mourinho chose to rest Rooney for the away clash and started with Antony Martial, Marcos Rojo and Marcus Rasford – leaving behind hit-man Zlatan Ibrahimovic on the bench.
Here's the #MUFC team to play Feyenoord… #UEL pic.twitter.com/pa6mIKPjjX

— Manchester United (@ManUtd) September 15, 2016
Morgan Schneiderlin, Ander Herrera and Juan Mata were given the responsibility to anchor the midfield, but they lacked the much needed precision and failed to open space in the opposition box.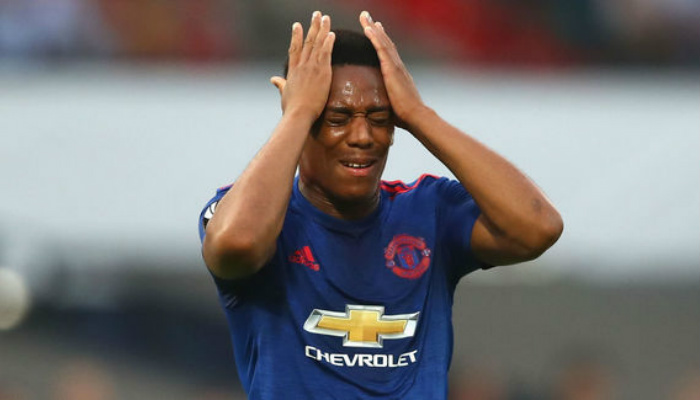 Man Utd's only golden opportunity in the first half came from Darmian's low cross which picked Anthony Martial in the area but the French striker's volley from the edge of the box was not on target and went wide just of the post.
Mourinho tried to breathe some life into his lack lustre side by making a triple substitution. Rashford, Martial and Mata were withdrawn and Depay, Zlatan Ibrahimovic and Ashley Young were brought in.
Fans witnessed a very similar story in the second half with Man Utd trying to keep possession but lacking precision on the final ball. Feyenoord, on the other hand grew more confident and looked to threaten on the counter and defended down deep, which allowed no space for Martial or Rashford to curate a chance.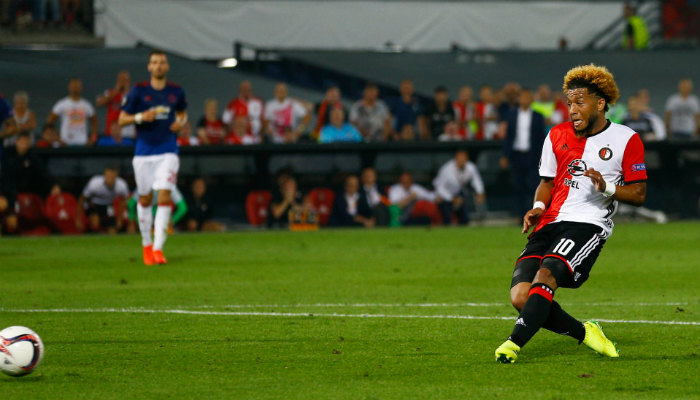 Feyenoord crushed Man Utd's hopes after taking a one goal lead in the 80th minute. Jorgensen, whowas offside, whipped in a cross to pick Vilhena in the area, who launched a low side-footed finish from the edge of the penalty box to beat De Gea.
United only had only 10 minutes to clinch an equaliser but failed to penetrate the rock-solid Feyenoord defense, despite Zlatan Ibrahimovic's introduction into the squad in the second half. They had some half chances in the dying minutes of the second half but they lacked the finishing.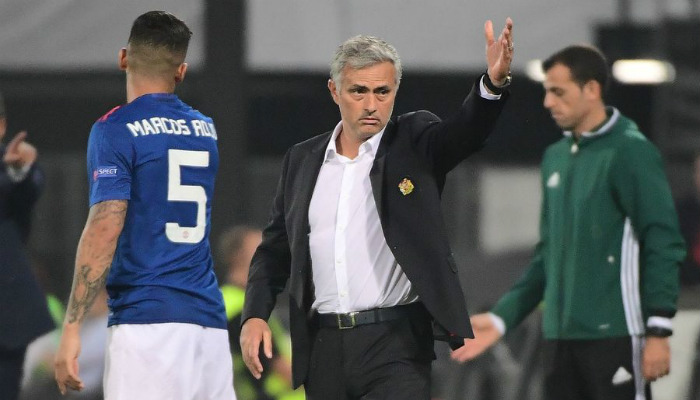 Jose Mourinho said: "We lose the game in the moment we don't deserve to lose. In the second half we were always in control and in that moment where we are pushing, we lose the game. And double unlucky because it's a clear offside.
"The second half was better than the first. We had more intensity, the second my players felt in control, but they defend with everything and a great crowd and great spirit. We know we will be the team that everyone wants to play against and they had the luck in their side to score the goal.
"I don't want to personalise. Some of the players were playing the first minute of the season but obviously some played better than others. I cannot judge them just on one game, is players like them playing with the best team the same as playing week after week."